KnownOrigin
KnownOrigin (founded 2018) is a digital art marketplace powered by Ethereum. [1]
KnownOrigin is an artist-driven platform that makes it easy for digital creators to authenticate, showcase and sell the artwork & collectibles they produce. [2]
They facilitate purchases via the smart contract platform and protocol enabling instant remuneration of funds to the artist. Users can make bids on artwork as well as purchase it immediately at the asking price. Artists are also able to control pricing models as well as gifting Non-Fungible Token (NFTs) to new users. [5]
Background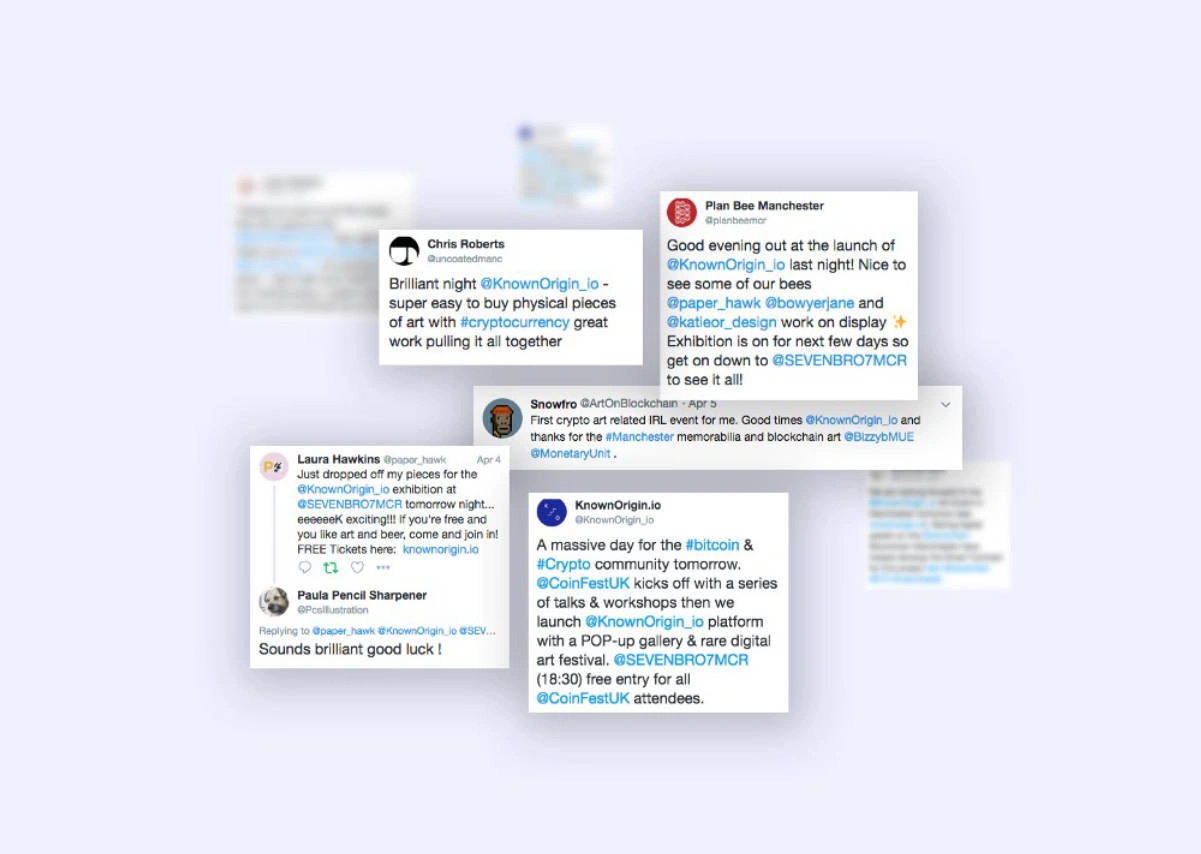 KnownOrigin was a project that rose from a simple idea but one which had far-reaching effects since it was successful. The goal to bring the technology and art community together and showcase the potential of Blockchain in the art world. Provenance, ownership, and an emerging digital collectibles market take frontstage. 
[8]
Their first goal was to attract respected and known artists to join the KO collective. This was done by organizing a POP-up gallery and rare digital arts festival in the Ancoats area of Manchester, United Kingdom, a city known for its creativity and innovation. [8]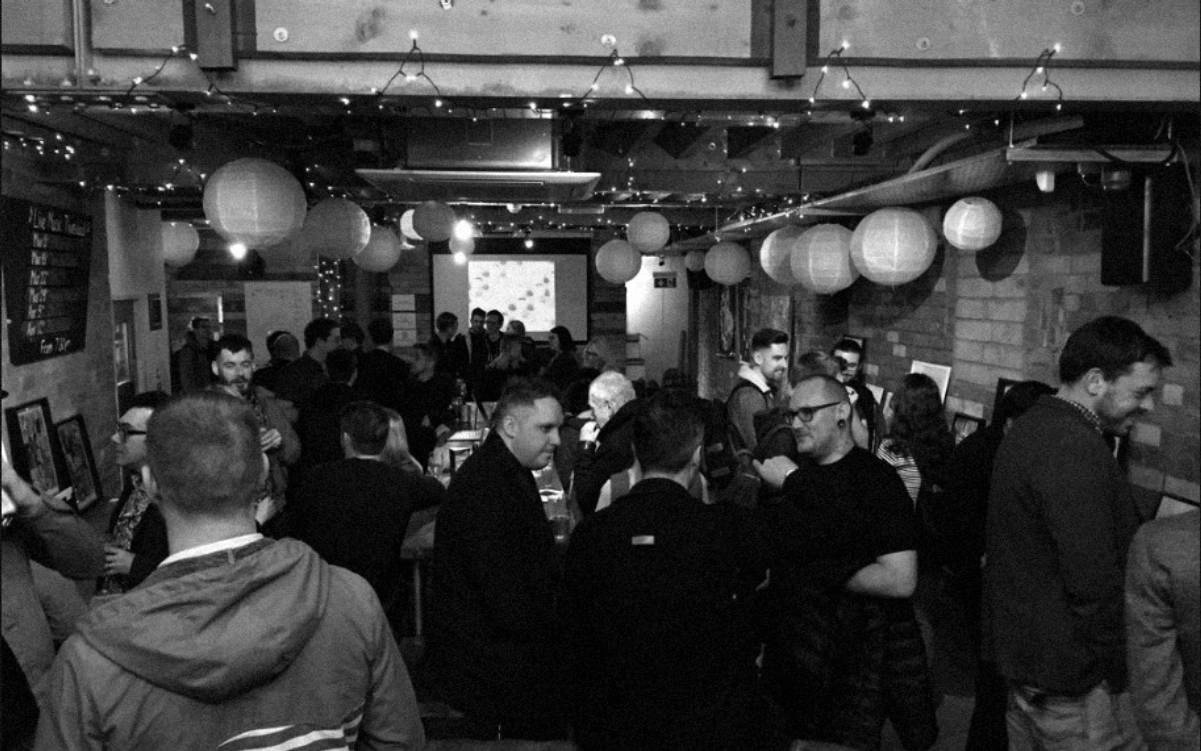 A microsite was put up at
www.knownorigin.io
in order to sign up artists and promote the upcoming event. By their launch night, 10 artists and over 25 pieces of physical and digital artwork were available for exhibit. All assets were minted into the Ethereum
Blockchain
, represented as digital assets within the KODA Smart Contract, becoming available to purchase using Ether (Ethereum's native currency).
Now the artists were onboard there was great confidence that the POP-up gallery launch event would be a great way to promote the new venture.
Building the KnownOrigin.io Marketplace
The BlockRocket.tech team worked on building a DApp and a Smart Contract that would be fit for purpose and most importantly transparent regarding the commission structure.
Using the ERC-721 token standard they leveraged the new non-fungible asset class to represent each individual digital piece of work. By using industry-standard blueprints their Smart Contract was interoperable with off-the-shelf wallets and 3rd party platforms such as the secondary marketplace: OpenSea.io
Alongside using the latest standards of ERC721, other standards such as ERC721 Metadata format were utilized along with the IPFS to securely, publicly, and transparently provide information about a specific digital asset. ERC165 was also added to help aid Smart Contract introspection and integration from 3rd parties.
Working with Ethereum Wallet Providers
The BlockRocket team worked closely with some of the most respected Ethereum wallet providers to create a seamless purchase flow at the event.
Using Trust Wallet as a partner they utilized their new QR reader feature to trigger the KnownOrigin.io marketplace. This launched the DApp on the appropriate page featuring the artwork edition.
The customer could then choose to buy the artwork with Ethereum, completing the workflow with any Web3 enabled device or application. This worked successfully throughout the event.
Overview
KnownOrigin is an artist-aimed platform that wants to empower artists with a stand to showcase and sell their work securely supported with a public blockchain solution . They want digital creatives all over the world to monetize their craft and to engage with their fan base and collectors on a meaningful, transparent, and fair basis. Their goal is to build and deliver a community-run and owned platform, empowering artists and collectors by providing a core pillar for the future of Web 3.0.
As of May 2021, KnownOrigin has over 2000 artists on the platform, over 17000 editions, and more than 21000 digital artworks sold over $5 million in sales.
Features
Smart and Transparent
KnownOrigin is a platform allowing artists to submit limited-edition digital artwork that is backed by blockchain technology. The combination of smart contracts and ERC-721 (non-fungible token) compliance adds a level of transparency and security that has never been seen before.
Proving Ownership of Digital Art
Using blockchain technology any digital artwork can be permanently embedded into a blockchain providing an immutable, trustworthy and reliable source of ownership. Each piece is unique and the full chain-of-custody history can be viewed by anyone online.
Providing Provenance
Using the power of the Ethereum (ETH) and smart contracts we provide a trusted and secure way to ensure provenance and chain-of-custody is permanently maintained for digital art which is sold on KnownOrigin
Team
| Name | Position | Work Summary | Profile Link |
| --- | --- | --- | --- |
| David Moore | CEO / Co-Founder / dApp User experience designer | He has over 10 years of user experience as a designer, he has taken his insights from product and application design and turned his focus on blockchain technologies. He works on web 3.0 platforms which allow him to find solutions to new UX challenges, improving and creating seamless experiences for customers is what drives him forward each day. | |
| James Morgan | Co-Founder / Blockchain Engineer | He has over 15 years of experience in developing software. Currently, he is focusing on emerging blockchain technologies to develop decentralized applications (Dapps). He is also experienced in smart contracts, truffle, and web3Js. | |
| Andy Gray | Co-Founder / Blockchain Engineer | He has over 20 years of experience in IT development for systems & products, he is mainly focused on decentralized application (Dapps) development, primarily on web 3.0, building smart contracts with Solidity, Truffle, and JavaScript. | |
| Franky Aguilar | Adviser / Entrepreneur and product designer | He is a native of California, he has multiple 'start-up' success stories as well as leading a design team at one of the largest blockchain companies. He studied web design and interactive media at The Art Institute of California – San Francisco in 2010. | |
How It Works
Applying to Be an Artist
In order to become an artist or contributor on KnownOrigin, one must create a profile page. This is typically a profile picture, bio, and social accounts such as Twitter and Instagram and can be done via the sign-in tab.
The artists will need to have a digital wallet such as MetaMask.io or Trust Wallet installed before doing this. Once a profile is created they can apply via the Artist application form. The applications are reviewed by the team and the artists are verified via direct comms on Instagram, Twitter. and email. The team tries to ensure a very high level of due diligence and this can have an impact on how long it takes for them to add new artists to the platform.
Create Digital Artworks
Artists create digital artwork that can be tokenized via KnownOrigin. All artwork files are held on InterPlanetary File System (a distributed storage solution), these assets are given unique identifiers which can be tracked for chain-of-custody and provenance.
Upload Artwork File to the Gallery
Artists can submit digital artwork as JPEGs or GIFs to KnownOrigin gallery.[6]  The artist is always in control of the number of copies that exist which creates scarcity. Once all the assets have been sold no more can ever be created. All digital artwork can be traced transparently using blockchain technology and anyone can view the transaction history.
Selling Rare Digital Art
Collectors can buy digital assets as NFTs (non-fungible tokens) minted via KnownOrigin smart contract. It is a commission-based platform and it is programmed into the smart contract, so no middlemen are required, artists will immediately receive remuneration for their hard work and effort.
The smart contract handles all the commission directly on the blockchain. You will get paid directly to your cryptocurrency wallet. [3]
Full Royalties and Fee Breakdown
For the first sale of a KnownOrigin artwork, 85% goes to the Artist, 15% goes to the commission fee. For a secondary sale (and all sales made after the first sale) 87% goes to the Seller, 10% goes to the Artist and finally, 3% goes to the commission fee. [2]
A new feature enables collaboration and split payments at the point of sale, it ensures that both artists are represented on-chain and that all parties receive payment autonomously.
Both artists collaborate to produce the artwork, one of the artists uploads the file to KnownOrigin. As part of the uploading the file the artist simply adds the Ethereum address of the collaborator, once the upload is complete both artists will be represented on the gallery alongside the associated artwork, and immediately after the artwork is sold both artists will receive payment automatically via the smart-contract.
(Note: *43% / 42% split after the 15% commission).
Partnerships and Ventures
Banddad.net
In early 2018 Banddad.net (The Blockchain & Digital Associates Directory) was built, this is an online directory, a place to discover all the artists, designers, and UX practitioners that are building awesome stuff on Web 3.0. [7]
CryptoKaiju.io
KnownOrigin on Decentraland
KnownOrigin partnered with Oliver Carding founder of CryptoKaiju.io. The collaboration gave rise to the birth of one of the world's first vinyl toys powered by the blockchain. [7]
RadiCards
The Ethereum community approached KnownOrigin to help build and deliver a not-of-profit project called RadiCards. The aim of this platform is to let users send e-cards to friends and family using crypto.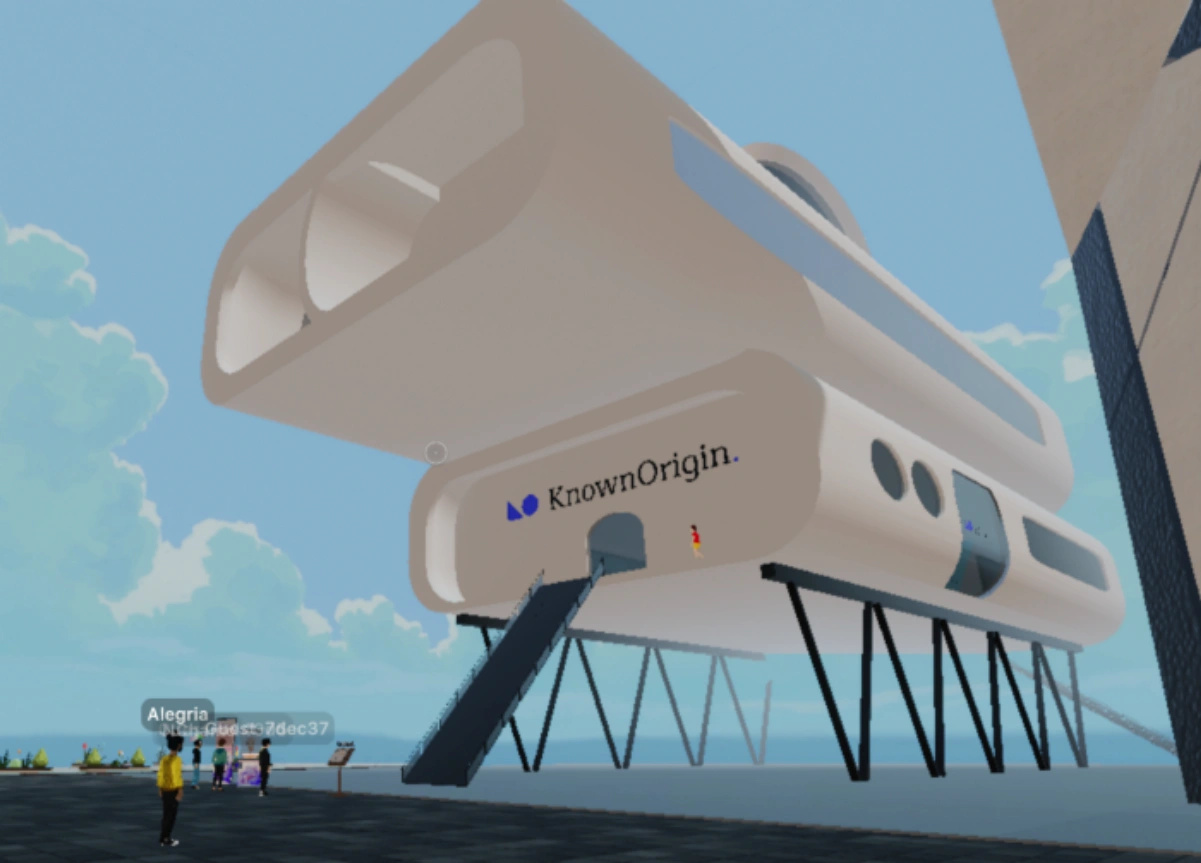 All funds raised by the platform are donated to activists and charities supporting the fight for freedom around the world. [7]
OxCert
KnownOrigin partnered with Oxcert to promote artists on the blockchain and the potential of non-fungible tokens (NFTs) at the July 2018 NIFTY Conference + Hackathon in Hong Kong.
The aim of the NIFTY conference is to bring together developers, entrepreneurs, and investors to elaborate on the future of non-fungible tokens (NFTs), collectibles, and the potential of blockchain the uniqueness of assets. With joined forces, NIFTY is building on expanding the consumer market and the community that is employing blockchain technology.
Among the speakers at NIFTY, several renowned names will be representing various industry giants, such as HTC, DAPP.com, MadHive, Decentraland, Coinbase, Kenetic, GameToken, 0x Project, Codex Protocol, RareBits, Ethereum Foundation, Neon District, and others.
The KnownOrigin said,
"We are super excited to see how we'll be working with 0xCert on future collaborations."
Kaleidoscienza
KnownOrigin partnered with Kaleidoscienza for one of the latest Creative Challenge. The creative challenge was an open call for artists to create original artworks based on the theme of biodiversity. [9]
They received an overwhelming response and the standard of work submitted was astounding. With over 35 entries submitted, the creative community really came forward to engage with the project. The judging panel had a bit of a hard job creating a shortlist and voting for the eventual winners. [9]
The KALEIDOSCIENZA & KnownOrigin teams worked alongside Dr. Fabio Marroni, Associate Professor in the Department of Biological at the University of Udine, Italy to decide on the final 12 artworks.
The Winning Artists
Nature's Nocturnal Symphony by Alecttn
Virtual Blossoms by Dark Fractures
Re-bird by Quézia
Ghost of The Mountain by Kitty Bast
Cidade Jardins by Yuri Tuma
Out of sync by Xaedron
Natura armoniosa by Gloria Corradi
A small big world by Civit
(Opening _the_Ocean's_Heart) by Sofia Crespo
Abyssal Sucker by Marko Zubak
The Biodiversity Show by Daveed Shwartz
The Last Sardine by Daveed Shwartz
The creative challenge was in partnership with the Kaleidoscienza, a non-profit association & University of Udine, Italy. This was an experiment to see if a series of digital artworks based on a theme can help raise awareness and ultimately distribute the narrative around biodiversity. [9]
Decentraland
KnownOrigin has partnered with Decentraland and added its inventory to the Decentraland Marketplace. Their focus is on unique and authentic pieces as KnownOrigin hosts some truly incredible digital artworks, digitally signed and verified through the blockchain. [10]
During Art Week back in June 2020, KnownOrigin opened the doors to its Decentraland gallery space. Located on the edge of Soho Road, adjacent to MakersPlace, the KO gallery is a sleek, white and futuristic piece of architecture. The launch was well attended, with an impromptu dance party taking over the top floor. [10]
Users are able to access the entire KnownOrigin inventory and trade artworks using MANA. A 2.5% fee is charged on top of all trades and will be burned. [10]
eBay Acquires Leading NFT Marketplace (KnownOrigin)
By acquiring NFT marketplace KnownOrigin, eBay launched its boldest foray yet into the realm of digital treasures. The online auction website did not disclose the deal's worth in the news statement, but it did state that it was completed as of June 21.
"This partnership will help us attract a new wave of NFT creators and collectors," said KnownOrigin co-founder David Moore.
With $7.8 million in total trading volume for Ethereum-backed NFTs, KnownOrigin is now ranked No. 12 overall.
NFTs like this one now resembles conventional eBay listings, and the seller must specify in the body of the item which digital wallet is required to purchase it.
Last year, eBay began permitting NFT sales on its platform. With the purchase of KnownOrigin, eBay has the chance to take control of a legitimate online market where NFT transactions can be watched over and managed, as opposed to merely being given with the expectation that the seller would successfully transfer an NFT to the buyer's wallet.
NFTs may currently be listed on eBay in the same style as real goods by approved sellers, and many listings today include information on the NFT mint number and the digital wallet the purchaser will require to receive the transfer after the sale. There are also several restrictions associated with eBay's current NFT sales model, including a $10,000 cap, a buy it now approach (with no bidding or best offers), and a need that the buyer and seller be located in the same nation. NFTs cannot also be sold in conjunction with a tangible good.
This month, eBay created a new physical vault to secure tangible collectibles, with the possibility of permitting rapid digital sales of the things without ever sending them out. However, that last restriction of not being able to tie a physical object to an NFT sale is what most intrigues me. Regarding the possibility of future integration between actual items in the vault and NFTs, eBay declined to comment.
The decision was made for a number of reasons, one of which being that eBay's culture is strongly influenced by a belief in collaboration and invention, according to the official medium handle of Known Origin. Over the past 25 years, the platform (eBay) has worked hard to develop a devoted vendor and buyer community on their marketplace. Their real eagerness to discover, accept, and comprehend the subtleties of web3 culture has been made evident.
The partnership is at the core of the big tech-driven reimagination eBay is presently undergoing.
It is firmly believed that this will raise the collective consciousness of KO, eBay, and the larger community.
See something wrong?
Report to us.
KnownOrigin
Did you find this article interesting?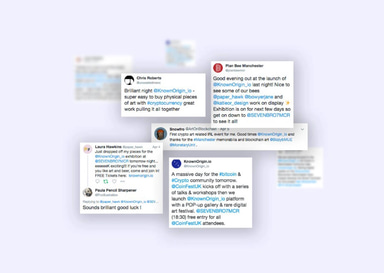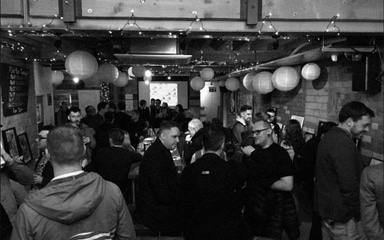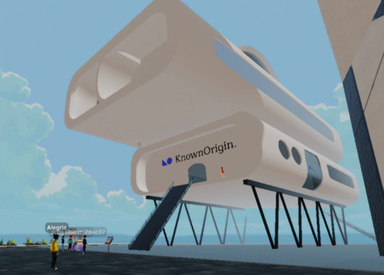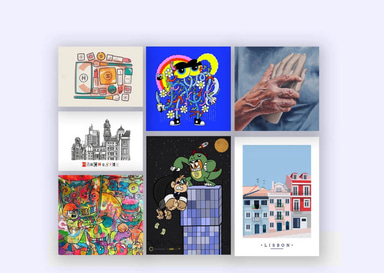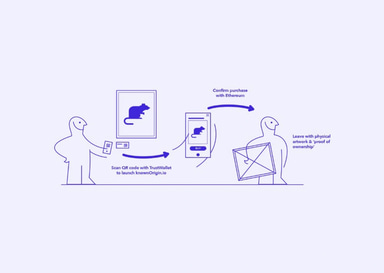 REFERENCES
[1]
KnownOrigin website
Aug 20, 2022
[2]
What you need to know about KnownOrigin
Aug 20, 2022
[3]
What you need to know about KnownOrigin
Aug 20, 2022
[4]
Known Origin on Twitter
Aug 20, 2022
[5]
Known Origin on NonFungible
Aug 20, 2022
[6]
Known Origin News
Aug 20, 2022
[7]
KnownOrigin: End of year review
Aug 20, 2022
[8]
KnownOrigin.io Launch Event..
Aug 20, 2022
[9]
Kaleidoscienza Creative Challenge Winners
Aug 20, 2022
[10]
KnownOrigin joins the Decentraland Marketplace
Aug 20, 2022