Lucian Mincu
Lucian Mincu is a co-founder and the CIO of MultiversX, a decentralized smart contract platform, formerly called Elrond. He is also a co-founder and the CTO of two companies in the blockchain and crypto space, Metachain Capital and ICO Market Data. [1][2]
Education
From 2014 to 2016, Lucian Mincu pursued his education at the Industrie- und Handelskammer, where he specialized in Computer Science and obtained the title of Fachinformatiker. [1]
Career
In September 2016, Lucian Mincu co-founded Metachain Capital and assumed the role of Co-Founder & CTO until December 2017. Metachain Capital is a digital asset investment fund that focuses on supporting ambitious teams and innovative technologies within the blockchain space. Noteworthy investments made by the fund include Polkadot, Zilliqa, Binance, Brave, and Tezos. [1][3]
From August 2017 to December 2017, Lucian Mincu served as the Co-Founder & CTO of ICO Market Data. The platform aimed to help individuals navigate the complex world of Initial Coin Offerings (ICOs) by providing comprehensive information such as an ICO Calendar, ICO Rating, ICO Returns history, and a personal portfolio. [1][3]
Since September 2017, Lucian Mincu has served as the co-founder and CIO of MultiversX, a blockchain platform that implements adaptive state sharding and secure proof of stake. It aims to create a decentralized, secure, and scalable public blockchain infrastructure, offering interoperability and cost-effective smart contract solutions. [1][3]

See something wrong?
Report to us.
Lucian Mincu
Did you find this article interesting?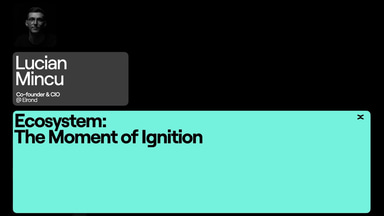 REFERENCES
[1]
Linkedin Profile
May 24, 2023
[3]
Theorg profile
May 31, 2023