Manish Gupta
Manish Gupta is an Executive Vice President of Engineering at Coinbase, a centralized exchange (CEX) platform for buying, selling, transferring, and storing cryptocurrencies. He started his career as a software engineer and eventually advanced to executive roles, overseeing entire engineering departments within various companies. [1][2]

Education
Manish Gupta completed his Bachelor of Engineering (B.E.) in Computer Engineering at the University of Mumbai in 1997. Following the completion of his undergraduate studies, he earned a Master of Science (MS) in Computer Science from the University of Illinois Urbana-Champaign in 1999. [3]
Career
Manish Gupta's professional career started at Microsoft, where he served as a Summer Intern for 4 months, from May 1998 to August 1998 in Redmond, WA. During this time, he played a role in shaping communication services provided by Windows CE. [4]
Following this, Manish joined Excite@Home as a Software Engineer, where he worked for 2 years, from 2000 to 2002 in Redwood City, CA. His team created Surepay, a geographically distributed B2B/B2C platform, and Manish served as a team lead, contributing to various aspects of the platform. [4]
Google
His career at Google started in 2002, where he held the position of Senior Software Engineer for 3 years, until 2005, in Mountain View, CA. During this time, he was instrumental in building the billing and payments platform, ensuring it adhered to Sarbanes-Oxley compliance. [4]
From 2005 to 2009, Manish continued his journey at Google as a Staff Software Engineer for 4 years in Mountain View, CA. He founded and led a team responsible for Google Display Advertiser experience, making significant contributions to the development of various advertising tools and systems. [4]
He then proceeded to assumed the role of Director of Engineering for 5 years, from 2012 to 2017, in Mountain View, CA. During this time, he led the core aspects of AdWords application, including Campaign Management and Account Management, and played a pivotal role in the complete rewrite of AdWords Frontend and API. [4]
In his last year at Google, from 2017 to 2018, he became the Vice President of Engineering, focusing on Google's Advertiser Platform, and launching the new AdWords UI. [4]
Lyft
In 2018, he joined Lyft as the VP Engineering for 2 years, focusing on leading engineering teams responsible for the rideshare product, driver and rider apps, payments, identity, risk, safety, support, insurance, and enterprise solutions. [4]
Coinbase
Since August 2020, Manish Gupta has been working at Coinbase, serving as the Executive Vice President of Engineering. His role involves leading engineering teams and contributing to the company's growth and success. [4][5]
"Aside from his exceptional engineering experience, Manish impressed us with his positive energy, clear communication, great questions, and passion for the mission and opportunity we have as a company. We look forward to working alongside Manish to build a more open financial system." - Brian Armstrong, CEO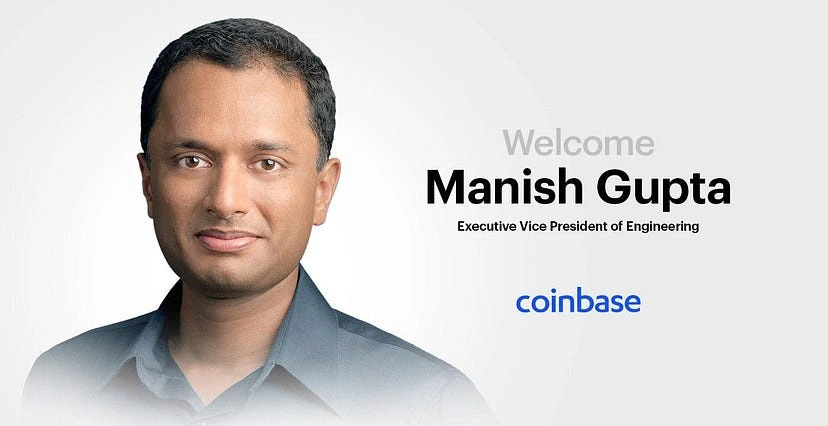 See something wrong?
Report to us.
Manish Gupta
Did you find this article interesting?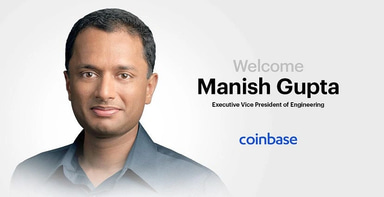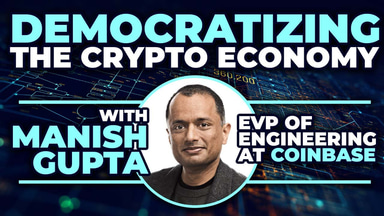 REFERENCES
[1]
The Org Profile
Oct 6, 2023
[2]
Crunchbase Profile
Oct 6, 2023
[3]
Linkedin Profile
Oct 6, 2023
[4]
Linkedin Experience Section
Oct 6, 2023
[5]
Coinbase welcoming Manish
Oct 6, 2023