Nick Johnson
Nick Johnson is the founder and lead developer of Ethereum Name Service (ENS). ENS has introduced advancements in the realm of decentralized naming for wallets and addresses in the Web3 ecosystem. It has provided multiple use cases, including streamlining user experience for cryptocurrency transactions and facilitating the storage of avatars and profile information. [1][2]
Education
From 2001 to 2003, he studied Computer Science at the University of Canterbury. [1]
Career
In 2021, he started his career as a software engineer at Niche Software Ltd, Atmosphere Design, Haydrian Corporation, and Telogis in New Zealand. Afterward, he worked at Google as a Site Reliability Engineer and Developer Programs Engineer, where he was involved in activities related to Google App Engine. [1]
Ethereum Name Service (ENS)
Johnson has played a significant role in the Web3 field by creating and heading the development of Ethereum Name Service (ENS). ENS facilitates decentralized naming for wallets and addresses in the Web3 ecosystem and has various other potential applications such as streamlining the user experience for cryptocurrency transactions and storing avatars and profile information. In 2021, ENS distributed its native token, ENS, via an airdrop, which popularized this growth hack strategy among other projects. However, the effectiveness of airdrops as a marketing tactic has been variable. [3]
In 2016, he was approached by a well-known financial services company to work on Ethereum, which initially sparked his interest. He began experimenting with Ethereum by writing code and developing libraries and soon received a call from the Ethereum Foundation to work on Go Ethereum or Swarm. After joining the Foundation, one of his first projects was working on Swarm, where he developed a naming service for decentralized content. [2]
"The first things I worked on when I joined the swarm team was they needed some sort of naming system because they were publishing content to swarm or that was their intention and they needed a way for people to access it in a human readable fashion."
This project eventually evolved into the Ethereum Name Service (ENS), which rapidly gained traction and became Johnson's full-time job at the Foundation. Later, as the project gained momentum and became too unwieldy for a single individual to manage, the EF recommended spinning it out into its own standalone organization. To facilitate this transition, the EF provided a grant that enabled the founder to recruit the first team members to work on ENS. Many of these initial team members had previously volunteered or been compensated for their work on ENS while it was still under the purview of the EF. [2]
The most challenging aspect has been building and evolving an incentive system to ensure that people use ENS in a way that works best for everyone — discouraging squatting and encouraging active use.
In late 2021, Johnson established the ENS DAO, which achieved a market capitalization of $1 billion on the day after its launch. Ethereum Name Service gained popularity among NFT collectors, resulting in record-breaking sales of three- and four-digit ENS addresses on platforms like OpenSea. As of December, the trading volume of ENS-based NFTs reached 116,000 ETH, with a market capitalization of 57 ETH and almost 623,000 holders. [3]
Johnson developed Thorin, a design system for ENS that uses React and Javascript. Thorin aims to provide an improved user experience, faster loading times, and mobile optimization. Although still in its alpha stage, Thorin serves as a guide for developers building user experiences on ENS. Additionally, Johnson and the ENS team collaborated with Chainlink to develop the Cross-Chain Interoperability Protocol (CCIP), an open-source standard for cross-chain communication. CCIP aims to connect different blockchain networks and enable the transfer of previously isolated tokens. [3]
See something wrong?
Report to us.
Nick Johnson
Did you find this article interesting?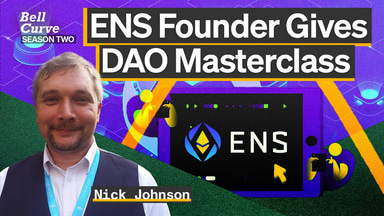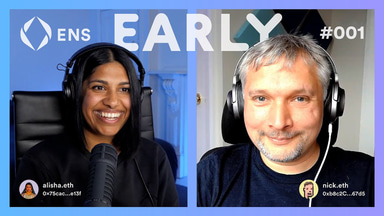 REFERENCES
[2]
Coin Telegraph
Apr 12, 2023
[3]
Coin Telegraph
May 10, 2023
[4]
ENS Foundation Retains Director Following DAO Vote Over Controversial Tweet
May 17, 2023