OmniSat
OmniSat is a community-driven organization built to design solutions for Bitcoin Native DeFi Primitives and it was launched on May 18, 2023. [1][2]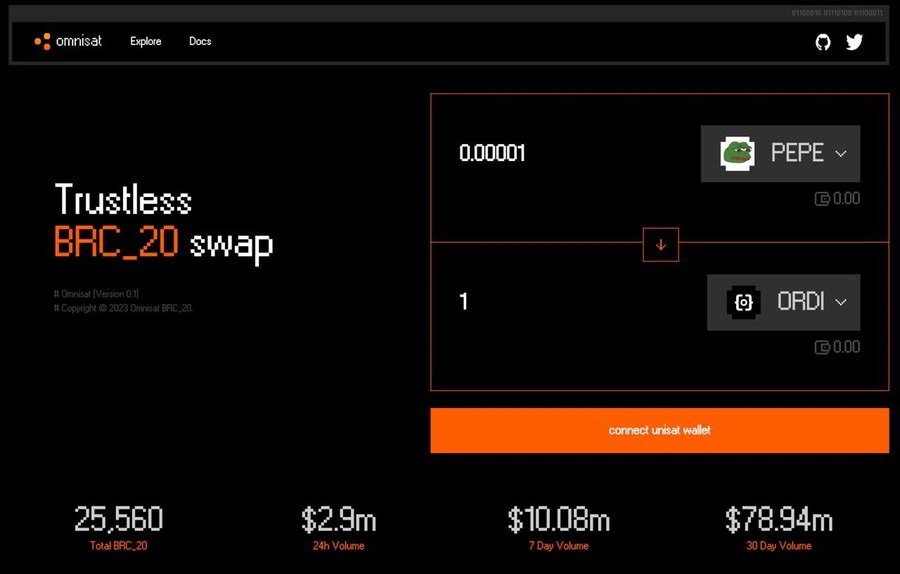 Overview
The OmniSat platform[2] allows users to swap BRC-20 tokens. OmniSat's Bitcoin native approach is designed for composable solutions. OmniSat privatives create network efforts that enable many varieties of decentralized finance markets built on Bitcoin. [4]
OmniSat's products and primitives are designed around protocol-owned liquidity concepts. Protocol-owned liquidity enables reward guarantees. In times of market distress when liquidity is most needed, it's protected by bond terms, which effectively protect markets from death spirals initiated when yield-chasing mercenary capital is pulled resulting in risk. [4]
BRC-20
BRC-20 tokens were launched by an anonymous developer named domo on March 9, 2023. The tokens are built on Bitcoin and use an experimental standard to create fungible tokens. Unlike token standards on EVM blockchains. BRC-20 tokens do not rely on smart contracts. Instead, users can store a script file on Bitcoin and use it to assign tokens to individual satoshis using Ordinal Theory[3]. [5]
BRC-20 tokens utilize JSON data embedded in ordinal inscriptions, allowing for token deployment, minting, and transfer. [5]
"This is just a fun experimental standard demonstrating that you can create off-chain balance states with inscriptions. It by no means should be considered THE standard for fungibility on bitcoin with ordinals, as I believe there are almost certainly better design choices and optimization improvements to be made." — domo
Primitives
Bitcoin Based Automated Market Maker (BBAMM)
Digital assets that are stored in a BBAMM liquidity pool are able to be traded against by traders. Liquidity providers store digital assets in a liquidity pool by depositing proportionate BRC-20 tokens into a given liquidity pool, based on Ticker, where liquidity providers take on price risk and are compensated with trading fees. [6]
BTC-20
BTC-20 enable BRC-20 tokens to be used in DeFi by making them compatible with a BTC familiar. [6]
See something wrong?
Report to us.
OmniSat
Did you find this article interesting?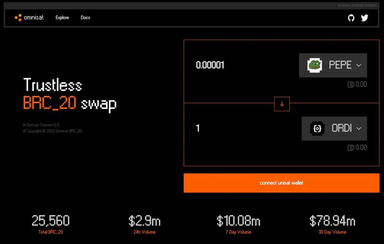 REFERENCES
[3]
ordinal theory
Jul 12, 2023
[4]
omnisat documentation
Jul 12, 2023
[5]
brc-20 token about
Jul 12, 2023