Paul Grewal
Paul Grewal is the Chief Legal Officer (CLO) of Coinbase, a centralized exchange (CEX) platform for buying, selling, transferring, and storing cryptocurrencies. Prior to joining Coinbase, he was a Vice President and Deputy General Counsel at Facebook and has a strong background in law, having been a Judicial Law Clerk, and a United States Magistrate Judge. [1][2]

Education
Paul Grewal earned his Bachelor of Science (BS) in Civil and Environmental Engineering from the Massachusetts Institute of Technology in 1993. Subsequently, he completed his Doctor of Law (J.D.) in Law at the University of Chicago Law School in 1996. [3]
Career
Paul Grewal began his professional career as a Judicial Law Clerk at the U.S. Court of Appeals for the Federal Circuit, where he served from August 1999 to September 2000 in Washington, District Of Columbia. [4]
Following this, he joined Howrey LLP, where he held the role of Partner for 10 years, from December 2000 to November 2010, based in California. [4]
Paul Grewal continued to his career in law, serving as a United States Magistrate Judge at the U.S. District Court, Northern District of California for 5 years and 7 months, from December 2010 to June 2016, in San Jose, California. [4]
From June 2016 to August 2020 he took on the role of Vice President & Deputy General Counsel of Facebook, at the company's headquarters in Menlo Park, California. [4]
Subsequently, Paul Grewal transitioned to Zapproved, where he served as a Director from July 2021 to January 2023, during which, the company was acquired by Exterro. [4]
In May 2020, he became a Director of Nomination and Governance Committee at the Law Foundation of Silicon Valley, where he continues to contribute his expertise. In December 202, he join Epiq, also as a Director, further expanding his legal career. [4]
Coinbase
Since September 2020, Paul Grewal has held the position of Chief Legal Officer & Corporate Secretary at Coinbase, where he oversees most legal functions within the company and manages the legal team. He joined Coinbase because he was impressed by the Coinbase team and believed that they would be able to fulfill the company's vision for creating a global open financial system. [4][5]
"At Coinbase, Paul will oversee all legal functions of the global business and will manage the continuing growth of our best-in-class legal team. As part of our commitment to operating the world's leading regulated crypto business, Paul will also lead the team's continuing work to partner with financial services regulators, contribute to the development and rollout of innovative, regulated products and services, and support the company's global growth and regulatory strategy. Paul's unique mix of experience in private practice, as a federal judge, and as a leading in-house lawyer and business leader will make for another phenomenal addition to the executive management team at Coinbase." - Emilie Choi, COO
"When I asked Paul what made him want to join the company, he said, "I came to understand the vision for an open financial system for the world. And I got to see just how talented and committed the entire Coinbase team is in making that vision a reality. I decided then and there that I just have to be a part of this." - Emilie Choi, COO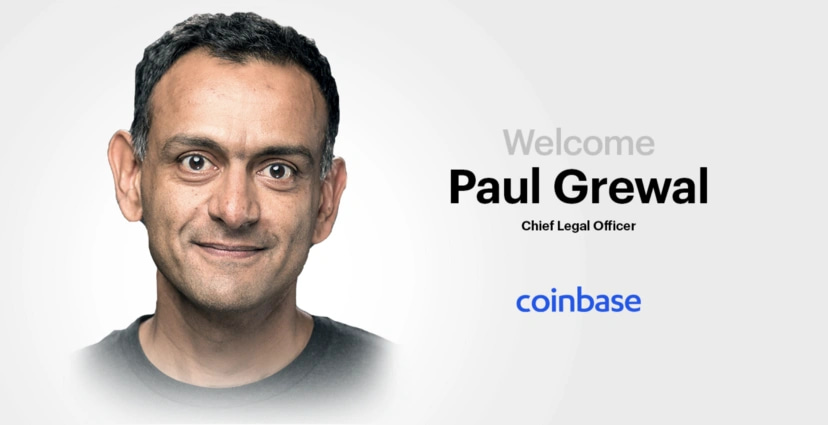 See something wrong?
Report to us.
Paul Grewal
Did you find this article interesting?