Pixelmon
Pixelmon is an open-world role-playing game where users can trade and train their little monsters called Pixelmons. Pixelmons can fight against other players, which can give rewards in the form of ETH or Pixelmon NFT. The project was founded by Martin van Blerk. [1]
History

On February 8th, 2022, a total of 7750 Pixelmon NFTs were minted and quickly sold out within an hour of the launch through a Dutch auction, with each NFT starting at a price of 3 Ethereum. However, some concerns arose when users noticed that the team behind Pixelmon had not revealed their identities and that the name "Pixelmon" was borrowed from an existing Minecraft mod. As a result, the prices dropped to approximately 1 ETH, decreasing by 0.1 ETH every ten minutes. [2][3]
Subsequently, the Pixelmon NFTs were unveiled after a few delays, but this led to disappointment among many as the actual NFTs did not match the vibrant and visually appealing figures showcased in the Pixelmon teasers on Twitter. [3]
Apart from the quality issues, it was discovered that a significant number of Pixelmon NFTs were derived from pre-existing Unity art libraries. An NFT enthusiast known by the Twitter handle NFTherder revealed that Pixelmon's founder, Martin van Blerk, had obtained stock models from MeshTint Studio and converted them into voxel assets to achieve the desired uniform pixel art style. [3]

Additionally, van Blerk hired various artists through Upwork without disclosing that their artwork would be used in an NFT project. One of these artists, known as "Malbers Animations" on Discord, was compensated for creating different versions of 3D dragon models intended for the Pixelmon NFT collection. It was revealed that this work was completed just one day before the official unveiling of the Pixelmon art. [3]
In September 2022, it was announced that LiquidX, a Web3 venture studio, acquired a 60% stake in Pixelmon. Giulio Xiloyannis, co-founder of LiquidX, became the CEO. A new team was assembled, and a revised roadmap was established (details pending discussion). The remaining approximately $50 million from the minting process was secured through a multi-signature wallet arrangement, a setup credited to van Blerk for its swift implementation. [12]
Overview
Pixelmon is an NFT game built on the Ethereum blockchain, offering players the opportunity to engage in trading and training of small creatures known as Pixelmons within a virtual universe. The core objective revolves around acquiring and battling Pixelmons to secure rewards, which can be in the form of Ethereum (ETH) or Pixelmon NFTs. [4]
This game provides a free-to-play experience, supplemented by optional pay-to-play features. It aims to cater to a wide range of player preferences, accommodating solo play, multiplayer interactions, player-versus-player (PvP) engagements, and player-versus-environment (PvE) challenges. Available on both PC and mobile platforms, the developers have future plans to expand its accessibility to additional platforms. [4]
Kevin Meme 
After the reveal of Pixelmon NFTs, while a significant portion of Pixelmon NFTs experienced a decline in value, the Kevin Pixelmon character saw a notable rise in sales volume, particularly beginning on February 28th. The name "Kevin" represents the assigned "species" trait of the NFT, and there were only 14 out of 10,000 NFTs. [8]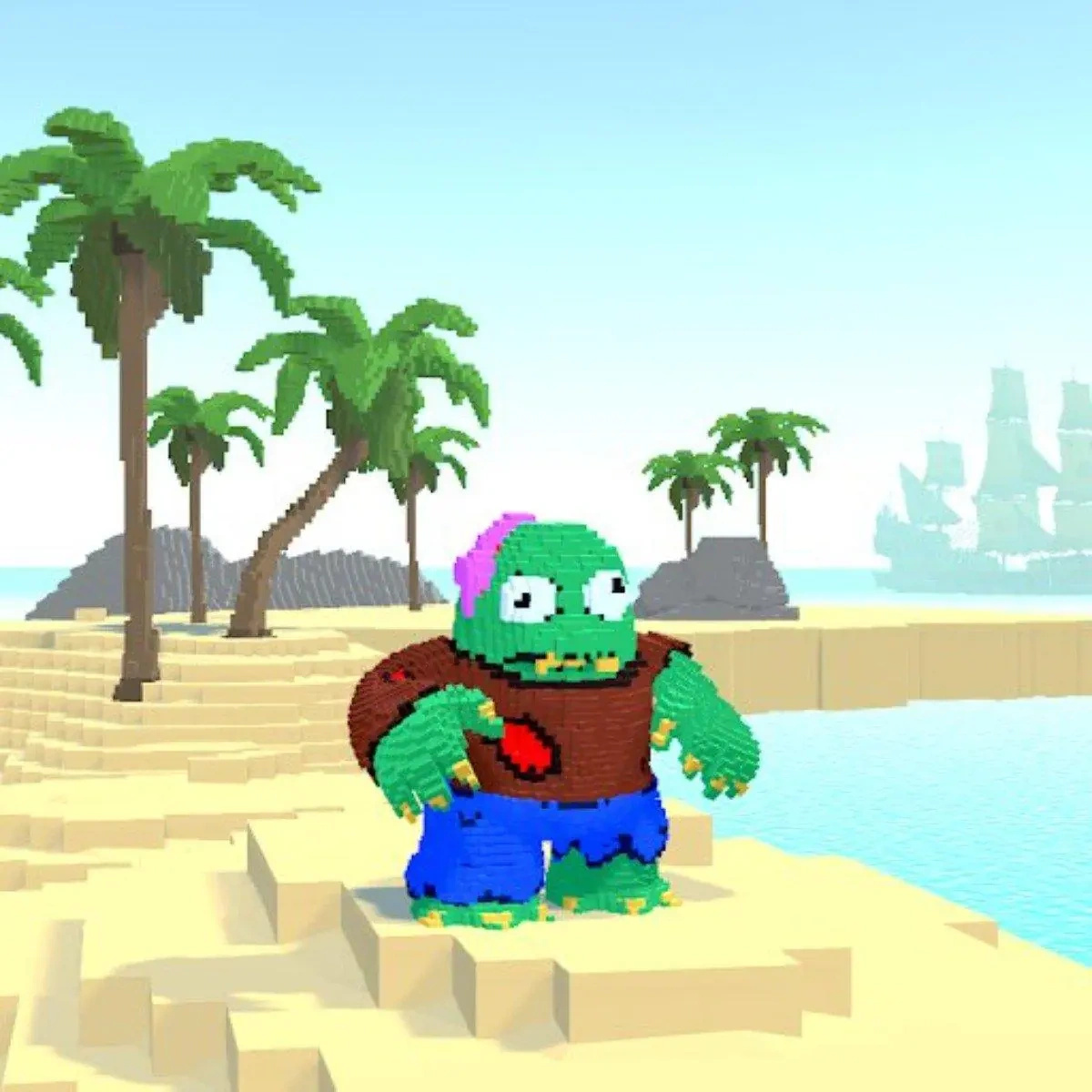 Kevin gained popularity as a meme among cryptocurrency investors. This led to the creation of Twitter accounts and a meme coin dedicated to him. Despite Kevin's distinctive features including a blocky build, golden buck teeth, and a missing googly eye, his corresponding NFTs commanded notably higher prices compared to other Pixelmon characters.
[8]
In August 2023, to celebrate the launch of Base, Coinbase announced the comeback of the video game character Kevin. As part of the exchange's "Onchain Summer" campaign, the collectible was available for purchase on Base. This item was priced at $2 or approximately 0.001 ETH. Buyers would receive various benefits, including entry into a raffle for an in-game NFT egg, perks for an upcoming mini-game on Base, and the option to buy a real-world Kevin building block set. [10][11]
Features
Pixelmon Generation 1 NFTs
These NFTs are the first playable species ownable by players. They consist of a collection comprising 68 creatures, having a variety of over 130 evolutions. Their availability is limited to a specific drop, thus not being obtainable after the first genesis collection. [4]
Some advantages include enabling owners to gain exclusive access to airdrops of land, which can be staked for in-game yields. [4]
Evolution
Pixelmons are designed to undergo evolution through training. Once they have evolved,  these creatures undergo visual transformations, in addition to receiving stat boosts and acquiring new abilities. Consequently, they become more powerful, granting players a competitive advantage during battles. [4]
To initiate the evolution process, a serum is necessary for the monster. During this process, only the serum is consumed, and the player retains both the original NFT of the monster and a newly evolved NFT. This allows players to preserve both versions of the monster as separate entities. [4]
Land
In the game, players have the opportunity to own land NFTs, which offer various advantages and functionalities. The possession of land NFTs grants players access to specific services and the ability to extract resources. [4]
The available land is divided into two categories: urban, which provides yield-based benefits, and peripheric, which allows for resource extraction. Additionally, there are future plans to introduce a third type of land NFT called "region." This new addition would enable players to expand the map itself, further enhancing the gameplay experience. [4]
Pixelmon Training
The concept of Pixelmon Training operates in a similar process to soft lock staking. This means that the NFT instead of being transferred to a smart contract, the user will have to complete access to their NFT. If there is a change in ownership of a specific Pixelmon (through purchase, sale, or transfer) at any point during the training process, the timer will be reset. Subsequently, the Pixelmon will need to undergo the soft-locking process once more under the new wallet or owner. [14]
Genesis NFT Collections
Pixelmon Genesis NFTs have the ability to evolve through a process called Serum Burn. This means that an additional Creature Genesis E2 can be introduced alongside the existing E1 by using an E2 Serum NFT (in the case of evolution 2). For Generation 1, there will be a limited supply of 2,800 E2 serums, 1,000 E3 serums, and 33 E4 serums. Pixelmon Evolution 2 (E2) was launched on May 2023. [16][17]
E1 Creature Genesis NFTs
This collection has 10,005 NFTs available. These NFTs individually symbolize one of 69 distinct species, categorized under four Origins (Water, Fire, Air, and Earth) and six different rarity tiers. The unveiling of each creature occurs through the hatching of an egg. Those who own L1 Genesis NFTs, including all Evolutions of Pixelmon Generation 1 creatures, are expected to receive an L2 in-game NFT copy of their Pixelmon creature. [13]
Serums NFTs and Creature Evolutions Genesis NFTs
Owners of Creatures Genesis NFTs have the option to exchange an Evolution Serum NFT for a higher evolution airdrop. Each creature can progress through two evolutionary stages from its E1 form, and a select few will have a third evolution step (E4). There is a limit to the number of evolutions, and higher-level evolutions will be more scarce: specifically, there will be 2,800 E2 serums, 1,000 E3 serums, and 33 E4 serums in total. These serums will be allocated to Genesis NFT holders through raffles, similar to Trainers Adventures, and as rewards in community events.For  access to E3 and E4 serums, possessing all available evolution steps of a particular species (known as "flushes") will be significant. [13]
Trainers Genesis NFTs and Gears NFTs
The Trainer NFT collection consists of 7,000 distinct trainers, created through unique combinations of 176 different gears, armors, and accessories. This collection includes 20 exclusive full-body outfits and 40 unique weapons. There are 20 Gold Trainers, specially customized NFTs exclusively available to original Elite trainers' holders. [13]
The rarity of each Trainer is determined by the rarity of their upper body clothing. These trainers are made available for claiming by holders of E1 Genesis Creature NFTs that match the same rarity tier as the Pixelmon. Due to a claim ratio of less than 100%, the Trainer collection is smaller in size compared to the Pixelmon E1 collection. [13]
LiquidX Studio
Pixelmon is developed by LiquidX Studio, a Web3 VC studio specializing in supporting NFT-based initiatives. In 2022, LiquidX secured a 60% ownership in the project, with Giulio Xiloyannis, co-founder of LiquidX, assuming the position of CEO at Pixelmon. On April 2023, the project announced the following members to its Advisory Board: Imre Jele, Daryl Clewlow, Ryan David Williams, and Jacob Krüger. [5][6]
Xiloyannis characterized Pixelmon as a game designed for Pokémon enthusiasts seeking a nostalgic experience but desiring a more mature gaming encounter, akin to a "Call of Duty" equivalent for the Pokémon world in contrast to the lightheartedness of "Fortnite." [7]
Liquidx, the gaming studio responsible for the project, is developing two distinct games centered around the Pixelmon NFTs. The first game, provisionally titled "Hunting Ground," will be an open-world adventure where players engage in acquiring more creatures. The second game, "Arena," will be a stadium-based combat experience where users assume the role of Pixelmon and battle against other players. [7]
Team 
The current team encompasses more than 50 members, where the CEO, Giulio Xiloyanis, has experience in investing, founding and running companies such as Zalora. Other members include: [9]
Stefan Ivanov (Art Director) possesses 13 years of experience in game art and design. He has worked on notable titles such as Mortal Kombat, WWE Remastered, and Saints Row: The Third Remastered.

Pascal Luban (Lead Game Designer) has accumulated over 26 years of experience working across 14 studios. He was awarded the 'Best in Gaming Award' at the 2009 Digital Media Awards for his contributions to The One Hope™, a turn-based action-adventure title.

Sean-Li Murmann (Game Tech Director) has seven years of experience in video game production. He has contributed to significant titles at Streamline Studios, including Final Fantasy XV.

Anthony Bray (Senior Producer) brings nearly 30 years of industry experience to the team. He was a part of the original Sony team established for the introduction of PlayStation in Europe.
Partners
Pixelmon's partners include: [15]
Two AM as Pixelmon's sound partner, where they have focused on the individual character audios. 
Brightnode, a group of tokenomics experts and consultants helping to create a ecosystem supported by a tokenomics system. 
StarLoop Studies, a game and art development studio working on the game aspects of the project.
Wachsman, a global consultancy group, as a PR Partner.
Keveru Games, an art outsourcing studio specializing in game design and development services.
See something wrong?
Report to us.
Pixelmon
Did you find this article interesting?