pNetwork
pNetwork is a decentralized ecosystem backing the cross-chain pTokens solution. The pTokens solution enables the free movement of crypto assets across a variety of blockchain networks. As an initial incentive for boosting engagement, a 42% reward is granted to DAO members who actively contribute to its governance[1][2].
pTokens and PNT
pTokens Project Launches pNetwork DAO With Staking Rewards of 42% APR
pTokens are cross-chain compatible tokens that allow seamless exchanges between many popular cryptocurrency assets. The goal of pTokens is to connect any token with any blockchain. Each pToken is pegged to its corresponding token, such as pBTC and pEOS. One pEOS is the equivalent worth of one EOS, and so on with other crypto assets such as Bitcoin (pBTC).
PNT is the pNetwork governance token that is generated on the pNetwork DAPP. Any holder can become a pNetwork Validator if they stake the appropriate amount of PNT within the DAO. The token is used for community governance within the pNetwork[3].
pTokens System Overview
PNT Token || 42% APR || Next Level DAO
The pTokens system is aimed to connect a variety of blockchain protocols, for any crypto asset to be moved cross-chain. The first pTokens bridge (pBTC on ETH) had a successful mainnet launch on March 5th, 2020, with a number of integrations live, including industry-leading liquidity providers Kyber Network and Bancor Network. Other platforms have performed seamless integrations so that peg-ins and peg-outs can be made straight from their interface. Examples include (but are not limited to) DMex and Eidoo.
Another pTokens bridge (pBTC on EOS) was released to enable the connection of the Bitcoin and EOS networks. pTokens BTC was adopted by the industry-leading Equilibrium framework as collateral for the EOSDT decentralized stablecoin.
Multiple pTokens bridges are already in the works and released on testnet. Examples include a pTokens bridge between Litecoin and Ethereum (pLTC on ETH) as well as the connection of the current two major DeFi (Decentralized Finance) networks, Ethereum and EOS (pEOS on ETH and pETH on EOS).
The pTokens system will undergo a series of upgrades to achieve a fully decentralized network of validators, the pNetwork, where multiple operators (validators) will ensure there is no central point of failure.
pTokens System Development
The pTokens system is currently in Phase Zero. In its initial stages, the pTokens system is operated by a single validator.
Phase One
A first upgrade of the pTokens system (Phase One) is aimed to introduce a network of validators that will cooperate in the automated verification of each peg-in and peg-out procedure. The pTokens system will continue to be underpinned by Trusted Execution Environments (TEE) who act as validators (nodes) in the network. These enclaves are encrypted hardware ensuring the integrity of the node, and guarantee a secure and fully auditable execution of all minting and redeeming processes.  According to the Roadmap, Phase One will start in Q3 2020.
Phase Two
Further upgrades (Phase Two) aim to achieve full decentralization, making the pTokens system an open network that anyone can be part of. It's a permissionless network where a Secure Multi-Party Computation (MPC) algorithm is jointly used by validators to reach consensus, power its computations and perform all peg-in and peg-out procedures.
pNetwork DAO
The pNetwork is home to a Decentralized Autonomous Organisation (DAO) that governs the network itself, along with the pTokens bridges and their dynamics. Members of the DAO will initiate voting processes to influence the development and future of the pTokens system[4].
pNetwork DAO was launched on July 31, 2020, giving holders of the governance token PNT the opportunity to help govern and influence the future of the DeFi cross-chain solution. Active voters receive competitive interest rates for their participation, receiving 42% APR interest on their stake during the first year, and 21% APR interest the following year. This reward incentive is designed to give back to the founding community and help the pNetwork grow while in its initial stages. Up to 28,350,000 $PNT tokens are dedicated to this initiative, which are generated through an inflation mechanism[5].
Steroids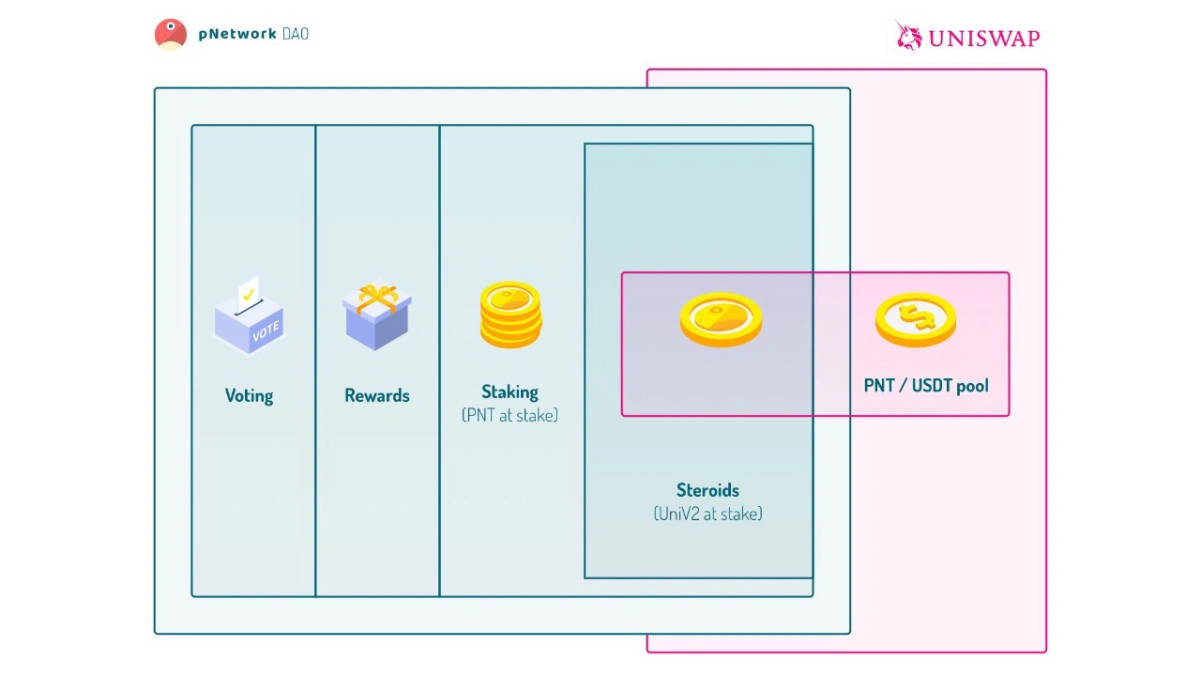 pNetwork Steroids program
Along with pNetwork DAO, pNetwork team launched the yield farming program, Steroids. The program is created to run for a period of one month and award Uniswap liquidity providers with up to 10% monthly interest, distributed in pNetwork Token (PNT). The Steroids program incentivizes users to add liquidity to Uniswap's pool for PNT, the first token to go on Steroids, as well as multiple pTokenised assets in future. Up to 200,000 PNT tokens are dedicated to the interest rewards. The more liquidity users provide, and the longer it is staked for, the higher the reward is. All PNT token holders can receive rewards by adding liquidity to the Uniswap V2 PNT/USDT liquidity pool. By providing this liquidity, token holders will receive "UniV2" pool tokens in return, which act as a receipt for one's contribution and represents their share within the liquidity pool.
Additionally, Steroids functions as an app within the pNetwork DAO. This component enables the UniV2 PNT/USDT pool tokens to be staked directly within the DAO. This makes it possible to combine both Steroids rewards with pNetwork DAO voting rights, which unlocks 42% APR rewards.
Token Economics
Since 2017, the EDO token has been at the centre of the Eidoo ecosystem. In 2020, Eidoo worked with their sister company, Provable Things, to upgrade EDO into a new token to enhance its utility and functionality. This upgrade resulted in EDO being relabelled as PNT.
The pNetwork token (PNT) is the native token of pNetwork. It serves as an instrument of governance and incentive for the users in the network for carrying out their specific roles. The PNT is leveraged internally by the pTokens system to enable operations for both validators and DAO members. The pNetwork Token (PNT) will initially be issued as an Ethereum token, following the ERC-777 token standard (backwards compatible with ERC20).
Prospective validators need to stake a minimum amount of PNT tokens (200K PNT), which is then used to show their commitment and serves as a bond.
During the initial stages of the project, an additional economic incentive is introduced to the system to encourage active participation within the DAO while the system gains organic traction. While at stake, PNT tokens mature with an overall 63% interest over two years[6].
Team
Thomas Bertani - Project Lead
Alice Corsini - Operations
Jelena Keatley - Communications
Savannah Lee - Communications
Robin Whitley - Communications
Greg Kapka - Software Developer
Mauro Piazza - Software Developer
Bogdan Arabadzhi - Software Developer
Marco Roccon - Devops
Alle Manfredi - Software Developer
See something wrong?
Report to us.
pNetwork
Did you find this article interesting?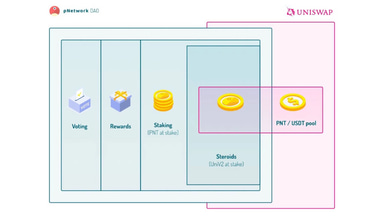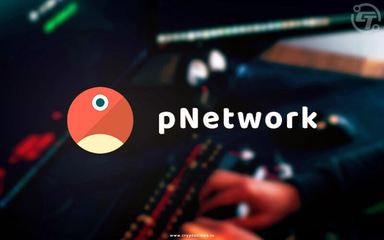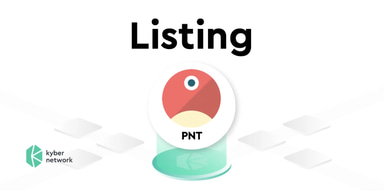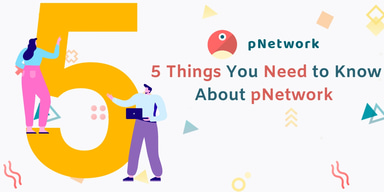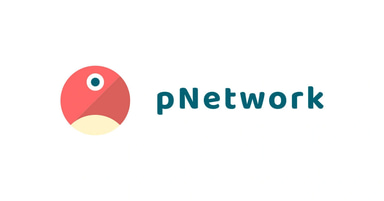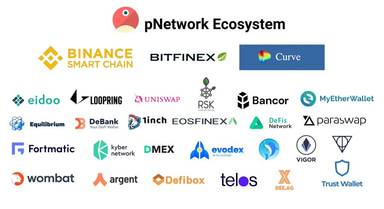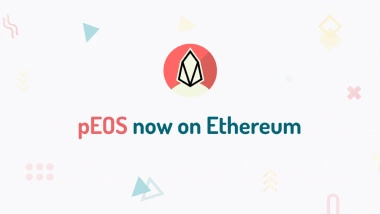 REFERENCES
[1]
pNetwork Launches Yield Farming Programme, Steroids
Aug 9, 2022
[2]
PNT Token || 42% APR || Next Level DAO
Aug 9, 2022
[4]
pTokens Project Launches pNetwork DAO With Staking Rewards
Aug 9, 2022
[5]
pTokens project launches pNetwork DAO
Aug 9, 2022
[6]
Introducing the pNetwork & PNT
Aug 9, 2022