Sota Watanabe
Sota Watanabe, born in Japan in 1995, is the founder and CEO of Astar. He is also the founder of Shiden Network and the CEO of Stake Technology. Watanabe was featured in Forbes 30 Under 30 Asia in 2022 at age 26 and was selected as one of Japan's top entrepreneurs. He was awarded Product of the Year 2022 at the 4th annual Blockchain Awards by the Japan Blockchain Association (JBA) and selected by the Japanese government to move web3 forward as part of the country's national strategy. [1] [2] [3][4] [5]
Early Life and Education
Watanabe was born and grew up in Kawasaki-ku, Kawasaki, Japan. He has a degree in economics from Keio University in Japan, after which he relocated to San Francisco, USA, to study and earn a certificate in the International Business Program. While he was in San Francisco, he built his English skills at the American Language Institute and developed the knowledge and skills to become a global leader. Also, he made the most of his time in the San Francisco Bay Area by attending art and language exchange meetups and IT events in downtown San Francisco. He visited technology headquarters in Silicon Valley and completed an internship with Chronicled, a Silicon Valley start-up. In addition, Watanabe visited Apple, Google, and Facebook and left San Francisco to start his own company. Watanabe, in a statement, said: [6][7]
San Francisco and Silicon Valley are amazing places for people who are involved in the information technology space. Through the internship and daily activities, I learned a lot and enhanced my skills. After returning to Japan, I founded my own startup. Now I know how to work in Japan and the US. The IBUS program helped me become a global leader.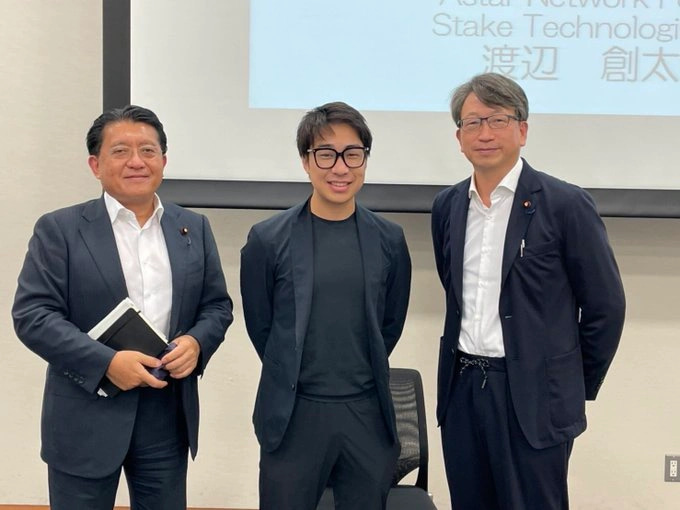 Sota Watanabe [middle], with Hirai san (the first digital minister of the Japanese government) and Taira san (the chairman of the ruling party's web3 project)
When Watanabe returned to Japan, he founded Stake Technologies in January 2019, a technology company that provides blockchain solutions to enterprises. Stake Technologies became the first Japanese company to adopt blockchain acceleration, sponsored by UC Berkeley. Upon its establishment, Watanabe received an unprecedented four rounds of funding from the Web3 Foundation, which he used for further innovation. In the same year, he founded Astar (formerly known as Plasm Network), a multi-chain dApp hub on Polkadot that supports Ethereum Virtual Machine (EVM), WebAssembly (WASM), and Layer2 solutions. [8]
 
Other companies founded by Sota are Shiden Network, a multi-chain decentralized application layer on Kusama Network, and Next Web Capital, an investment firm that supports entrepreneurs and their crypto startups. [9][10]
Astar Network
Astar supports the building of decentralized applications (dApps) with EVM and WASM smart contracts and offers dApp developers true interoperability with cross-virtual machines (XVM) and cross-consensus messaging (XCM). The unique Build2Earn model of Astar empowers dApp developers to get paid through the ASTR (dApp) staking mechanism for the dApps and infrastructure they build. [11]
Astar is the future of multichain smart contracts, running in concert with Ethereum, Polkadot, Cosmos, and more to allow for the free flow of assets and communications between multiple ecosystems. Globally, Astar's vibrant ecosystem has become Polkadot's leading Parachain. It is supported by all major exchanges and tier 1 venture capital firms, like Fenbushi Capital, Hashkey Capital, Polychain Capital, Rok Capital, etc. [12][13]
See something wrong?
Report to us.
Sota Watanabe
Did you find this article interesting?