Stani Kulechov
Stani Kulechov is a Finnish programmer and entrepreneur best known for his role as the Founder and CEO of Aave and Lens Protocol . [1][2]
Aave is a DeFi lending protocol that enables users to borrow multiple cryptocurrencies, and Lens Protocol, is a composable, decentralized social graph. [5][6]

Early Life & Education
Stani Kulechov graduated from the University of Helsinki in 2018 with a Master's degree in Law. While studying at the University of Helsinki, Kulechov worked in the legal field as a Trainee at Castrén & Snellman (January 2017 – May 2017), a Trainee at Bird & Bird (August 2017 – November 2017), and a Member of the Legal Aid Committee of the Law Students Association Pykälä ry. [1][3]
Career
Stani Kulechov began his career as a Volunteer at Slush, as well as a Trainee at several firms including Mäkitalo Rantanen & Co Oy, Castrén & Snellman, and Bird & Bird. Kulechov was studying law at the University of Helsinki when he first got into Ethereum and he started exploring how it could impact the traditional financial system. [7][8]
Aave
In November 2017, Stani Kulechov founded and became CEO of Aave (formerly known as ETHLend), a decentralized finance (DeFi) lending platform built on the Ethereum blockchain. [5]
"The biggest advantages of DeFi is that its permissionless to participate (no KYC, credit score, etc.), same rules apply to everyone, liquidity is 'borderless' (you can access the market from anywhere & anytime as long as you have internet), and it's non-custodial so you have full control over your money and you can use it however you want." - Kulechov mentioned to Cointelegraph. [8]
Aave has its own native token; AAVE which is used for protocol governance and can also be staked for insurance as a way to earn protocol fees and rewards. [4]

Lens Protocol
On February 7, 2022, Stani Kulechov founded Lens Protocol, a composable, decentralized social graph on the Polygon proof -of-stake (PoS) blockchain that allows creators to control their content and data. [6]
Kulechov hinted at Lens Protocol at LisCon in 2021 when he discussed the evolution and revolution of the social media ecosystem. The team later posted an open letter calling out the problem of companies owning and monetizing their users' content. [10]
The letter reads [11]:
Our digital identities have become inseparable from how we define ourselves.

Social media has allowed us to find our communities and discover true self-expression. It holds the promise of connection, freedom, livelihood, and voice. We spend time building a unique selfhood across platforms, but we know they are antiquated, centralized systems.

Web3 brings forth a renewed hope for what social media can be. It offers the ability for us to control how our content is used. We can have the power to own and monetize our content and community with no middlemen or centralized data harvesting.

We, the content creators of the world, deserve to hold the power and control over what we publish...
Lens Protocol was first available on Polygon's Mumbai testnet and transitioned to Polygon Mainnet in May 2022.
"it democratizes the access to build social media and also democratizes the end user with how and what kind of tools they have" - Stani mentioned in an interview
Twitter Controversy
Stani Kulechov was temporarily suspended from Twitter in April 2022 after joking that he was joining the social media company as interim CEO. [9]
"BREAKING: Joining Twitter as interim CEO," - he tweeted on April 27, 2022.
"Twitter, recently bought by Elon Musk, has chosen to suspend my account," Kulechov said in a statement, adding that the move underscores the dangers of centralized ownership of content creation. [9]
The ban was lifted on April 28, 2022, with Kulechov tweeting that he was "back as interim CEO" of the social media company. [9]
See something wrong?
Report to us.
Stani Kulechov
Did you find this article interesting?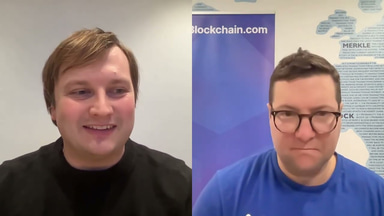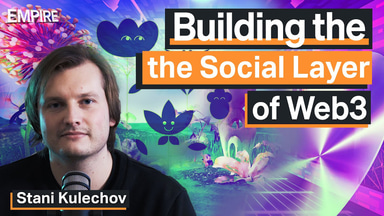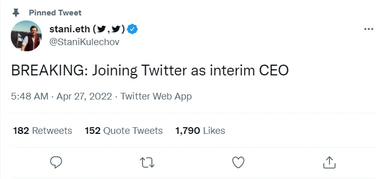 REFERENCES
[3]
topio networks on Stani
Mar 14, 2023
[7]
slush - stani
Mar 14, 2023
[9]
cointelegraph on controversy
Mar 14, 2023
[10]
Lens Protocol Might be a New Social Media Project
Apr 7, 2023
[11]
Lens Protocol letter
Apr 7, 2023