Top Dog Beach Club
Top Dog Beach Club (launched July 6, 2021) is a unique Non-Fungible Token (NFT) collection of 8,000 doggos living on the Ethereum (ETH) blockchain.[1]
Ownership includes access to the beach bar, real-world benefits, and complete commercial rights to the doggo.[2]
Overview
Doggos are stored as ERC-721 NFT tokens on the Ethereum blockchain within its own verified custom smart contract. The artwork itself is stored on IPFS and the team has plan to eternalize this on the permaweb via Arweave (AR) once all 8,000 doggos have been adopted.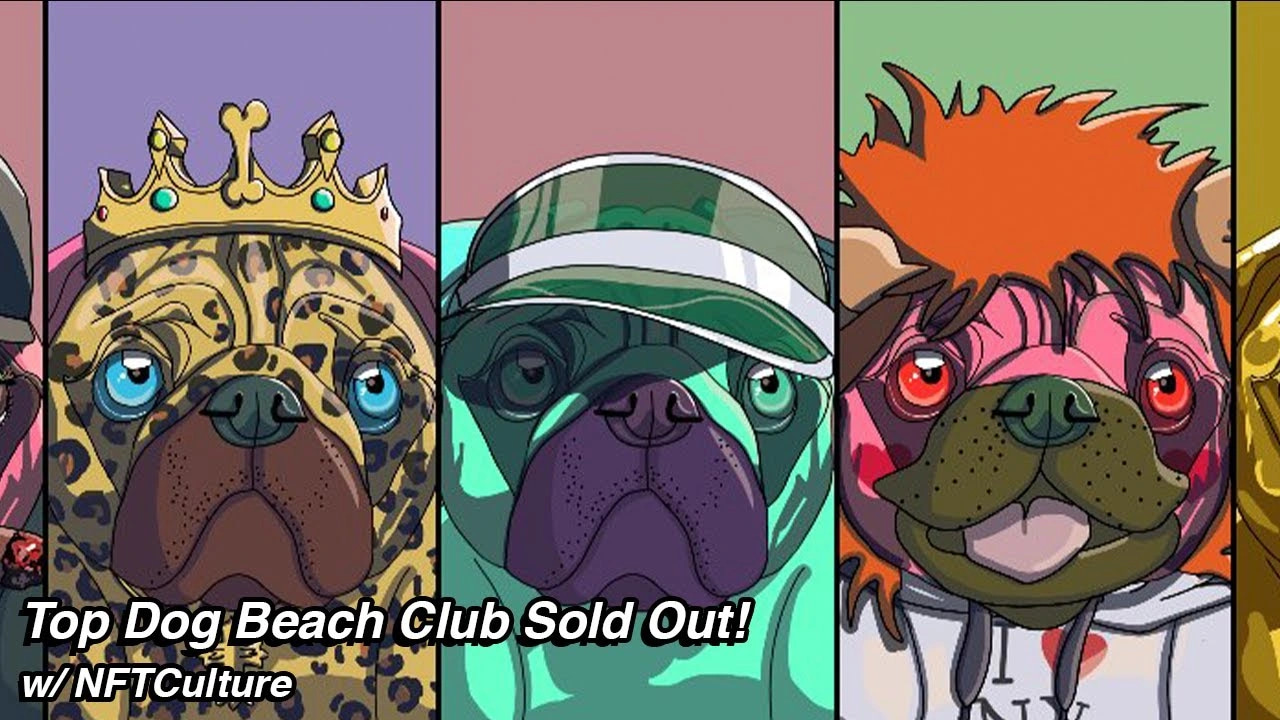 Every Top Dog collectable is unique and costs 0.08 ETH each. All of the art work is hand-drawn (using a Wacom tablet) and algorithmically generated using custom code. There are over 150 properties across 11 categories: background, body, clothes, ears, eyes, face, glasses, hats, mouths, necklaces, and noses.
[2]
[3]
This gives a total mathematical combination of hundreds of thousands of unique dogs—but with only 8,000 being minted, some being more unique and rare than others.
How to Purchase a Doggo
To purchase a doggo, interested users will need a digital wallet (akin to a bank account) and some Ethereum (cryptocurrency). The easiest way to do this is to install the MetaMask browser extension or app where one can directly buy Ethereum using Apple Pay or your credit/debit card.
Once the wallet is loaded with Ethereum, connect wallet and follow the instructions. For further help, users can join the Discord server.
There is no FOMO ramps or bonding curves here and all doggos are 0.08 ETH + gas. Membership is granted for as long as users hold a doggo.
The maximum number of doggos one can mint per transaction depends on the remaining supply. This approach will help reduce "gas wars" towards the end of the sale.
1 - 6,000: up to 10 doggos
6001 - 8,000: up to 5 doggos
The launch happened on Tuesday 6 July 2021 22:45 UTC / 18:45 EST / 15:45 PDT. After the sale the doggos were randomly generated and revealed within buyers wallets. The Gallery page and the collection on OpenSea were updated shortly after.
Dog Pack
Naturally, the dogs will start to form their own packs. There will be four packs, with 2,000 dogs in each. This mechanic will be used to pit the community against each other in fun competitions and games, to expand the Top Dog story. Each pack will have its own Top Dog, a leader voted by the pack's members and a private pack-only Discord channel.[4]
$BONE Token
$BONE is a standard Ethereum ERC-20 Contract token and can be freely traded across exchanges just like any other token. For every doggo one hold at the point of token release they can claim 420 $BONE and an additional 10 $BONE for every day they hold the NFT.
These tokens allow the users to rename their doggos, give them a backstory, with all these stored in the metadata on the blockchain.[5]
RoadMap
10%
BEACH FM
The beach radio gets fixed—deep house summer vibes to chill out to in the Discord server. But there's regular interference that keeps trying to break through...
20%
IT'S RAINING DOGS
10 doggos will be minted and randomly airdropped on to the beach for members to dig for and claim in a fun game.
30%
MAN'S BEST FRIEND
$20,000 donation fund to high-impact charities for dogs who weren't lucky enough to make it to the beach club. To include:
Dogs on the Streets: a UK based charity who look after dogs belonging to the homeless community.
chosen by the community!
40%
PAWSTAR MARTINIS ALL AROUND
The Beach Bar is complete and dogs start to form their own packs. And with it, the $BONE token officially launches and becomes redeemable by members. This coin will serve many purposes, the first of which will be the ability to name your doggos and give them a backstory.
50%
IT'S A DOG-EAT-DOG WORLD
A mysterious figure tells the tail of a dark secret, beginning a treasure hunt with a 1 x 5 ETH prize and 100 $BONE reward to each member of the winning pack.
60%
DONE UP LIKE A DOG'S DINNER
T-shirts, caps, hoodies, prints, and more exclusive merch drops for club members. ALL members will receive 1 x FREE piece of merch (to be confirmed, per wallet, shipping and taxes excluded).
70%
SAY BONESSSSS
The doggy Photo Booth is open for business. Showcase your Top Dog like never before, take selfies with your pack, automatically generate social images, and pose your dog in different backgrounds.
80%
EVERY DOG HAS ITS DAY
Community grant fund of $40,000 is launched. Create, design, develop, or build something that the community value (e.g. a rarity tracker, sick beats, additional art, memes, etc.) and receive funding from the TDBC team.
90%
PLANET-POSITIVE
We will calculate the amount of emissions produced to create the TDBC project (including on-chain transactions) and offset our CO2 consumption through our pro-climate partner Offsetra.
100%
PARTY ANIMALS
The first of it's kind! 2 x real world members-only TDBC beach parties!! Specific locations to be revealed but they will cover North American and Western Europe.
See something wrong?
Report to us.
Top Dog Beach Club
Did you find this article interesting?