Tyler Hobbs
Tyler Hobbs is the creator of the Fidenza NFT collection. He is considered a pioneer of the Generative Art movement, as he produces work utilizing autonomous systems, specifically, computer algorithms. [4]
Personal Life and Education
Originally from central Texas, Hobbs had a diverse range of interests during his childhood, engaging in sports, exploring various music genres, and creating hand-drawn comic books. While having a desire to join the art school, his father's advice led him to pursue computer science instead. Hobbs completed his undergraduate studies at the University of Texas at Austin. [1]
Career
In 2010, he started working as a computer engineer at DataStax, a database company, where he specialized in open-source, high-performance database systems. He worked at the company until 2017. [1]
After discovering Art Blocks, an art platform that specializes in featuring NFTs based on generative art, he became a curated artist within the platform. He quit his computer science career to be a full-time artist. [1]
According to Hobbs, the buyers of his artwork predominantly consist of middle-aged men from all around the world. Many of these individuals are relatively new to the realm of art collecting, originating from the crypto or technology sphere. Hobbs notes that this demographic tends to exhibit fewer preconceived biases towards his style of artwork, perceiving it without the conventional notions of being less human or less authentic often held by more traditional art enthusiasts. In an interview with Cointelegraph, Hobbs mentioned:
They're generally both interested in the artwork, and they're willing to risk a fairly large amount of money on something that's unproven — I think it takes a special breed of person to be that kind of collector.[1]
Fidenza
In June 2021, he developed a complex algorithm to create Fidenza, a collection of 999 distinct computer-generated images, each minted as an individual NFT. [2] Hobbs mentioned:
Fidenza is by far my most versatile algorithm to date. Although the program stays focused on structured curves and blocks, the varieties of scale, organization, texture, and color usage it can employ create a wide array of generative possibilities.[3]
The project is based on the idea of 'flow fields,' which are images representing the distribution and movement of fluid across space and time. Hobbs empowered his computer with the ability to randomly select and implement layers of digital code onto these images, modifying attributes like color, scale, and turbulence, determining the artwork's final manifestation. By assigning certain pieces of code to be applied less frequently than others, each artwork's unique combination of characteristics can be assessed for its rarity. [2]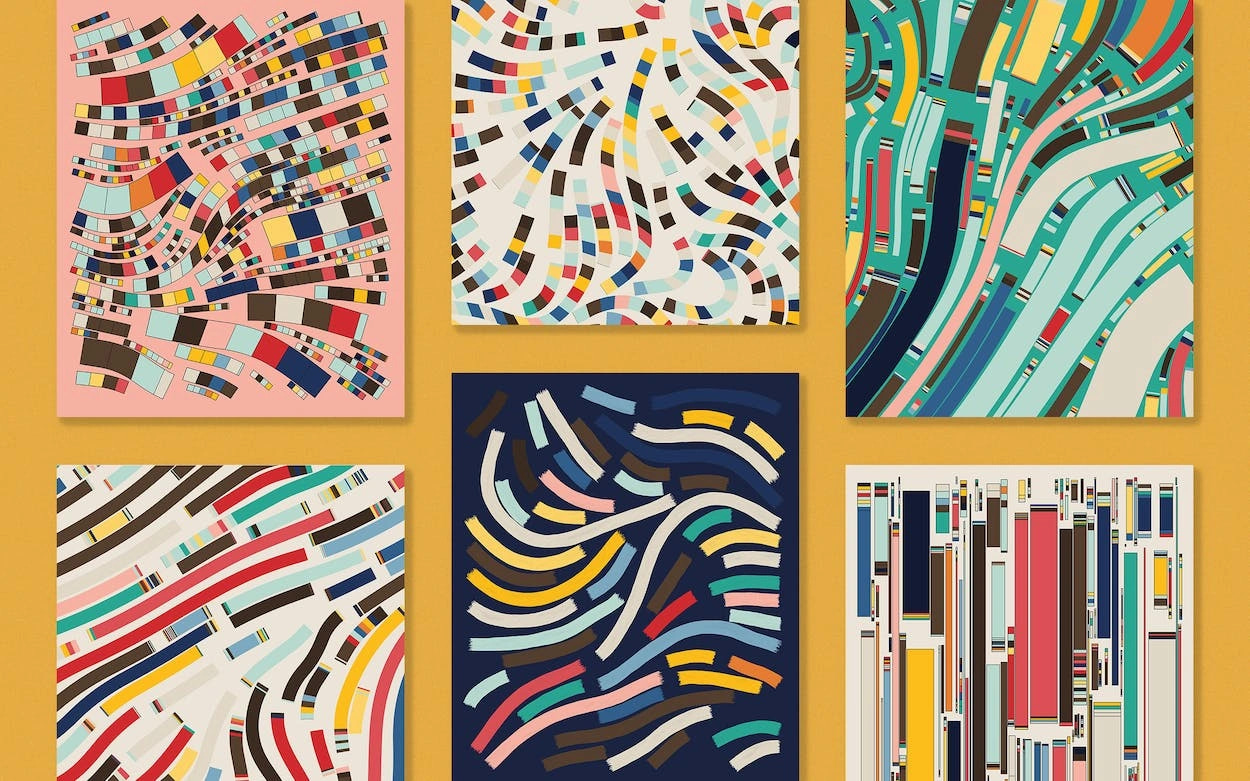 In an interview, Hobbes said that the genesis of the idea for Fidenza can be attributed to a "culmination of algorithmic and visual elements present in the artist's work over the past five years". While drawing from previous artistic explorations, Fidenza represented a significant leap in experimentation by developing an algorithm capable of producing 999 distinct outputs, surpassing the artist's previous endeavors, which were limited to 32 variations.
[2]
The choice of the title "Fidenza," named after a town in northern Italy, was purposefully made to be devoid of specific significance. The artist aimed to allow viewers to interpret the artwork without preconceived notions. This strategic approach of using a town's name as a title was inspired by the technique employed by Franz Kline, another influential artist. [2]

Solo Exhibitions
QQL: Analogs - PACE Gallery, New York, NY; 2023
Mechanical Hand - Unit London, London, UK; 2023
Incomplete Control - Bright Moments, New York, NY; 2021
Progress - Galería Dos Topos, León, Gto., México; 17 Works; 2018
In March 2023, Hobbs participated in an exhibition at the contemporary art gallery Pace located in New York, with its collection "QQL: Analogs". This exhibition featured 12 large-scale physical paintings that originated from the same QQL algorithm used to create the QQL NFT collection. [5]
Hobbs minted its QQL collection in September 2022, raising nearly $17 million. The NFT project was a collaboration between visual artist Tyler Hobbs and Dandelion Wist, co-founder of the generative art platform Archipelago. The QQL algorithm was available for public use, but only those with mint passes were officially able to turn their creations into NFTs within the collection. The project, which involves NFT collectors in the creative process using the QQL algorithm, sold all of its mint passes in a modified dutch auction on the Archipelago platform. [6]
Donation
With the revenue generated, Hobbs donated to organizations of personal significance. The Processing Foundation received a donation of 8.5 ETH (equivalent to approximately $21,000), while Girls Who Code received a cash donation of the same amount. [3]
In an effort to mitigate the environmental impact, carbon offsets were purchased, aiming to achieve carbon neutrality or potential carbon negativity. [3]
Additionally, Fidenza #163 was auctioned, offering the winning bidder a special incentive—a hand-painted plotter drawing of the artwork. The auction proceeds amounted to 7.7 ETH (approximately $19,000), which were directed to AGE of Central Texas, an organization dedicated to supporting the elderly and caregivers. [3]
See something wrong?
Report to us.
Tyler Hobbs
Did you find this article interesting?