Yaniv Tal
Yaniv Tal is a co-founder and the Project Lead of The Graph, a decentralized query protocol for indexing. He is also the founder of Workflo, a UI building company and the founder of TapSavvy, a mobile payment company. [1]

Education
Yaniv Tal began his higher education at Westminster College in 2005, where he pursued a Bachelor of Science degree in Mathematics with a minor in Physics. He completed his studies in 2008, focusing on abstract algebra, complex analysis, convex optimization, topology, optics and electronics, quantum physics, and jazz. [1]
After completing his first degree, he pursued a Bachelor of Science degree in Electrical Engineering from the University of Southern California in 2008 and graduated in 2010. During his time at USC, he gained knowledge in electronic circuits, computer architecture, digital signal processing, embedded systems, communication technology, music production, and technical entrepreneurship. [1]
Career
Yaniv started his professional journey as an intern at Qualcomm in May 2010, where he designed and implemented a website for the Quality Assurance organization. His work focused on educating customers about best practices for handling processor chips and providing a portal for submitting and tracking RMA requests. [2]
From January 2011 to February 2013, Yaniv Tal worked as a Firmware Engineer at HP in Boise, Idaho. He specialized in designing and developing firmware for Enterprise LaserJet Printers, playing a key role in areas such as board turn-on, UEFI drivers, BIOS menus, and ASIC/firmware co-development. [2]
In February 2013, Yaniv Tal founded TapSavvy in Austin, Texas, where he served as the CEO. TapSavvy aimed to bring mobile payments to restaurants and provide a direct line of communication between restaurant owners and guests. He led the team, shipped innovative tools like TableTalk, and developed various components and infrastructure. [2]
From April 2015 to March 2016, Yaniv Tal worked as a Senior Software Engineer at MuleSoft in San Francisco, focusing on developing user interfaces using React and Redux. He contributed to various projects and played a crucial role in the company's UI development. [2]
In September 2016, Yaniv Tal founded Workflo, Inc. in San Francisco and assumed the role of CEO. Workflo aimed to help teams build user interfaces faster by providing a component library and development environment for React. He focused on architecture, UI/UX, and building customer relationships. [2]
In September 2017, Yaniv Tal worked as a Partner and Software Engineer at Functional Foundry in San Francisco. He collaborated with teams to transform concepts into polished products, specializing in frontend development using React, React Native, and Apollo/GraphQL, as well as backend development using Node and Go. [2]
Since January 2018, Yaniv Tal has been the Project Lead at The Graph Protocol, Inc. in San Francisco. He has contributed to the development of The Graph, a protocol for building decentralized applications quickly on Ethereum and IPFS using GraphQL. [2][3]
"We're working on building the core foundations for Web3, a new decentralized Internet and system of human coordination where all information is verifiable and not owned and controlled by a small number of corporations."
"The plan was always to index everything and to power the entire new web, and even now we're just a portion of the way there. But it's definitely crazy to see it happening. I feel like every project you start with large ambitions, but when you actually see it happening it's like '"oh wow.'"
See something wrong?
Report to us.
Yaniv Tal
Did you find this article interesting?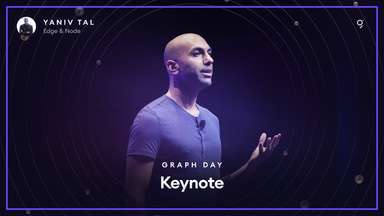 REFERENCES
[2]
Linkedin Experience section
May 20, 2023
[3]
Sommelier blog on Yaniv's AMA
May 30, 2023