Zora
Zora is an Ethereum-based marketplace to buy, sell and trade limited-edition goods in form of Non-Fungible Tokens (NFTs).[1][2][3]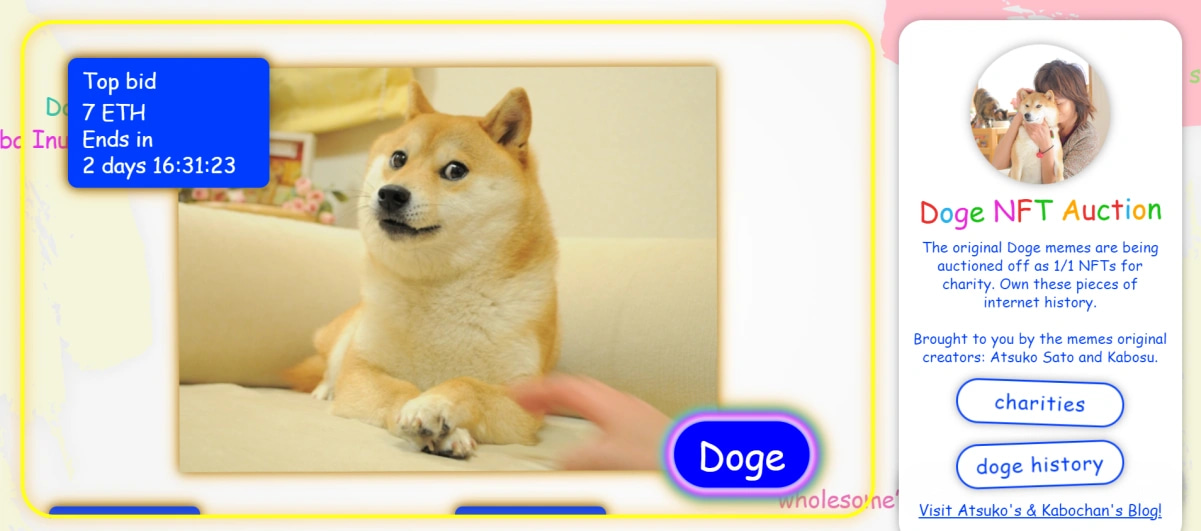 Doge NFT auction
In June 2021, Zora became the host of the NFT auction where Doge, the iconic meme of an excited-looking Shiba Inu, will be sold as a Non-Fungible Token (NFT).[4]
Overview
Zora is a universal media registry protocol. It can be used by creators to publish creative media, earn money on their work, and have others build and share what they create.  Owning an NFT on Zora grants users wallet the right to accept bids and prove they own that piece of media.[5]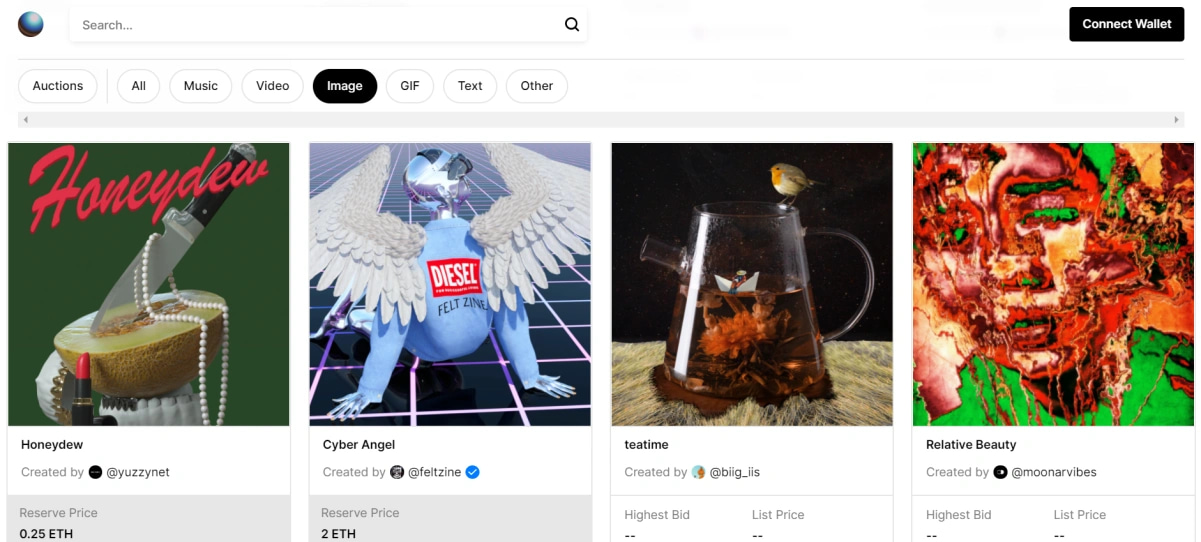 Zora Marketplace Layout
There are no fees associated with creating, selling, or buying works on Zora. The only cost that is required to post the creator's media is the gas fee at the time of posting. When one pays gas to submit a transaction, they are paying for the computational energy needed to power the validation of that transaction on Ethereum.[6]
Collector and Creator Rewards
When an owner sells a token, a percentage of that sale goes to the owner before them. This fee is designed to reflect and reward the role of owners' reputations in creating price appreciation. The owner reward is set when making a bid, allowing for negotiation at the time of sale.[7]
Every time one creates a token on Zora, they set a creator reward: a permanent, fixed percent of sale value that is sent to them on every sale. While other services may take fees on top of a token sale, creators of Zora tokens will always hold perpetual equity in their work.[7]
Zora Markets
Zora Markets is a protocol for creating, trading, and distributing value on Ethereum, that debuted with the launch of the AES-256 drop. These markets are purpose-built for Zora's redeemable tokens and provide the infrastructure required for us to unlock community ownership in creators and in Zora itself.[8]
Community Rewards
Zora gives creators, artists, and brands the power to launch their own community tokens. As a fan and holder of a community token, one gains exclusive access to community chat groups, forums, content, and restricted features on platforms that the creator uses, for example, community-only drops on Zora.[9]
Retroactive Community Distribution
A community token launch by Zora starts with a retroactive community distribution. This is the act of retroactively rewarding proven and existing community members: this could be Patreon or Twitch subscribers, store customers, followers on Instagram or YouTube - any platform where creators interact with their community. For example, if one bought some merch on RAC's online store before the launch of their token, one would have received some $RAC as a reward for that purchase.
Ongoing Rewards
There are also ways to earn community tokens after the initial community distribution. The main way to reward current and future fans is to redeem items that a creator has dropped on Zora. A creator can set a reward per item redeemed.[9]
Drops
$FAME: The First Zora Drop
The Zora team created an internet-owned fashion house called Saint Fame, which created a token called $FAME. Like Unisocks, it was redeemable for a real-world item, in this case, a shirt. Unlike Unisocks, they decided to push this one step further: the team launched it before they even knew what the design was going to be. All that everyone knew beforehand was that it was going to be a shirt design by Dapp Boi. In December 2019, people started buying into the idea of the shirt.[1][2]
The starting price was $8, rewarding early adopters. Every FAME sold increases the cost of the next, but they can be sold back into the pool at any time. The 99th shirt, if it sells, will be worth $170,000. The final one can never be bought.[1]
$FAME traded near $20,000 in volume before the design even dropped. As of June 9, 2021, the price is sitting at $2460, with only 13 out of 100 shirts remaining.[2]
DJ RAC NFTs
In 2020, the Zora team announced that the first creator on Zora is Grammy Award-winning artist André Allen Anjos, known as RAC.[10]
RAC released a personal token on Zora. The $TAPE token represents 100 limited-edition cassette tapes featuring RAC's latest album, BOY, and is sold on a bonding curve with a starting price of $28 per token. Tokens can be redeemed for a physical copy of the tapes.[11][2][12] As of June 9, 2021, the last traded price of the TAPE token is over $2,794.[13]
In addition, in October 2020, RAC launched $RAC - a community token by Zora. $RAC is a token built on Ethereum that he decided to give to fans who support the RAC project. In total, more than 500,000 RAC were distributed among the musician's supporters.[14]
AES-256
On July 30, 2020, the Zora team announced that AES-256, a New York-based fashion label, was launching DRP-LTD-001, three limited-edition physical garments. Each garment features refined form, fit, and fabrication. The drop includes $AESI (Black Logo T-Shirt), $AESII (Technical Cargo Pants), and $AESIII (Grey Stone Hoodie).[15]
Nathan Head
In August 2020, Nathan Head, a visual artist, photographer, and colorist, dropped his single most requested artwork "Hanging Gardens" as a limited-edition print exclusively on Zora. The artist said:
I am really excited to be dropping this limited edition piece with Zora. It's awesome being able to release this print in a meaningful way and try something new and innovative. Being able to give fans of my artwork the opportunity to invest in my art and own a limited edition piece is something I am super excited for."[16][17]
Doge NFT Auction
In June 2021, Zora became the host of the NFT auction where Doge, the iconic meme of an excited-looking Shiba Inu, will be sold as a Non-Fungible Token (NFT). The auction is being curated and certified by Know Your Meme, the internet meme database. The portion of the proceeds from the sale of Doge will go towards the following charity organizations: Plan, Terra Renaissance, Florence, Japanese Red Cross, World Food Programme, Ashinaga, and Japan Heart.[19][20] The auction for the original 1/1 NFT opened on June 8 and has a bid of 7 ETH ($17,618) at the time of writing.[18]
This photo of the Shiba Inu "Kabosu" was taken by her owner Atsuko Sato on February 13th, 2010. After sharing it to her personal blog alongside the series of other famous images under the title "Taking a walk with Kabosu-chan," these photos went on to kickstart the Doge meme and have circulated the web ever since.
Funding
In October 2020, Zora raised $2 million in a seed funding round led by venture capital fund Kindred Ventures. According to the report, additional investors include Yung Skeeter (Trevor McFedries) from startup Brud, Alice Lloyd George, Jeff Staple, and Coinbase Ventures.
In March 2021, Zora received an investment from Paradigm. Fred Ehrsam, the co-founder of the crypto VC firm, announced the news on his Twitter. In a blog post, Ehrsam effectively positioned Paradigm's stake as a bet on the future of Non-Fungible Tokens (NFTs). He went on to contend:
"Just as much of the best online media could hardly have been imagined in the early days of the internet (who would have thought watching other people playing video games would be such a big business?), the same will be true of NFTs, both as a form factor and as a foundation for new types of applications. Crypto is rapidly creating the infrastructure for the metaverse. Zora is a key piece of that infrastructure, enabling experiences and worlds that seem unimaginable today."[21][22]
See something wrong?
Report to us.
Zora
Did you find this article interesting?