ACK Unique Editions / 1 of 1's 
ACK Unique Editions / 1 of 1's is an NFT collection created by Alpha Centauri Kid, a digital artist known for their debut on SuperRare with "ctrl + alt + generate", which set a record of 165.29 ETH. Launched on July 14, 2021, the collection encompasses a total of 61 items, each stored on the Ethereum blockchain. Some of the most renowned works featured in the collection include "Last Orders!," "your fav crypto influencer," "til death do us part," and other pieces. [2][5]
Overview
til death do us part
"Til Death Do Us Part" is the piece of the collection that has been sold at the highest price, with a value of 200 ETH. [6]
"This piece of art will be ever changing as long as I am alive. It will only be truly finished the day that I die. (I hope that is hundreds of years from now.) As the scene grows, I will update the metadata to the current stage of the build. This is chapter 16." - Alpha Centauri Kid on til death do us part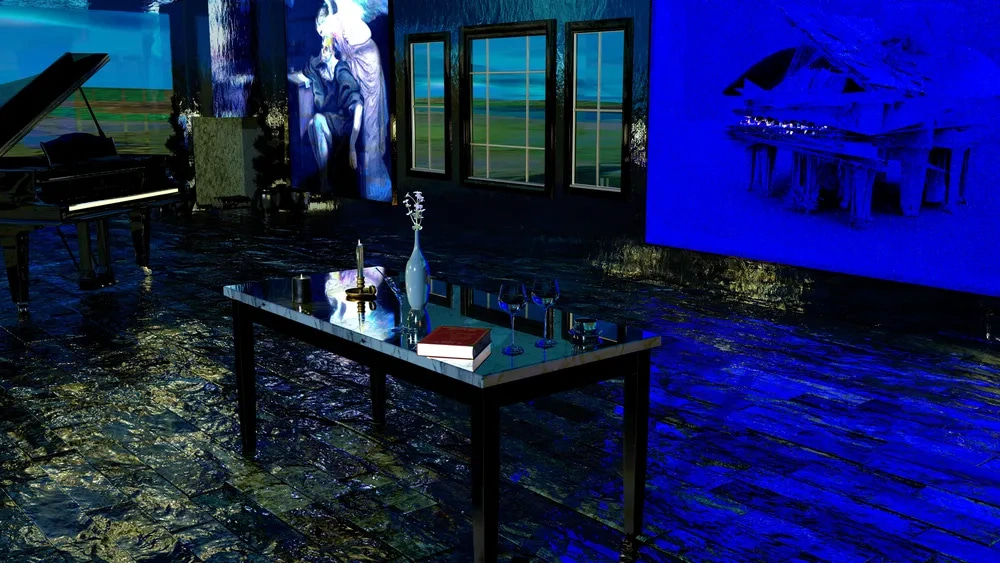 Pale Blue Death (a color study)
On September 6, 2022, ACK released Pale Blue Death for free to badge holders with the condition that if the piece got listed, transferred or sold, it would force an Open Edition for 24 hours. A badge holder is an individual who possessed a 1/1 from ACK prior to January 1, 2022, and they are entitled to priority access for upcoming collections and editions. [4]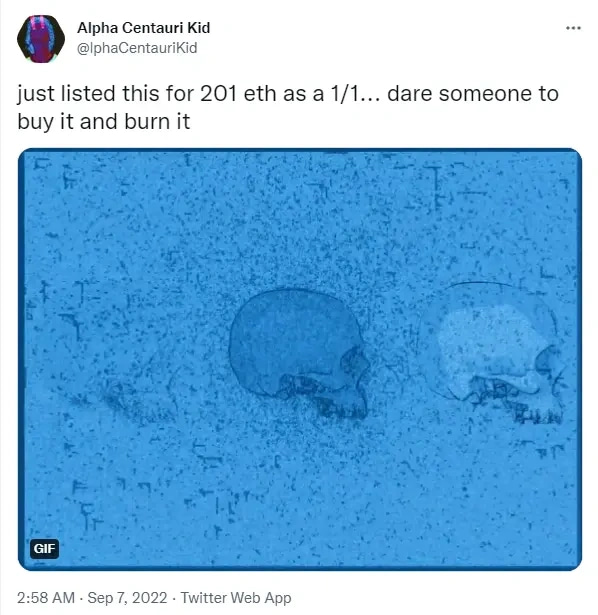 However, after badge holders disobeyed these rules and listed the art for sale, ACK listed a corresponding 1/1 for 201
ETH
daring someone to buy the piece and burn it. The piece was purchased by CVG, a well-known collector, who followed these indications and sent the piece to the burn address for it to never be owned or re-sold again. CVG was rewarded by ACK with a 1/1 piece.
[4]
See something wrong?
Report to us.
ACK Unique Editions / 1 of 1's 
Did you find this article interesting?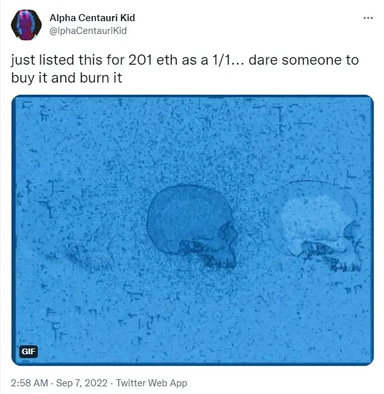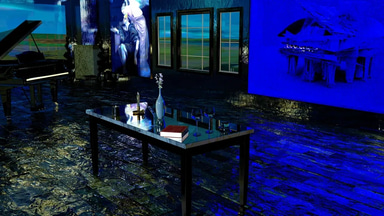 REFERENCES
[6]
til death do us part
Aug 1, 2023