Alpha Finance
Alpha Finance (now Alpha Venture DAO) is a community of daring individuals who aspire to shape the future of Web3 and expand the Web3 ecosystem together with a network of Web3 industry leaders and Alpha community. Alpha Venture DAO aims to be an ecosystem of decentralized applications that capture value regardless of which chains or sectors dominate Web3 in the future.
Alpha Finance is compatible with both Binance Smart Chain and Ethereum and is working towards supporting more platforms. The ALPHA token is mainly used for governance.[11][12]
On the 31st of March, 2022 Alpha Finance Lab, a DeFi platform, announced that it has rebranded as Alpha Venture DAO to reinvent how DApps are built, contributed to, and owned. Alpha Venture DAO's ecosystem has both building and incubation components.[18][19]
Overview
The Alpha platform was first announced in September of 2020. It is building a mix of DeFi (Decentralized Finance) products that are geared towards cross-chain interoperability. The platform launched an IEO on Binance Launchpad in early October of 2020 and a liquidity mining campaign on Binance Launchpool in late September of 2020. Partnerships and investors include The Spartan Group, Multicoin Capital, DeFiance Capital and others.[1][2]
Alpha allows users to lend, borrow, earn interest, manage risk and generate yield through liquidity mining.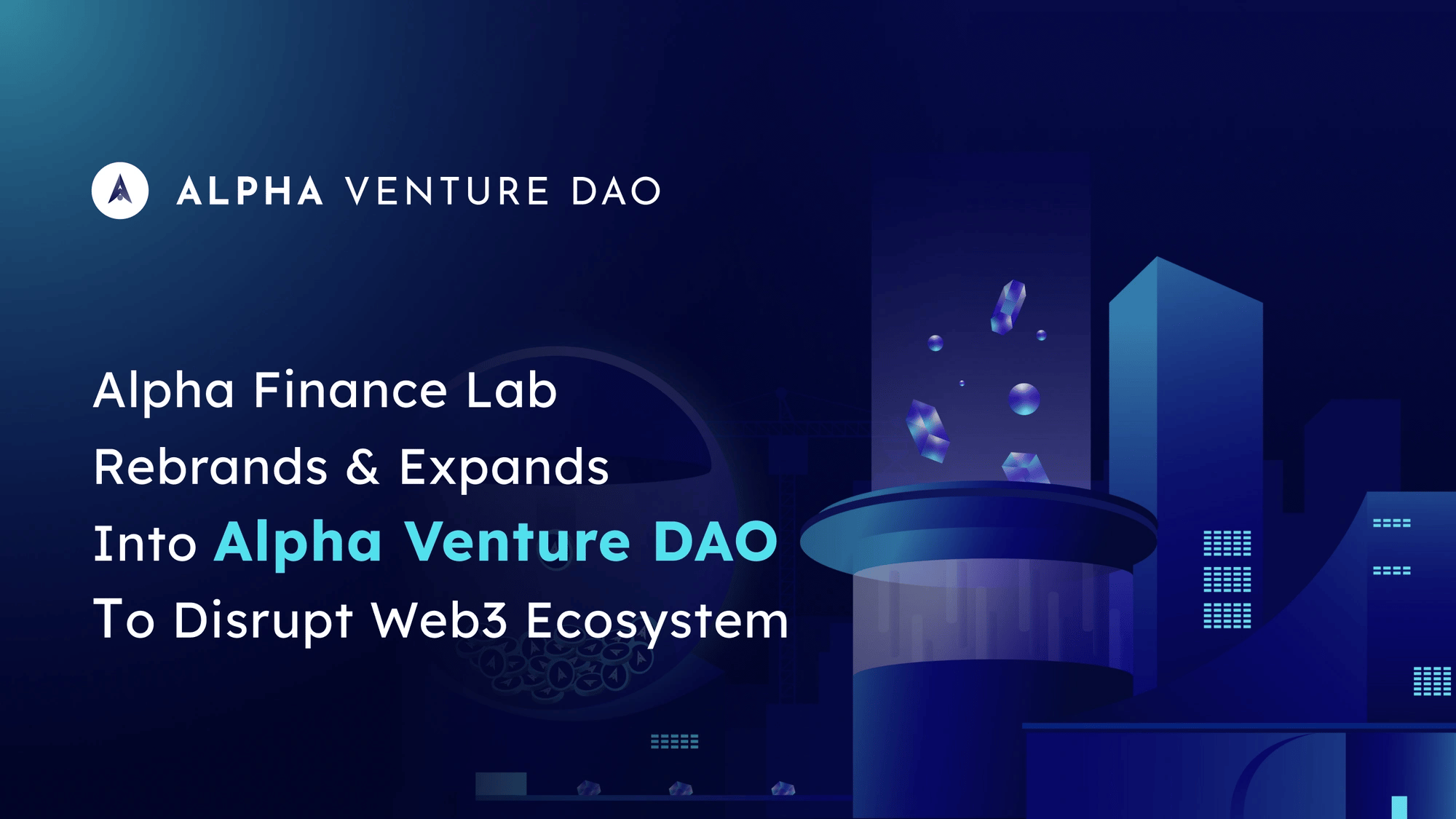 Alpha Finance Rebranded into Alpha Venture DAO to Disrupt Web3 Ecosystem, in order to explore and innovate at the fringes of Web3 and drive significant value to Web3 users, and ultimately, return alpha to the Alpha community.
[13]
The Alpha Venture DAO can therefore be seen as a community of daring individuals who aspire to shape the future of Web3 by reinventing how decentralized applications are built, contributed, and owned. Builders can kickstart their Web3 projects with its complete ecosystem of Web3 users, investors, and innovators. Users can contribute and own Web3 projects early on. Token holders also have complete access to Web3 innovation.[14]
Lending and Borrowing
The protocol lets users earn interest by depositing assets the platform supports which are then transferred into a smart contract that allows users to borrow money for trading. When borrowers pay back interest, it is pooled and proportionately awarded to liquidity providers.
The interest rate is determined by the asset's utilization rate; the higher the utilization rate, the higher the interest rate.
After depositing collateral, users receive aITokens. Each accepted asset has its own Loan-to-Value (LTV) ratio. If ETH is deposited as collateral, users can borrow up to 70% of the value of the deposited ETH.
Users risk liquidation when the total value of the borrowed assets is greater than the maximum value they can take. Users can reduce the risk of liquidation by borrowing at a lower value than the maximum value available to them.
Alpha Homora
Alpha Homora is a protocol that allows users to leverage their position in liquidity mining pools. Users can participate in the protocol as yield farmers, lenders, or liquidators. The branding on the website mimics the Harry Potter text and the name seems to be playing off of the Unlocking Spell in the franchise, alohomora, since "homora" is not a recognizable word in any language.[3]
ALPHA Token
ALPHA is the native cryptocurrency of the Alpha protocol with a maximum supply of 1,000,000,000 tokens. It is used for the following:
Liquidity mining: Users can earn ALPHA tokens for providing liquidity to the platform.
Staking: Token holders can stake ALPHA tokens and get a share of the platform's revenue.
DAO
The Alpha Venture DAO is governed by ALPHA token holders. We are progressively decentralizing to allow the community to set the direction and operation of the DAO by submitting and voting on proposals. The decentralization will be announced in phases as our ecosystem grows.
Partnerships
Currently, Alpha Venture DAO has partnered with more than 50 like-minded entities and individuals, including:
Alpha Network,
AVA Labs
The Spartan Group
Multicoin Capital
SCB10X
AlphaLab Capital
Terraform Labs
Jason Choi
Darryl Wang as well as leaders from Coinbase, Crypto.com Capital, Bitmex, Band Protocol, Acala Network, 1kx, SIG.[17]
See something wrong?
Report to us.
Alpha Finance
Did you find this article interesting?