Binance Academy
Binance Academy is an educational platform providing accessible and comprehensive resources on blockchain and cryptocurrency offered by leading cryptocurrency exchange Binance. With a wide range of articles, tutorials, videos, and interactive courses, Binance Academy aims to educate and empower individuals to confidently navigate the world of blockchain technology and digital assets. [1]
Overview
Binance Academy is an educational platform that launched on December 12, 2018. It provides a wide range of educational resources on blockchain and cryptocurrency topics. Users can access articles, tutorials, videos, and interactive courses covering various aspects of the industry. [1][2]
The platform offers carefully curated and regularly updated content, including blockchain fundamentals, decentralized finance (DeFi), non-fungible tokens (NFTs), and emerging trends. Binance Academy aims to bridge the knowledge gap and make complex concepts easily understandable for learners of all levels, aiming to serve as a trusted source of unbiased information, fostering understanding and adoption of blockchain technology. [3][4]

Courses
Binance Academy offers free, comprehensive courses on blockchain and cryptocurrency. These courses are presented in an interactive format, allowing users to learn at their own pace. [5]
Through quizzes integrated into the courses, learners have the opportunity to earn a NFT certificate as a proof of completing the course. Binance Academy provides a wide range of courses beyond the basics, covering topics such as blockchain technology, decentralized finance, and non-fungible tokens. [5]
The platform also features progress tracking, allowing users to resume where they left off and view their completed courses, as well as a completed section that displays the courses that they have already completed. [5]

Learn & Earn
The Learn & Earn program, aims to cater to the growing demand for blockchain knowledge. This educational initiative provides users with an opportunity to enhance their understanding of blockchain technology and earn free cryptocurrency by completing educational courses and quizzes. [6]

Reward Eligibility
To be eligible for Learn & Earn rewards, users must complete Identity Verification. New users need to verify their identity before earning rewards. Completing the quiz and answering all questions correctly is necessary to qualify for rewards. [7]
Certain campaigns within Learn & Earn may have additional eligibility criteria. Refer to the activity page for details. Binance reserves the right to decide reward distribution. Non-compliant accounts, engaged in activities like wash trading or market manipulation, are ineligible. [7]
Reward availability is at Binance's discretion and may be limited. Actual reward value may fluctuate based on market conditions. Staking course rewards are exclusive to users new to Locked Staking. For other courses, token voucher rewards are distributed within 48 hours. [7]
Reward Distribution Timeframe
In most cases, rewards are distributed within 48 hours after completing the quiz. However, it is essential to meet the qualification criteria to receive the rewards. Please refer to the Terms and Conditions outlined below for more information. Delays in reward distribution may occur due to system issues. If you have not received your rewards within 48 hours, please reach out to Customer Support for assistance. [7]
Partnership Program
Binance Academy's Partnership program offers organizations the opportunity to collaborate and contribute to the education of Web3 technologies. By becoming a partner, organizations gain access to a range of tools and resources to skill up and scale up their educational efforts. [8]

K12 Schools, Universities, and Colleges
Partnering with Binance Academy enables educational institutions to empower their faculty and community. They gain access to blockchain, crypto, and Web3 courses, as well as opportunities for students to participate in hackathons, mentorship programs, and the Student Ambassador initiative. Binance Academy also offers free workshops and webinars to keep institutions updated on the latest developments in the field. [8]
Online Learning Platforms
Binance Academy collaborates with online learning platforms to provide students with foundational Web3 knowledge. Partners can access a comprehensive crypto resource library and collaborate on curriculum development. This collaboration ensures students are equipped with the necessary skills for the Web3 era. [8]
Governments and NGOs
Governments and NGOs can partner with Binance Academy to scale blockchain education efforts and support underprivileged communities. By receiving expert advice on crypto and blockchain education policy-making, they can make informed decisions. Binance Academy's educational content, available in multiple languages, contributes to workforce training and the advancement of Web3 technologies. [8]
Student Ambassador Program
The Binance Student Ambassador Program offers an opportunity for students to drive crypto adoption and education within their schools. As part of Binance Academy's mission to provide free and localized blockchain education, student ambassadors play a crucial role in spreading awareness and knowledge of Web3 technology. [9]
Benefits for Student Ambassadors
Exclusive Invites to Events: Ambassadors gain access to exclusive events where they can network with industry professionals and mentors, expanding their connections in the crypto space.
Networking & Mentorship: Ambassadors have the chance to connect with like-minded students and industry experts, fostering valuable relationships for future career prospects.
Exclusive SWAG & Merchandise: Ambassadors receive unique Binance Academy merchandise and SWAG, showcasing their involvement in the program.
Internship & Job Opportunities: The program opens doors to internships and job opportunities within the Web3 industry, providing valuable practical experience.
Web3 Training and Certificates: Ambassadors receive training and certifications in Web3 technology, enhancing their knowledge and expertise in the field.[9]
Study Week
Study Week is a program offered by Binance Academy that focuses on a specific topic for a limited duration. During Study Week, users have the opportunity to enhance their knowledge and earn rewards by completing designated missions. These missions typically involve reading articles or completing educational tasks related to the chosen topic. The rewards vary depending on the specific Study Week, and participants may have the chance to receive vouchers or other incentives. [10]

Binance Sensei
On April 24, 2023, Binance Academy announced the launch of Binance Sensei, an AI-driven learning tool integrated into the Binance Academy platform. It allows users to explore educational content by entering keywords or questions in the chat window. Binance Sensei aims to provide concise responses sourced from Binance Academy and other reliable sources. Users can access Binance Sensei on the Binance Academy website and receive summaries and recommended readings tailored to their needs. [11][12]
"We are excited to launch Binance Sensei, a product with the potential to significantly improve access to localised blockchain education for everyone. At Binance, we are fully committed to increasing the quality of Web3 and blockchain education for everyone, regardless of their current level of expertise. With this interactive tool, users can now freely explore Binance Academy's vast array of educational resources with ease and confidence" - Leon Foong, Head of APAC at Binance.
"Powered by the advanced ChatGPT technology, Binance Sensei has been instructed to deliver relevant and easily digestible information. This user-friendly approach makes it easier than ever to dive into complex topics or quickly grasp new concepts, catering to a wide range of learning styles and preferences." - Binance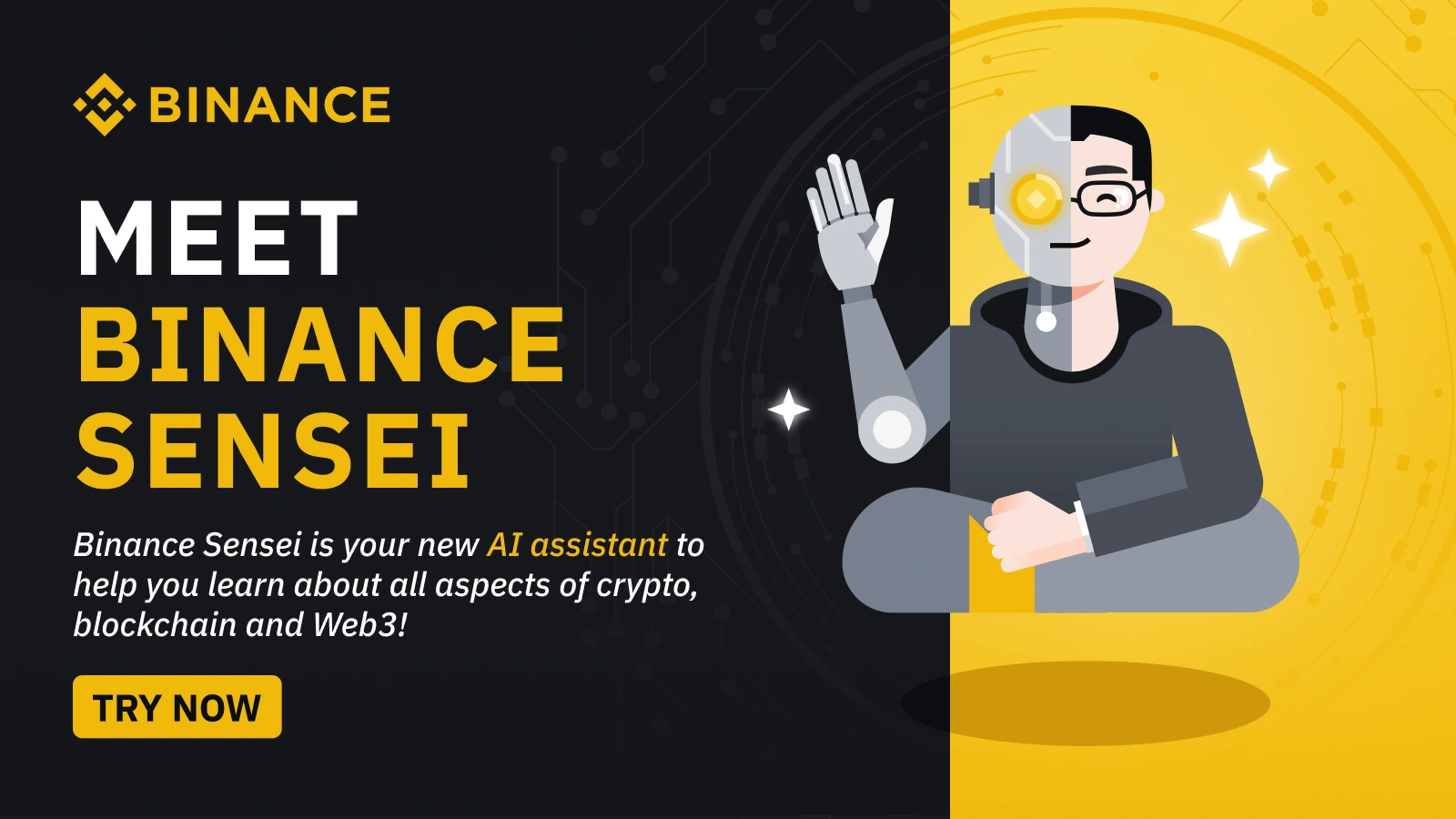 See something wrong?
Report to us.
Binance Academy
Did you find this article interesting?