Boson Protocol
Boson Protocol (founded 2019) is a trust minimized and cost minimized protocol that automates digital to physical redemptions using Non-Fungible Token (NFT) encoded with game theory[1].
Overview
---
Justin Banon, a serial entrepreneur and strategic consultant, and Greg Borosa, a highly skilled software developer and Blockchain specialist, created the platform in March 2019.
The Boson System is a protocol that automates digital to physical redemptions utilizing Non-Fungible Token (NFT) encoded with game theory, allowing for an open tokenized economy for trade. Powerful e-commerce platforms are storing data and isolating consumers from the value they produce in today's economy[2].
Boson Protocol's mission is to create a decentralized commerce ecosystem by supporting and supporting the creation of a stack of specialty apps that will disrupt, demonopolize, and democratize trade.This is accomplished through dCommerce, which uses blockchain, DeFi (Decentralized Finance), and NFT technologies to keep the client at the heart of the experience at all times. Boson is a commerce interface that connects the Metaverse and the physical world[3].
The protocol's goal is to eliminate the intermediaries that make e-commerce so difficult and expensive. This is accomplished using a unique commercial interface that employs tokenized futures contracts (wrapped as stateful non-fungible tokens) to indicate a promise to buy and sell products and services at a later date.
After that, the NFTs can be redeemed for a physical commodity or service. This is true for whoever owns the NFT, which implies they may be traded, staked, and used as a speculative instrument in the DeFi landscape before being redeemed for the underlying object[4].
How it works
---
The underlying technology of the Boson Protocol disrupts e-commerce systems by tokenizing real-world items and services, as well as commerce data, inside a liquid digital market based on DeFi. This has an impact on how people and businesses do business[5].
Boson's ultimate goal is being realized via the creation of a whole ecosystem. A Web3 Data marketplace, where consumer and seller data can be monetized, the core exchange mechanism, which is designed to coordinate transactions and incentivize parties to act fairly, and NFT-based commitment tokens, which are made by depositing digital value into an escrow contract, are among the technologies that enable this[6]. The dCommerce DAO, a community-governed entity at the heart of the project, will serve to guide the growth of the dCommerce market by providing funds to those that build on the Boson Protocol's applications[7].
BOSON Token
---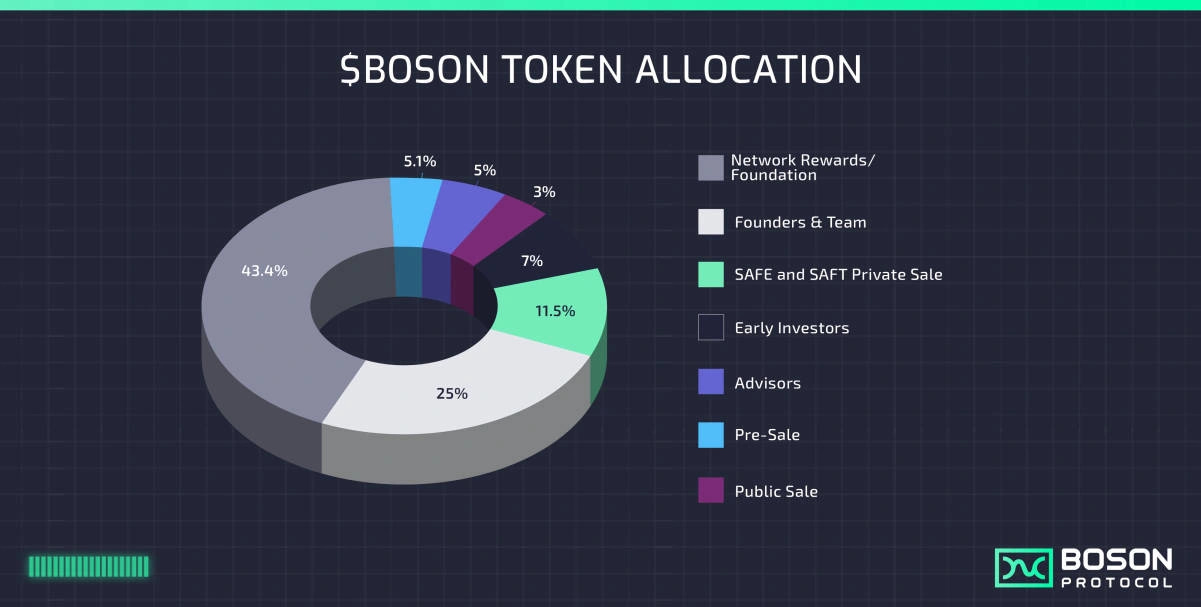 BOSON Tokenomics
BOSON tokens are the main currency in the Boson ecosystem. It gains value as a result of a dCommerce-powered sustainability loop. BOSON plays a variety of roles in the Boson ecosystem. BOSON is critical to the function of the Boson Protocol since it is the project's economic unit[8]. They earn money by charging a charge for arranging transactions and for allowing third parties to access data on the Boson Web3 Data Marketplace[9].
The project, especially the dCommerce DAO, will be governed by BOSON holders. In the end, the community will pick which ideas to support and which applications to develop. Staking is also done using the BOSON token[10].  Buyers and sellers can use these commitment deposits to lower their network fees for transaction coordination. Aside from that, the token is utilized for incentivizing supply acquisition. Buyers are encouraged to give their data for a portion of the value it produces, while Relayer markets gain fees to stimulate product dissemination[11].
BOSON has a Total Supply of 200 million units[12].
Community token distribution
The platform will undertake a public token distribution in the coming weeks. This distribution will make 6 million $BOSON tokens accessible for purchase, which will be instantly usable by token holders. Although the token contract has not yet been made public, it has been examined and cleared by security company Certik. Boson Protocol will disclose the contract addresses, developer documentation, and contract repositories before the public token release[13].
Overview of token holders and users in our ecosystem
There are a number of individuals in the token ecosystem who are compensated for completing critical functions. The high-level breakdown is shown in this table, and the positions are defined in more detail below.:
Early supporters and investors
Around $10 million has been raised so far to help support the development of the Boson Protocol. This was done in two ways: first, as an equity investment in Redeemeum UK Ltd, which was created in 2019, and second, through agreements for tokens to be distributed following the network's debut in 2020[14].
Founders and team
The Boson Protocol team gets rewarded for delivering long-term results for the project. Team tokens vest over a 4.5-year period, including a six-month cliff at the start, allowing the project to go past the initial reference implementations and into the targeted adoption phase before receiving token incentives[15].
Justin Banon and Gregor Borosa, the founders of Boson, began working together on the project in early 2019 and have been dedicated to it for over two years. In addition, there are currently 34 employees working across Europe, North America, and Asia in a mostly remote and distributed organization. This token distribution secures the core team's continuing delivery and stability for years to come.
Advisors
The Advisors are equally crucial in the development of Boson. The platform considers itself fortunate to have some of the best web3 minds on board to help them realize their goal of decentralized commerce. Token Engineers, web3 founders, legal experts, product owners, and future advisers make up this pool of great talent that will help build a vibrant dCommerce ecosystem.
Academic thought leaders and seasoned practitioners in Blockchain and beyond make up the advisor team. The community is grateful to be able to rely on their remarkable talents and to have them as vital friends in the fight for commercial decentralization.
Network and ecosystem rewards
The platform set aside 43.4 percent of boson tokens for network incentives and ecosystem development to finance the wider growth of Boson Protocol via its path of progressive decentralization as detailed in [governance article] and the continuous development of the dCommerce stack. This will enable them to create a source of long-term funding.
Vesting table
The theory is upon incentivizing network participants to coincide with the ecosystem's long-term growth.
Token release schedule
There will be roughly 8.11 percent of tokens in circulation (16,222,934 $BOSON tokens) on the day of the maiden token distribution. The community also intends to distribute public tokens over the next four weeks, depending on market conditions. More information about the community's selling procedure will be available soon on the official website.
Commitment Tokens
---
By tokenizing a Buyer and Seller's promise to exchange digital value for a real world Thing at a later date, Boson automates digital to physical redemptions. Depositing digital money into an escrow contract within a stateful non-fungible commitment token is how commitments are made.
Core Exchange Mechanism
Boson's primary mechanism governs commitment tokens, which is a sort of sequential game in which the buyer and seller make upfront payments. The game rules and ultimate deposit transfer method are structured in such a way that transactions are coordinated and parties are incentivized to perform fairly. Or, to put it another way, "subgame perfect equilibrium to implementation conforms to both players' honest behavior.""
Governance
---
Boson's goal is to lay the groundwork for the developing decentralized commerce ecosystem, allowing developers and partners to reimagine commercial exchange as it is known.
It's necessary to develop Web3 permissionless technology, but it won't be enough to build a new ecosystem. In order to achieve Boson's purpose, community engagement and governance will be critical. The long-term objective for the protocol's governance is clear: the goal is to create a protocol that is capture-resistant, resistant to centralized, extractive organizations in commerce and its supply chain.
The platform's objective is to allow a decentralized commerce ecosystem by financing and supporting the creation of a stack of specialized apps to disrupt, demonopolize, and democratize trade - and the community wants a say in it.
Progressive decentralization
Boson Protocol intends to accomplish this aim by establishing Boson Protocol as a decentralized system that allows for design techniques that prevent value capture, which is something we want to avoid.
Across the three phases of start-up, scale-up, and DAO, the Boson governance will be applied and modelled. It will gradually allow for a more fair and equal division of ownership, wealth, and control. Increased community ownership and operation will be established as a result of decentralization.
Progressive decentralization, according to the platform, is the most realistic and long-term sustainable strategy since it allows for protocol-market fit, equitable value distribution, and long-term value capture. Furthermore, it allows for the avoidance of the existing uncertainties surrounding the platform's technological, commercial, legal, and social realities.
The dCommerce DAO
Boson Protocol's long-term objective is to be managed by its community. The community will determine which projects to support and which applications to develop through the dCommerce DAO. The dCommerce DAO will support projects that produce core Boson Protocol software, apps, tools, and integrations, as well as ecosystem expansion through supply, demand, and developer activities. Boson is building a collection of developer tools and a number of reference apps to kick-start this dCommerce stack. The first step is to check if the protocol's code and technical specifications are available on GitHub.
The platform is also attempting to make it as simple as possible for users to participate in the development of this ecosystem by assisting you in understanding and using the Boson Protocol.
Alignment of the on-chain and off-chain governance
When it comes to governance, the objective is to synchronize both on-chain and off-chain governance, particularly in the most important areas such as voting. The platform is ensuring transparency and community participation in the decision-making process through increasing decentralization. Because they've started working on Ethereum (ETH), the governance mechanism for layer 1 will be Ethereum-based as well. The idea for the next two years is to potentially investigate alternative blockchain networks, with the long-term objective of making Boson Protocol universally interoperable.
When it comes to the heart of Boson Protocol's functionality: enabling smart contracts to conduct on-chain money transactions coordinated with off-chain, often physical, delivery of products and services, the alignment of on-chain and off-chain governance is critical.
Team
---
Justin Banon
Justin Banon the CEO of Boson, is an industry veteran who grew Priority Pass from a $50 million to a $1 billion revenue digital voucher marketplace in record time. He possesses an MSc in Digital currency and an MSc in Innovation from Imperial College London, as well as a Digital Business Model Researcher.
Gregor Borosa
Gregor Borosa is the co-founder of the tech team and has been working in the blockchain business since 2013. He studied computer science, business informatics, and digital currencies at college. Previously, he led technical teams to success at central and Commercial bank.
See something wrong?
Report to us.
Boson Protocol
Did you find this article interesting?