Camelot DEX
Camelot is a decentralized exchange (DEX) based on the Arbitrum network. Camelot DEX was launched in December 2022. The native token for the exchange is $GRAIL. [1][10]

Overview
Camelot is a decentralized exchange centered around the ecosystem and community and built on Arbitrum. It was developed in November 2022, and it launched its public token sale on the 29th of November, 2022. The name "Camelot" is drawn from King Arthur's Camelot Palace, symbolizing the concept of the Round Table. In this context, users and projects that utilize Camelot to create liquidity pools are referred to as "Knights," drawing a parallel to the distinguished knights of the Round Table. [2]
Some protocols that are participant of the Round Table include D-Squared, Byte Masons, Liquity, Hop Protocol, Tarot Protocol, Lexer Protocol, Factor, Vela Exchange, JustBet, Bond Protocol, Redacted Cartel, Perpy, Relay Chain, Plutus DAO, Lyra DAO, Pendle, Thales, Spool DAO, and Silo. [12]
The structure of Camelot makes it a customizable protocol that allows builders and users to have adaptable liquidity. It also offers features like Nitro Pools and spNFTs — wrapped liquidity tokens that enable providers to create lock durations for liquidity and utilize Camelot's plugin features for a multiplier on their yield. [2]
Services & Features
Automated Market Maker (AMM)
AMM is the core system of the Camelot ecosystem. Its development orientation follows the following methods: dual liquidity to create flexibility and customization, dynamic directional fees, and referrals aimed directly at partners and projects that want to become a part of the ecosystem. [3]
Staked positions (spNFTs)
With spNFTs (non-fungible staked positions), each Camelot liquidity pool has its own staking positions (spNFTs) that users can mint by wrapping liquidity pool tokens. spNFTs are treated as a deposit receipt by users and have advanced features compared to regular liquidity providers in that; they have a unique ID, they have full parameters of the user's position, such as the number of tokens, the value of tokens provided, and they have an annual percentage yield (APY) and lock time with Multipliers Point. [4]
Staked positions act as wrapping layers on liquidity provider tokens, allowing for flexible liquidity provision through various customized strategies. [2][4]
Yield Farming
Camelot's dual liquidity mechanism rewards users who provide liquidity with yield farming. They can also participate in an incentive program with rewards of $GRAIL and xGRAIL in an 80/20 ratio. [5]
The exchange has two primary ways to boost returns from yield-generating staked positions: through locks, where users lock their assets for a certain period to earn rewards for their tokens, and also through the YieldBooster plugin whereby users can use their xGRAIL for a staking position (spNFT) for profit. [5]
Nitro Pools
Nitro pools are created to provide liquidity for Camelot's partner projects and users. In addition to the reward from providing liquidity, the project also creates a new reward layer in ETH in the Nitro Pool which in turn encourages liquidity for the projects inside. Users also earn PLS emissions, xGRAIL, and GRAIL after staking. [6]
The two types of Nitro Pools present include — Official Nitro Pools which are created by Camelot, and Community Nitro Pools which can be created by anyone. [6]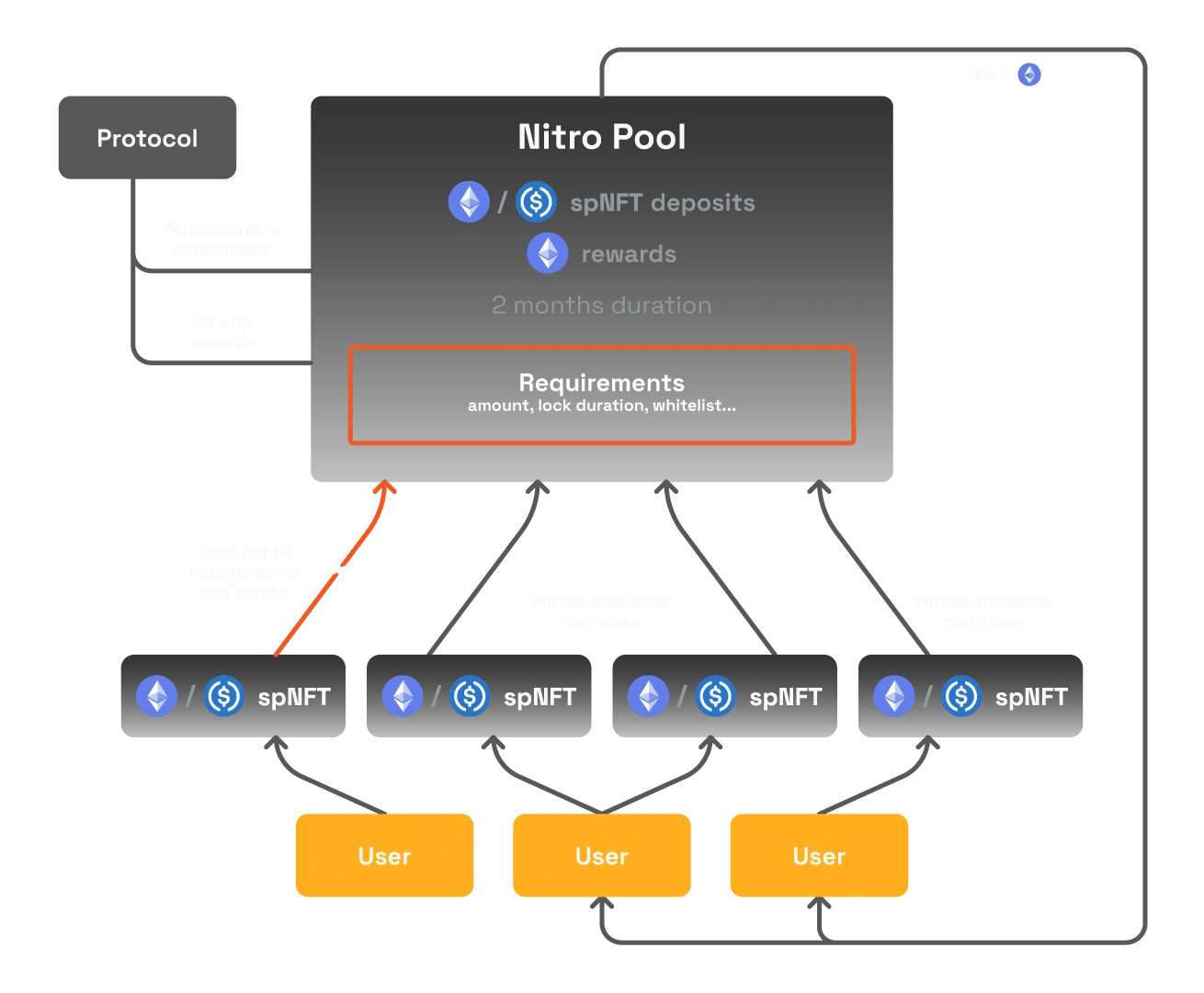 xGRAIL Plugins
xGRAIL plugins are contracts linked to the xGRAIL contract. Some plugins are native and directly made by the Camelot team (dividends, yield booster, launchpads, etc.) but others can be freely integrated by anyone from the ecosystem. [8]
Camelot V2
Camelot V2 introduces a series of upgrades to its platform, including a concentrated liquidity Automated Market Maker (AMM) powered by Algebra's V2 implementation. These upgrades are designed to enhance trading efficiency within the Arbitrum ecosystem and will be rolled out in three stages. The first stage, set to launch on Saturday, April 8th, introduces the Concentrated Liquidity AMM. This is followed by a second stage, which focuses on improving the user interface (UI), and a third stage which introduces concentrated liquidity high-efficiency farms. [11]
Initially, Camelot's goal was to build a decentralized exchange (DEX) that provided sustainable infrastructure support, moving away from being solely a 'yield-farm.' Their original AMM implementation utilized mathematical models for volatile and stable pools, with a focus on supporting native builders. Over time, they improved efficiency through measures such as directional fees, spNFTs, Nitro pools, and sustainable emissions. [11]
Now, as the primary DEX for the Arbitrum ecosystem, Camelot has adopted Algebra's V2 codebase to implement concentrated liquidity. This brings several improvements, including dynamic volatility-based fees, support for limit orders, compatibility with rebasing tokens, and customizable tick spacing for individual pools. The aim is to make concentrated liquidity more accessible, particularly for non-sophisticated users, by integrating it into existing structures like spNFTs and Nitro pools. [11]
Governance and DAO
Community members can use their xGRAIL balance as a governance token to vote for proposals. More xGRAIL means more voting power. The process is gasless and no transactions are required. When a proposal is approved, a DAO of team members and advisors executes the necessary contracts and makes the final decision. [2]
Grail & xGrail Token
Grail
GRAIL is Camelot's native token. It can be earned as yield rewards on incentivized staking positions. It operates on the Arbitrum chain & its maximum supply is 100,000 GRAIL. [7]
At Genesis, 15% of the public sale was distributed upfront (5% xGrail and 10% GRAIL). 10% of the public sale was allocated to protocol-owned liquidity, 5% to the Genesis Nitro Pools, 22.5% to liquidity mining over the next three years, 20% to the core contributors over three years, 10% to partnerships, 8% to reserves, 5% to the ecosystem, 2% to development, and 2% to advisors. [7]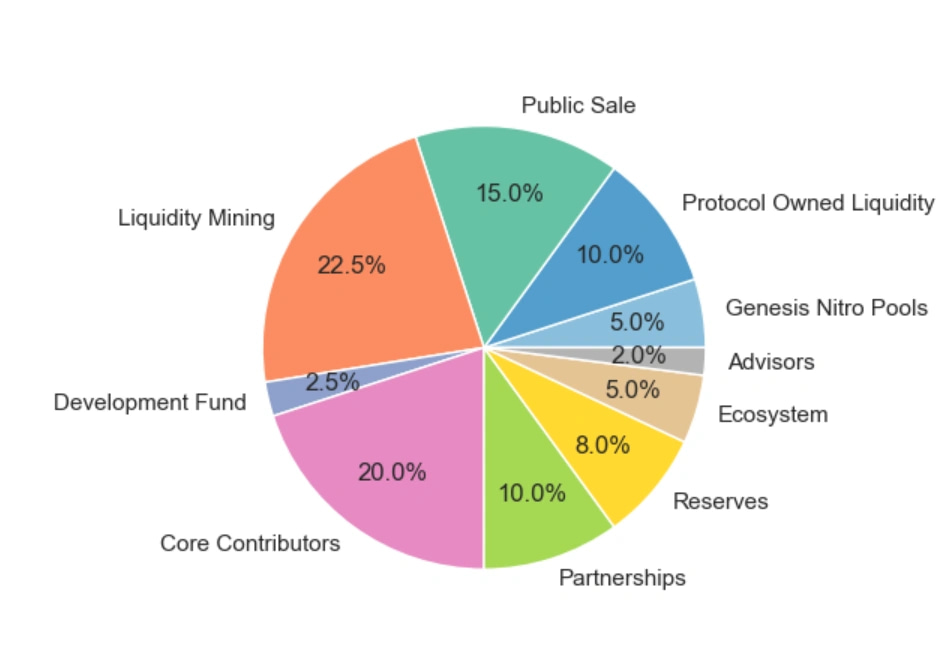 xGrail
xGrail is Camelot Escrowed Token and it is non-transferable. Users can earn xGrail from yield-generating staking positions (spNFTs) or by converting their GRAIL assets. xGRAIL is the governance token and can be used to stake in dedicated contracts through plugins to unlock multiple benefits. [8]
TVL
In March 2023, Camelot's TVL (Total Value Locked) crossed $100 million ahead of Arbitrum's ARB token airdrop. Data from TVL aggregator DefiLlama also showed Camelot's 24-hour trading volume topped $47 million on March 18, 2023. [9]
See something wrong?
Report to us.
Camelot DEX
Did you find this article interesting?