Cindicator
Cindicator (ticker symbol: CND) is a cryptocurrency token created on Ethereum Blockchain. It was first announced on August 3, 2017 and the development team is located in United States, Russia, Gibraltar. As of December 28th 2017, the circulating supply was 1,445,976,590 CND.[1]
Overview
Cindicator, found online at Cindicator.com, is a platform that provides hybrid intelligence for asset management. Specifically, the company is creating trading robots and algorithms for hedge funds and institutional investors using unique technology with hybrid intelligence.
"The synergy of our AI trading robots and forecasts from the large pool of diverse analysts creates accurate signals and data points for stock exchange transactions," explains the official website.
Initial Coin Offering
The company was founded in 2015. This past August, they raised $500,000 in seed funding. The Cindicator Initial Coin Offering (ICO) was conducted between September 12 to October 12, 2017. The CND token was priced at 0.01 USD and 75% supply. i.e 1,50,00,00,003 CND tokens were available for the ICO round. The company managed to raise $15,000,000 USD via ICO sale.
[2]
The User can download the Cindicator app for free for iOS or Android today. It features basic trading signals.
Cindicator isn't exclusively designed for cryptocurrency market predictions. However, that's certainly a key feature of the platform. In early testing, Cindicator was able to achieve returns on the USD/RUR exchange, oil futures trading, and other physical assets.
Products
Cindicator currently have four products developed and available for use.
Stoic
It is a crypto trading bot with an advantage of Hedge Fund. It is an automated trading strategy that helps traders to get over emotions and avoid situations like FOMO and FUD to gain better trading results and so the profit. Stoic has various plans available starting from 9$/ month.[3][4]
Macro Sentiment Indicators
Cindicators Sentiment Indicators provided outlook of the various markets each week, including the S&P 500, options, stocks, Forex, and futures to help traders to reduce the number of trades and just the find the better trade opportunity. The indicators are no longer available as a singular entity instead they are included in the Stoic automated trading bot.[5]
Signals from Superforcasters
It provides ready-to-apply trading signals from the top 10 individual top analysts - the 'superforecasters' It is published Bitcoin (BTC) signal every Sunday , each signal contains the entry price, stop-loss, and take profit for the week. [6]
Collective Intelligence Platform
It gives an opportunity for traders to analyze markets and improve their skills and also compete with other traders to win prizes. Each day an in-house team of professional ask a question, analyzing the markets. Every question has a deadline and the trader need to answer the question they like. Several layers of machine learning models process all the answers to create valuable indicators for traders who hold CND, contributing to the Cindicator's hybrid intelligence model. At the end of the month trader wins a share of the Cindicator ecosystem's motivational pool (in CND or ETH) as long as his/her performance rating is positive. The more reward, the more points and better rating the trader achieves.[7]
Cindicator Edge
It includes Hybrid Intelligence indicators which are developed by processing data everyday using Artificial Intelligence to create market predictions with 70% accuracy . It covers all major cryptocurrencies and traditional markets, including Fortune 500 companies, gold and oil futures, etc. The Cindicator Edge service starts from free which includes 5 indicators per week and covers only crypto market. For More number of indicators and markets, there are paid plans. All these plans are for a lifetime use.[8][12]
Tech
Cindicator harnesses crowd wisdom and artificial intelligence-based algorithms to facilitate smarter predictions in the world of cryptocurrency and other assets. Obviously, the value of these assets isn't based exclusively on technical signals. Cindicator plans to create a more accurate asset prediction system by combining a large number of diverse financial analysts with machine-learning models into one single system.
That's where the term "hybrid intelligence" comes from. Cindicator uses a "hybrid" of machine learning algorithms and diverse financial analysts.
Some of the key features and benefits of the Cindicator platform include:
Technological and analytical infrastructure for managing capital safely and effectively
Analysts can monetize their intellectual assets without risking their own funds
Tools and data for making investment decisions under conditions of market uncertainty
Actual analytics of the industry, expectations, opportunities, and market growth points
Indexes and ratings of crypto-assets
In January 2017, Cindicator launched a public experiment with Moscow Exchange (MOEX), one of Europe's largest exchanges and one of the ten largest exchange platforms for derivatives trading worldwide.
For this experiment, Cindicator completed trades based on the synergy of artificial intelligence and collective intelligence. The "collective intelligence" was gathered from a mix of people, including 60% of people with various levels of investment experience and 40% of people with no investment experience.
The Cindicator platform aggregated all of this data, received forecast information, and made trades based on that information.
The results were posted on the Cindicator Telegram channel on a daily basis before the market opened. Based on the forecasts, Cindicator's robot modeled 57 trades, 36 of which were profitable, over the course of the experiment. The end result was a 3% return in one month, good for a 26% ROI per year.
"The result of this pilot proved the efficiency of the Hybrid Intelligence ecosystem even with a non-trained (on the computer learning models used by us) sample of forecasters", explains the Cindicator whitepaper.
Team
Cindicator is led by Mike Brusov (Co-Founder and CEO), Yuri Lobyntsev (Co-Founder and CTO), and Artem Baranov (Co-Founder and COO).
The company is based in New York, although it also appears to maintain offices (or at least corporation registrations) in Russia and Gibraltar.
The idea of using hybrid intelligence for asset management was first proposed in November 2014. Global public release of the first version of the intelligence platform occurred in December 2015. The company has also participated in several accelerator programs over the years. In November 2016, Cindicator became a member of Microsoft's BizSpark. In March 2017, they were listed as a Top-1 startup at the Moscow Stock Exchange accelerator.[11]
See something wrong?
Report to us.
Cindicator
Did you find this article interesting?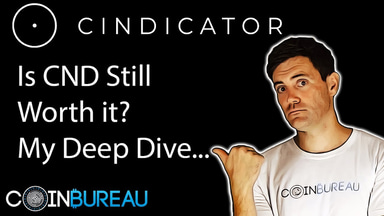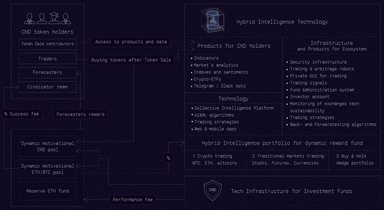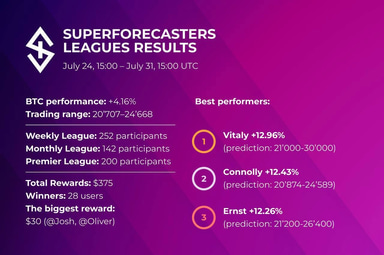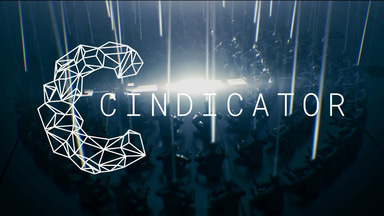 REFERENCES
[1]
Cindicator Website
Sep 18, 2022
[2]
Cindicator ICO details
Sep 18, 2022
[3]
Stoic details
Sep 18, 2022
[4]
Stoic Pricing
Sep 18, 2022
[5]
Macro Sentiment Details
Sep 18, 2022
[6]
Siganls from Supercasters
Sep 18, 2022
[7]
Collective Intelligence platform info
Sep 18, 2022
[8]
Cindicator Edge details
Sep 18, 2022
[9]
Cindicator on tweeter
Sep 18, 2022
[10]
Cindicator project info
Sep 18, 2022
[11]
Cindicator team
Sep 18, 2022
[12]
Hybrid Intelligence info
Sep 19, 2022