Crypto Raiders
Crypto Raiders is a groundbreaking Play-To-Earn dungeon crawler based on the Polygon blockchain. It builds on decades of RNG-based RPG best practices while also including new economic components made available by Polygon and Ethereum (ETH)[1].
Overview
---
Crypto Raiders is a utility-based NFT RPG game inspired by Zed.Run and World of Warcraft, allows players to create NFT avatars whose sole function is to embellish Twitter accounts in the Metaverse. It is a utility-based Non-Fungible Token (NFT) Role-playing game which features 7,500 Base Characters where users must raid weekly dungeons for gear and loot, but with great care due to the death mechanic feature. The platform runs on the Polygon mainnet[10].
Beyond that, the avatar may be sent into combat to plunder dungeons and earn tokens[2]. Over the past few months, the Crypto Raiders team has made exceptional progress and established itself as a leading, up-and-coming NFT-based video game.
The first batch of 7,500 in-game characters has already sold out. The secondary market price for characters on Polygon is continuing to increase, with a current floor of 3.6x the mint price and a total trading volume of approximately 370 Ethereum (ETH) ($962,000 at today's pricing).
The first test dungeon has already been published, where gamers may win treasure for their characters. In just a few weeks, this dungeon has been played thousands of times, and character values on the secondary market have already adjusted based on the stuff they've earned.
Crypto Raiders is in a unique position to be among the first blockchain-based video games to build a vibrant Play-to-Earn economy that attracts both players and investors, thanks to the strong response to the first gameplay and NFTs. The platform may learn from and imitate the success of popular games like Axie Infinity and Decentraland, as well as benefit from advancements in the Blockchain, NFT, and DeFi (Decentralized Finance) ecosystems since their introduction.
Users must raid dungeons, defeat monsters, gain riches, and return to their homes triumphant on the platform, which is pure pleasure. But be careful: if you can't withstand a confrontation with your opponent, you won't be able to return triumphant. Because in the game, death is irreversible.
As a result, you'll need to plan ahead and evaluate your alternatives before entering a dungeon. Calculate the risk/reward ratio and decide if you're up for the task. You'll need to get one of our foundation level characters before you get into a fight[3].
Only through achieving success will you be able to improve your character's characteristics and ensure that you are properly prepared for the next carnage[4].
Characters on Crypto Raiders
---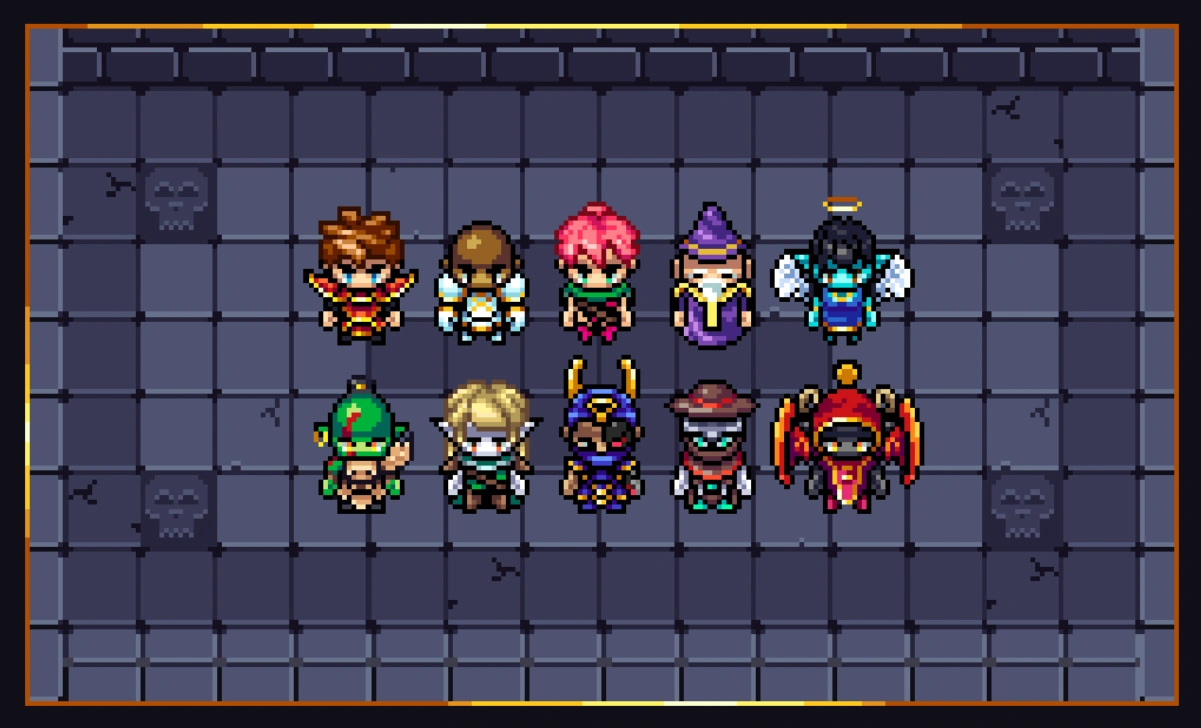 Character Models
There will be six base characters, each of which will begin as a blank slate ready for its owner to fully customize.
The rarity of these characters' skins determines their initial supply:
Humans
Elves
Cyborg
Skeleton
There are no attribute distinctions; pick them only based on how they seem. All characteristics originate from dungeon-dropped items and potions[5].
Blank Cyborg
All stats are based on the different items, weapons, and potions that players collect during the game. It's possible that a fully outfitted Elf might end up looking entirely different[5].
Fully Equipped Elf
Because the characters are created from the ground up, each one will be one-of-a-kind.
It's important to remember that each user has complete influence over their character's fate[6].
Sale of Characters
---
There will be a total of 10,000 base characters available, with 7,500 reserved for pre-sale prior to the release of the first dungeon.
On OpenSea, the platform began its pre-sales by releasing around 750 characters. This didn't use a pump-it-up avatar launch because there was already a surge of attention in Discord , so it was decided to make restricted releases in the days and weeks leading up to the first dungeon[7].
Character Identity
The following is a list of the characters available during the pre-sale, along with their prices:
Humans (6000) —.015 ETH
Elves (1200) —.03 ETH
Dark Elves (100) —.1 ETH
Cyborgs (100) —.1 ETH
Skeleton (100) —.1 Ethereum (ETH)
There are already three price categories based on the uniqueness of their skins. After the sale, the market will be able to determine how to price these items efficiently. Perhaps Dark Elf shouldn't be as expensive as Cyborg, and the market will decide[8].
The platform would want at least 2,000 unique players out of a total of 7,500 mints, although community members who wish to buy 10 or more base characters are welcome.
Character Minting & Recruitment
---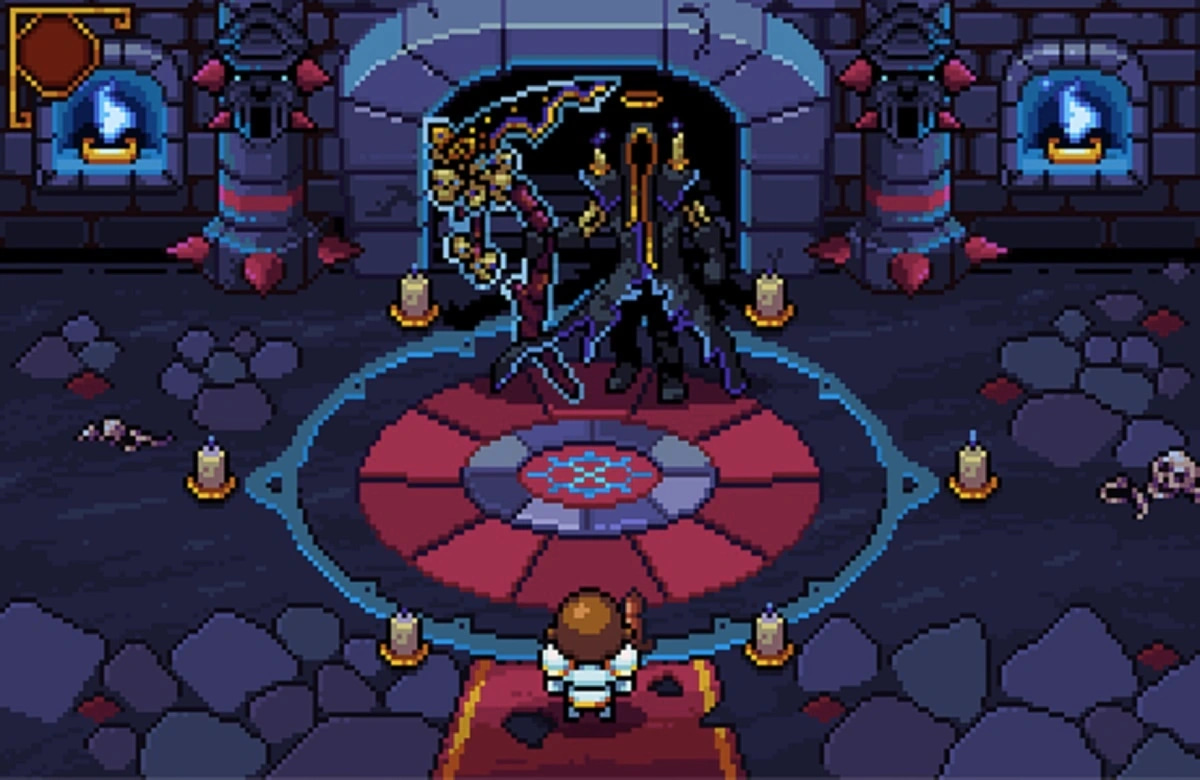 The Breeding mechanism is just rebranded as Recruitment. Many members of the community have been concerned about the proposal to increase the character count due to the gaming platform's character death mechanic. This will be accomplished through two methods:
Minting new characters 1x per season
Recruitment events 1–2x per season
Minting new CryptoRaiders is self-explanatory, so emphasis will be more on what the community is most enthusiastic about: recruitment. Another important play-to-earn element that will return value and revenue to the community is this.
While the recruitment specifics are still being worked out, the following is the current working plan:
For a one-week period, you can stake N CryptoRaiders. These CryptoRaiders are unable to raid dungeons at this time. The more CryptoRaiders you invest (max 10), the better raider you will hire.
At the conclusion of 1 week, the CryptoRaiders will successfully recruit 1 new Crypto Raider.
The new CryptoRaider will be a complete stranger... it could be a regular human or an extremely uncommon Cyborg.
The level and equip of the CryptoRaiders you stake will have a minor impact on your chances of recruiting a more rare basic character.
Gameplay
---
Dungeons will be released on a weekly basis to begin with. There will eventually be a good balance between evergreen dungeons that can be raided indefinitely and limited-time dungeons that can only be raided a few times before closing.
You'll be able to see your characters start on their missions because the game will be a real-time simulation.
You can choose one of three treasure possibilities once a character successfully completes a dungeon. Your character will be sent back with that piece of loot once you've chosen your option.
If a player dies in combat, they will be burned or an Non-Fungible Token (NFT) will be sent back with the character dead on the ground, rendering them unsuitable for future dungeon raids, but at least you will have a remembrance of your fallen raider. This also adds realism to the gameplay experience, as opposed to most other games where characters have several lives.
And characters die in these dungeon raids, the worth of base characters will rise as players will need to buy another to continue playing.
Death Mechanic
There have been a lot of queries in the community concerning CryptoRaiders' death system and how it will operate, such as who will be thrown into the dungeon first to die? The risk vs. return debate has piqued the interest of many. Others are concerned that they may lose all of their CryptoRaiders in the first week.
To begin, CryptoRaiders has two major goals: to make it FUN and to make it play-to-earn rather than pay-to-die. Simply put, the platform wants consumers to generate money rather than have their money disappear every time their Raider dies in a dungeon.
First Test of a Dungeon Walkthrough
Beginner Dungeons will have no danger of death because everyone will be able to level up their characters in these dungeons. The "Beginner dungeons" will be the first four dungeons constructed. You will be allowed to raid them three times each week for free.
There will be a 1–5% risk of death in the first five intermediate Dungeons.
Premium treasure will be dropped in the following dungeons, but at the cost of death. The initial dungeons when the death mechanism calibration is carried out, however, will have a 5% probability of death.
The following information about character death should help and decrease the odds of losing a character:
Your gear will impact your chance of death. The better your gear, the lower the %.
You will know your % chance of death before entering a dungeon.
Death is permanent, but we will likely let you recover a few pieces of your loot.
It's not our goal to have people break their keyboards in half when they die and lose 3 @ETHereum worth of loot.
In-Game Currency
---
Crypto Raiders has begun releasing information on the in-game currency, which will be the game's primary play-to-earn element. The real game will be hosted on L2 Polygon / MATIC after considerable consideration. Mainnet would be too expensive with item airdrops and character transfers in and out of dungeons. The basic characters will exist as an ERC-1155 token on the mainnet. That token will burn when the basic character enters its first dungeon, and the new character token will appear on L2 Polygon.
The following should be noted :
Each dungeon you finish successfully, including novice dungeons, will reward you with gold.
To enter intermediate and advanced dungeons, you'll need gold.
Potions and other in-game boosts will be purchased with gold in a future item store.
On Polygon, gold will be an ERC-20 token that may be bought, sold, or traded outside of the game. The gold you acquire in the game is all yours.
On a sliding scale up to 30%, earlier Character Generations will get a + percent gold drop modifier. As a result, when C1 Raiders are released, the genesis raiders that are presently available for mint will have a +30% gold drop when compared to C1 Raiders. When C6 raiders are released, the distribution will be as follows:
Genesis: +30%
C1: +25%
C2: +20%
C3: +15%
C4: +10%
C5: +5%
C6: Base Rate
After much debate and deliberation on the best way to build value for earlier mints, the Zed.Run strategy, which gives earlier mints excellent basic stats, was explored, but the decision was reached that it gives the supposedly early birds an unfair edge. By raising the gold drop percent for earlier mints, they become more valuable intrinsically without being "better" raiders.
The platform is launching two Tokens connected to the Crypto Raiders ecosystem to help with the economy: $AURUM (Latin for "gold") and $RAIDER. These tokens have not yet been released (at the time of writing this article), so don't be fooled by any imposters!
$AURUM Tokenomics
$AURUM will be a variable supply token with a 1 billion initial mint. Crypto Raiders retain the right to mint and burn $AURUM as needed to keep the game economy balanced, as well as to alter the costs of different activities where $AURUM is utilized, such as character creation and dungeons.
$AURUM Utility
The in-game token is $AURUM. It will be utilized for dungeons, character recruitment (akin to "breeding" in other games), and future value-creation activities like crafting, enchanting, and PvP duels. It will also be the default currency in the Crypto Raiders marketplace, which is expected to open in three to six months.
Earning $AURUM
Completing dungeons and subsequent missions will reward you $AURUM. A player can earn more $AURUM by completing more challenging quests or dungeons. Certain character models, such as the 7,500 genesis characters with a 30% $AURUM boost, also earn additional $AURUM.
Staking $RAIDER tokens can also yield $AURUM passively.
$AURUM Price Factors
Because $AURUM is required for the majority of value production activities, such as creating new characters, players may earn in-game money by completing dungeons and other missions to earn $AURUM, which they can then either sell on the market or spend to create new Characters and Gear.
Investors who want to focus on breeding characters or crafting rather than completing in-game activities must purchase $AURUM from other players or earn $AURUM through staking.
This results in a dual $AURUM economy, similar to the one seen in Axie Infinity with SLP. Farming $AURUM through in-game activities and then selling that gold to Investors is how players make money. $AURUM is bought by investors to support value production activities like breeding and crafting, which they then sell to new and current players.
The $AURUM coin is expected to be extremely liquid, with a changing price, according to the developers. While the price will rise as the game grows in popularity, it is not intended to represent the worth of the CryptoRaider economy as a whole.
$RAIDER Tokenomics
$RAIDER will be a limited-edition token with a mintage of 100,000,000. The team will be unable to create additional $RAIDER.
$RAIDER Utility
The $RAIDER token symbolizes the whole Crypto Raiders economy, but it also has certain in-game applications.
Holders of $RAIDER can stake on the game to get a piece of the $AURUM spent. Stakeholders in $RAIDER will be rewarded daily depending on their in-game activity, earning $AURUM that they can sell on the market or spend for value-creating activities such as dungeon running, breeding, and crafting.
Staking on $RAIDER is restricted for three to twelve months:
Three month lock: 100% reward rate
Six month lock: 200% reward rate
Nine month lock: 300% reward rate
Twelve month lock: 400% reward rate
A player who believes in the CryptoRaider ecosystem for the long term can stake their $RAIDER tokens for a year and get a 4x multiplier on their staked amount, as well as daily passive benefits in the form of $AURUM.
Staking $RAIDER will also provide future benefits, such as:
Voting in governance and other decisions.
Special access to staker-only dungeons, gear, and releases.
Partner drops and releases.
Earning $RAIDER
Players and investors may earn $RAIDER by staking $AURUM-MATIC and $RAIDER-MATIC SushiSwap Liquidity pool Tokens, in addition to buying $RAIDER on the market.
Fifty percent of the first 100,000,000 $RAIDER coins will be used to reward these liquidity providers. The 50,000,000 $RAIDER will be divided evenly between the two pools and dispersed over a four-year period.
That implies each pool's daily emissions will be 17,123 $RAIDER coins at start. All LPs will get proportional incentives according on their percentage of the liquidity pool tokens deposited.
On LP staking, there will be no lockup. Only $RAIDER staking is allowed.
$RAIDER Price Factors
The community anticipates the value of $RAIDER to rise as the perceived worth of the Crypto Raiders game and economy rises, as it is the platform's fixed-supply currency.
While there will eventually be 100,000,000 $RAIDER in circulation, only about 1,000,000 will be unlocked on launch day, with the remainder coming via LP rewards and Vesting contracts over the next four years. Depending on how demand develops with the rising liquid token supply, there will be some inflationary price pressure as more of these tokens are distributed.The $RAIDER token, however, differs from other platform tokens in that it provides in-game usefulness, largely through passive $AURUM income. As a result, the $RAIDER tokens are likely to see reduced selling pressure when they are issued. They give substantial value to anybody bullish on the Crypto Raiders environment or anyone playing the game, and they're not just a prize for LP staking.
Initial Allocations, Vesting, and Pricing
The initial 100,000,000 supply of $RAIDER will be allocated as follows:
50% to incentivize LP staking, distributed over 4 years.
20% to the founding team, locked in a 2 year vesting contract.
15% to employees and contractors, also locked in a 1-year vesting contract when awarded.
10% to the treasury for bug bounties, community giveaways, and future needs.
5% reserved for future investors.
The initial 1,000,000,000 supply of $AURUM will be allocated as follows:
75% to the Rewarder contract for rewarding Dungeon and Quest completions.
20% to the treasury for employee rewards, bug bounties, community giveaways, and future needs.
5% to initial $RAIDER staking rewards, until in-game $AURUM-based spending rewards kick in.
The initial Sushi liquidity for both $RAIDER and $AURUM will be provided by the Crypto Raiders team. $RAIDER's first price will be $0.01, while $AURUM's initial price will be $0.001.
This values the platform at $2 million in total diluted value, which is seen to be conservative considering the almost $1 million in volume done in the previous month. Because the community has always come first, Crypto Raiders will be eligible to partake in the platform's benefits as it expands.
Additional Considerations for Token Utility & Value
When evaluating the value and utility of the $AURUM and $RAIDER tokens, keep in mind the long-term ambitions for the Crypto Raiders ecosystem, as well as the extra uses those tokens will have[9].
Crypto Raiders Composability
The $AURUM and $RAIDER coins, as well as Crypto Raiders, are native to the Polygon blockchain. There is no need for a separate sidechain to play Crypto Raiders, nor does it necessitate any sluggish, expensive in-game cash or item exchanges.
As a result, the Crypto Raiders economy is fully integrated into the Polygon environment. We foresee a future in which Raiders may use DeFi apps like PoolTogether or Aave ($AAVE) to stake their $AURUM, making Crypto Raiders one of the first games to properly integrate the in-game and "offline" markets. Crypto Raiders will also be among the first games to push the open metaverse forward. Other NFTs or tokens owners can get special in-game characters, pets, boosts, or powers based on their outside actions. An Artblocks Squiggle holder may be able to wrap the design on their armor, or a Bored Ape owner may receive an unique Monkey pet.
Crypto Raiders NFTs
---
While the DeFi (Decentralized Finance) components of Crypto Raiders are really exciting, the game's primary value will always be in the NFTs that fuel it.
The current Character NFTs have already shown to be a tremendous success, with the floor price rising on a weekly basis. Additional Characters (through in-game recruiting) as well as the numerous Gear NFTs will be released in the following months.
Crypto Raiders will be one of the first games in which players may produce goods, have those items represented by NFTs, and then sell those items on NFT markets like OpenSea after crafting and other activities are included.
Crypto Raiders Marketplace
---
A native Crypto Raiders marketplace is expected to launch in the next six months. Players will be able to exchange Crypto Raiders native NFTs without leaving the Crypto Raiders environment or paying a 2.5 percent cut to OpenSea on this marketplace.
Instead of the 2.5 percent charge going to OpenSea, a 2.5 percent exchange fee will be partially given to $RAIDER stakers, boosting the value of owning and staking $RAIDER tokens.
NFT Burn Mechanism
Character inflation is an issue with NFT-based P2E games like Crypto Raiders and Axie Infinity.Because character recruitment has the potential to expand supply at an exponential pace, if demand for the game does not develop at the same rate, the market for the game will suffer.
When a character dies, the NFT of that character is marked as "dead" and can no longer be used in the game. Furthermore, the gear will be lost with it unless it has special buffs or bonuses. This allows the platform to adapt to market needs by increasing or decreasing the character and gear burn rate, guaranteeing that investors and players alike may always charge a fair price for their characters.
Character NFTs may cause a catastrophic failure.
How to Participate
In the next weeks, $RAIDER, $AURUM, and the incentivized staking pools will be launched.The links and instructions for taking part in the launch will be given first on Discord , then on Twitter.
Everyone who has a Raider in their Polygon wallet will receive some $RAIDER tokens as part of the launch. If you haven't already, make sure to transfer your characters.
Crypto Raiders Partnerships
---
The Polygon blockchain is expected to experience considerable growth in gaming, according to Crypto Raiders. Polygon Technology, the parent firm, has previously established a $100 million fund to invest in Polygon gaming.
There are plans in the works to form collaborations with other games and look into methods to make Crypto Raiders NFTs useful in other games as well. This will increase the overall value of the Crypto Raiders ecosystem, benefiting both participants and investors.
Roadmap
---
Right after the first 1,000 mints are sold, there will be setup a process for the community to input ideas for names for different gear, weapons, and potions.
Then, the first dungeon will be launched two weeks after the initial sale is over.
After about 1–1.5 months the following have been planned :
Dungeon raiding in a group
Players may purchase and sell their accessories on the secondary market using loot stash.
In-game money that allows players to purchase dungeon entrance and add-ons such as potions.
Mike, John, Tammy, Old Man, Elf, Pink Elf, Cyborg, Skeleton, and Dark Elf are the main characters in the game right now. There are no attribute distinctions; pick them only based on how they seem. All characteristics originate from dungeon-dropped items and potions
Dungeons will be released on a weekly basis to begin with. There will eventually be a good balance between evergreen dungeons that can be raided indefinitely and limited-time dungeons that can only be raided a few times before closing.
See something wrong?
Report to us.
Crypto Raiders
Did you find this article interesting?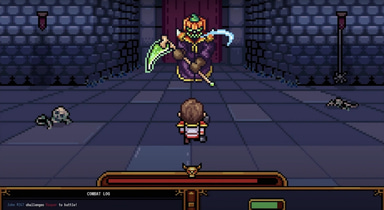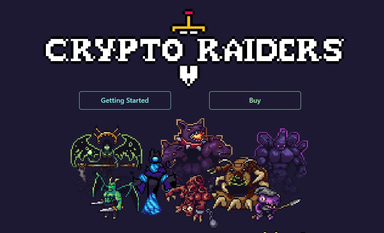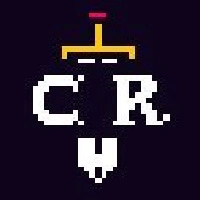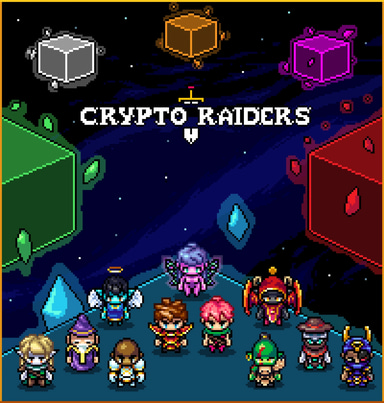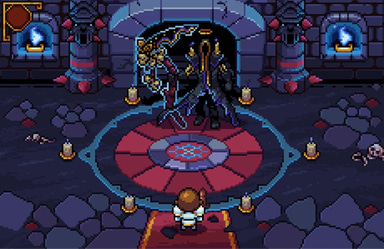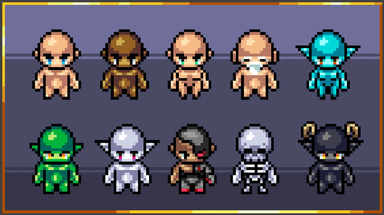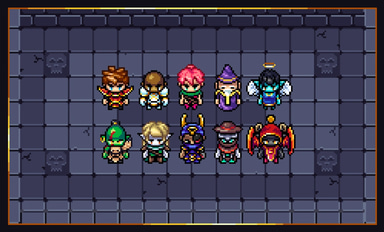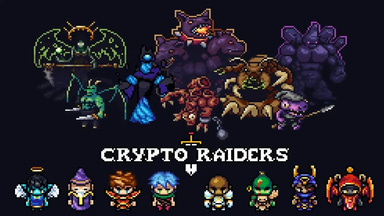 REFERENCES
[1]
Crypto Raiders homegame
Aug 17, 2022
[2]
CRYPTO RAIDERS NFT PROJECT ON POLYGON
Aug 17, 2022
[3]
Crypto Raiders on Medium
Aug 17, 2022
[4]
CRYPTO RAIDERS - NEW NFT GAME! FIRST DUNGEON!
Aug 17, 2022
[5]
Crypto Raiders on Twitter
Aug 17, 2022
[6]
Crypto Raider - RPG + PIXEL + CRYPTO = FUN et ARGENT - FR
Aug 17, 2022
[7]
BRAND NEW NFT GAME! CRYPTO RAIDERS!
Aug 17, 2022
[8]
World of Warcraft style NFT game - Crypto Raiders
Aug 17, 2022
[9]
Crypto Raiders on OpenSea
Aug 17, 2022
[10]
CRYPTO RAIDERS - NEW NFT COLLECTIBLE AI ACTION RPG GAME!
Aug 17, 2022