Dominik Schiener
Dominik Schiener is an Italian entrepreneur, co-founder and chairman at IOTA Foundation, a nonprofit foundation based in Berlin. He oversees partnerships and the overall realization of the project's vision.[2]

Early Career
Dominik Schiener first entered into the blockchain by hearing about Bitcoin in 2012. He mentioned in one of his interviews with Bitcoin.com that:[9]
But I seriously got involved as a dedicated member of the community in 2013.
He started by mining Altcoins with the AWS credits, received for a previous startup by Dominik and his friend. Since then, the blockchain space had been part of his daily life which lead him to find his own 'Bitcoin Startup' in Switzerland and the UK.  
[9]
Blockchain Career
Dominik works on projects that make use of the blockchain and smart contract to create new and socially impactful applications. [3]
He founded Fileyy in May 2012, and was the CEO. Fileyy was Dominik's first startup, which was focused around the ever-growing demand of exposure for businesses. He initiated the process of creating a new Affiliate Marketing Platform that is able to connect both advertisers and affiliates promoting the advertisements. He worked there and contributed his efforts to the organization for about nine months and then left in January 2013.
He co-founded Bithaus GmbH in June 2014, located in Zug, Switzerland. He tried to develop 'cryptocurrency to fiat' exchange, but failed.
In March 2015, he co-founded Finhaus Ltd., located in London, United Kingdom. Here, he made use of the Blockchain in the financial sector. Dominik has contributed his works for more than an year and then left in July 2016.
In March 2019, he became the Investor and Co-chairman at Xayn, located in Berlin, Germany. Xayn is a privacy-protecting search alternative that enables users to gain back control over search algorithms.
In October 2015, Dominik co-founded IOTA Foundation. He is the originator and the chairman of IOTA.
[4]
In January 2016, he won the largest blockchain hackathon in Shanghai for the CargoChain project.[5]
In 2021, he invested in CredX. It works on concrete Digital Assets use cases, tokenizing financial assets on IOTA .[7]
IOTA
The IOTA Foundation is a non-profit foundation, bringing distributed ledger technologies and ecosystems to maturity. It was co-founded by Dominik Schiener and David Sonstebo. It is primarily intended to develop and standardize new distributed ledger protocols, and make it easy for anyone to build production-ready applications with it.

IOTA helps corporates and startups to move away from Proof of Concepts, towards production-ready applications by having a framework that enables different parties to collaborate on use cases, and to contribute towards the development of the base protocols themselves. IOTA's core capabilities is to secure data and the ability to transact on a micropayment basis.
[8]
CargoChain
Dominik Schiener won the largest blockchain hackathon in Shanghai in January 2016, hosted by Deloitte, Wanxiang Blockchain Labs. He won a $30,000 1st prize at the event for his CargoChain project.
CargoChain digitizes international trade by creating a secure, eternal record of important trade documents on the Blockchain and establishes 'smarter' contractual relationships between trade parties, which reduces the process of forging and loss in stolen payments and cargo.
This eternal enigma was spotted by Dominik, as well as his partner, John Freeman, leading to the motivation behind creating CargoChain. CargoChain offers a clear Chain of Custody, making it possible for everyone involved in the shipment of products to have an overview of the origin, owner and the destination of the cargo. This makes international trade cheaper, more efficient, faster and fraud-proof. This application was built in less than two days using Meteor, Ethereum and IPFS. He mentioned in one of his interviews with Bitcoin.com that:[5]
The Blockchain can be the disruptive 10 times the force, that can help bring international trade and the entire shipment industry up to date to today's technology standards.
Escrow System
He created automated escrow system based on smart contracts for CragoChain. The buyer of a product upon agreeing to the shipment terms is required to send money (Ether tokens) to the smart contract's escrow system. The smart contract will then hold the money in escrow until the buyer has either released the money, or the money is released automatically once certain conditions are met, making the entire procedure trust-worthy, cost efficient and actually on time.
[5]
Awards and Honors
Winner Südtirol Innovation Challenge by Handelskammer Bozen, June 2014
Winner Blockchain Hackathon by Deloitte, Wanxiang Blockchain Labs, FBS Capital, January 2016
Emirates National Bank of Dubai Group FinTech Challenge: Technology Winner by Emirates National Bank of Dubai, April 2016
GTEC Blockchain Challenge: 2nd Place by GTEC, RWE, Globumbus, May 2016
Events
Katapult Future Fest 2017, May 2017
Tech Open Air 2017, July 2017
Mobility Pioneers 2018, February 2018
Hard Fork Decentralized 2018, December 2018
Webit Festival Europe, June 2020
Blockchain Future of Trust Summit 2021, September 2021
See something wrong?
Report to us.
Dominik Schiener
Did you find this article interesting?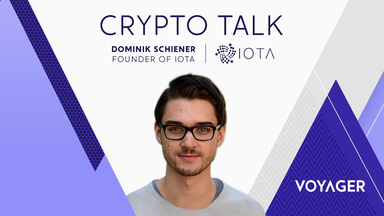 REFERENCES
[1]
awards and honors
Jul 20, 2023
[2]
dominik schiener
Jul 20, 2023
[3]
blockchain career origin
Jul 20, 2023
[4]
career and contributions
Jul 20, 2023
[6]
events attended as a speaker
Jul 20, 2023
[7]
credx investing
Jul 20, 2023