Morgan Creek Digital
Morgan Creek Digital is a hedge fund that operates within the cryptocurrency and blockchain space, backed by investment management service provider, Morgan Creek Capital. [1]
Overview
Morgan Creek Digital was founded in 2018 by Mark Yusko, Anthony Pompliano, and Jason Williams. They actually started off as a early-stage venture capital fund called Full Tilt Capital that was founded in 2016 and when the company shifted its focus to blockchain technologies it rebranded as Morgan Creek Digital in 2018. [5]
"We started with a general early-stage venture capital fund called Full Tilt Capital, which was designed to back early-stage technology companies. We had a thesis that blockchain was going to be the next big thing, so we started investing in that area. We quickly realized that the opportunity was so large that we needed to focus our efforts solely on blockchain and digital assets, so we spun out Morgan Creek Digital as a separate firm." - Mark Yusko, CEO of Morgan Creek Capital Management

Morgan Creek Digital is a hedge fund that focuses on macroeconomic investment themes that are future-oriented and have a long-term perspective of 5 to 10 years. These themes result from extensive global investment research and help identify economic opportunities and trends that can generate investment returns. The themes are continuously evaluated and discussed by the investment team, driving the firm's portfolio construction and asset allocation processes. [2][3]
A hedge fund is an investment partnership where private investors pool their money and entrust professional fund managers to invest it using various strategies, such as trading non-conventional assets or using leverage, in order to achieve higher-than-average returns. This investment option is usually seen as high-risk and typically requires a substantial investment or high net worth, making it an attractive choice for affluent investors. [4]
Investment Themes
Demographics and Healthcare
Morgan Creek Digital sees significant investment opportunities in the Demographics and Healthcare theme, which is driven by the aging population in the developed world and the growth of healthcare infrastructure in developing countries. The trend is expected to continue for decades, leading to an increase in healthcare spending, creating opportunities for venture and private equity investments. However, changing regulations, technological innovation, and increased consolidation in the sector may result in clear winners and losers. The company believes that skilled specialists in both long and short positions in liquid markets could benefit from this trend. Despite growth potential, the sector may face challenges such as epidemics associated with communicable and non-communicable diseases. Morgan Creek Digital believes that access to technology and innovation through private capital could facilitate the development of high-quality healthcare systems globally. [6]
Innovation as an Asset Class
This investment theme is focused on identifying and investing in companies with the most promising new technologies, processes, management, products, and services. Technological innovation is disrupting all sectors of the economy, creating accelerating economic and investment opportunities. This disruption is happening at a pace and scale facilitated by enabling technologies like Big Data, artificial intelligence, and software, which are rapidly innovating. The pandemic has accelerated innovation, creating new opportunities and exposing risks in critical supply chains. Morgan Creek seeks to be present at the earliest stages of innovation to anticipate and navigate market changes. [7]
Growth of Emerging Markets Consumer
Morgan Creek Digital's focus on the growth of emerging markets consumer involves identifying and investing in companies that are well-positioned to capture the economic opportunity presented by the rise of the middle class in developing markets. They seek to leverage the increasing wealth creation, credit penetration, mortgage lending, and changing consumption patterns in emerging economies to drive strong growth in the consumer sectors. They also recognize that technological advancements, such as greater smartphone capability, accessibility, affordability, and penetration, are significantly influencing consumer preferences and behaviors, and they are keen to invest in companies that are harnessing this trend to create innovative products and services. [8]
Wealth Transfer to Developing Markets
Morgan Creek Digital believes that emerging markets will play a significant role in the global economy, and as such, they plan to invest in private companies in these regions through their investment theme called "Wealth Transfer to Developing Markets." The company sees potential in these markets that are currently undervalued by global equity markets, and they believe that the gap between the market capitalization of global equity markets and the value of emerging economies will shrink in the coming years. [9]
Morgan Creek Digital aims to capture this opportunity by investing in private equity opportunities in emerging markets that have the potential to generate strong returns. While some emerging markets have experienced a slowdown in growth, they still see promise in areas such as India and Southeast Asia. Additionally, they plan to invest in newer, small funds in China that are focused on healthcare, TMT, consumer, and advanced manufacturing. By investing in these companies, Morgan Creek Digital hopes to contribute to the growth of these economies and capture a larger share of the economic opportunity. [9]
Investment Process
Morgan Creek Digital's investment process is a four-step approach that includes asset allocation, manager selection, portfolio construction, and security selection. The first three steps are the primary focus of the company, while the last step is left to their chosen managers who are selected through their investment process.
Asset allocation
The first step involves setting strategic targets and tactical ranges for the primary asset classes in the portfolio. Morgan Creek Digital develops expected return forecasts for each asset class and establishes recommended weightings for appropriate risk tolerances on an ongoing basis.
Manager selection
This step involves choosing experienced managers with a track record of success in their respective fields. The company evaluates and selects managers based on their investment philosophy, risk management practices, and other criteria.
Portfolio construction
Where the recommended weightings from the asset allocation step are implemented. Morgan Creek Digital constructs portfolios with an eye towards long-term growth and a well-diversified asset mix. The company also monitors the portfolios regularly to ensure they remain aligned with their strategic and tactical targets.
Security selection
The last step is the responsibility of the chosen managers. These managers use their expertise to identify specific securities that meet their investment criteria and align with the overall portfolio strategy.
[3]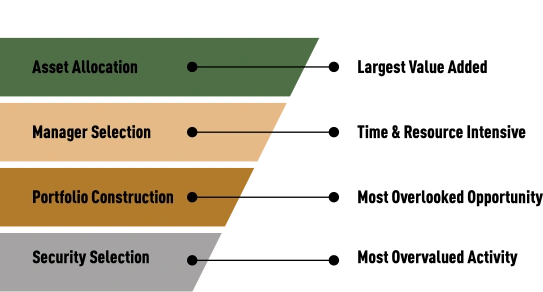 Sourcing and Selection Process
Morgan Creek maintains a significant database of current and prospective investment firms that is exclusively held by the firm. The company also utilizes external sources to supplement its information on managers of interest. Rather than relying on generic resources like manager database products, Morgan Creek finds that the most valuable insights come from its network and relationships with key players in the industry. Many of its senior investment team members have been active in alternative investing for over ten years and come from some of the most respected organizations in the industry. The firm has found that many of its best managers have spun out of other organizations with which it has had longstanding relationships, which highlights the value of its network in identifying promising investment opportunities. [3]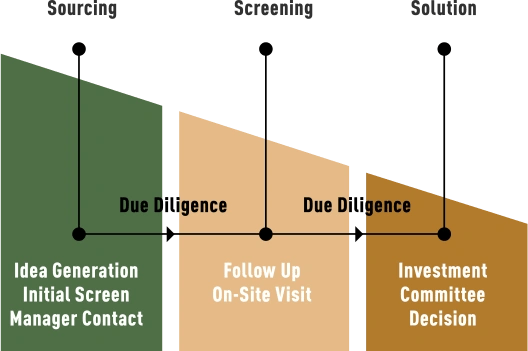 Major Investments
On February 19th 2021, Morgan Creek Digital took part in BlockFi's Series D funding round that raised $350 million, bringing the company valuation to $3 billion. The funding was to be used to expand into new markets, pursue select acquisition opportunities, and further develop their product suite. [10]
On September 21st 2021, Morgan Creek Digital was part of Blockdaemon's Series B funding round, raising $155 million and achieving a valuation of $1.3 billion for the company. With this funding, Blockdaemon planned to expand its teams in Germany, Japan, Singapore, and the U.K., as well as to make strategic acquisitions to enhance its technology stack. [11]
On November 18th, 2021, Morgan Creek Digital led Gemini's series A funding round, raising $423.9 million, bringing Gemini's valuation to $7 billion. Morgan Creek Digital decided to lead the funding as they thought that there was a mutual alignment of values and beliefs. [12]
"We are leading the first outside investment in Gemini because of our shared conviction in crypto and belief in the company that Cameron and Tyler are building"
Seed Funding Rounds
Morgan Creek Blockchain Opportunities Fund: Raised $40 million (February 12th, 2019) [13]*
Blockchain Fund II: Raised $61 million (October 22nd, 2019) [14]*
Morgan Creek Digital Fund III: Raised $80 million (June 25th, 2021) [15]*
Partnership with Bitwise
Morgan Creek Digital and Bitwise, a crypto index provider, partnered to launch the Digital Asset Index Fund, a new index fund for institutional investors seeking exposure to the digital asset market. The fund aimed to offer accredited and major investors the top 10 largest digital assets, weighted by market capitalization. Bitwise planned to manage the fund, which is geared heavily toward Bitcoin, with exposure to other major cryptocurrencies such as Ethereum, Bitcoin Cash, and EOS. The assets stored in the fund were to be kept in cold storage and governed by eligibility requirements, including custody qualifications and trade concentration limits. Morgan Creek and Bitwise agreed to conduct annual audits, and the fund will be overseen by a committee consisting of Mark Yusko, Anthony Pompliano, and Matt Hougan. The fund aimed to simplify access to the crypto space for institutional investors, with a view to building exposure to the market, following the 2018 bear market. [17]
See something wrong?
Report to us.
Morgan Creek Digital
Did you find this article interesting?