NAODA
NAODA is a participation-based, blockchain gaming platform developed by FLASK, a Web3 game developing company. They aim to bridge the gap between the gaming industry and Web3 by hosting high-quality Play-And-Earn (P&E) games that offer true asset ownership. [1]
Overview
NAODA, developed by FLASK, is a GameFi platform that aims to reward and recognize users through the implementation of the Proof-of-Participation (POP) Protocol. By focusing on the creation of high-quality games that cater to diverse gaming interests, NAODA strives to provide an enjoyable experience for players. Community engagement is a priority, with the POP protocol explicitly recognizing the contributions of community members. Users have the opportunity to craft their legacy within NAODA by owning soulbound tokens (SBTs) and becoming part of the platform's story and universe. [1]
With their Beta net released on March 27, 2023, NAODA aims for the regular release of high-quality games, facilitated by their in-house game studios and external partnerships. Additionally, NAODA offers POP collaboration services to both Web2 and Web3 products/companies, enabling users to showcase their activities and achievements within the broader entertainment-related services ecosystem. [1][11]

Proof-of-Participation (POP)
Proof-of-Participation (POP) is an integral and unique feature of the NAODA platform, set to be available at the Platform Beta Launch in the second quarter of 2023. With POP, users can earn Soulbound Tokens (SBTs), referred to as POPs, as proof of their activities and accomplishments within the Naoda ecosystem. These non-transferable NFTs are minted when a user achieves eligible accomplishments, permanently recording their contributions on the blockchain. [2][3]
A wide range of activities across the community, games, NFT Marketplace, and DEX are accredited through POP, with the difficulty of an achievement determining the POP tier. Different tiers, including 1-Star, 2-Star, 3-Star, 4-Star, and 5-Star, offer varying amounts of POP achievement points. [2]
Users who earn POPs can showcase their accomplishments within the games and platform, while also receiving POP achievement points. These points can be redeemed for ODA tokens from the community rewards pool. [2][3]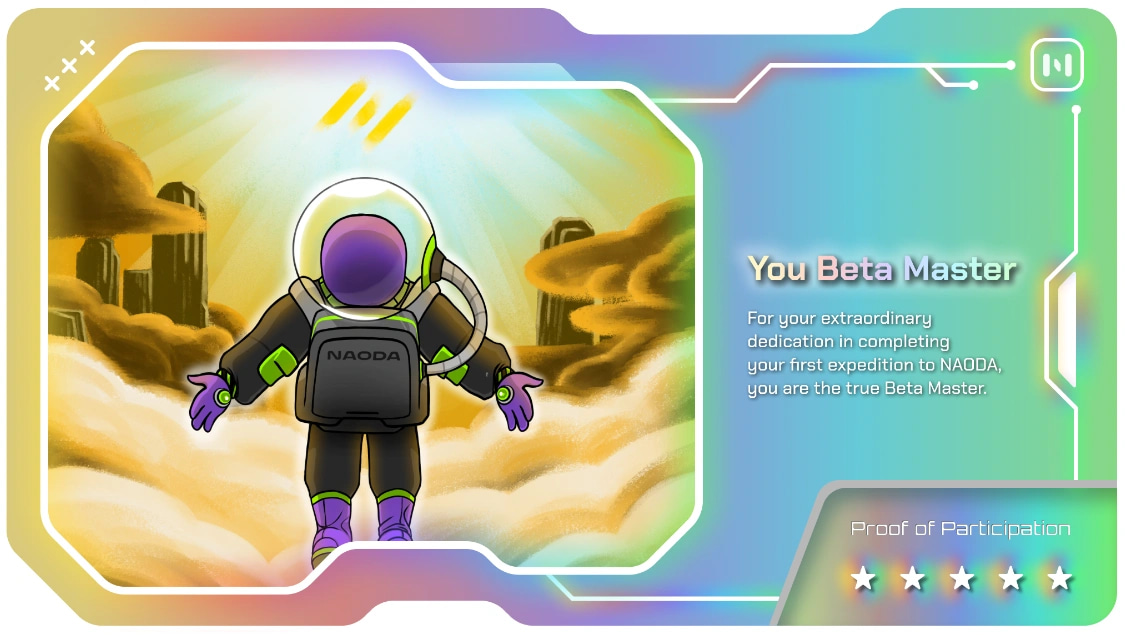 ODA
ODA Tokens function as utility tokens within the ODA ecosystem. $ODA Token is an ERC-20 utility token that provides users with the ability to enhance their gaming experience through the acquisition of game tokens or NFTs, as well as access additional features that will be introduced in the ODA ecosystem. [4]
Tokenomics
The initial supply of $ODA is 1,000,000,000. The token allocation and vesting schedule is as follows: [5]
Token Allocation
Vesting Schedule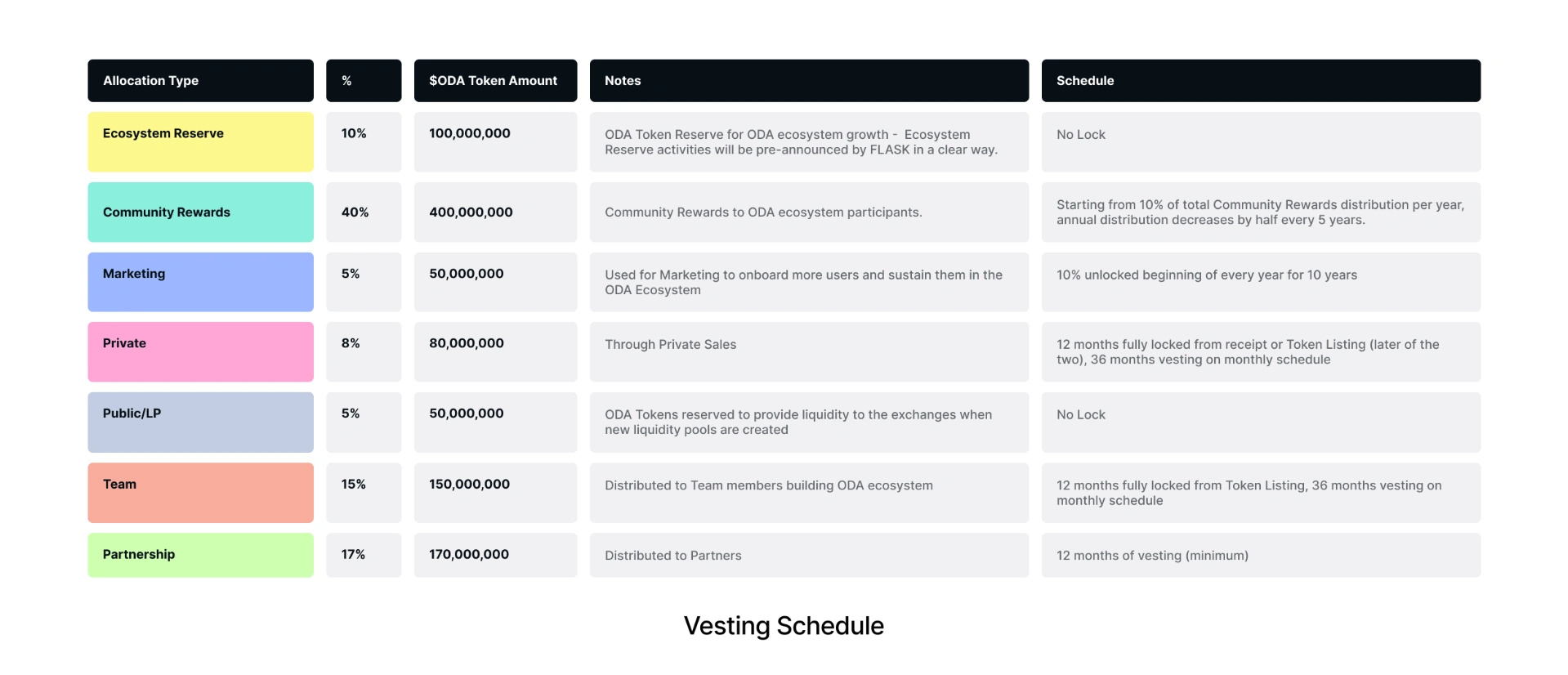 Partnerships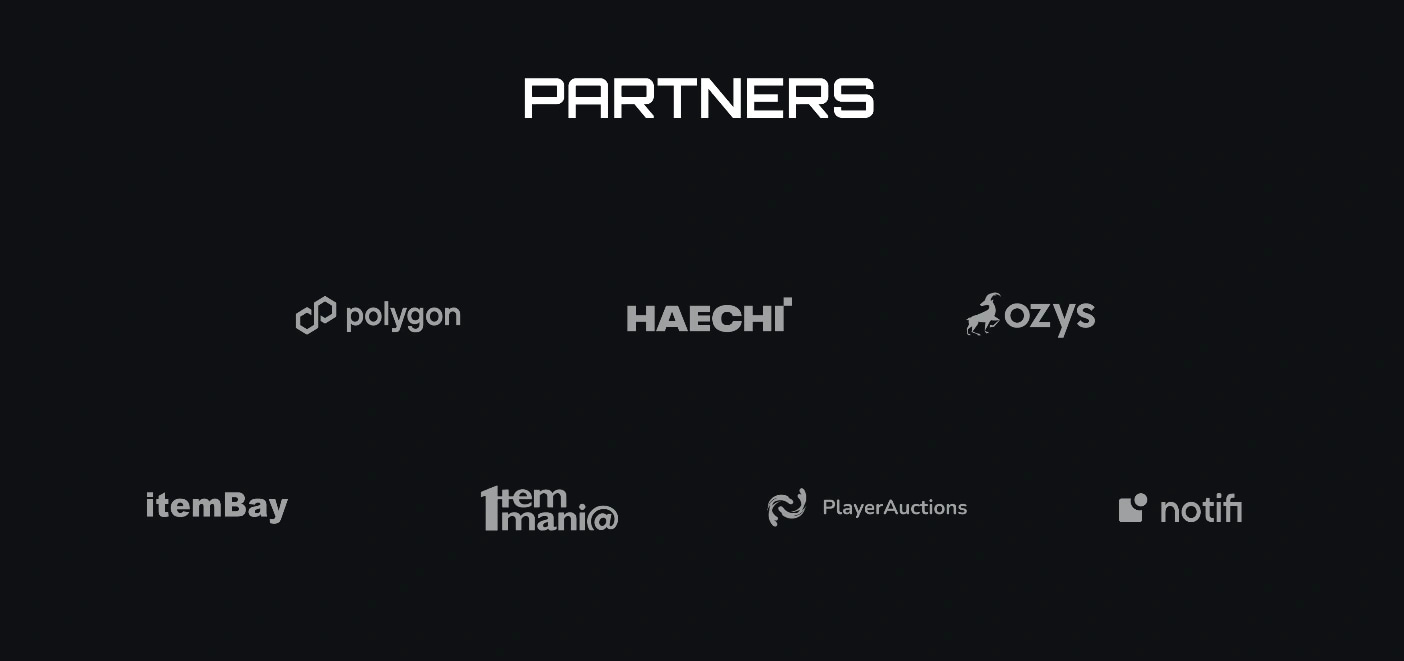 [6]
Polygon
On April 19, 2023, Polygon, a leading Ethereum scaling solution, partnered with FLASK, to bring their participation-driven GameFi platform to a wider Web3 audience. As part of the partnership, NAODA will be integrated into the Polygon PoS chain, providing a scalable and secure gaming experience. FLASK plans to onboard their high-end real-time strategy (RTS) and first-person shooter (FPS) games onto the NAODA platform in the second half of 2023. This collaboration aims to leverage the strengths of both Polygon and NAODA to advance the adoption of blockchain technology in the gaming industry. [6][7][8]
"We are thrilled to announce our integration with @0xPolygonLabs to build a scalable, secure and sustainable #web3gaming ecosystem. With Polygon's powerful suite of solutions, NAODA will deliver a seamless experience for our gamers and voyagers." - NAODA

NYU x SKKU
On May 31, 2023, NAODA, formed a partnership with New York University (NYU) and Sungkyunkwan University (SKKU) to launch a global game development contest. This contest specifically focuses on utilizing popular Korean intellectual properties (IPs) in the creation of student-developed games. [9]
The collaboration involves FLASK's participation as a judge in the contest, which is organized by SKKU's School of Arts in collaboration with the NYU Game Center. Students from both universities will be participating in the contest, with the aim of planning and developing games based on the popular Korean IPs. [9]
The selected games from the contest will have the opportunity to be featured on the NAODA platform. After the initial selection, these games will undergo further refinement, with FLASK's game studios taking on the responsibility of advancing the development process. This refinement phase will occur six months before the games are ready for commercialization. [9]
See something wrong?
Report to us.
NAODA
Did you find this article interesting?