PAAL AI
PAAL AI is a powerful AI ecosystem, predicated on principles of continuous learning and adaptation. It allows users to create and deploy personalized AI tools for various purposes, such as cryptocurrency analysis, content upload, and data collection. [2][3]

PAAL is an advanced chatbot built on AI and ML technologies, designed to streamline tasks that typically require human intellect, such as natural language understanding, image recognition, decision-making, and problem-solving. [1] By combining AI with blockchain, PAAL AI can provide users with a more personalized, informative, and efficient experience.
Technology
PAAL AI also offers some tools for enhancing user experience.
MyPaal
MyPaal is a personalized AI assistant that learns user's preferences and provides tailored insights and recommendations. It is a universal AI genius encompassing the roles of chatbot, moderator, researcher, and community manager. MyPaal is a versatile crypto assistant that can provide answers on tokenomics, blockchain technology, market sentiments and identify potential trading opportunities. It can access user trading history, financial goals, and investment preferences and provide personalized recommendations. MyPaal can be used for portfolio management in making informed investment decisions, and in risk management to identify and mitigate risks associated with cryptocurrency trading. [4]
How to use MyPaal
Mypaal is available on Discord and Telegram for prompt interaction and crafting questions using commands. An advanced features exclusive to Telegram allows users define their chatbot's responses using videos, texts, audio, and graphics. Tailor-Made interactions using GPT-based models and prompt target feature for contextually apt interactions. Mypaal allows users to manage member interactions with moderation commands and monitor user behavior efficiently. It is also used to set and manage personal reminders efficiently.[5]

AutoPaal
AutoPaal is an advanced AI designed for in-depth research and analysis. AutoPaal's research capability offers in-depth insights into the crypto realm, ensuring informed decisions with dynamic data access to various knowledge bases, market data, news, and more. AutoPaal guarantees fresh and informed answers, graphical representations that offer clear visual insights into complex topics for better understanding. AutoPaal can identify emerging trends and patterns in the market, predicting future price movements for a variety of cryptocurrencies. It can also be used to generate personalized trading signals and recommendations.[6]
AutoPaalX
AutoPaalX is an AI powered trade enhancer that offers ultra-fast trades, precision-bound limit orders, and discreet transactions. It is one of the core features of PAAL AI. AutoPAAL-X is powered by the PAAL AI AI engine, which provides it with the ability to make ultra-fast trades and execute precision-bound limit orders. It also offers discreet transactions where trading activity is not visible to other users.
With its 'buy' button, users can quickly discover contracts and integrate them, streamlining trading process. AutoPaalX enables private trade conversations which allows users to safely redirect to a private chat for secure transactions, whether creating or importing a wallet. [7]
PaalX
PaalX is an in-chat decentralized trading universe inside MyPaalBot. It allows instant trades within chats, with PaalX, users can swap tokens, view portfolios, and manage wallets without leaving the chat.
The integration with Google's top-tier data security allows trades and wallets remain protected, ensuring a worry-free trading experience. PaalX ensures ease and precision, making the crypto journey enjoyable with simple command to stay updated on holdings and asset. [8]
$PAAL Token
The $PAAL token is the utility token for the PAAL AI ecosystem available on Ethereum blockchain. It offers governance power and staking benefits to its holders. PAAL holders can stake their tokens to earn rewards, profit sharing and token buybacks to drive token demand and price. PaalAI users can earn tokens through interactions with the AI service, making referrals, and contributing to the community. [10]
Tokenomics
PaalAI operates with a total supply of a billion tokens on the Ethereum blockchain where a tax of 4% is applied to all buys and sells, 1% stakers ETH payout, 1% marketing, 1% buyback and burn, and 1% development. Its revenue sources include a proprietary AI solution, advertising, taxes from trading, and future streams like subscription services, with half of these earnings shared with stakers, thus promoting participation and encouraging stability within the ecosystem. Stakers can then stake their tokens in different pools based on their preference, benefitting from an auto-compound feature, referral system, claiming rewards mechanism and a share of all $PAAL trading volume, which directly ties into Paal's unique tax feature. [9][11]
See something wrong?
Report to us.
PAAL AI
Did you find this article interesting?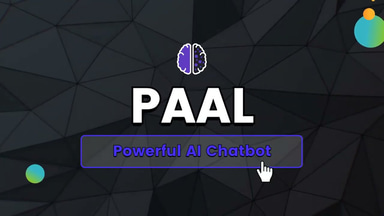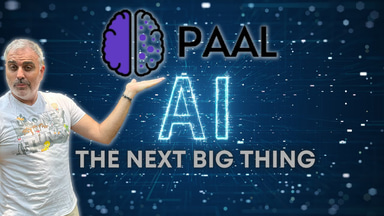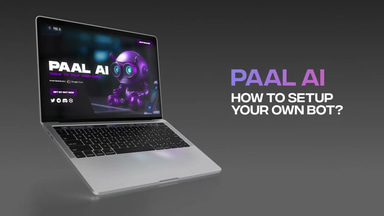 REFERENCES
[1]
What is PAAL AI?
Oct 28, 2023
[2]
What is PAAL AI?
Oct 28, 2023
[5]
How to use MyPAAL
Oct 29, 2023
[9]
MyPaal Tokenomics
Oct 29, 2023
[11]
PAAL Whitepaper
Oct 29, 2023