Tim Scott's Views on Cryptocurrency
Timothy Eugene Scott (born September 19, 1965) is an American businessman and politician serving as a United States Senator from South Carolina since 2013. [1][2][3]
Scott Urges a Balanced Approach to Digital Assets
In his opening statement at the U.S. Senate Banking Committee hearing on digital assets which took place on February 14, 2023, Ranking Member Tim Scott explained the importance of safe and sound financial innovation. In addition to calling for SEC Chair Gary Gensler's testimony before the Committee, Tim Scott urged his colleagues to pursue a thoughtful, balanced approach to digital assets that protects consumers and promotes innovation and opportunity. [4]
"financial innovation must be done so in a safe and sound manner, which, unfortunately, has not been the case with a number of actors in the digital asset space. Unfortunately, instead of protecting customers' interests and using customer funds in the manner intended, Sam Bankman-Fried, FTX's owner, stole millions of customer funds and used them to finance risky bets and to pay for luxury penthouses in the Bahamas." - said Tim Scott at the hearing

"the regulators, the SEC specifically, have noted that it is the responsibility of crypto firms to comply with existing regulations, but it is also the responsibility of regulators to enforce existing regulations and to conduct appropriate, effective supervision." - Tim Scott[4]
Plans to Make a Crypto Regulatory Framework a Priority
Senator Tim Scott reportedly plans to develop "a bipartisan regulatory framework" for cryptocurrencies in 2023.
According to a Politico report[5] released on February 2, 2023, Scott included the crypto framework as one of his priorities for the 118th Congress. He reportedly was skeptical of some aspects of crypto, alluding to the collapse of exchanges like FTX — "high-profile failures resulted in lost consumer assets" — and potential uses for illicit finance. [6]
Recent years have seen expansive growth in the digital assets industry, including an increasing number of consumers interacting with cryptocurrencies. Several high-profile failures resulted in lost consumer assets, exposed regulatory gaps, and highlighted concerns with illicit finance. Moving forward, the Committee should work to facilitate a bipartisan regulatory framework. — Tim Scott priorities for the 118th Congress. [7]
Co-sponsoring 'Equal Opportunity for All Investors Act'
This bill expands the definition of accredited investors for participating in private securities offerings. It introduces an examination requirement established by the SEC, state securities commissions, or self-regulatory organizations. The exam assesses individuals' understanding of investment risks, must be designed to ensure a low failure rate for financially sophisticated individuals, and can be administered by an approved person.[9]
Currently, accredited investors must meet certain criteria related to income, net worth, or knowledge and experience. The bill allows purchasers to self-certify their eligibility based on income or net worth, and it introduces additional qualifications based on investments or transactions. The SEC has discretionary power to review and adjust the definition of accredited investors, except for net worth standards which require a review every four years.[8]
Tim Scott's Crypto Industry Donors
Fred Ehrsam, co-founder of Coinbase and Paradigm, a leading cryptocurrency investment firm.
Alana Palmedo, the chief operating officer of Paradigm.
Matt Huang, one of the co-founders of Paradigm. [10]
Tim Scott criticizes Gary Gensler
On June 15th, 2022, a letter was written to Gary Gensler from several Senators including Tim Scott, mentioning:
the SEC's lack of transparency and disregard for a congressional oversight request concerning the SEC's 500-page proposed climate disclosure rule—a sweeping new regulation that will harm consumers, workers and the entire U.S. economy at a time when energy prices are skyrocketing.[11]
Regardless of one's views on the merits and foreseeable economic effects of the SEC's proposed climate disclosure rule, it is not the province of unelected financial regulators to dictate U.S. climate policy. The SEC is neither equipped nor authorized by Congress to engage in climate-related policymaking. By attempting to use its rulemaking powers to force all publicly-traded companies, and all private companies in the upstream or downstream value chain of publicly-traded companies, to gather and report detailed climate data, regardless of the materiality of such data to their business's finances, the SEC is venturing far outside its mission and area of expertise.[12]
The letter ends with a series of questions asking for answers by June 29th, 2022.
See something wrong?
Report to us.
Tim Scott's Views on Cryptocurrency
Did you find this article interesting?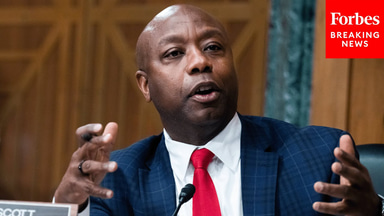 REFERENCES
[1]
scott senate website
Jun 14, 2023
[4]
Scott Urges a Balanced Approach to Digital Assets that Protects Consumers and Promotes Innovation
Jun 14, 2023
[5]
politico report on tim scott plans for crypto
Jun 14, 2023
[6]
cointelegraph - Senate Banking Committee's priorities for new Congress include crypto: Report
Jun 14, 2023
[7]
Ranking Member Tim Scott Outlines His Priorities for the 118th Congress
Jun 14, 2023
[8]
congress bill
Jun 21, 2023
[9]
another summary for the congress bill
Jun 21, 2023
[10]
list of vcs and sponsors
Jun 21, 2023
[12]
the actual letter
Jun 21, 2023