TIMEPieces
TIMEPieces is a Non-Fungible Token (NFT) collection, community, and initiative from Time magazine which features original works by more than 40 artists. It was launched on September 22, 2021.[1][2]
Overview
On September 22, 2021, TIME President Keith A. Grossman sent a note to staff, announcing that they are launching TIMEPieces, a new NFT community, and an initiative from TIME featuring original works by more than 40 artists.[3] The artists for the genesis collection of TIMEPieces were organized by Time Creative Director D.W. Pine, who originally invited 19 artists to participate in the collection.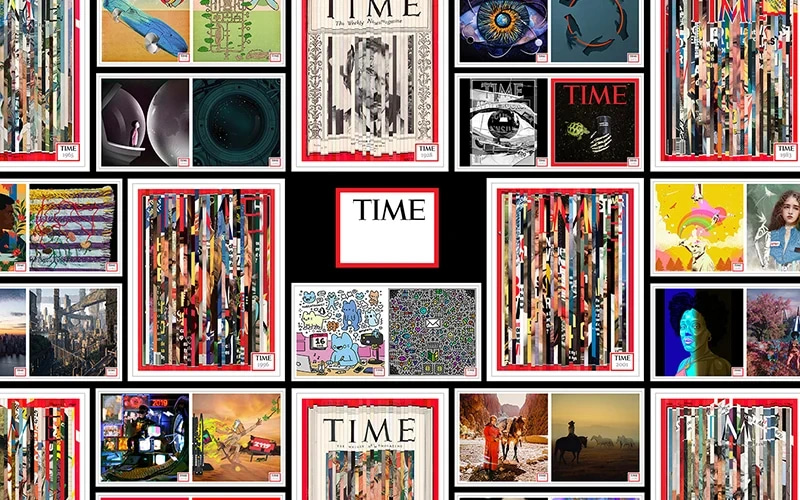 From September 23rd, collectors became able to purchase TIMEPieces via a randomized, blind drop on nft.time.com. This drop consisted of a variety of editions totaling 4,676 pieces and was revealed once all of them were minted. Each TIMEPiece was priced at 0.1 ETH with the goal of attracting a wide array of collectors.
[3]
Owners of TIMEPieces will be able to connect their digital wallets to the Time website and receive unlimited access to TIME.com through TIME's 100th Anniversary in 2023. They will also receive exclusive invites to some of the Times' future, in-person events. In addition, this collection will be turned into a hardcover book that will be on display at Dreamverse, the world's first NFT Art and Music Festival, in NYC on November 4, 2021.[3]
Featured artists include Addie Wagenknecht, Fvckrender, and Red Hong Yi.[3]
Launch
TIME president Keith A. Grossman wrote:
"TIMEPieces is our latest foray into NFTs, this time with the goal of also fostering community, loyalty and rewards. While many of the NFT drops that have happened to date within the media space have focused on high-end single editions or multiple versions of collectables, the release of TIMEPieces marks the first time a major media brand has taken on a Web3 approach toward building community and using this technology as an innovative extension of our current Digital Subscription efforts."
The TIMEPieces NFTs were sold in a blind drop on Thursday, September 23rd at 12PM ET. Each NFT in this collection was 0.1 ETH and buyers could purchase up to 10 pieces from the drop. Ownership of a TIMEPiece provides you with unlimited access to TIME.com through TIME's 100th Anniversary and other exclusive benefits.
TIME magazine's launch of an NFT collection did not go smoothly on the launch date, the collection of 4,676 NFTs sold out in one minute but the sale also clogged the Ethereum blockchain, sending fees to skyrocket, buyers spent almost four times as much on transaction fees as they did on the NFTs themselves One address paid $70,000 for 10 of Time's NFTs. When the minting was finished, there were roughly 700 holders of NFTs.
Artists
The artists involved in this project come from a group organized by TIME Creative Director D.W. Pine. The group chosen to participate in TIMEPieces are based on nearly every continent and use different approaches to their work ranging from photography to illustrations to paintings and more,they are a mix of experienced NFT artists and traditional artists. Nearly a quarter of them have produced covers for TIME in the past but half of the artists have never created an NFT before.
They are: Addie Wagenknecht, Allison Dayka, Baeige, Brobel Design, Cath Simard, Charly "Carlos" Palmer, Destiny Kirumira, Diana Sinclair, Drue Kataoka Dylan Urquidi, Edel Rodriguez, Emonee LaRussa, Fvckrender, Houda Bakkali, Isabel Samaras & Marcos Sorensen, J.N. Silva, John Knopf, John Mavroudis, Julie Pacino, Justin Aversano & Nicole Buffett, Kendall Chambers, Kenji Chai, Lethabo Huma, Marc Burckhardt, Micah Johnson, Olive Allen, Oscar Mar. Parin Heidari, Red Hong Yi, Sarah Kanu, Shana Wilson, Steve Warner, Tim O'Brien, Tyler Gordan, Victor Mosquera, Viktoria Modesta & Katie McIntyre & Nina Hawkins, Yvette Hammond.
Notable Sales
On September 23, 2021, "Everyday is the same again" by Addie Wagenknecht sold for 69 ETH ($217,668) on OpenSea.[4][5] On September 24, 2021, "ALLY" by Fvckrender sold for 45 ETH ($132,011) on OpenSea.[6][7]
See something wrong?
Report to us.
TIMEPieces
Did you find this article interesting?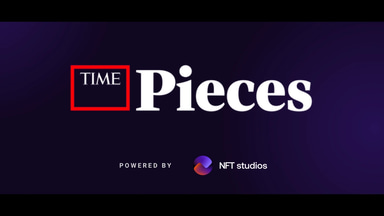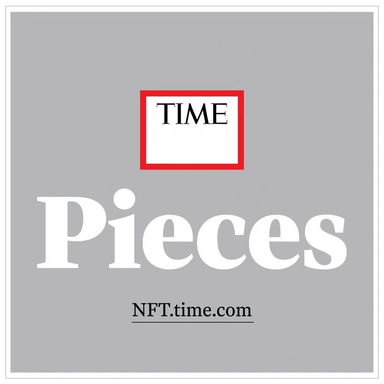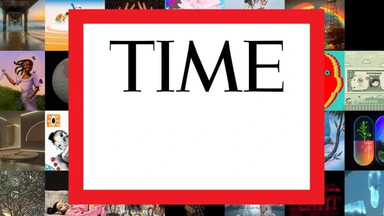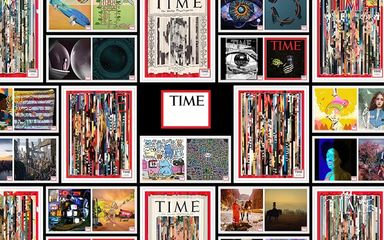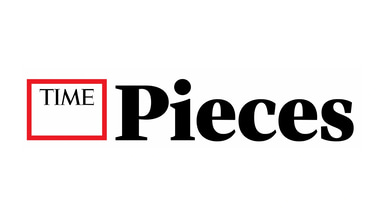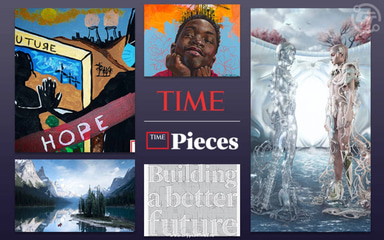 REFERENCES
[1]
TIMEPieces Website
Aug 20, 2022
[2]
TIMEPieces on Twitter
Aug 20, 2022
[4]
Everyday is the same again
Aug 20, 2022