VEXT Token
Veloce Tokens ($VEXT) is an ERC-20 governance and utility token that fuels Veloce Media Group (VMG). It allows for membership into the community-owned global sporting, entertainment, and media group. It allows members to have their say on the direction of the VMG brand, including real-world sporting assets. [1][2][3][5]

Veloce Media Group
Veloce Media Group (VMG) is a digital racing media network, reaching 37+ million
subscribers and nearly one billion monthly views across its channels. The Veloce Group has two key entities, Veloce Esports, a gaming and racing platform, and Veloce Racing, a participant in the Extreme E championship. Veloce's powerful partnerships include operating Esports teams for Mercedes and McLaren Formula 1 teams, as well as Lando Norris' gaming and lifestyle brand Quadrant. [1][4]
VEXT is built on top of VMG, with an established audience, Intellectual Property (IP), and
real-world sporting assets. [1][4]
VEXT Tokenomics
VEXT is an ERC-20 token on both Polygon and Ethereum. The use of multiple side chains helps the network to achieve a high throughput of transactions. [4]
VEXT has a total supply of 300,000,000 tokens. The initial number of VEXT in circulation is forecast to be 17.28M VEXT. In addition to the VEXT circulating as per the above, Veloce has modeled a release of additional VEXT from Treasury, both to fund continued investment in the Vextverse and programmatically released governance rewards. [5]
Utility
VEXT gives its users voting rights within the VMG ecosystem, it allows users have a chance to attend sporting events, private events, and personal experiences throughout the year. VEXT holders can transact across mobile games, web games, and live interactive sports features offering prizes such as tokens, merchandise, and real-world experiences. VEXT can also be used to redeem exclusive prizes and as an open-source tool, developers can integrate it into their games, services, and projects. [1]
See something wrong?
Report to us.
VEXT Token
Did you find this article interesting?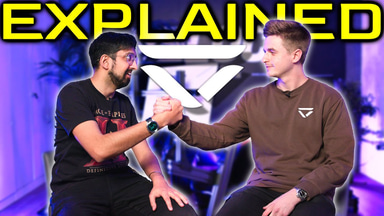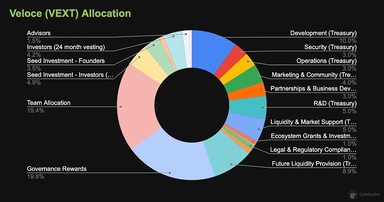 REFERENCES
[1]
vext token website
Nov 6, 2023
[2]
twitter profile
Nov 6, 2023
[3]
cmc - vext token
Nov 6, 2023
[4]
coingecko = vext
Nov 6, 2023
[5]
vext whitepaper
Nov 6, 2023