Archi Token
Archi Token (ARCHI) is a token used to quantify or count the ownership of shares within Archi Finance. Similar to traditional corporate shares, possessing Archi tokens signifies ownership in Archi Finance. The total supply of Archi tokens is predetermined and cannot be generated within the platform. [1]

Overview
ARCHI Token plays a key role within the Archi Finance ecosystem, a versatile leveraged yield farming protocol. In this environment, ARCHI Token serves a dual purpose. Passive liquidity providers utilize ARCHI to supply single-asset liquidity, thus earning a dependable, low-risk interest rate. Conversely, degen farmers harness these assets to secure a potentially higher APY. Crucially, should degen farmers' positions face liquidation, the assets of liquidity providers remain safeguarded against any downturn. [7]
Utility
Users receive shares fees from archi-eth pair liquidity provider incentive pool by providing archi-eth liquidity pair. By locking Archi token into Vlarchi token, users receive governance rights on Archi DAO and share of protocol fees. The interest share, a variable percentage determined by Archi DAO and payable in ARCHI Tokens, signifies the portion of profits derived from GMX that flows to liquidity providers. This mechanism empowers ARCHI Token holders to generate yields while carefully managing their exposure to risk. [4][7]
For borrowers, or degen farmers, the system enables them to borrow assets at multiples of their collateral, creating a balanced exposure that mitigates impermanent losses, all facilitated by ARCHI Tokens. Borrowing terms are capped at one year, with fees for buying and selling GLPs covered by borrowers, alongside a 10% platform fee on interest generated, denominated in ARCHI Tokens. Liquidation risks arise when collateralized assets, represented in ARCHI Tokens, dip below 10% of their original value. [4][7]
Tokenomics
ARCHI Protocol successfully launched its mainnet on April 8th, 2023, introducing a total of 10 million ARCHI tokens into circulation. Notably, the quantity of Archi tokens is unalterable, hence, there is no provision for additional tokens on the platform. [2][3]
The distribution of these tokens is as follows:
- 30% allocated to IDO participants (immediately claimable)
- 10% designated for the team (securely locked in vlarchi contract)
- 10% allocated to advisors (vested linearly over a 2-year period)
- 10% assigned to the Archi Treasury
- 30% allocated to the archi-eth pair liquidity provider incentive pool (permanently secured in vlarchi contract)
- 2% reserved for Airdrop purposes
- 8% dedicated to permanent liquidity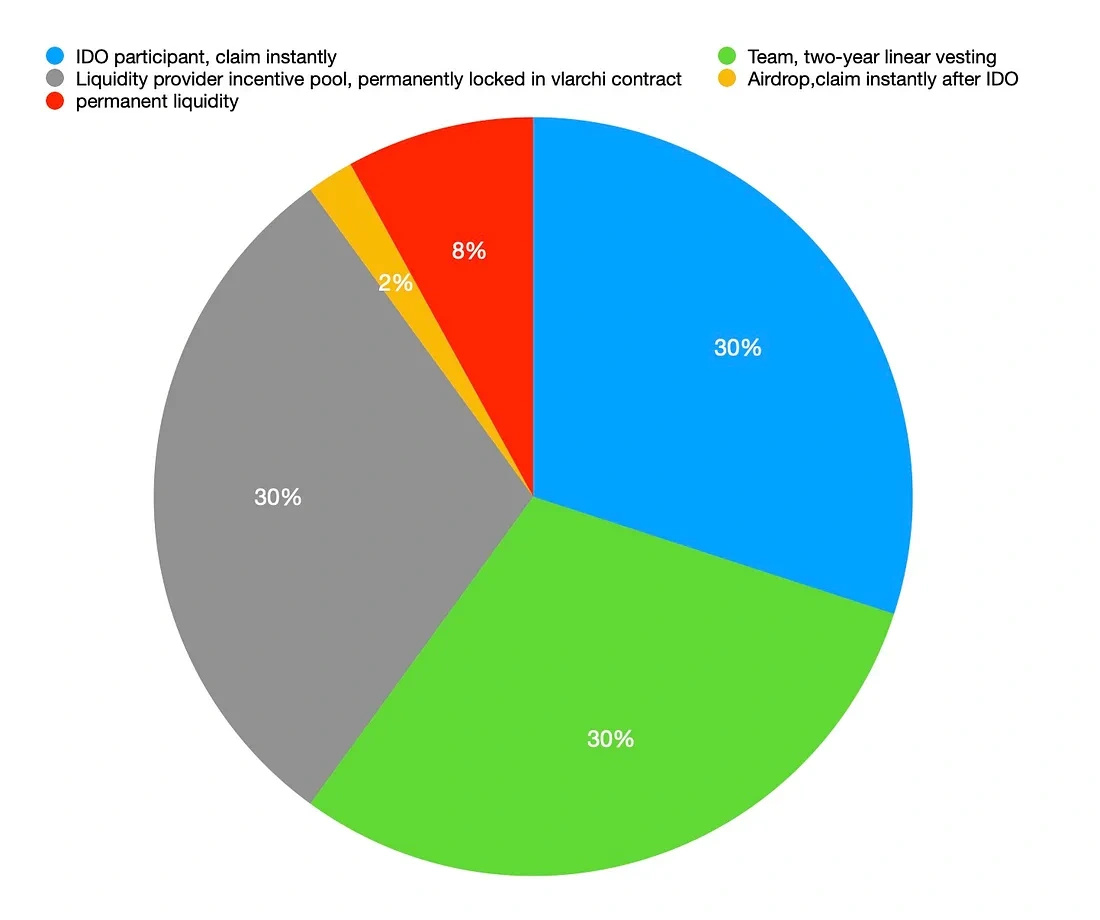 This distribution strategy ensures a well-structured and diversified allocation of ARCHI tokens to various stakeholders and functions within the ARCHI Protocol ecosystem.[2][3]
Archi v2
On May 9, 2023 Archi Finance announced the release of their Archi v2 with key improvements. These include the division of the passive liquidity pool into Pool 1 and Pool 2, fixed-term deposits for liquidity providers, options for degen farmers, and a flexible interest share model based on time remaining until repayment. The upgrade aims to address issues related to repayment times and interest rates, ensuring a balanced and secure lending environment. [5]
GMX Synthetics in Archi v2
Archi Finance's Archi v2 upgrade incorporates GMX synthetics (GMX v2) as a primary strategy. GMX synthetics offer advantages like order look back, low-latency oracles, balanced LP pools, funding fees, and more. The GM token (GM) for GMX synthetics provides asset protection and higher APR for investors. Degen farmers can diversify across markets, enhancing their income, while passive liquidity providers benefit from reduced risk and increased APR through diversified investments. [6]
See something wrong?
Report to us.
Archi Token
Did you find this article interesting?