Flow
Flow is a decentralized blockchain developed to support next-generation games, applications, and the digital resources that run them. Built by Dapper Labs, the developers of blockchain experiences such as NBA Top Shot and CryptoKitties, Flow is their only layer-one blockchain.[1]
History
Flow launched as a Proof of Stake protocol in 2020 to promote the NFT community by helping developers use, create and trade NFTs. Developers can also use Flow network's resource-oriented programming language, Cadence, to design dApps and blockchain-based games on Flow network.[2]
Flow was developed after the case when the Ethereum network experienced a standstill due to network congestion from CryptoKitties' engagement. Dapper Labs designed the Flow network to have enough scalability to handle its needs rather than wait for Ethereum to scale up or migrate its dApp to another blockchain.[3]
Dapper Labs raised $18 million on CoinList in October 2020 through a public sale of Flow network's native currency, FLOW. In 2021, from the virtual trading card platform and dApp, NBA Top Shot, supported by the Flow network, Dapper Labs raised $305 million.[4][5]
Flow tackles the network congestion issue without using the typical sharding technique. Flow network distributes workloads across four types of nodes: Collection Nodes, Consensus Nodes, Execution Nodes, and Verification Nodes. These nodes perform different tasks according to their technical capabilities. With this division-of-labor model, the Flow network handles higher blockchain transaction volumes by forming transactions into a block and executing that block of transactions separately.[6][2]
The functions of each node type include:
Collection nodes improve network connectivity and data availability, making dApps more efficient.
Consensus nodes control the flow and order of transactions.
Execution nodes manage each transaction's computation and enhance speed.
Verification nodes double-check to ensure the execution nodes' computations are accurate.[7]
Like most cryptocurrencies, Flow rewards validators for mining. Developers get tokens for building apps on the Flow network. In addition to token rewards from holding, users can stake their tokens and get new ones in return. All Flow network projects are showcased on Flowverse, which serves as the central hub to discover NFTs, games and other projects based on Flow's platform.[8][9]
Tokenomics
FLOW is Flow network's native currency. The token is the foundation that powers the Flow network and all the applications developed. FLOW serves as the Flow network's payment method and long-term reserve asset, which is the Flow economy's keystone. Stakeholders in the Flow network, including developers, users and validators, require FLOW to be involved in the network, from paying fees to partaking in future protocol governance and participating in reward-earning activities.[1]
Initially, the total supply of FLOW was 1.25 billion, but it was increased because stakers on the Flow network earn validation rewards through inflation. The entire collection has been limited with a cap to avoid reducing FLOW tokens' value.[2]
Flow Token's Instagram-Related Buzz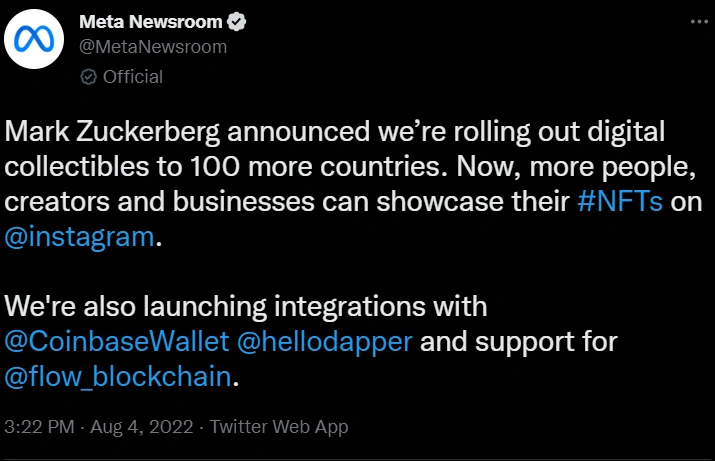 In August 2022, Meta announced via a tweet that in addition to rolling out digital collectibles to more countries, enabling users to showcase their NFTs on Instagram, the platform would support Flow Blockchain. The announcement led to the FLOW token experiencing buying pressure, surging above 35%.
[10]
[11]
See something wrong?
Report to us.
Flow
Did you find this article interesting?