Magic Eden
Magic Eden is a new Non-Fungible Token (NFT) marketplace developed on the Solana Network that allows users to sell, purchase, and generate non-fungible tokens (NFTs). [1][3]
Overview
By simplifying the minting process and lowering transaction fees, Magic Eden eliminates hurdles like as prices and technicalities that exist on other platforms, resulting in NFT projects that are simple and inexpensive for everyone.
The NFT transactions are very similar to Ethereum transactions, with the exception that users will pay a 0% listing charge and a 2% transaction cost, lowering the entry barriers for new and experienced Non-Fungible Token (NFT) buyers and makers. The Solana token is the platform's utility token. It's simple to purchase NFTs in Magic Eden. Users may buy SOL tokens from prominent Cryptocurrency Exchange across the world after generating a Solana-compatible wallet. Following that, they may link their wallet to Magic Eden and begin exploring NFT collections on the platform.
The Magic Eden Launchpad allows users to gather NFTs by minting them. Before releasing digital materials, creators do not need to go through a variety of technical procedures.[6]  They only need to complete out a special form and ensure that all needed information is filled out before meeting with the Magic Eden team for confirmation. The recently available "Mint Authority," a self-service minting platform that will make minting easier for creators, is another easy option to minting NFT.
How to Buy NFTs in Magic Eden
Each user must first create a wallet. Phantom, Solflare, Sollet are three typical wallets supported by the Solana Network, where the Magic Eden is located. [7]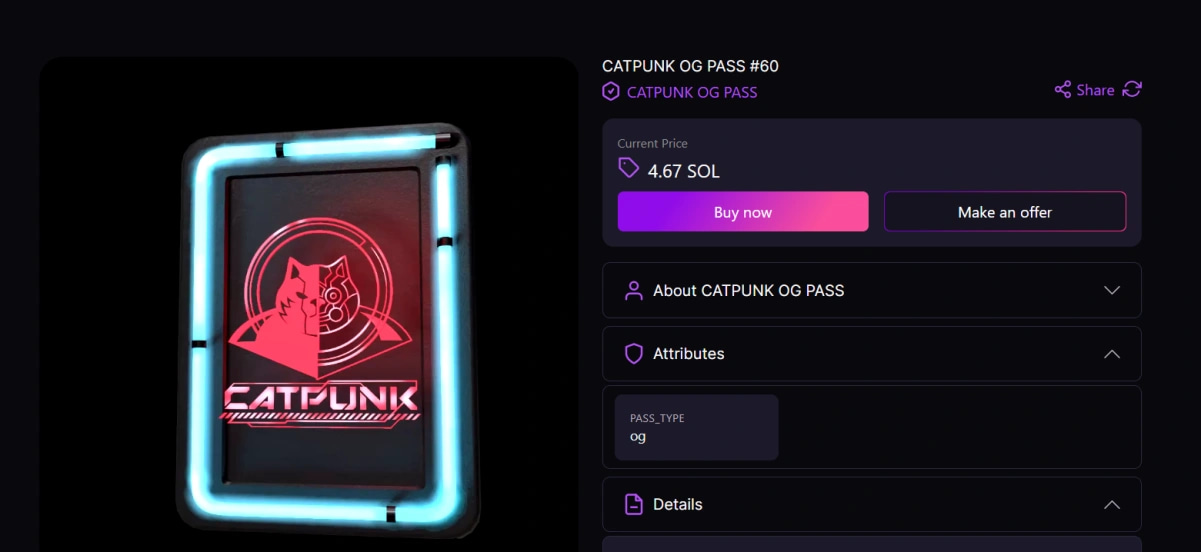 Phantom's setup procedure will be quite similar to anyone who have used the 
MetaMask
 wallet, which is one of the most popular 
Cryptocurrency
 wallets today. 
[5]
Users must visit Phantom's official website, install the browser extension, and choose "Create New Wallet" from the drop-down menu. After that, all users have to do is follow a few simple steps to get an authorized crypto wallet. [4]
Buy SOL Tokens
To acquire NFTs on Magic Eden, users must first purchase SOL and then transmit these tokens to their wallets.
The top 5 crypto exchanges that support SOL are as follows:
Now that you have money in your wallet, go to the Magic Eden homepage and click "Connect" in the upper right corner. [10]
Explore NFT Collections
After you've connected, go to the top of the website and type anything in the search field. You can either search for specific NFTs in the field or click "Browse Collections" on the right to see the most recent and popular collections available. [8]
Buy NFTs
After the user has decided which NFT to purchase, click on it. This may be done by clicking "Buy now" or making a lower-priced offer. Occasionally, the vendor will sell for less than the advertised price. Note that sellers maintain the right to accept or reject bids, therefore they are not guaranteed to be filled. [9]
Bidding Basics
Magic Eden does not impose cancellation or offer fees, but bidders' offer prices must be within the platform's escrow. Users can also cancel offers by visiting the platform's "My Profile" page and clicking on the "Offers Made" tab. [11]
Bidders should submit a minimum offer of 50% of the listed price in order to maximize the chances of the offers being matched.
Mint NFTs By Applying at Magic Eden Launchpad
How to Mint an NFT and sell on Magic Eden
The platform's 'Launchpad' makes it easy for users to generate and sell NFTs, removing the need to go through several technical steps merely to get started with digital assets.
Users must complete out this form in order to join the Magic Eden Launchpad. Here's a rundown of some of the questions the Launchpad will pose to NFT creators:
Project Name
Creator Name
Stage of the Project
Discord ID for the main contact
Email address for the main contact
Information about the project, the creator's story, and his goals
Twitter handle
Discord Server
Instagram
Website
Launchpad Criteria
The platform has created precise criteria to choose the right NFT developers for Magic Eden, therefore not everyone who registers up for the Launchpad will be approved. The platform strives for the following qualities among digital asset creators:
The platform's system will accept application forms that have all of the required information and will immediately reject any forms that contain missing questions. PNG-based artworks or static pictures are now accepted on the platform.
Full Collection Minting
Magic Eden does not allow for bespoke minting, such as pre-mint campaigns or whitelisting, thus designers must debut their complete collection at once. It does, however, state that if authors desire personalized minting, they must remove the artworks from the minting when releasing NFTs on the platform.
Randomized fixed price minting
The overall price of the NFT collection may be defined by the authors, and each NFT will have a fixed price that contributes to the total price of the digital asset collection.
Features of Magic Eden (Creators)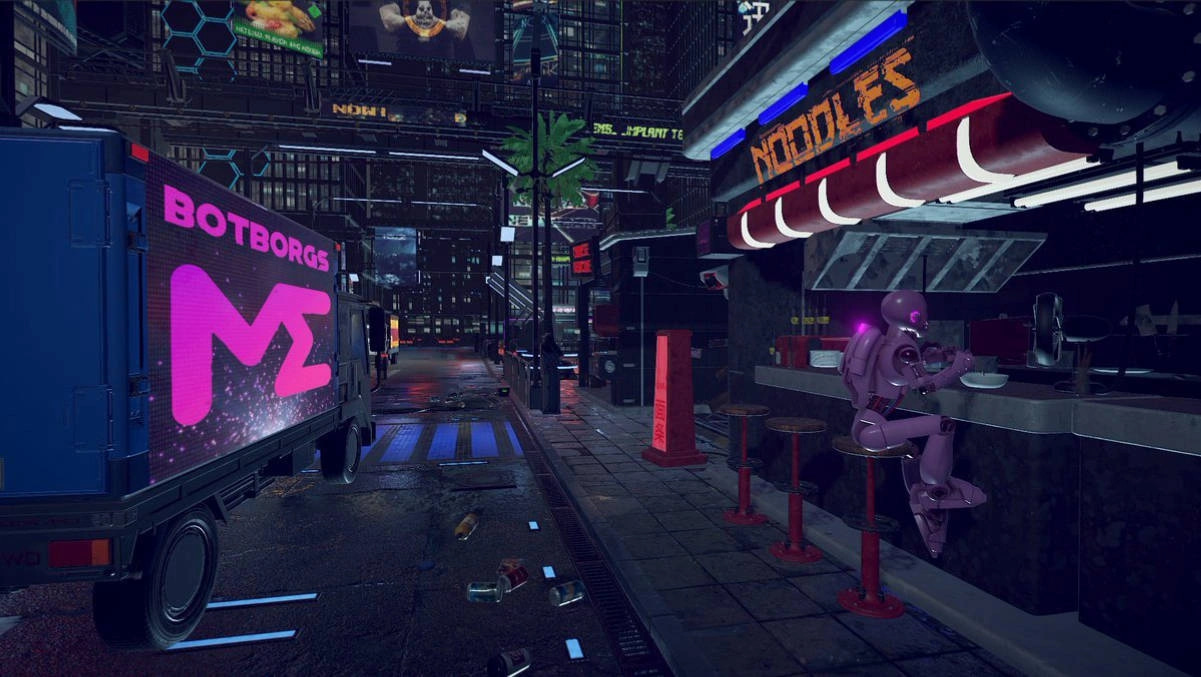 A Clear Roadmap
Creators having a long-term vision for their NFT collections are supported by Magic Eden. A lack of a defined plan indicates that a developer is solely interested in making quick money, which will impede the platform's expansion.
Community-Focused
The platform aspires to build a robust community, and member cooperation and participation are crucial to achieving this lofty objective. Magic Eden wants creators who aren't just interested in their own worlds, but also in connecting with the community to help each other grow in terms of knowledge and talents.
Commitment
The application of a group or a person must clearly demonstrate their commitment to their trade as well as how they can be helpful and collaborative members of the Solana community.
After Approval on Launchpad
A confirmation message will be sent to creators, along with an invitation to meet the Magic Eden team, action items, and important dates to keep track of. Following that, they must deliver files to Magic Eden, describe their marketing strategies, and do a devnet test launch to check that no technical difficulties have arisen throughout the collection. Finally, on the Magic Eden Launchpad, a team or a person will be able to live mint.
Applications are accepted on a rolling basis by the team. Applicants who have been rejected in the past are encouraged to reapply. They must provide supplemental resources in their applications, such as more information about the collection and project updates, in order to improve their proposal and boost their chances of getting approved.
Mint Authority
The platform's official twitter channel announced a new minting service called 'Mint Authority.' It's a Do it yourself minting tool that'll make the process of minting a lot easier for developers. The Mint Authority will start with a few Non-Fungible Token projects and will support public minting, airdrops, fair launch, 1/1 minting, and pre-sale. Magic Eden has stated that its new service will not impose any restrictions on the sorts of files that may be uploaded.
Here's a short rundown of the file formats that each media will support:
Images — png, gif, svg, jpg
Audio — mp3, wav, flac
Video — mp4, mov
VR and HTML — gltf, glb
Users may start minting as soon as it becomes online by joining up and creating a profile in Mint Authority. They may then share their mint URL with the community and upload their masterpieces.
Top Collections on Magic Eden
The platform has hosted and currently hosts highly named Solana NFT collections. Top among these collections are :
Space Runners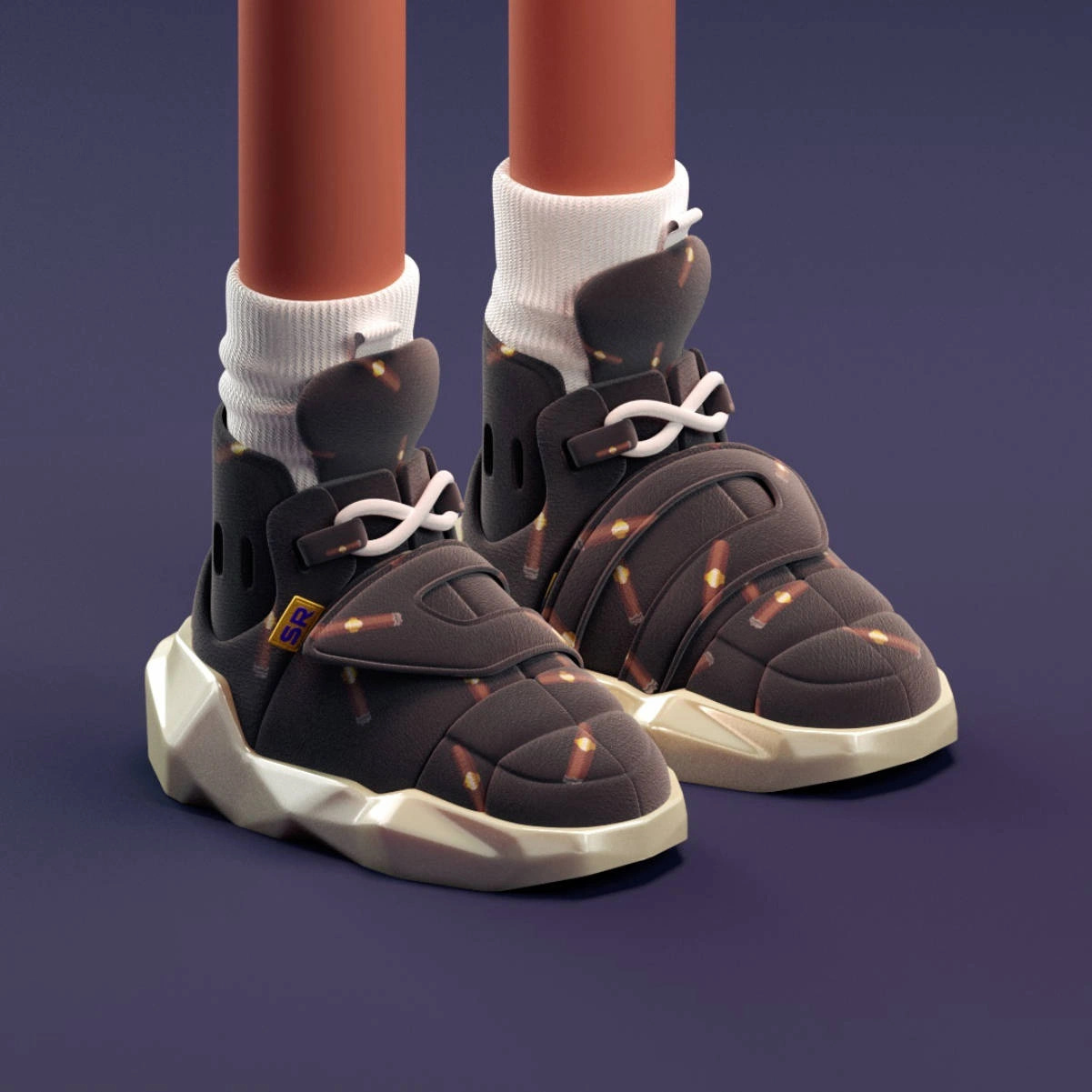 Space Runners is the first NFT Metaverse Fashion company, working with artists and companies to create digitally wearable NFTs using Augmented Reality (AR) and Metaverse plug-ins as goods. Space Runners joined up with NBA Champions Kyle Kuzma and Nick Young to offer a 10K Sneaker NFT Collection as the genesis batch. Owners of the NFTs have access to the RUNNERS club, which offers members-only perks including NBA basketball tickets, signed Kyle Kuzma and Nick Young items, unique invites to NBA parties and pick-up games, an auto-whitelist for Space Runners' next drop, and more.
Bored Ape Solana Club
On the Solana Blockchain, 6000 Bored Apes have a new existence. BASC is not linked with Yuga Labs, and all trait combinations are novel.
MonkeyBall Gen Zero
MonkeyBall Gen Zero (NFT) is a next-generation ESports game that allows players to Create, Play, Compete, and Earn money.
These are only a few examples among many.
Magic Eden Partnership with Raydium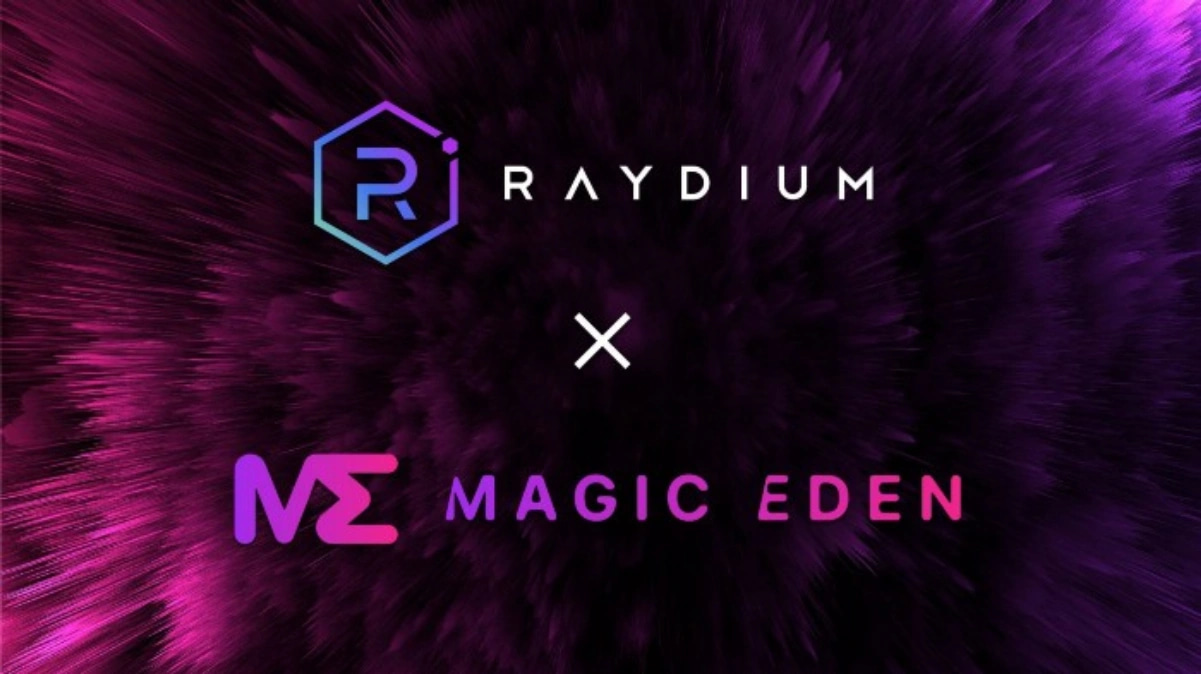 Raydium
's collaboration with Magic Eden signaled the start of the next generation of NFTs. Magic Eden has quickly established itself as one of Solana's most popular markets. Magic Eden's 24-hour trade volume hit a peak of over 50k SOL just two weeks after it went online. Over 200K people visit their website every day to learn about and trade NFTs. Total trade volume has topped 350K SOL less than a month after its September 18th introduction. Magic Eden's team has wowed NFT fans by becoming the first to market with features like as bidding, rarity index integration, and its own launchpad and minting system.
In collaboration with Magic Eden:
Users of the Raydium website, which is powered by Magic Eden, will be able to trade NFTs natively.
All projects that list NFTs on Raydium and Magic Eden will be dual-listed, boosting liquidity and engagement.
Raydium's Swaps will be integrated into Magic Eden, allowing any token to be used to pay for NFTs on the platform.
On Magic Eden, Raydium DropZone projects receive priority verification. In less than 10 minutes, they may onboard and list new projects.
The alliance between Raydium and Magic Eden will use a two-pronged marketing strategy to expand the scope of the Solana-native NFT market. This cross-platform collaboration is expected to make NFTs more accessible to ecosystem users, enhance NFT demand, and improve NFT liquidity.
Conclusion
Magic Eden's goal is to make the process of minting digital asset as simple as possible. Nonetheless, it assures that all entries are subjected to quality controls in order to maintain the NFT marketplace's legitimacy and quality. Its absolute screening method ensures high-quality NFTs for the benefit of the Magic Eden community. With its low transaction fees, the platform's NFT collections are expanding on a regular basis, resulting in more trading activity and a well-established community.
Magic Eden has overcome these obstacles by simplifying the minting process and lowering transaction fees, making non-fungible token (NFT) projects accessible and inexpensive to anyone. Because Magic Eden is based on the Solana Blockchain, all fees are almost non-existent due to the network's tremendous throughput. Magic Eden's trade volume has topped 500K SOL, and it is continuing rapidly increasing. This demonstrates the massive demand for Solana NFTs.
See something wrong?
Report to us.
Magic Eden
Did you find this article interesting?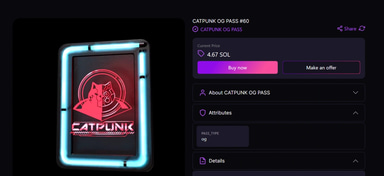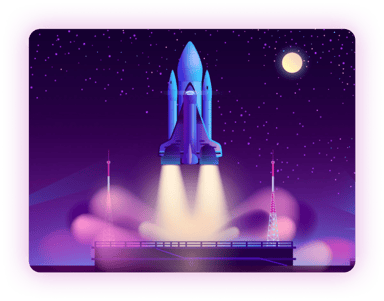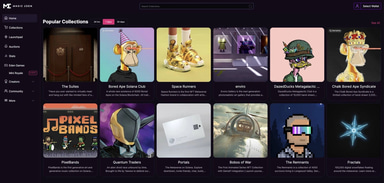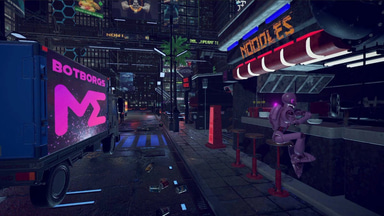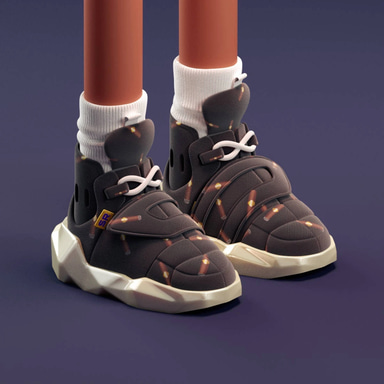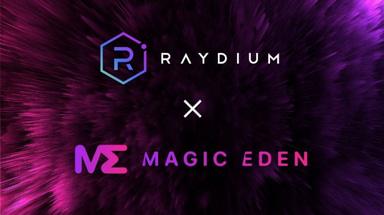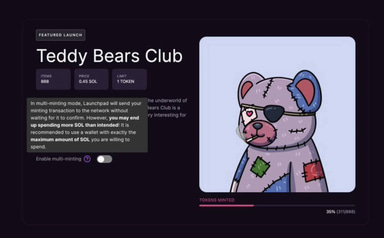 REFERENCES
[1]
Magic Eden marketplace website
Aug 22, 2022
[2]
Magic Eden company profile
Aug 22, 2022
[3]
Magic Eden NFT Marketplace Intro and Upcoming Features
Aug 22, 2022
[4]
How to Mint an NFT and sell on Magic Eden
Aug 22, 2022
[5]
The Story Behind Magic Eden - Eden Hour Ep. 0
Aug 22, 2022
[6]
Magic Eden on twitter
Aug 22, 2022
[7]
Magic Eden on Dappradar
Aug 22, 2022
[8]
Article about Magic Eden
Aug 22, 2022
[9]
Magic Eden surpasses behemoth OpenSea in daily transactions
Aug 22, 2022
[10]
What is Magic Eden?
Aug 22, 2022
[11]
Magic Eden Blog
Aug 22, 2022