Megaton Finance
Megaton Finance is an automated market maker(AMM)-based decentralized exchange(DEX) on the The Open Network (TON) mainnet. Megaton finance provides participants with financial opportunities such as swaps and yields farming, allowing users to earn financial benefits through $MEGA token yields and transaction fees in exchange for liquidity deposits whenever trading occurs on their trading liquidity pair pools. [1]
Overview
Megaton Finance is a decentralized exchange protocol developed by Ozys, a blockchain company based in the Republic of Korea established in 2018. It is a AMM-based DEX on the TON mainnet that provides yield through the protocol's token, $MEGA, beyond the trading fee. Ozys plays a crucial role in the development of Megaton Finance, as it aims to integrate the protocol with Telegram, a widely used messenger among DeFi users, through the implementation of Chatbot function. The primary goal of Megaton Finance is to improve user experience by maximizing the Telegram chatbot function provided by Ozys. [3]
TON is a decentralized layer 1 blockchain that is backed by Telegram, a global messenger service that offers a fully encrypted messaging service. Toncoin is the native token of the TON blockchain and is used for transaction fees, payments, staking and governance. The TON mainnet is a non-EVM blockchain that has a unique design that can be integrated into various ways with Telegram Messenger. The TON ecosystem has a range of chatbots and web apps, such as wallets, bridges, mining, channels, chats, social networking, and gambling. [2]

Features
Swap 
Megaton Finance provides a swap function that allows the exchange of tokens, based on liquidity pools. Token exchange is executed based on the equation of Uniswap v2 AMM, x * y = k, and slippage occurs during token swap. When exchanging tokens on Megaton Finance's pool, the transaction fee of 0.1% is incurred according to each liquidity pool's fee policy, where 100% of it is given to the liquidity pool(LP). [4]
Yield Farming
A liquidity pool is a collection of digital assets held in smart contracts and plays a key role in the operation of decentralized exchanges. Users can deposit their assets in various pools and receive yields in MEGA and trading fees according to the user's share in the pool. [5]
Governance
The MEGA token serves as a incentive for ecosystem participants to increase liquidity in Megaton Finance. It enables efficient distribution and value maximization of limited MEGA resources through token economics structures that offer liquidity-based transactions and financial opportunities. Upgrading from the v1 to the v2 model will introduce a lending, staking, and governance agenda voting system, turning MEGA into a Governance Token that empowers users to exercise their rights and contribute to Megaton Finance's development. When the staking function is added, stakers will earn additional MEGA rewards and will be able to use MEGA to vote on the protocol's agenda. Ultimately, MEGA will serve not only as a pool deposit reward but also as a governance token for the DEX.
$MEGA
Megaton Finance is a trustless decentralized protocol that is governed by the community. Therefore, Megaton Finance has issued the governance token "MEGA" to help governance determine the direction of the protocol, as well as the policies within. Typically, users can get MEGA through liquidity mining, swaps, exchanges (DEXs or CEXs) with a total issue volume of 100,000,000 MEGA. The initial supply is 1% of the total supply, and the specific tokenomics of MEGA are as follows. [6]
Tokenomics
Total Supply: 100,000,000 MEGA
Distribution by block: 0.217013889 MEGA
Daily MEGA Mining Volume: 18,750 MEGA
Halving: 4 years
Initial Token Distribution
Megaton Finance allocates 1,000,000 MEGA (1% of the total) for marketing, MEGA LP incentives, and Tonstarter to build an early ecosystem for Megaton Finance. Megaton Finance will create a stable trading environment on the TON network by securing liquidity with users through an event that utilizes the initial supply. [8]
Final Token Distribution
The final distribution of MEGA is 100,000,000 MEGA and is distributed as shown in the table. [8]
Partners and Backers
Ozys has established partnerships with several organizations, providing users with asset liquidity mining opportunities within Megaton Finance while also contributing to the demand for the MEGA token. By joining the TON mainnet through Megaton Finance, partners can promote their projects on a global scale and gain exposure to Telegram users in the future. This move allows them to expand beyond their native chain and attract users from other chains. Through co-marketing activities that are geared towards project growth, external publicity, and user benefits, both the project and its partners can pursue long-term growth and mutual success. [9]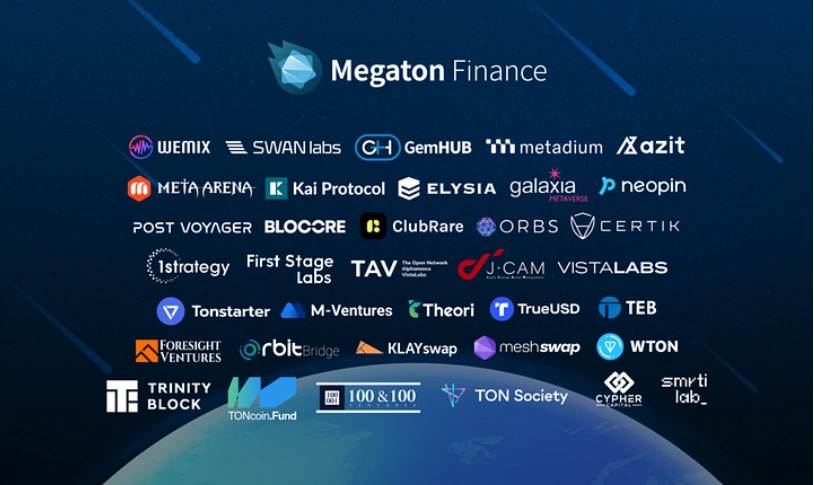 Funding
On March 20th, 2023, Megaton Finance announced their $1.5 million seed funding round led by TONcoin.Fund, the main incubator and accelerator for The Open Network. TONcoin believes in the potential of Megaton Finance within the decentralized finance (DeFi) landscape of TON and they have been impressed with their work so far. Megaton Finance aims to use the $1.5 million seed funding to further develop and expand their Automated Market Maker Decentralized Exchange (AMM-DEX) on TON. The funding will also help Megaton Finance to support the mass adoption of Web3 and to harmoniously combine the best in finance with the best available Web3 technologies. Additionally, the funding will be used to onboard diverse partners to the TON mainnet and to integrate features with the Telegram messenger service in the near future. The funding round attracted strong sponsors such as Cypher Capital, First Stage Labs, Orbs, and MEXC Ventures. [10][11]
"It's great to have witnessed Megaton team's traction of building on TON in the past six months. We are impressed by the team's passion for TON's DeFi ecosystem, and the efforts going through the rigorous due diligence process at TONcoin.Fund, the ecosystem fund backed by TON Foundation. This deal is an outcome of great collaborations between all TON-Native projects supporters including TON builders, investment and exchange partners. We are excited to embrace and deploy capital on the most innovative and action-driven projects building on the border TON ecosystem in all verticals." - Nan Wang, Investment Associate at TONcoin.Fund.
See something wrong?
Report to us.
Megaton Finance
Did you find this article interesting?