MOTION
MOTION is a cutting-edge Web3 project that seeks to transform the fitness data industry through the power of blockchain and AI technology. By obtaining users' consent to collect their fitness data and storing it on a secure, transparent blockchain-based platform, Motion enables users to take ownership of their data and receive a portion of the revenue generated from its usage.[1]
With Motion, users can now monetize their data while safeguarding their privacy, while data consumers (like Insurance companies, Healthcare professionals, and gymnasium chains, etc.) can access reliable, consent-driven data. This comprehensive fitness ecosystem is dedicated to empowering users and driving innovation in the health and wellness market.[2][3][4]
In April 2023, the MOTION app was launched on Google Play and Apple App Store, and it has already attracted over 1300 users who have recorded nearly 300 Million Steps to date. The app's reward mode, featuring an AI-based FitCoach, is scheduled to be launched in Q3 2023. Additionally, the standalone platform is currently operational, and the integration of blockchain technology is planned for Q3 2023.
Company Behind Motion
MOTION Wellness Private Limited is a company incorporated in India in 2022 with its headquarters in New Delhi. They launched their website (http://themotion.app) in Q1 2022 and gained recognition in many digital publications in India and abroad. In 2023, they built a strong community with almost 10,000 followers on Twitter and 8,000 on Telegram.
They launched the BETA version of their MOTION app in Q4 2022, with 505 testers who have recorded nearly 75 million steps to date. They have also tested their Challenger mode with 143 users. Their standalone platform is ready, and they plan to integrate Blockchain technology in Q3 2023.[5]
Overview
The founders of Motion App were inspired by the Covid-19 lockdown, which kept many people indoors for an extended period. They observed that, while people were eager to stay in shape during this time, many stopped working out after the lockdowns were lifted. As a result, the founders created Motion App to provide users with more than just a regular workout and to motivate them to exercise regularly. In addition, it incentivizes them with cryptocurrency through the use of Blockchain Technology.[6]
MOTION is a comprehensive fitness ecosystem that encompasses a mobile application designed to incentivize physical activity and utilize the resulting rewards for accessing services such as the advanced AI-powered FitCoach. Upon granting consent, users have the opportunity to convert their fitness data into monetary value by means of discounts or direct payment in cryptocurrency, facilitated through the platform's native token.[7]


MOTION seeks to transform the fitness industry through the integration of Artificial Intelligence (AI) and
blockchain
technologies. The core principle of MOTION is to provide users with control over their data and enable them to receive a share of the revenue generated from its usage. This innovative approach allows users to actively participate in the value-creation process. By harnessing AI-based FitCoach technology, users can make the most of their earnings and enhance their fitness journey. Not only does MOTION empower individual users, but it also caters to the needs of data consumers in search of reliable and consented data. By accessing the MOTION platform, data consumers gain access to a trustworthy and transparent source of data, which they can leverage for various purposes.
Through the seamless integration of AI and blockchain, MOTION revolutionizes the fitness industry by promoting data ownership, privacy protection, and revenue sharing. With MOTION, users can finally seize the opportunity to monetize their data while ensuring their personal information remains secure. Meanwhile, data consumers can benefit from access to verified and user-consented data, fostering a mutually beneficial relationship between all parties involved in the fitness ecosystem.[1]
Features
Here are some features that make Motion stand out:
Mobile app for incentivizing exercise: The Motion app provides a motivating and rewarding exercise experience, encouraging users to stay active and reach their fitness goals.

AI-based FitCoach: The AI-based FitCoach is a feature within the MOTION app that utilizes artificial intelligence technology to provide personalized fitness coaching and guidance to users. By analyzing user data and preferences, FitCoach offers tailored workout plans, exercise recommendations, and real-time feedback to help users achieve their fitness goals effectively. With the AI-based FitCoach, users can receive personalized guidance and support, making their fitness journey more efficient and enjoyable.

Monetizing fitness data: Users have the opportunity to monetize their fitness data by receiving discounts or direct payment in cryptocurrency through the platform's native token. This incentivizes users to stay active and offers a financial reward for their efforts.

Reliability of data: The Motion platform prioritizes the reliability of data, ensuring that partners have access to trustworthy information to create innovative data-driven products and services. This is essential for the development of accurate and effective products and services.

Empowerment through Web3 technology: Motion aims to empower users by harnessing the power of Web3 technology in the health and wellness market. This technology allows users to regain control over their health data, which is a significant benefit in an age where personal data is often compromised.

Utilization of Blockchain technology: Motion utilizes Blockchain technology to overcome data ownership challenges and restore user control over their health data. With its decentralized nature, Blockchain offers an innovative solution to the challenge of data control.

Control over health data: By providing users with the ability to choose who has online access to their health information, Motion offers customers much-needed control over their health data. This is a crucial feature for users who are concerned about their privacy and data security.

Contribution to industry development: By empowering users and utilizing innovative technology, Motion is contributing to the development of new and exciting products and services in the fitness industry. This benefits not only users but also the industry as a whole.[8]
Ecosystem
Motion App
The Motion Mobile app is a fitness tracker that rewards users for their physical activity. Available for both Android and IOS, the app serves as a crucial component of the MOTION ecosystem, designed to collect and store consumer fitness data securely and efficiently.
The MOTION data collection app is incredibly user-friendly and easy to use, allowing users to effortlessly track their physical activity, including steps taken, distance traveled, and calories burned. With a sleek and intuitive interface, users can quickly set goals, monitor progress, and receive notifications and reminders to stay on track.
But what sets the MOTION data collection app apart is its rewards system. As users achieve their fitness goals, they earn MOTION native tokens, which can be redeemed for a range of exciting rewards, including exclusive products, services, and experiences.[3]
MOTION app works in 2 modes :
Challenger mode: The Challenger mode is a free-to-use option that's available to all users. Every week, sponsored challenges will be hosted, allowing participants to compete for the chance to win Motion tokens and branded merchandise. The winners will be determined based on the total number of steps taken during the challenge period. The Challenger mode has already been tested, and over 142 users participated in the first challenge, making it an excellent way to drive traffic to the ecosystem.
Reward mode: The Reward mode is a subscription-based option available for users who purchase Motion NFTs or another method that will be disclosed closer to the Motion token launch. By subscribing to this mode, users will be able to earn Motion tokens for their physical activity, which can be used to redeem products and services within the MOTION ecosystem.
MOTION DeWell Platform
Motion DeWell PLatform is a blockchain-based technology platform that serves as the central hub of the MOTION ecosystem. It leverages blockchain technology for data audit trails, data consent, and data unions to enable data-driven products and services for data consumers like Insurance companies, Dieticians, Healthcare professionals, Fitness trainers, and meal-kit businesses.[5]
The platform provides four core features:
Processing and storing fitness data signatures: The platform is responsible for securely processing and storing the fitness data of users, ensuring data privacy and confidentiality.
Hosting the fitness data union contract: The platform enables data unions, allowing data consumers to access fitness data from multiple sources and create data-driven products and services.
Enabling a marketplace for fitness data: The platform also provides a marketplace where fitness data can be bought and sold by data consumers.
Providing B2B analytics and data audit trail capabilities: The platform offers advanced analytics and data audit trail capabilities to Insurance companies, Dieticians, Proactive Healthcare professionals, Physical Trainers, and meal-kit businesses to help them make data-driven decisions and improve their services.
Overall, the DEWELL PLATFORM is a critical component of the MOTION ecosystem, facilitating secure and transparent sharing of fitness data to improve healthcare outcomes and promote a healthy lifestyle.[11]
$MOTN Token
The Motion Token is more than just a cryptocurrency, it's a gateway to a new era of personal data ownership and monetization. As an ERC/BEP20 token, it enables seamless and secure transactions, providing users with rewards for their fitness data contributions within the Mobile app and granting access to the DeWell platform subscription.
Use Cases
To reward motion app users for their physical activity
To pay for DeWell platform services
To buy fitness merchandise and other related products and services[10]
Tokenomics
There will be a 3% Buy/Sell Tax
Circulating Supply also includes LP (Liquidity Pool) for future DEX (Decentralized Exchange) listing
Supply reserved for the rewards includes Mobile App rewards and staking rewards
Supply reserved for the team will be locked for 1 year after the launch
Motion NFTs
Motion NFT is a groundbreaking creation that has been designed to offer an unparalleled experience to investors and users of the Motion Web3 ecosystem. These Non-Fungible tokens are highly coveted and provide holders with exclusive VIP access to Motion Crypto token Pre-launch event. Furthermore, by buying or minting these NFTs, investors and consumers can gain guaranteed access to rewards on the Motion app.[7]
These NFTs come in three tiers - silver, gold, and platinum - each with its own unique set of rewards and benefits. Holders of these NFTs can upgrade their tiers by regularly participating in workouts and earning more rewards, which can be used for upgrades. As a result, the more workouts you do and the more rewards you earn, the higher the tier you can reach.
One of the most significant benefits of Motion NFTs is that they generate different levels of rewards for their holders, depending on the tier. The silver tier generates the lowest amount of rewards, while the platinum tier generates the highest. This means that as a holder of a platinum NFT, you can earn a lot more rewards than someone with a silver NFT.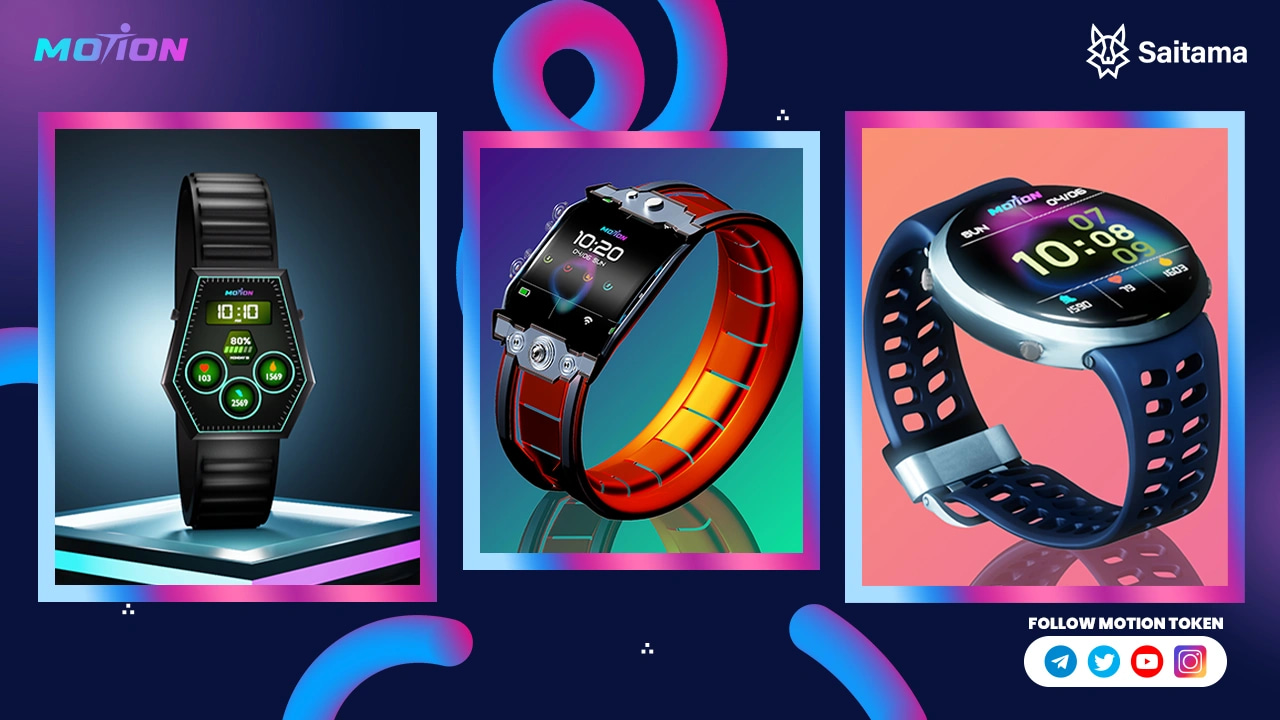 Overall, Motion NFTs are a fantastic investment opportunity for anyone interested in the Motion Web3 ecosystem. They offer unparalleled benefits and rewards that cannot be found anywhere else, making them a must-have for serious investors and users.
Partners
MEET OUR PARTNERS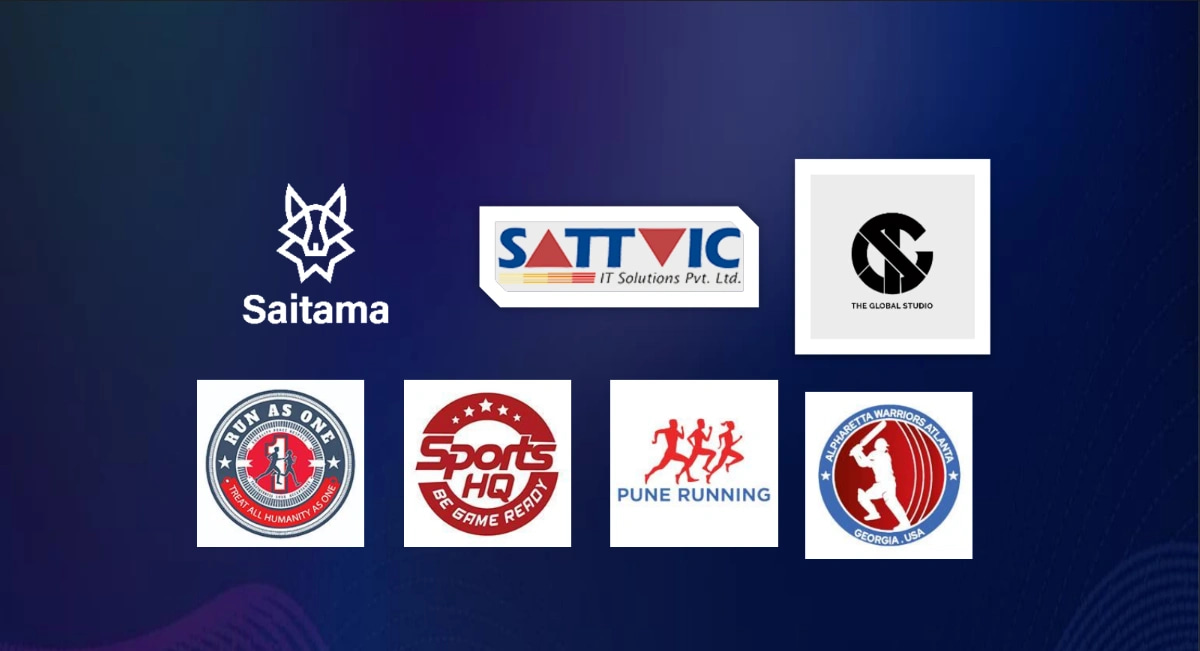 Team Members
The Motion App team consists of four experienced and passionate individuals who bring a diverse set of skills to the table.
Jon Quinnell: is a rugby coach at heart and has over 20 years of IT technology experience. He has worked with various start-ups in the past and brings a wealth of knowledge and expertise to the Motion team.
Maninder Singh Kohli: is a fitness freak and an entrepreneur with over 20 years of experience in the fitness logistics industry. With his expertise in the industry, he is well-equipped to guide the Motion team in developing an effective and innovative fitness app.
Rajwinder Singh: is a fitness enthusiast who is passionate about mountain hiking. With 22 years of industry experience in AI and blockchain technology, he brings a wealth of knowledge and expertise to the Motion team. His skills in these areas are particularly relevant to the platform's aim of utilizing Web3 and Blockchain technology to empower users and enable them to regain control over their health data.
The Motion Man: is a Badminton Ace and Blockchain technology expert with over 18 years of experience in technology. The brain behind MOTION App.
Together, these team members bring a wealth of experience and passion to the Motion App project and are well-positioned to deliver a comprehensive and innovative fitness ecosystem.[9]
Roadmap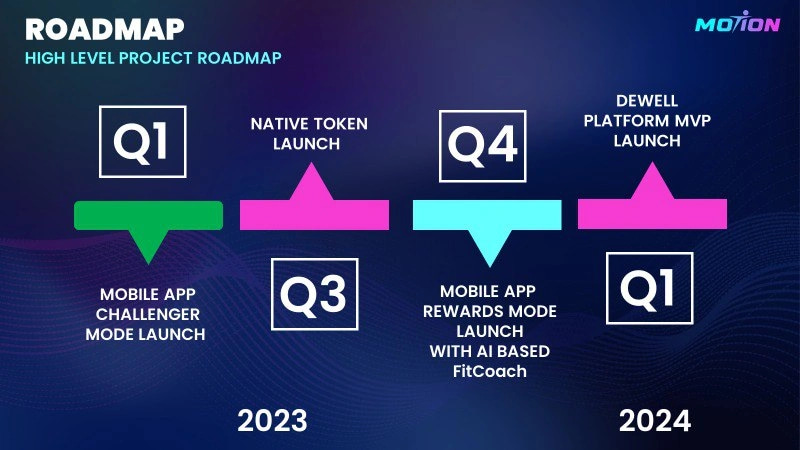 See something wrong?
Report to us.
MOTION
Did you find this article interesting?