Overlord
Overlord is a web3 gaming and entertainment brand, best known for overseeing the Creepz NFT collection. It is under the management of Three Six Zero, an entertainment and talent management company that has previously represented artists such as Will Smith and Calvin Harris. The multimedia brand spans across various areas, including TV animation, streetwear fashion, blockchain gaming, ecosystem coin, and brand establishment. [1]
Creepz
Overlord aims to expand the Creepz intellectual property into various entertainment verticals that are designed for mainstream adoption, with value accruing to Creepz holders. The company has disclosed five key verticals that they intend to prioritize as they establish their brand and presence in the market: TV animation, streetwear fashion and merchandise, blockchain gaming, brand building, and ecosystem coin. [2]
"Beyond hard work, two main things set us apart. The first was leaning into the idea of IP. IP is more than just the artwork itself, it's the narratives, it's the universe around it, it's the motivations, the will to want to take on this character and live it. The second main pillar is understanding what your product is. We saw the community as the product in many ways. We didn't just see the community as fans. We saw them as segments of users who are trying to get something out of the brand. If you segment who your users are, you interact with them in different ways at different points in that journey. You really create this fun fandom that still exists, even in a bear market."Creepz Co-Founder, Dom

Partnerships
Overlord x Stoopid Buddy Stoodios
Overlord partnered with Stoopid Buddy Stoodios, a production company owned by Seth Green, for the creation of an animated television series centered around characters from the Creepz NFT collection. [3]
Overlord x West Brand Lab
Overlord revealed an intellectual property joint venture with West Brand Lab, which will involve collaborating with a team of distinguished fashion industry veterans to launch a comprehensive fashion brand based on the Creepz IP. The group of industry veterans includes former executives from high-profile companies such as Levis, Nike, Lululemon, and Tinder. [2]
Overlord x Spotify 
Spotify joined Overlord and launched a new token-gated playlist pilot, where it allows members of the community to connect a crypto wallet holding one of the Ethereum NFTs and access an exclusive Spotify playlist. [6][7]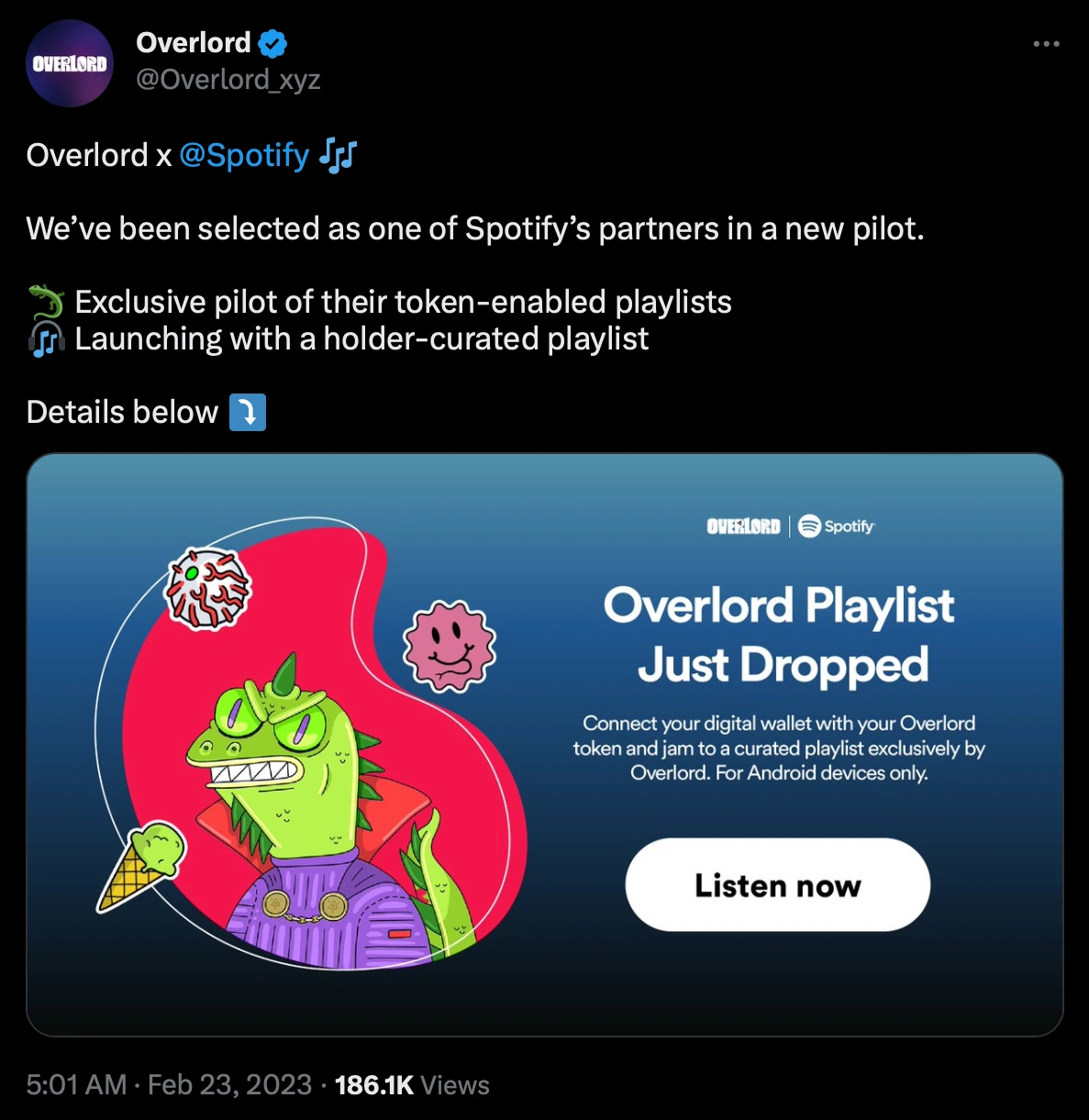 Overlord x Revolving Games
Overlord partnered with Revolving Games, a game studio supported by Dan Houser, co-founder of Rockstar Games, to collaboratively develop a video game within the Overlord ecosystem. The game is set to showcase llizard-themed NFTs as a central element.  The project aims to span multiple planets and universes and be "cross-chain from day zero." [8]
"The game is an immersive exploration of the Overlord universe where players will be battling their way to interplanetary domination through skill, strategy, and cunning." - Dom Smith, co-founder of Overlord
Founders
Overlord was founded by Dominic Smith and Joe Carnell, who come from backgrounds in Fintech. While working on their Creepz project, they began exploring the crypto space and have managed to build a community around it. Their efforts have resulted in sales worth approximately $250 million USD, and they now have over 4100 holders in their community. [5]
See something wrong?
Report to us.
Overlord
Did you find this article interesting?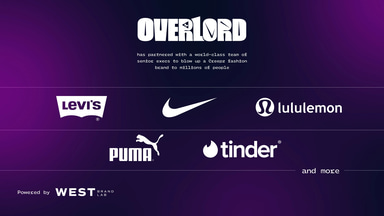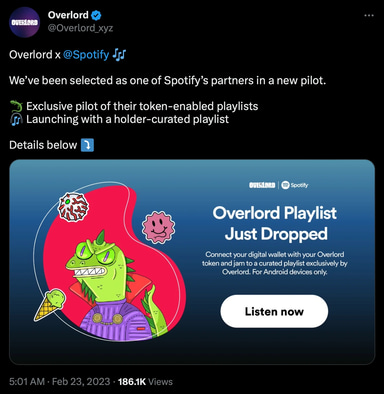 REFERENCES
[1]
Creepz by Overlord
Mar 21, 2023
[2]
Creepz by Overlord
Mar 21, 2023
[3]
Hollywood Reporter
Mar 21, 2023
[4]
Creepz by Overlord
Mar 21, 2023