Ryoshi (cryptocurrency)
The RYOSHI token is a deflationary, community-driven meme token created by Ryoshi, the founder of the Shiba Inu cryptocurrency. It is designed to address the main issues that Shiba Inu and Dogecoin have, such as high transaction fees and a lack of transparency within the community. RYOSHI was created on August 2020 with a maximum total supply of 1,000,000,000,000,000 tokens.[1]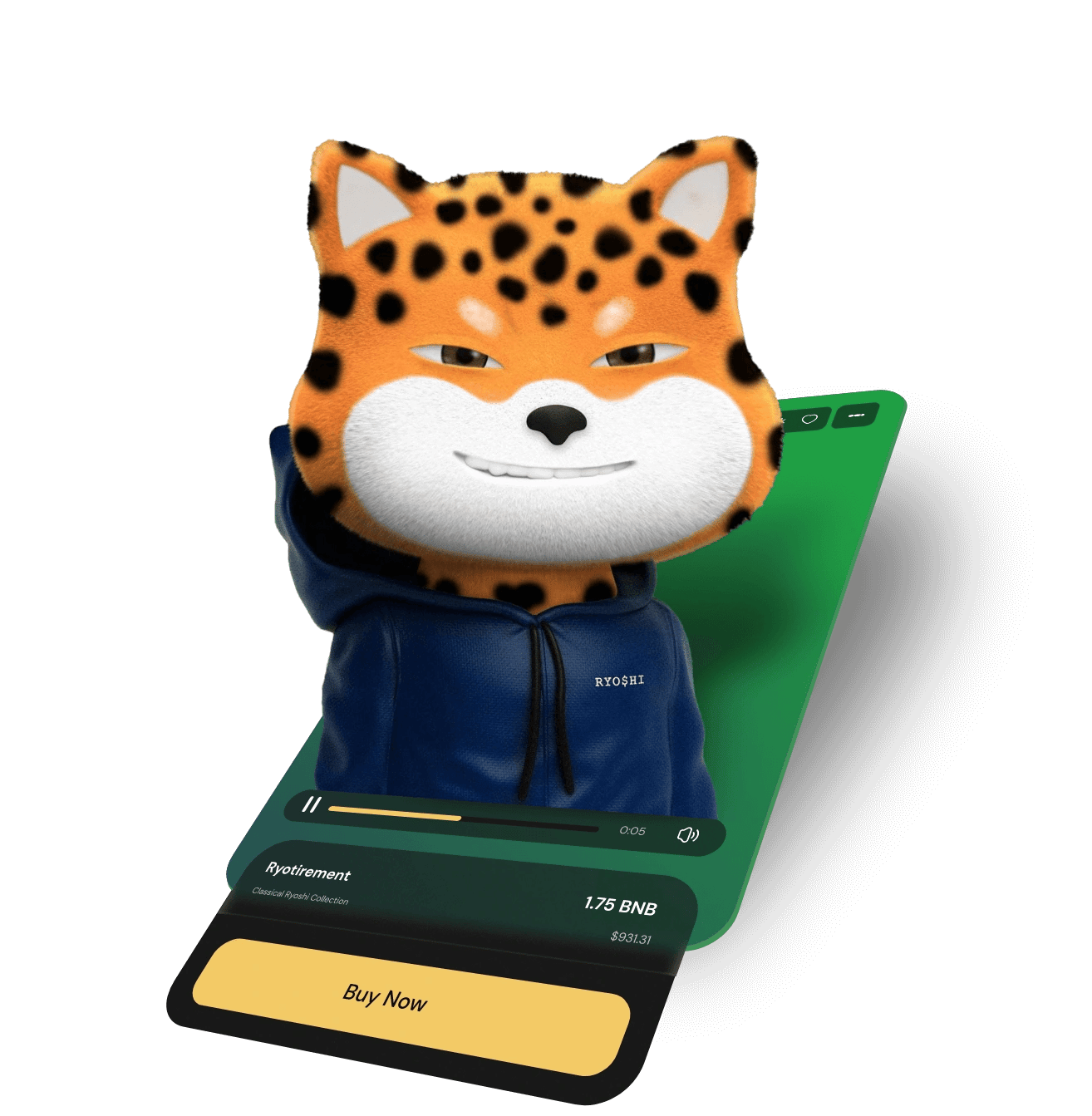 Overview
Architecture
Ryoshi is built on the Binance Smart Chain in the form of a BEP-20 token, allowing to gain advantage of low gas fees. A 2% fee will be taken from every transaction and used to burn tokens, which helps increase demand for the token. [3]
Ryoshi Wallet
The Ryoshi Wallet is a new product being developed by the platform. It aims to provide users with a convenient and secure way to store, buy, and swap RYOSHI, the platform's native cryptocurrency. In addition to these basic features, the Ryoshi Wallet will also include an in-built NFT marketplace, allowing users to browse and purchase a wide range of NFTs directly from within the wallet app.[2]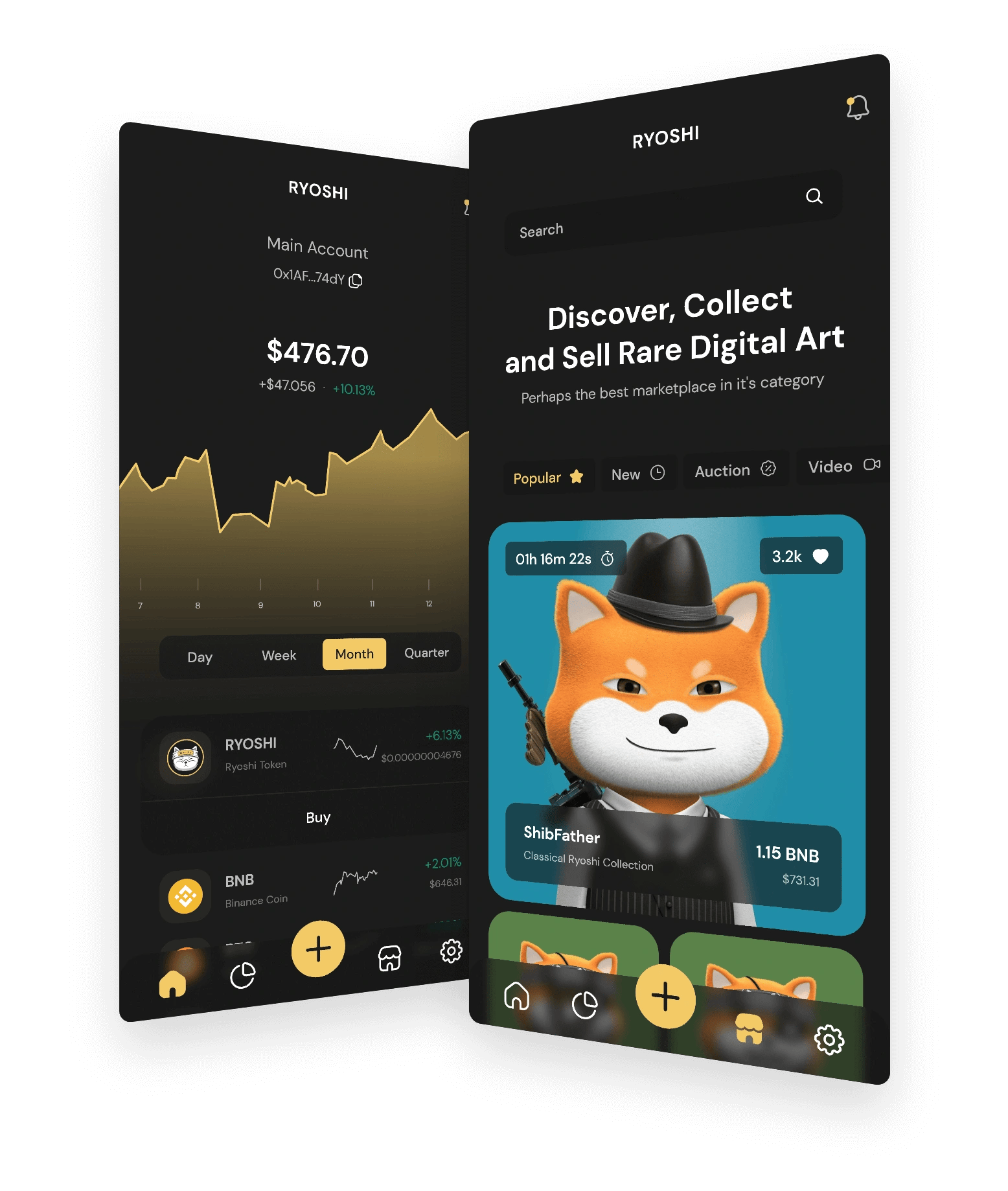 In addition to the NFT marketplace, the Ryoshi Wallet will also include other useful features and functions. For example, users will be able to easily swap RYOSHI for other cryptocurrencies, such as BNB, using the built-in exchange functionality. The wallet will also include tools for managing and tracking digital assets, as well as security measures to protect funds and personal information.
[2]
Tokenomics
RYOSHI is a deflationary cryptocurrency, meaning that its total supply decreases over time. This is achieved through a process known as "token burn," in which a portion of the total supply is permanently removed from circulation. At the launch of RYOSHI, 50% of the total supply was burned, and an additional 2% is burned in every transaction that involves the token. This reduces the overall supply of RYOSHI, which can potentially lead to an increase in its value if demand for the token remains constant or increases.[2]
In addition to the token burn mechanism, a significant portion of the RYOSHI supply is also locked up in various ways. For example, 42% of the total supply is currently locked in PancakeSwap, a decentralized exchange that allows users to trade RYOSHI and other cryptocurrencies. This means that these tokens are not currently available for sale or transfer, which can also help to support the value of RYOSHI by limiting the supply that is available on the market.[2]
Finally, an 8% dev wallet has been retained for future development and community-driven projects. This means that a portion of the RYOSHI supply is being held in reserve for use in future projects and initiatives that will help to drive the growth and adoption of the platform.[2]
Roadmap
Phase 1, July-August 2021
It involves the creation of the Token Contract and Website Creation and Branding. Marketing efforts will focus on targeted ads and promotions on social media platforms, as well as article submissions to finance and technology news outlets such as Yahoo Finance, Benzinga, and Tech Bullion. The launch of the Ryoshi Token will be a stealth launch, with the goal of achieving 1,000 holders at the start. To further promote the token, the team will engage with Twitter influencers and run ads on platforms such as Coinsniper, Stocktwits, Coinhunters, and Coinvote. The aim is to have the Ryoshi Token trend on Dextools and reach 3,000 holders, and the ultimate goal is to list the token on popular exchanges such as CG and CMC.[4]
Phase 2, September-October 2021
The next phase of the Ryoshi Token project will involve an aggressive marketing push to achieve a wider adoption of the token. This will include mainstream promotion tactics such as billboard advertising and partnerships with celebrities and influencers for shoutouts on social media. The team will continue to engage with the community through weekly AMA sessions on appropriate platforms and will ramp up efforts on platforms such as Telegram and Twitter to drive growth. The ultimate goal is to list the Ryoshi Token on a major exchange and achieve a base of 10,000 holders. This will require a sustained and focused marketing effort, building on the success of the initial launch which aimed to achieve 1,000 holders.[4]
Phase 3, January 2022
It includes listing the token on more major exchanges, which will help increase liquidity and accessibility for users. Another strategy will be to focus on expanding brand awareness, through marketing and public relations efforts, as well as by developing use case products that showcase the benefits and value of RYOSHI. The development of an NFT collection is included in the plan, which will help to drive interest and engagement from collectors and enthusiasts. Also, working with celebrities and influencers will take place in order to give shoutouts and promote the token, as well as commissioning a contract audit by Techrate to ensure the security and reliability of RYOSHI.[4]
Phase 4, February 2022
The Ryoshi Token project will continually evolve and adapt to market trends and the needs of the community in order to drive mainstream adoption and success. By monitoring market incentives and responding to the requirements of our community, the growth and development of RYOSHI are aimed.[4]
See something wrong?
Report to us.
Ryoshi (cryptocurrency)
Did you find this article interesting?