Suji Yan
Suji Yan is the founder and CEO of Dimension Mechanics, Inc. and Mask Network, a decentralized social network platform built on the Ethereum Blockchain and founded in 2017. [14]

Education
Suji Yan was born in China and spent much of his early life there. He attended the University of Tokyo for a year. He spent two years studying Computer Engineering at the University of Illinois at Urbana-Champaign (UIUC) but dropped out to start his company in 2017. Before that, he was an independent reporter for Caixin Media and Qdaily from 2015. He also partnered with several news platforms in Japan, China, and the United States.[9]
His decision to drop out of UIUC was influenced by his early interest in artificial intelligence, cryptocurrency, and machine learning.
I was inspired by the students and their entrepreneurial spirit, and I launched my company before I even finished college.[9]
Career
Suji Yan picked his interests in these topics while working as an independent journalist between November 2015 and January 2017, where he met several CEOs who introduced him to the potential of Bitcoin and other cryptocurrencies between 2014 and 2017. [1] Less than a year after Mask Network's inception, it secured financing of around $1 million (about 100 million yen) from world-renowned investor Li Toyo, who expects it to develop in the future. [10][11]
While working as an Independent Journalist, Suji Yan published articles on several topics. He wrote articles about business reviews for various companies and conducted interviews on multiple fields of study, including getting into the Fukushima Nuclear Power Plant. [6]
Suji Yan's career has been marked by accomplishments, from co-founding DimensionalMechanics, Inc. to founding and leading Mask Network, a platform enables users to share encrypted messages and data, as well as access decentralized applications, and participate in decentralized finance (DeFi) transactions. [1]
Through his work with Mask Network, Yan has been a vocal advocate for decentralized, user-controlled systems, and has worked to challenge traditional models of social media and online communication.[5]
Talking about the potential of the Mask Network, he stated that
"I think Mask is the bridge between Web 2.0 and Web 3 especially for social networking just like DeFi (Decentralized Finance) revolution against banks and trading NFTs was a revolution against Hollywood and media. I think Mask and the decentralized social army are against traditional social networks." [7]
He however understood and predicted the difficulty of migrating every user on the existing traditional social media to decentralized ones. According to him:
"I think it's super hard and even impossible for the users to migrate, especially thinking about the billions of users we have on Facebook and Twitter. I think the best way is to add a layer on top of it to bridge the gap between Web 2 and Web 3. [7]
Philanthropy
In order to help fellow entrepreneurs who are overlooked by conventional VCs due to stereotypes, biases, and preconceptions, Suji founded the venture capital brand Bonfire Union in 2022. Since then, the company has backed several aspirants' new businesses in a variety of tracks, including decentralized applications and their underlying infrastructure. [16]
Suji has also made substantial donations to several institutions and NGOs including U of Illinois Urbana Champaign and RadicalxChange, sponsoring relevant research and events to realize his goal of building a digital civic Square where everyone can share their ideas freely. In addition, he and his wife, Katt Gu, a seasoned professional in the blockchain industry, have been highlighted in Wired, the Wall Street Journal, and other mainstream media for founding the anti-996 campaign. [16]
Awards
JASSO Scholarship issued by Japan Student Services Organization - March 2016
Hach Illinois 2016 Top Software Hack & Google's Best Hack - February 2016
Hp x Intel Hackathon@Beijing Champion - July 2015 [11]
Projects
Suji Yan worked on a series of projects. Some of the notable ones include:
TedkOS sponsored by Microsoft (2015) - Although this project was a school project for one of his courses, it won the final completion sponsored by Microsoft [15]
WeatherMap (2015) - This open-source iOS app combines map display and weather info. Suji contributed to the UI/UK design for the app. [13]
Hack Illinois 2015: PaperPlane[12]
See something wrong?
Report to us.
Suji Yan
Did you find this article interesting?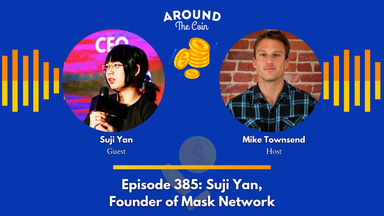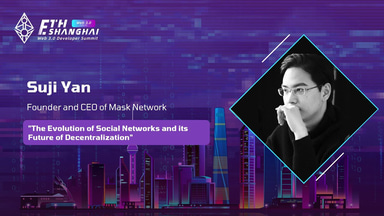 REFERENCES
[1]
Mask Network Description on Binance
May 16, 2023
[2]
Mask Network features on the official website
May 16, 2023
[3]
Mask Network bridges the gap between web2.0 and web3.0
May 16, 2023
[4]
Mask Network tokenomics and uses
May 16, 2023
[5]
Interview with Suji Yan
May 16, 2023
[6]
Mask Network CEO
May 16, 2023
[7]
Features of the Mask Network
May 16, 2023
[8]
Key Features of the Mask Network
May 16, 2023
[9]
Suji Yan dropped out of school to start his business
May 16, 2023
[10]
Suji Yin's awards and accomplishments
May 16, 2023
[11]
Suji Yan's Awards and Accomoplishments
May 16, 2023
[12]
Hack Illinois 2015 PaperPlane project
May 16, 2023
[13]
WeatherMap project 2015 associated with Takefive Interactive
May 16, 2023
[14]
Suji Yan, Founder of the Mask Network
May 29, 2023
[15]
TedkOS: OS Design Competition
May 29, 2023