The Potatoz
The Potatoz is a Non-Fungible Token (NFT) collection of 9,999 utility-enabled PFPs that feature rarity-powered traits inspired by internet memes and pop culture. Each Potatoz is an entry ticket into the Memeland ecosystem. [1][2]

Launch
On July 20, 2022, The Potatoz was launched as a free mint on the Ethereum blockchain by 9GAG[3] - an internet meme community that created the Memeland NFT project. It became a top 150 OpenSea collection in less than 69 days. [4]
"Each Potatoz is your entry ticket into the great Memeland ecosystem. They make for a great side dish, but some may feel a calling to become the main course." -  the Potatoz notes
Utility
Holders of Potatoz can participate in the 'stake to win' mechanism and, on August 6th, 2022, 9GAG[3] launched the "GROW-TO-WIN" (staking) system and staking website. This function is similar to the 'Nesting' feature of Moonbirds, which is essentially a form of staking to evolve it from Stage 0 to Stage 5. [4]
The Potatoz website states:
"Potatoz represents the base-level membership of Memeland. You are not only part of the fun and energetic community, and you are like a co-founder of Memeland!"
Potatoz are companions of Captainz NFT. They are described as small, strong, cute, and killer. Holding a Potatoz grants access to private club membership, tickets for a weekly prize draw, allowlist spots, and IRL (in real life) events, and whitelist privileges in upcoming 9GAG[3] drops and projects. [4]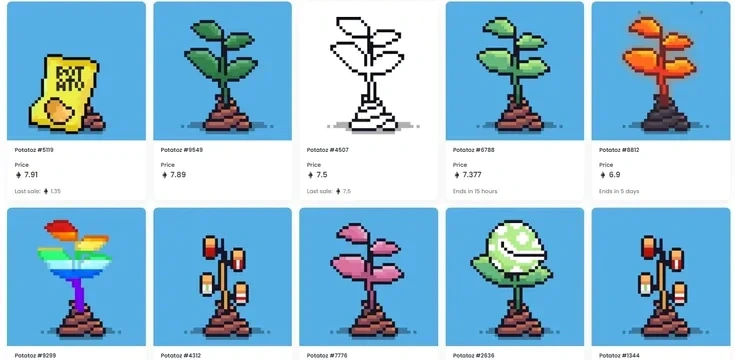 Growing The Potatoz
Stage 0 (Type): Much like the life cycle of any authentic potato, the Potatoz NFTs initially started out as seeds in pixelated dirt. [5]
Stage 1 (Mutation): It is possible to stake one's NFT and watch it grow its stalks. [5]
Stage 2 (Element): Users who have nurtured their Potatoz for 14 days will now be in the next stage, where the stalks will grow into their individual elements. These potatoes are not ordinary, and the NFT will start to be revealed, beginning with the bottom. [5]
Stage 3 (Size): In 14 days, the Potatoz NFT will start growing. Stages 4 & 5 include the final stages of growth of The Potatoz NFT. [5]
See something wrong?
Report to us.
The Potatoz
Did you find this article interesting?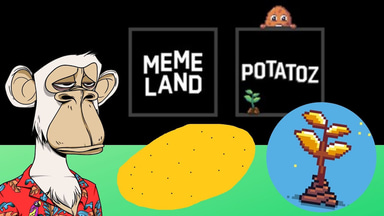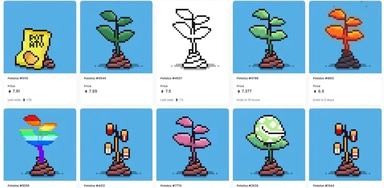 REFERENCES
[5]
chainwitcher - the potatoz
Mar 8, 2023