Unifi Protocol
Unifi Protocol is a group of non-custodial, interoperable, decentralized, and multi-chain smart contract providing the building blocks for DeFi (Decentralized Finance) development. The Unifi Protocol is designed to provide developers with functional DeFi building blocks linking multiple blockchains together into one large DeFi marketplace. uTrade is the working proof-of concept for harnessing multi-chain and multi-platform liquidity mining to power UNFI, Unifi's Global Governance Token.[1][2]
Overview
Unifi DAO is developed by Sesameseed, a multi-chain digital asset staking community which started as a grassroots social media campaign in April 2018.
The project provides a bridge to connect the economy of Ethereum-based DeFi products to the growing DeFi markets on other blockchains. uTrade, a decentralized Automated Market Maker (AMM) and token exchange, is the first product built on the Unifi Protocol DAO smart contracts.
Juliun Brabon is the CEO of Sesameseed and Unifi Protocol DAO (UNFI).
The UNFI token incorporates the development team's tokenomics and representative blockchain governance expertise, gained through operating nodes on multiple top blockchains. UNFI's highly rewarding Proof-of-stake Global Governance Model drives the formation of entire communities that are incentivized to advocate for UNFI to be successful.[3][4]
Features
Cross-chain DeFi: Unifi is a smart contract based building blocks that create and connect DeFi marketplaces by enabling simple and low-cost cross-chain trading. This includes bridging them all to the existing token rich multi-million dollar Ethereum DeFi economy.
UNFI Rewards: UNFI token holders can earn Staking Rewards, and may also earn more rewards from their chosen Community Council Representative.
Sustainable Unifi Utility: This creates unlimited liquidity mining and varieties of products and services that can be built on the Protocol.
Tokenomics: Unifi provides a tokenized rewards system which allows built in yield farming and removes the limitations created by providing native blockchain token rewards.
Experienced Team: The UNFI token incorporates the development team's tokenomics and representative blockchain governance expertise, gained through operating nodes on multiple top blockchains.[5]
Team
Juliun Brabon: CEO of Sesameseed and Unifi Protocol DAO (UNFI).
Kerk Wei Yang: Head of Smart Contract Development.
Daniel Blanco: Lead Developer.
UNFI Governance
Under the UNFI Proof of Stake ecosystem, candidates will campaign for election as a Community Council Representative (CR), who have the ability to propose or vote on changes to the Unifi DAO. UNFI token holders can earn Staking Rewards for staking their UNFI tokens, and may earn even more rewards from their chosen CR after delegating their staked UNFI.
UNFI tokens can be obtained by purchasing on the open market or by migrating UP tokens earned from providing liquidity to the Protocol. The UP to UNFI migration ratio is balanced by market forces which will ensure UP on all blockchains has access to UNFI.[6]
Token Allocation
Ticker: UNFI
Total Supply: 10,000,000
Over half of the total supply of UNFI tokens are allocated to the Liquidity Providers and Ecosystem Development (LPED) fund. The LPED incentivizes the use and growth of the platform which includes rewards for participation in the governance of the protocol.
| Percentage (%) | Category | Additional |
| --- | --- | --- |
| 51% | Liquidity Provider Pool andEcosystem Development(LPED). | Incentives for LiquidityProviders = Enhancements ofUP/UNFI Ecosystem. |
| 15% | Team | Core Team Retention |
| 12% | Private Sale | Investors Private Sale |
| 10.5% | Ecosystem Support | Strategic Partnerships |
| 6.5% | Seed Sale | Early Investors Incentives |
| 5% | Pool Mining | Public Token Allocation |
Roadmap
Completed in Q3 2020: Establish Developer Bounties , Unifi Protocol Launched on TRON, Private Round Investment , and Unifi Protocol White Paper.
Completed in Q4 2020: Introduce UNFI Global Governance Model, Unifi Protocol Launched on Ontology, Harmony, and Binance Smart Chain, UNFI Token Creation and Release and Binance Listing.
Coming in Q4 2020: Additional Exchange Listings of UNFI , Unifi Protocol on Ethereum, ICON Enhanced Liquidity Provider Incentives through UP Migration, Cross Chain Price Oracle Integration, UNFI Global Governance Model, and Evaluate Additional Blockchains for 2021 Protocol Launches.
Coming in 2021: Launch Unifi Protocol on Additional Blockchains, Expansion of Multi-Blockchain , Bridging Protocol for Developer, Additional Defi Platforms such as uLend, Existing Platform Expansion, and More Token Listings.[7]
Partners and Investors
Unifi's investors and strategic advisors include major blockchains, exchanges, and media outlets. Four major exchanges, Binance, MXC, Bibox, and HBTC, have all invested in the Unifi Protocol ensuring adequate token distribution and liquidity. Other investors include Chain Capital (Polkadot, EOS, Algorand, OmiseGO, ælf) Signum Capital (Kyber, Wax, Zilliqa, ælf, Tomochain) Consensus Labs (QuarkChain, Bitforex), Odaily (Odaily.com), Bitblock Capital, Vector Capital, Waterdrop Capital, Skylink Capital, BlockArk, CRC Capital, Cabin VC, and several others.
See something wrong?
Report to us.
Unifi Protocol
Did you find this article interesting?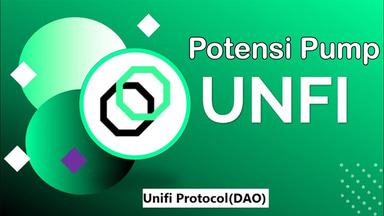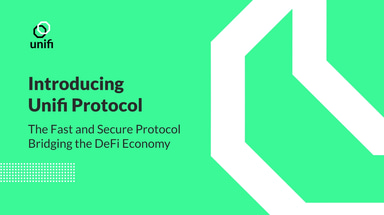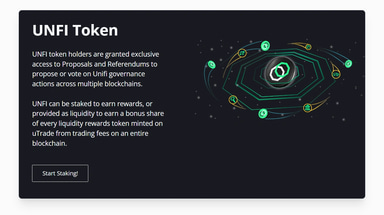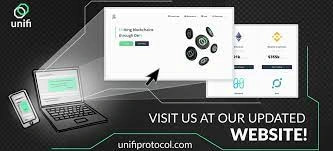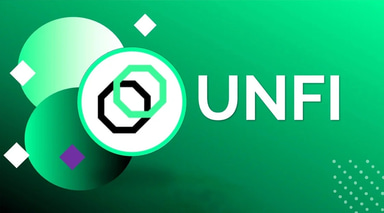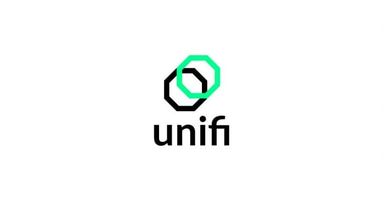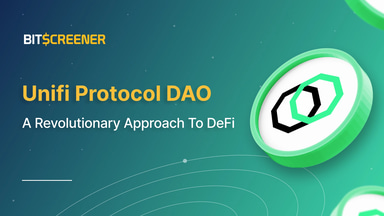 REFERENCES
[6]
cOINMARKETcAP
Aug 18, 2022