Warena
Warena is a "win-at-all-costs" metaverse that allows players to create characters that can interact with characters from different universes in combat games.[1] It is the world's first cross-metaverse Play-to-Earn Game, allowing you to live, play, and earn using your unique NFT character.[2]
Overview
WARENA is an inventive blend of the two most recent gaming developments: Play-to-Earn and Metaverse, inspired by Blockchain Technology and catching the worldwide NFT trend.[3]
Anyone in the WARENA ecosystem can enjoy engaging tactical games while also earning digital revenues in our enormous, super-realistic Metaverse. Warena is in TOP 10 ATH ROI since IDO of GameFi projects from Infinity Capital Portfolio.[4]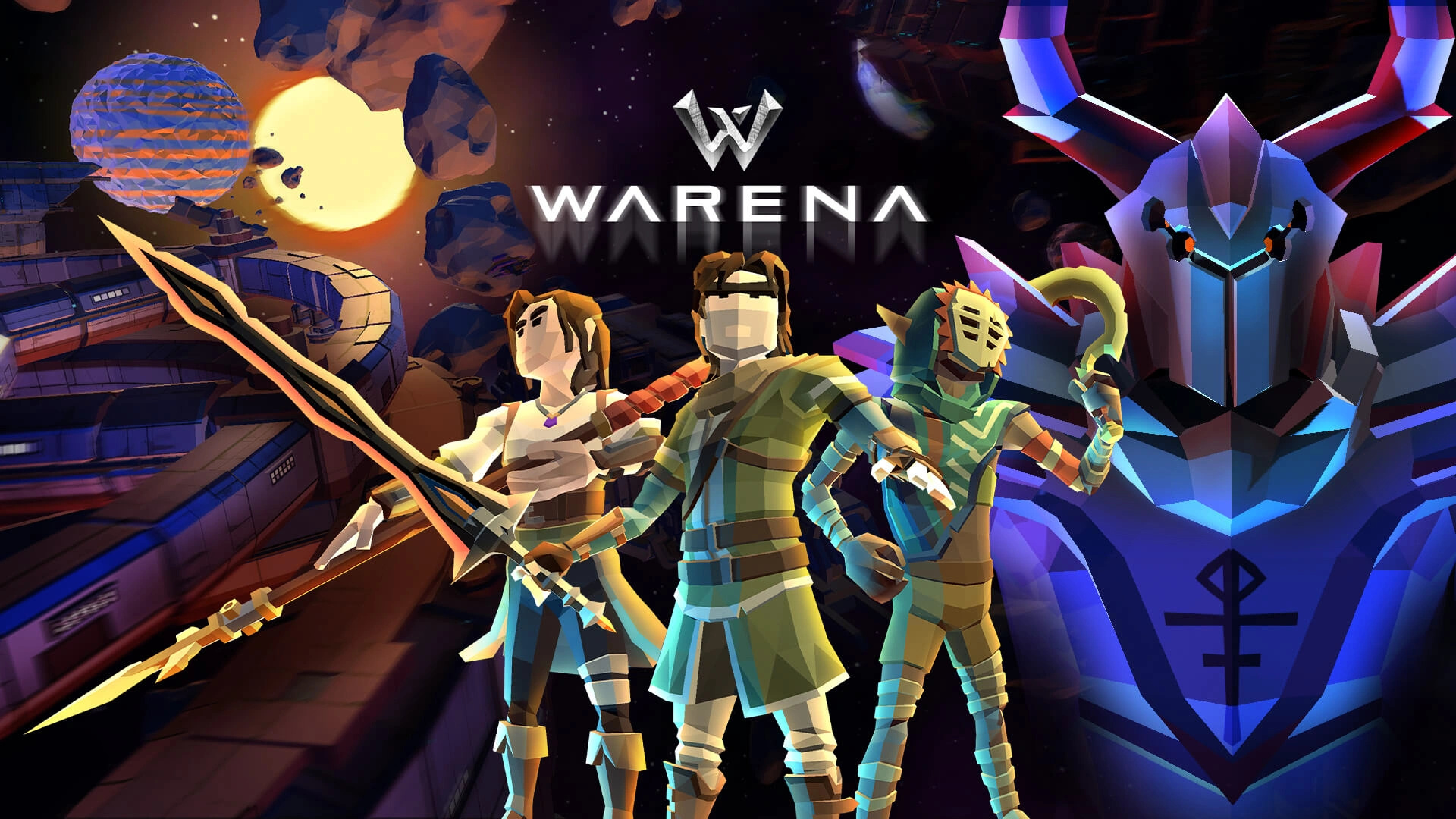 Warena is the first unique 
Non-Fungible Token (NFT)
 metaverse game and play-to-earn (Played to Win), has raised $1.5 million in its latest round of fundraising, with some of the industry's most known blockchain investors participating.
Players can also buy warriors from the Warena market or rent one from other players to start playing and earn cash and other rewards, contributing to the game's ecosystem.[5]
Through metadata, in-game assets and NFTs from other platforms may be instantly synced and integrated into the Warena environment. Warena represents a huge evolutionary leap in the NFT games category.
Warena uses AI-Personalization technology to allow users to design their own unique characters. Character avatars, warrior attributions, ammunition, armor, and talents are all fully customizable. This creates a very realistic environment for one's excursions.[6]
Within the WARENA Metaverse, players also can meet, interact, and battle with other characters from other 'Universes' such as Axie Infinity, My Defi Pet, Cat Gunner, and much more.[7]
Warena Features
Warena features a two-phase rollout. Phase 1 is a 2D tower defense game that pits Humans vs Zombies in a post-apocalyptic hellscape. Phase 2 with introduce a 3D game and incorporate a larger "METAVERSE"
Benefit of Warena
The Warena ecosystem is governed by RENA tokens (ERC-20), which players can use to claim wagering rewards and participate in important governance votes, giving them a voice in shaping the future of the Warena metaverse.
Players can earn RENA by playing certain games or creating user-generated content that is used within the metaverse. The WARENA ecosystem benefits from tokens acquired during games and these tokens can subsequently be exchanged into NFTs.[8]
Warena aspires to be a truly player-owned game with its own decentralized management. The Warena community oversees the group, which is known as the WR Community Council.[9] A Decentralized Autonomous Organization (DAO) that provides players with a democratic governance model based on a liquid democracy and "real-world" laws (DAO).[3]
Game Character Story
Warena comprises two connected games corresponding to one single plot:
Phase 1 - Survival (2D game)
Phase 2 - Metaverse (3D game)
In the year 2129, the game's story begins with the Survival Phase. During this time, robotics and virtual reality technology have advanced to the point where they have infiltrated every part of people's life. Artificial intelligence's constant advancement has also aided technical advancement.[10]
However, a lack of resources propels the world into World War 3, resulting in the widespread deployment of biological and nuclear weapons. As a result, the planet has been transformed into a post-apocalyptic hellscape, with the remaining inhabitants transformed into zombies, monsters, and cyborgs.
Survivors are housed in secluded bases and quarantine facilities for the next 100 years. They must gather resources and defend themselves against zombie and monster attacks in order to survive. Conflicts between human bases over resources do arise from time to time.[11] Humans are primarily protected by robots in this futuristic period. The energy contained in glass spheres (dubbed "Currency") becomes a commodity that is utilised by most machinery and equipment. Glass spheres can help robots and hero-warriors improve their main engines and optimize machine elements.[12]
The world has entered a phase of innovation, which is the commencement of the Metaverse Phase, as a result of all the current battles. Many hybridizations and crossbreeds succeed, resulting in the birth of new individuals and races, each with unique characteristics and abilities. Humans, robots, and aliens currently occupy much of the universe some hundred years after this epoch.
A Big Bang erupts unexpectedly, fragmenting the cosmos into different dimensions (the Metaverse). Following the fracture, all sentient entities begin to form alliances with various tribes, including fairies, youkai, demons, and humans, to mention a few. In this new era, dubbed the New Cosmic Era, trade, peace, and conflict all take on new meanings.
Phase 1: Survival
Warena aims to give players ownership over their in-game assets which will allow these assets to increase in value through active play. This is a key component of the play-to-earn business model. By participating in the in-game economy, players create value for themselves, other players and the developers.
Players are rewarded with in-game assets. These digital assets can be anything ranging from cryptocurrencies to in-game resources that are tokenized on the blockchain. This is how "Warena" arrived at our conclusion that the Play-to-Earn (P2E) business model works perfectly with an NFT-enabled gaming experience.[13]
Personalized Character: Players can create a personalized character based on their preferences including a digital avatar (made from the players' personal photo). Warrior characters can also be heavily personalized, such as modifying body parts and attributes. Summon your warriors by activating NFT Tickets.
How to play: In the Survival phase: food, supplies, and resources are all scarce. Attacks from mutants and zombies are frequent, as well as occasional conflicts between human groups.
Warriors Selection: To start playing the game, players can purchase their characters from either the Warena store or marketplaces, or can lease a warrior from another player at an agreed rate. Before each battle, the player must select a team of warriors to participate from their owned-warrior list. A warrior's power is continually upgraded, which can be done by completing tasks, winning PvP (player vs. player) battles, and adding in-game items to each character.
Warena Token
There are two main types of token available in Warena: "RENA" and "WARE" Token
RENA Token
RENA is an ERC-20 governance token for the WARENA Universe. RENA holders will be able to claim rewards if they stake their tokens, play the game, and participate in key governance votes.[14] Players are also able to earn RENA tokens when they play various games within the "Warena" Universe and through user-generated content initiatives.
The Play-to-Earn Business Model platform allows players to own in-game assets and increase asset value by actively participating in the game. In this way, players create value for themselves, other players, and the developers.[15] Anyone can absolutely make money through the purchase, sale, exchange, and upgrade of items, thus increasing the NFT value. RENA can be used to evolve, devolve, stake warriors or exchange to real currencies.[16] RENA is now officially trading on MEXC.[17]
WARE Token
The WARE token is the main in-game currency. It can be used for trading, exchanging, and improving one's warriors including their special qualities. WARENA's native digital cryptographically secure utility token (WARE token) is a transferable representation of attributed functions specified in WARENA's protocol/code and is intended to be used purely as an interoperable utility token on the platform.[18]
WARE tokens provide the economic incentives which will be distributed to encourage users to contribute and maintain the ecosystem on "Warena". WARE tokens are created as a reward for players when participating in in-game activities such as Battle Pass, Quest, random events, NFT Lease or dungeon rewards. WARE can be used to exchange to real currencies, summon or trade warriors.[19]
Token Rewards
Tokens are distributed to reward players for contributing to the game through game initiation events, for being outstanding players, or for players completing community missions.[20]
Warena Partnerships
Warena Partners With Illuvium
Warena, the first personalized NFT Metaverse game, has created an exciting new partnership with Illuvium. Through this new partnership, both projects begin to work towards a vision of cross-metaverse compatibility.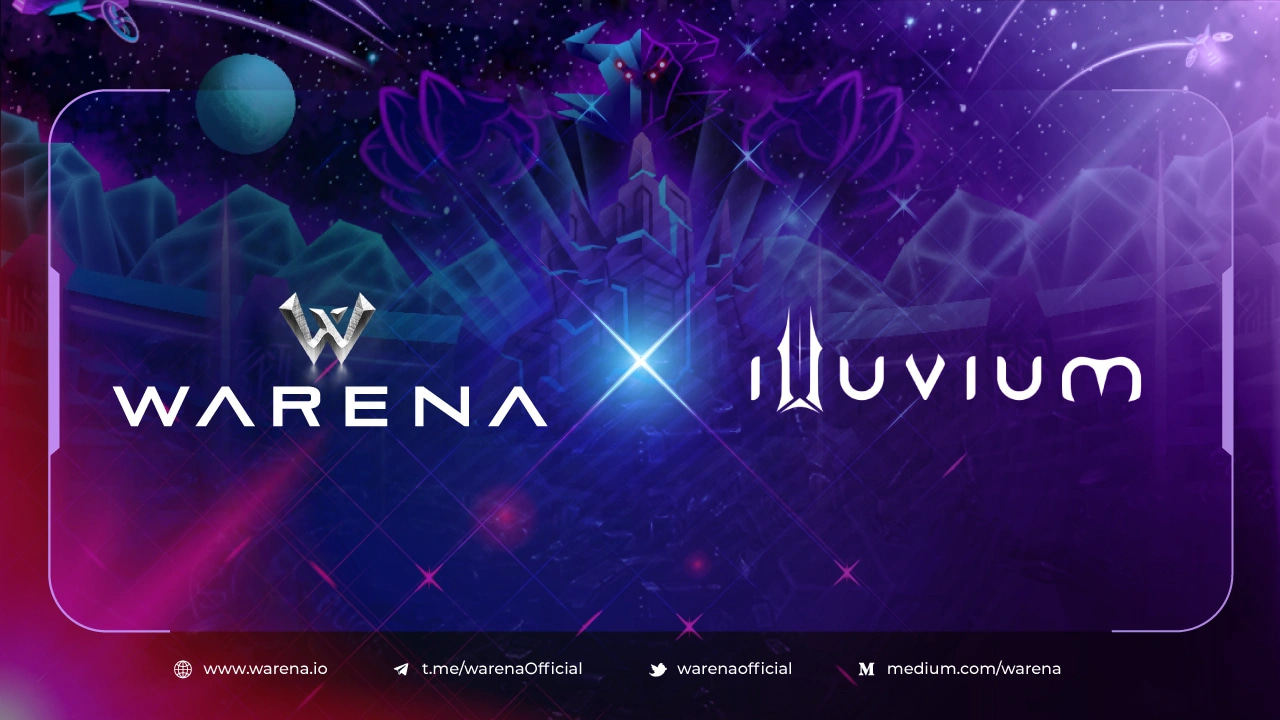 Built on the Immutable X L2 network, Illuvium is a fully decentralized RPG and collection game. Illuvium, like Warena, is building its own metaverse, and they share much of the same vision as Warena: a Defi game revolution, with a gradual transition to DAO-style government once the game is up and running.
The current ILV market cap is $287M and either Ethereum or their in-game currency token, sILV, can be used to purchase in-game items. The ILV price is now a whopping $507.85 and the total amount staked is $618,185,240
Warena is the first game incubated by GenesisBuilders Fund ( https://genesisbuilders.fund/ ), an investment fund that was created by builders for builders. Warena also has some notable backers in the crypto and blockchain industry, including Animoca, Dao Maker, Red Kite, Infinity Ventures, and Master Ventures.
The game features PvE (player vs environment), PvP (player vs player) and PvP Arena (player vs players) modes, making for an exciting combination of genres that can appeal to a broad audience of players across platforms and eras of gaming.
Roadmap
Q1, Q2-2021 (PREPARE AND PLANNING)
Verify ideals, start designing and building the Warena games
Connect with advisors and prepare for official plans
PHASE 1 - SURVIVALQ3-2021 (LAUNCH VERSION 0)
Introduce Marketplace & NFT Items
Introducing RENA and WARE Token
Release races: Human and Machine Warrior with role Fighter
Offer PvE & Async PvP
Launch on the web
Q4-2021 (LAUNCH VERSION 1 )
Add Tournaments
Improve Arena feature
Async PVP Arena at 10-20 users
Release 4 elements for warriors
Launch on Mobile
Q1-2022 (LAUNCH VERSION 2 )
Presale Land for Land Battle
Presale races: Demon, Dragon, Elf, Angel
Release 6 elements for warriors
Add new PVE gameplay
Create 3D characters
Q4-2022 (LAUNCH VERSION 3)
Release races: Dragon, Elf with full roles and elements
Add new gameplay to have players build and protect their land
Q3-2022 (LAUNCH VERSION 2 )
Release full 6 elements for humans
Release roles: Tanker, Fighter, Archer, Mage
Add Multi-Dungeons Feature
PHASE2 - METAVERSEQ2-2022 (LAUNCH VERSION 1 )
Release 4 elements for humans
Add new PVP Gameplay (synchronize)
Introducing Map on phase 3 with elements land
Q1-2023 (LAUNCH VERSION 4 )
Adding a feature allowing players to invade each other
View AR your warriors
Team
The WARENA gaming team is comprised of a talented group of industry veterans.
Binh Doan - Project Manager
Vu Hoang - Project Teach Lead
Sandy Tran - Marketing Manager
Jolie Tran - Marketing Specialist
Lam La - Game Product
Hiau Nguyen - Game Product
Khoa Nguyen - Back End Developer
Vuong Phan - Senior Full-Stack Developer
See something wrong?
Report to us.
Warena
Did you find this article interesting?