Illuvium
Illuvium is a decentralized, non-fungible token (NFT) collection and auto battler game built on the Ethereum network. Integrated with the Immutable-X L2 solution, players of Illuvium gain access to zero gas fees for minting or exchanging of assets as well as sub-second transaction times, all with user-maintained custody.[2][4]
Illuvium, originally supposed to launch in 2021, is now set to launch its open Beta in Q1 of 2024. Currently, Illuvium Arena, Illuvium Zero, and Illuvium Overworld are running their closed beta version, with Illuvium Beyond being available on IlluviDEX.
Set for November 28th, 2023, Illuvium Beta 3: PVP is debuting on Epic Games Store.[6][7][8]
Overview
Illuvium is an open-world narrative-driven exploration game. It combines elements of traditional RPG collection games with fight mechanics seen in the auto battler genre.
Illuvium offers players and investors an opportunity to collect, trade, battle, and earn rare and valuable assets. In addition, DeFi (decentralized finance) staking mechanisms allow for the fees earned within the game to be paid out to staked token holders as ongoing rewards for providing liquidity.[2]
Founding Illuvium DAO contributors, Kieran and Aaron Warwick are the younger brothers of Synthetix founder, Kain Warwick.[2]
Gameplay
In Illuvium, players embody a survivor from an interstellar fleet responding to a distress signal, finding themselves stranded on a planet in ruins. With perilous weather conditions and a vast crystal ocean covering much of the surface, only a small fraction of the planet is accessible.
Despite the devastation, players encounter powerful creatures called Illuvials. By capturing these beings using crystal Shards, players unlock Obelisks that act as gateways to new regions. The journey involves uncovering secrets about Illuvium and rebuilding the stranded spacecraft, the Leviathan.[9]
Illuvium: Overworld
Illuvium: Overworld operates as the exclusive mechanism for Illuvial collection, functioning as a third-person adventure game. It is structured into a series of regions that players have the freedom to explore at their discretion. When entering a region, players initiate exploration activities, searching for resources and participating in encounters to acquire Illuvials.[10]
Illuvium: Zero
Illuvium: Zero functions as an industrial building game, serving as the exclusive means for generating Fuel within the Illuvium ecosystem. The game is structured to enable players to construct their virtual industrial complex, aiming to foster efficient fuel and blueprint generation. This complex interfaces with other games as part of its design.[11]
Illuvium: Arena
Illuvium: Arena is a competitive auto battler, where participants construct potent and synergistic teams to counteract the strengths of their adversaries. Strategic unit positioning plays a pivotal role in enhancing the likelihood of success in battle within this gaming environment.[12]
Illuvium: Beyond
Illuvium: Beyond is a competitive collectible card game, where players personalize their Illuvial avatars and amass collections to accumulate points and ascend the leaderboard. Offering a vast array of billions of combinations for collection, each player's album is distinctively unique. Additionally, Illuvitars can be employed as profile pictures within other associated titles.[13]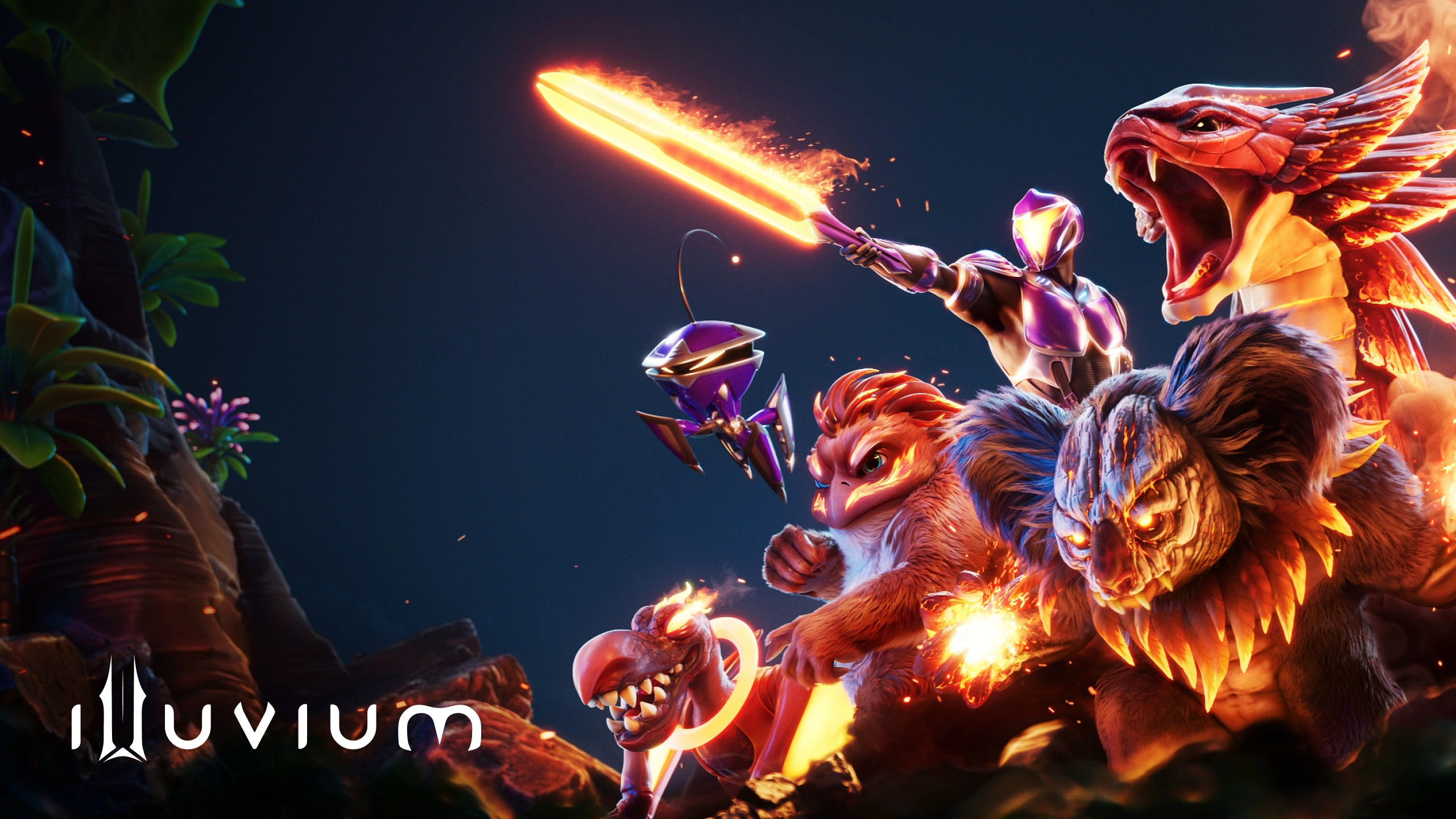 Game Economy
The Illuvium game economy functions to balance supply and demand, utilizing fuel as the primary currency for in-game transactions. Landowners generate fuel, either upgrading their plots or selling it through the Fuel Pool to monetize their participation.
Two key categories, supply games (e.g., Illuvium Zero, Illuvium Overworld) and demand games (e.g., Illuvium Arena, Illuvium Beyond), contribute to fuel generation and consumption. Supply games involve resource gathering and crafting, creating assets tradable within the ecosystem. Demand games rely on fuel and items from supply games, driving marketplace demand.
The game economy aims to maintain resource value by dynamically adjusting to supply and demand fluctuations. The DAO may sell land plots or introduce features to stabilize the market, responding to changes in fuel generation and consumption. There are no plans for additional supply games, with a focus on introducing more demand games to stimulate the game economy.[14]
Illuvials NFT
The Illuvials NFT is the fundamental Illuvium game asset. The true nature of Illuvials is not fully understood, but what is known is they are deity-like creatures that roam a broken planet. Over time they grow and evolve, taking on new, more powerful forms. Each Illuvial has an affinity for certain elements in the world around them, making them more powerful in some situations than others. As such a player is rewarded when they add Illuvials that leverage the strengths of their existing team.[2]
Some Illuvials are more common than others. The power of Illuvials also varies and is loosely related to their rarity. If a player manages to defeat them in battle, they can collect them in Shards stored on the blockchain. If a player does not have much time to play, but still wants a powerful deck, then they head to the Exchange where they can purchase Illuvials from other players. Rare Shiny, Gold, and Holographic captures are far less common and far more valuable.[2]
The most important attributes of an Illuvial are its Affinity and Class. There are 5 base Affinities and 5 base Classes in the game. Stronger Illuvials may embody multiple affinities or classes, giving rise to a much greater variety of team compositions. The player is rewarded for selecting Illuvials of the same Affinity or Class through unique bonuses. The more on the battlefield with that synergy, the stronger the bonus.
Affinity
There are 5 basic affinities in the game: Water, Earth, Fire, Nature, and Air. The damage that each Illuvial deals or takes depends on the affinity of both them and their enemy. A Fire Illuvial will deal additional damage to a Nature Illuvial but will take more damage from a Water Illuvial.[3]
Class
There are 5 basic classes in the game: Fighter, Guardian, Rogue, Psion, and Empath which roughly match up to traditional RPG classes.[3]
Fusion
Illuvials do not evolve, as they do in more traditional RPG games. Instead, they fuse together to form more powerful stages of development. In order to fuse, two requirements must be met. Firstly, the player must have three of the same Illuvial. Secondly, each of those must have reached their maximum level, which is achieved through combat. Players also have the option of Bonding with one of their Illuvials to gain additional bonuses in combat.[3]
In-Game Purchases
ETH is used for all in-game purchases and the fees are sent directly to the Illuvium Vault.
Shard Curing
Imbues (Modification to various elements of the game such as weapons or Drones)
Wagering Battles
Illuvium Revival (medical fees)
Obelisk Travel
Enhancements (Powerful stat boosts to the Illuvials)
IlluviDEX
The IlluviDex serves as a centralized database and trading platform, facilitating Rangers in exchanging Illuvials and collected items from their journeys.[15]
Sales
The IlluviDex functions as a platform for sales, encompassing items such as Illuvium land plots and Illuvium Beyond Waves. This centralized system allows players to log in easily and participate in ongoing sales, aiming to ensure they stay informed about opportunities to expand their collections.[16]
Trading
Serving as the primary trading hub within the Illuvium universe, the IlluviDex provides users with a streamlined trading experience. Participants have the option to set prices for their assets, enabling other users to bid on them, or to make offers on items they wish to acquire. The platform incorporates advanced search features, allowing users to search based on various metadata criteria and facilitating precise item location.[17]
Echoes
Beyond its role as a trading platform, the IlluviDex functions as a comprehensive repository of data for all in-game assets, encompassing echoes. Echoes represent achievements earned by specific Illuvials, detailing aspects like the number of takedowns, instances of fainting, and the quantity of damage dealt. This data stored on the IlluviDex enables players to monitor their progress and engage in comparisons of achievements with other participants.[18]
Repository
The IlluviDex acts as an informational hub for players interested in the biology and behavior of each Illuvial. It provides detailed insights into the characteristics of different regions, offering players a deeper understanding of the Illuvium world. The repository within the IlluviDex serves as a tool for those seeking to explore the game's lore and mechanics. Additionally, discovering a particular Illuvial first results in the player's name being permanently associated with that find.[19]
Tokenomics
The $ILV token in the Illuvium ecosystem has a dual role. Functioning as a governance token, it enables holders to engage in decentralized governance, allowing them to have an impact on the project's trajectory. Moreover, $ILV serves as a tradable token, providing holders the ability to buy, hold, or exchange it, delivering inherent value and utility.[24]
Allocation
The funding for Illuvium's core contributors and the project's development was facilitated through the Pre-Seed Sale and Seed Sale. In the Pre-Seed Sale, early investors acquired 500,000 ILV at $1 USD each, while the Seed Sale involved the distribution of 1,500,000 ILV at a price of $3 USD.
The tokenomics allocation is distributed as follows:[26]
Public Investors: 10.00%
Pre-seed investors: 5.00%
Seed investors: 15.00%
Team: 15.00%
Treasury: 15.00%
Yield Farming: 30.00%
In-game rewards: 10.00%[25]
DAO Governance
The DAO governance model revolves around the Illuvinati Main Council (IMC), acting as the steering committee for Illuvium. The IMC consists of elected representatives from $ILV token holders, highlighting an intended commitment to a community-driven approach. The council facilitates the use of collective knowledge, insights, and ideas from token holders, aiming to create a diverse and dynamic development environment.[20]
Partnerships
Illuvium x Bulldogs Official Jerseys
The Canterbury-Bankstown Bulldogs have extended their partnership with Illuvium, a blockchain gaming studio, through 2023. The collaboration, initiated in 2022, involved notable initiatives such as the limited edition Illuvium jersey worn by players in Round 25 of the 2022 NRL Telstra Premiership. The successful partnership expanded the Bulldogs' global fanbase, with Illuvium's logo featured on retail items and a digital package connecting the Bulldogs community to the Illuvium online ecosystem. Plans for a similar offering in 2023, including a custom-designed NFT and Bulldogs jersey, are in place.[21][22]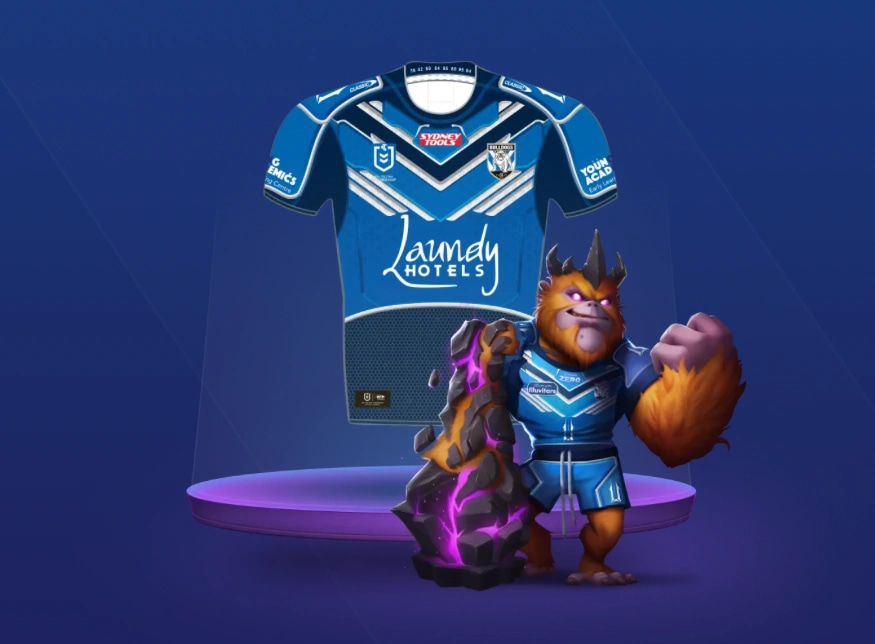 Illuvium x EthLizards Partnership
The collaboration between Illuvium and Ethlizards introduces 'Battle in the Beyond,' aiming to enhance gameplay and community engagement. This Illuvitar D1SK opening game allows players to interact and compete within the intersecting universes of Illuvium and Ethlizards, emphasizing social interactions and competition. Aligned with a shared vision for the future of Web3 gaming, this collaboration pushes the boundaries of immersive experiences. While details remain undisclosed, the partnership promises a series of unique gaming experiences and community events, marking a significant development in decentralized gaming.[23]
See something wrong?
Report to us.
Illuvium
Did you find this article interesting?