Immutable X
Immutable X is a layer-2 scaling solution built on the Ethereum blockchain, designed to enhance the performance of non-fungible tokens (NFTs) by offering instant confirmations and low gas fees. [14][15] Immutable X was founded by James Ferguson and Robbie Ferguson in June 2018 and is powered by the IMX token. [1]
Company
Immutable (formerly Fuel Games) is an Australian game team that runs the NFT trading card game Gods Unchained, and it is powering the Immutable X platform. [19]
"Gods Unchained is a "play to earn" game, where players can earn collectibles over time. And they can make money by trading those collectibles, including the unique NFTs which can be proven by the Blockchain, the secure digital ledger technology, to not be copied." -Immutable founder Robbie Ferguson in an interview with GamesBeat
In 2020, Immutable found the solution on the Crypto frontier with StarkWare, which tapped the benefit of using the Ethereum cryptocurrency and its security without incurring high fees. Immutable X is built on top of Starkware's "Layer 2 scaling" technology. [4]
"At the end of the day, this security is the whole point," Ferguson said. "Otherwise, you might as well just make a new centralized database.
Funding
Immutable raised $15 million in a Series A round led by Naspers Ventures, part of Naspers, a global internet group and one of the largest technology investors in the world, and Galaxy Digital EOS VC Fund, a $325 million ecosystem development fund run by blockchain-focused merchant bank Galaxy Digital. [20]
Overview
Immutable X is a layer 2 protocol built on Ethereum to facilitate scaling solutions for non-fungible tokens (NFTs). The protocol boasts many advantages for both users of the NFT marketplace (Immutable X Exchange), plus artists selling their NFTs. [5]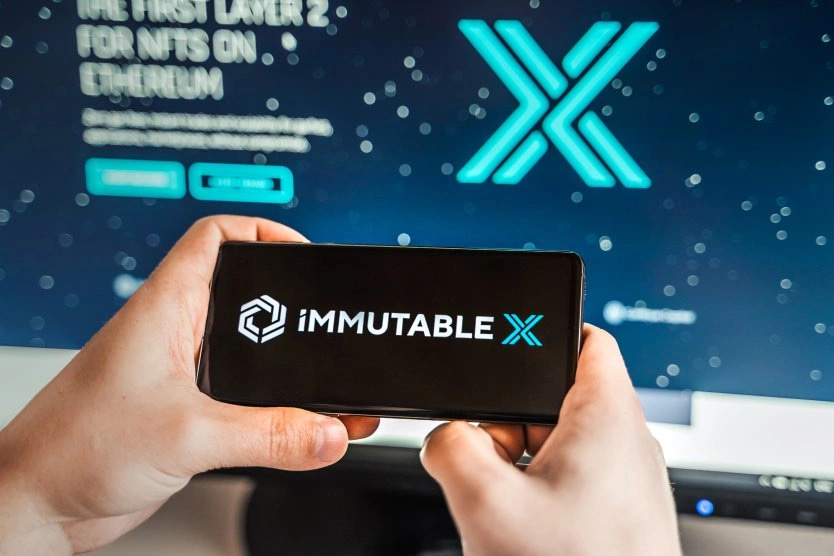 Immutable X is an open-source protocol that allows anyone to develop their own decentralized marketplace, blockchain-based games, and various other decentralized applications facilitating instant trades with zero gas fees.
[1]
The protocol addresses some of the major issues confronting the Ethereum NFT ecosystem, including scalability, user experience, transaction fees, and environmental impact. The platform offers fast trade confirmation, high scalability (able to process over 9,000 transactions per second), and eliminates gas fees, all while maintaining user control over their assets. To minimize its carbon footprint, Immutable X is committed to purchasing carbon credits that offset the gas emissions associated with NFT transactions on the Ethereum network. [1]
"With today's Immutable X Alpha release, any NFT can now be traded, earned, shared, gamed and collected completely gas-free on Ethereum," said Robbie Ferguson, Immutable Co-Founder.
The team has also been able to work closely with the StarkWare team. StarkEx powered Immutable X minting on Ethereum Mainnet.[6][7]
Functionality
Immutable X provides users with a choice between two distinct layer-2 solutions for their transactions: ZK Rollups and Validium. Immutable X refers to this selection process as "Volition." [8]

ZK Rollups
ZK-Rollups is a layer 2 option that bundles hundreds of transactions into one single transaction. This single transaction can then be deconstructed by smart contracts to verify each transaction individually. Using a "zero-knowledge proof" method for publicly recording transactions on the Ethereum blockchain, ZK-Rollups reduces the amount of storage and computational power required to validate blocks, as zero knowledge of the complete transaction data is required for a transaction to be verified. Moreover, ZK-Rollups allow for limitless scalability and instant transaction confirmations without compromising the security of assets. [21]
The Immutable X engine facilitates 600x more transactions per second (TPS) than other Ethereum-based NFT marketplaces. Also, transactions on Immutable X are instant. This means no interruptions to gameplay or interference with the user experience. Users of Immutable X maintain custody of their assets and can place buy orders for NFTs based on specific criteria and functionality.[9]
Validium
Validium is a layer-2 solution that shares similarities with ZK Rollups but differs in that the proof of transactions is not submitted back to the Ethereum layer 1. While this further enhances transaction speeds, it does require a trusted group to hold authority. [22]
Volition
| Validity Proofs | Fault Proofs |
| --- | --- |
| ZK-Rollup | Optimistic Rollups |
| Validium | Plasma |
Partnerships
Notable NFT projects working with Immutable X include:
Gods Unchained (trading card game)
OpenSea (NFT marketplace)
Mintable (NFT marketplace)
RTFKT Studios (fashion NFT artists)
HighRise (social sandbox)
TokenTrove (collectibles marketplace)
SuperfarmDAO (DeFi NFT farm)
Epics.GG (collectibles)
Illuvium (auto battler RPG)
Lucid Sight (MLB Champions Baseball, Crypto Space Commander)
War Riders (post-apocalyptic MMO)
Guild of Guardians (mobile RPG)
doublejump.Tokyo Inc / MCH+ (My Crypto Heroes and other blockchain games)
Crypto Assault (strategy MMO)[10]
Immutable X Exchange
Immutable X Exchange aims to be a peer-to-peer non-fungible token (NFT) exchange offering zero gas fees. Although being an NFT marketplace, the project refers to this protocol as its 'Exchange'. Moreover, with throughput exceeding 9,000 transactions per second (TPS), transactions are finalized near instantly. Immutable X Exchange means gamers can purchase valuable in-game items swiftly, paying no fees, creating new opportunities for decentralized gaming. [23]
For traders or artists, users can set their own trading fees. This falls in line with Immutable X's decentralized ethos and approach. The exchange doesn't use a centralized sidechain and can facilitate exchange trades as non-custodial transactions. This means users have ownership of the private keys of their non-fungible tokens (NFTs). [23]
Immutable X Exchange offers the security of the Ethereum mainnet with added scalability features. Moreover, the Exchange protocol supports both the ERC-721 and the ERC-1155 Ethereum NFT token standards. This means that items can be sold through Immutable X as one unit (ERC-721, e.g. a sword) or as multiple units together (ERC-1155, e.g. a suit of armor featuring a helmet, body plate, and defense weapon). [23]
IMX Token
IMX is an ERC-20 utility token designed to reward pro-network behaviors such as trading, liquidity provision, and application development on Immutable X. The token matches incentives between traders, creators, and marketplaces, ensuring that protocol activity benefits all players. Digital Worlds Ltd. NFTS (the "Foundation") has teamed with Immutable to distribute IMX for usage on the Immutable X protocol. [24]
Token Utility
IMX is currently used for three main purposes: [24]
Fees: 20% of Immutable's protocol fee must be paid in IMX tokens. This fee can either be paid directly in IMX, or Immutable will automatically swap the actual purchase currency (e.g. ETH) for IMX on the open market. This means users do not need to explicitly hold IMX tokens to be able to transact on the protocol. Note that there is no entitlement, allocation or rights to revenue of the Immutable X protocol purely on the basis of ownership of IMX tokens
Staking: IMX tokens received as part of the fee capture mechanism described in 6.1 will be sent to the "staking rewards pool". At regular monthly intervals, this pool will be distributed proportionally between all users who are actively staking their IMX tokens on Immutable X. A user's rewards will be proportional to the amount of IMX they have staked during the month, relative to all other active stakers.
Decentralized Governance: Token holders can be able to vote on token-related proposals via decentralized governance. Proposals can include topics such as how to allocate token reserves, voting on developer grants, activating daily rewards and changes in token supply
Immutable X Minting NFTs
Minting on Immutable X allows users  to generate and distribute their tokenized artwork on a large scale, without the need to pay gas fees. As a result, artists can leverage Immutable X to mint both single and bulk items without incurring any gas costs. The platform supports both ERC-721 and ERC-115 token standards.[11][12]
Immutable X provides a straightforward and user-friendly solution for individuals to create and sell their NFT artwork. The minted digital assets on Immutable X can be instantly traded on the open market. [11][12]
Immutable X Roadmap
Deus phase 1
At Deus phase 1, Gods Unchained players have exclusive access to Immutable X with the marketplace open and trading live.
Gods Unchained users can get in on the ground floor ensuring their Gods Unchained assets are among the first to be minted on Immutable X through the new expansion set card Trail of the Gods. At the time of publishing, 1.45m Trial of the Gods assets had been minted on Immutable X.
Features live today for Gods Unchained users are: linking wallets, minting and trading Trial of the Gods cards.
Cosmos phase 2
At Cosmos phase 2 Immutable X will be made available for all other exchanges and dapps closely after. Ferguson confirmed "integration with TokenTrove has begun and we're integrating other partners as we speak.
Confirmed feature examples slated at phase 2 include: APIs test environment through to full integration, NFT deposits + withdrawals, Trader sorts + filters and Set trading fees
Metaverse phase 3
At Metaverse phase 3, Immutable X will be launching significant exchange success, expansion, optimization and scalability features.
Confirmed feature examples slated at Metverse phase 3 include: Liquidity incentives: fiat support, drops, unique rewards, Frictionless onboarding, Wallet management, Mobile.
Multiverse phase 4
At Multiverse phase 4, Immutable X will be launching mind-bending developer and trader UX improvements.
Confirmed feature examples slated at Multiverse phase 4 include: Developer UX: proving platforms, primitives, services. Trader UX: metadata orders, AMMs for NFTs
Utopia phase 5
At Utopia phase 5 is when crazy-new verticals will be added and where Immutable X has made strides towards a utopia, where the world is more tradable.[13]
Partnership with Polygon
In March 2023, Immutable announced a partnership with Polygon with the introduction of Immutable zkEVM. Immutable zkEVM is a type of zk-rollup that is EVM-compatible and utilizes the technology of Polygon. It has full support from the Immutable platform and is designed to make it easier, faster, and less risky for game developers of all sizes to create web3-enabled games. [16][17]
Immutable Passport
In January 2023, Immutable announced Immutable Passport, an all-in-one solution aimed at simplifying and securing the onboarding process for users. It offers features such as passwordless sign-on and automated wallet creation, and requires no prior knowledge of Web3 technology to use. Designed for both game studios and gamers, Immutable Passport provides users with a secure non-custodial digital wallet, fraud protection, and seamless authentication across Web3 games and marketplaces. [18]
Team
| Name | Position | |
| --- | --- | --- |
| Robbie Ferguson | Immutable Co-Founder. | |
| Loxley Davies | M&A Lead at Immutable | |
| Annie Sindel | Talent Acquisition at Immutable | |
| Prabina Lord-Doyle | Global Talent Acquisition Manager at Immutable | |
| Derek Proud 3rd degree connection | Producer at Immutable, bringing cryptocurrency to games. | |
See something wrong?
Report to us.
Immutable X
Did you find this article interesting?