IMX token
IMX is an ERC-20 utility token developed for use with the Immutable X protocol. Its main objective is to facilitate the growth of Immutable X by promoting protocol adoption and boosting trading activity. Additionally, it provides rewards to users and developers who contribute to the development of a stable NFT ecosystem within Ethereum. [1]
Overview
IMX functions as a utility token that enables its holders to earn rewards by staking it in reward pools. In addition, they can actively participate in the governance of Immutable X by submitting proposals and voting on community initiatives. The level of their voting influence is directly proportional to the amount of IMX tokens they possess. [3]
Staking
Staking offers IMX coin holders can participate in ImmutableX's ecosystem, with rewards generated from 20% of the protocol fee. After each 14-day staking cycle, rewards are distributed proportionally to users staking IMX relative to the total reward pool. Eligible users who vote on a governance proposal and either hold an NFT on ImmutableX or have completed a trade in the last 30 days can qualify for staking rewards. At the end of each cycle, they may choose to re-stake their coins to compound their rewards. Meanwhile, those who retain their IMX tokens on the Immutable X platform are automatically considered part of the staking program, earning rewards based on their minimum token holdings during the staking period. [4][5]
Governance
IMX token holders can participate in token-related proposals, such as the allocation of token reserves, developer grants, activation of daily rewards, and changes in token supply. The Ethereum mainnet hosts all protocol governance, with wallet balances sourced across both the mainnet and Immutable X protocol. As with many decentralized governance structures, individual voting power is determined by the number of coins a user holds, with more coins increasing a user's voting impact. By granting the community a voice in the token's future, ImmutableX aims to enhance its utility and further decentralize IMX. [5]
Tokenomics
Allocation
51.74% of the tokens were initially allocated to Ecosystem Development, followed by 25.00% for Project Development, 5.00% for Public Sale, 13.96% for Private Sale, 0.30% for Additional Community Growth, and 4.00% for Foundation Reserve. [2]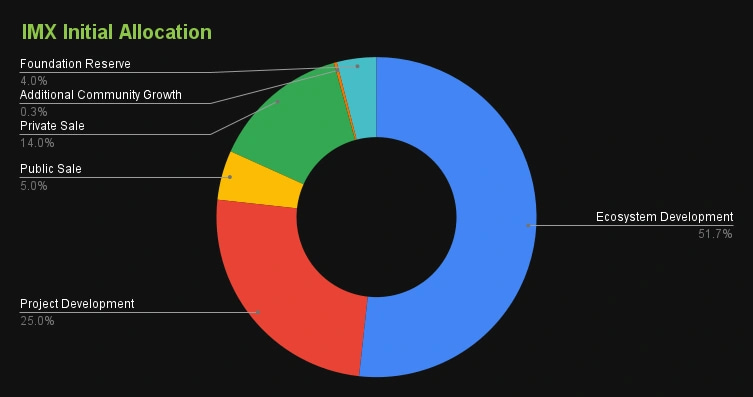 Supply Schedule
The allocation for ecosystem development comprises two main components, namely Daily Rewards and Developer Grants. Due to their varying unlock capacities, unlock dates, and release schedules, they have been excluded from the release schedule despite the maximum supply being 2,000,000,000 tokens. Daily Rewards involve the distribution of the IMX rewards pool to users on a daily basis, based on their proportional share. Notably, 66.67% of the rewards pool is subject to linear locking for six months, incentivizing users to prioritize long-term growth. Developer Grants, on the other hand, are granted to individuals or entities with a keen interest in developing on the IMX platform. These grants are disbursed through two channels - directly from the Foundation and via decentralized governance mechanisms. [2]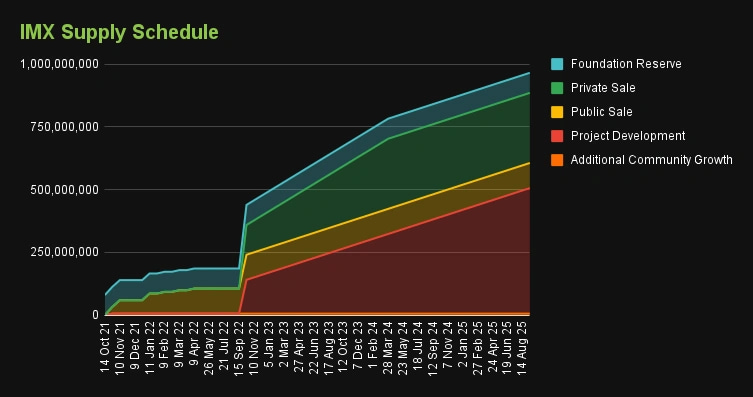 See something wrong?
Report to us.
IMX token
Did you find this article interesting?