WazirX
WazirX (founded in March 2018) is a P2P Cryptocurrency exchange that will enable users to buy, sell and trade digital asset and cryptocurrencies like Bitcoin, Ethereum, Litecoin, and Ripple (payment protocol).
WazirX is one of the fastest growing cryptocurrency exchanges of India with more than 60 lakh registered users.
Overview
WazirX is the first exchange that came with p-to-p bank transfer of funds after RBI's ban in India. It is already a market leader in the Indian cryptocurrency ecosystem. 
WazirX's acquisition by Binance is another step towards making cryptocurrency accessible to everyone in the world.[2]
WazirX runs a referral program, which can make the users earn rewards up to 50% commission on every trade. 
Features
User-Friendly Trading Platform: WazirX is a user and beginner friendly cryptocurrency exchange platform with high trading volume. The exchange has very smooth navigation features and is enabled with multilingual support. It seamlessly functions on all the app devices as well.
Advanced Trading tools: WazirX offers advanced trading charts, powerful graphs and various tools for spot trading to their users. It has also launched first-of-kind peer-to-peer transactions (P2P) which is the first ever automated machine that auto matches the buyer and seller instantly. Then, WazirX transfers the escrowed USDT to the buyer's secure wallet and thus the whole transaction takes place.
Transaction Speed: WazirX boasts of a strong and robust blockchain infrastructure, which is scalable and able to handle millions of transactions in just a frame of time.
Security Features: The exchange follows a two-factor authentication (2FA), which further provides an extra layer of security to your account. It also has a multi-signature wallet system with strict KYC/AML guidelines. WazirX also stores 95% of the funds in cold storage.
WazirX token
WazirX's native token, WRX, is the utility token forming the backbone of the WazirX ecosystem. WRX token is based on the Binance blockchain. Its total supply is 1 Billion . [1]
WazirX P2P
WazirX P2P is the next generation P2P system, P2P 2.0, that has simplified the process of depositing and withdrawing fiat tremendously. Users find it easy to use because the P2P interface and experience are similar to regular trading. Moreover, the P2P system has been designed in a way that matching and order-completion happen in record time. It's hassle-free with zero learning curve, and available 24x7. 
Since its inception, WazirX P2P has been a game-changer in the Indian cryptocurrency ecosystem. In 2018, when traditional P2P options launched in India, WazirX P2P emerged as the top choice for users. Multiple P2P trade matches happen every minute, and 90% of P2P trades complete within 10 minutes. P2P is growing at a rate of over 9.5% every month.
Smart Token Fund (STF)
WazirX mission is to involve everyone in the blockchain revolution. and keep innovating and building features to involve more people, and drive adoption. STF aims to involve enthusiasts who don't have time to trade, don't know which token to trade or how to trade. It's a simplified community-driven initiative where cryptocurrency enthusiasts can find expert traders, and let them grow their cryptocurrency portfolio on WazirX.
Exchanges
Users can trade in more than 200 crypto coins and more than 250 cryptocurrency pairs. Some popular available coins include:
Bitcoin (BTC)
Ethereum (ETH)
Litecoin (LTC)
Cardano (ADA)
Solana (SOL)
USD Coin (USDC)
Polkadot (DOT)
Dogecoin (DOGE)
Polygon (MATIC)
Uniswap (UNI)
Controversies
In June 2021, the Enforcement Directorate (ED) issued a show-cause notice to the exchange for violating FEMA Act, 1999 for transactions involving cryptocurrencies of INR 2,790.74 crore.
There are allegations that the huge sum of money got diverted by the Chinese-backed fintech companies to purchase crypto assets and then laundered them abroad to unknown foreign wallets.
On August 5,2022, ED conducted searches on one of the directors of Zanami Lab that owns WazirX and froze his accounts by blocking money amounting to INR 64.6 crore.
On August 6, 2022, with this whole spat brawling up, Binance CEO Changpeng Zhao, tweeted that Binance does not own Wazir X and hold any equity in Zanami Lab. It only provides wallet services to WazirX.
See something wrong?
Report to us.
WazirX
Did you find this article interesting?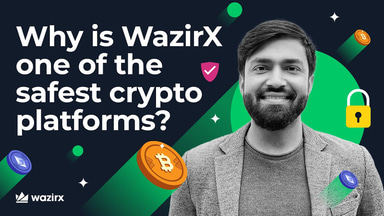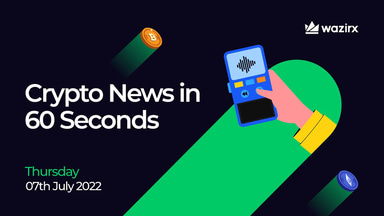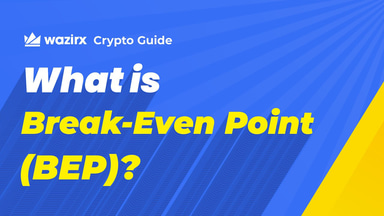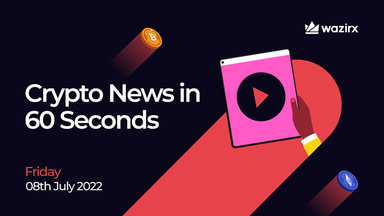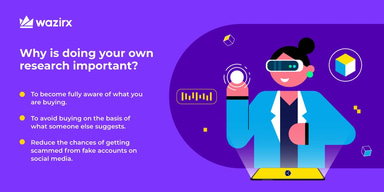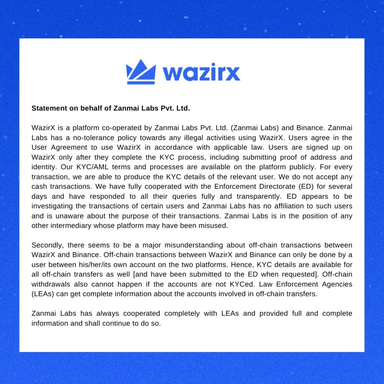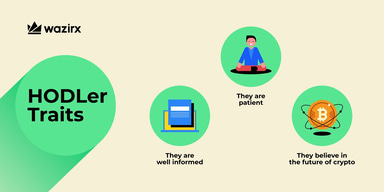 REFERENCES
[1]
coinmarket cap
Aug 22, 2022