Changpeng Zhao
Changpeng Zhao, popularly known as CZ, is a Chinese-Canadian serial entrepreneur. He is well known as the founder and CEO of Binance, the world's largest cryptocurrency exchange.[24]
As an expert in blockchain and trading systems, he has developed Binance into the top blockchain ecosystem, including the Binance Exchange, Binance Labs, Binance Launchpad, Binance Academy, Binance Charity, Binance NFT, and more. CZ discovered bitcoin in 2013 while playing poker with his friends.[23]

Early Life & Education
CZ was born on September 10, 1977, in Jiangsu province, China to his Chinese parents, who were both teachers in China. His father was a professor in China before he was branded "pro-bourgeoisie intellect" and exiled from his country. When he was 12 years old, CZ moved with his family to Vancouver, Canada where they settled.[24]
During his teenage years, Zhao helped support his family by working several service industry jobs, including at a Chevron gas station, at McDonald's, and as a referee at volleyball games.[5]
While in Canada, CZ attended McGill University in Montreal, Canada where he earned a computer science degree.[6]
Career
After college, CZ began working for the Tokyo Stock Exchange, developing software for matching trade orders. He also worked at Bloomberg Tradebook, a developer of futures trading software. In 2005, CZ quit his role as head of the Bloomberg Tradebook Futures Research & Development team and moved to Shanghai to start Fusion Systems, known for building "some of the fastest high-frequency trading systems for brokers."[7][9]
CZ learned about Bitcoin in early 2013 while playing poker with his friends. Bitcoin then was new and CZ had no idea about it but found it to be interesting so he decided to learn more. He read the whole Bitcoin whitepaper to get more understanding of the new technology. [27]
He fully got invested into the cryptocurrency industry in December 2013. While attending a conference in Las Vegas, he had the opportunity to meet Vitalik Buterin, one of the co-founders of Ethereum. During this encounter, CZ also met someone who was quite influential in his journey into the world of crypto. This individual demonstrated Ripple to CZ and even transferred $500 worth of Ripple's token, XRP, to him, encouraging him to use it to teach others about the technology. [57]
This encounter had a profound impact on CZ, and he eventually quit his job and sold his house to fully immerse himself in the world of crypto. He faced criticism from his friends and family who said he was foolish for making such a decision. Two months later, Bitcoin crashed by 70% and CZ lost over 700,000 thousand dollars.[27][57]
"In December 2013, I went to a conference in Las Vegas and bumped into Vitalik Buterin, one of the founders of Ethereum. … There was one other guy that was quite influential. I was learning Ripple. He came over with a laptop to show me how it works, and in the process, he transferred [$500 of Ripple's token] XRP to me and said, 'You can use that to teach the next guy.' "So I was like: 'Well, this is a pretty generous group of people. They're really not after the money. They're really just wanting to teach.' Shortly after that, I quit my job, sold my house."
Later, Zhao also worked on various cryptocurrency projects including Blockchain.com, and served as chief technology officer of OKCoin, attempting to spread his vision of integrating blockchain technology and cryptocurrencies into businesses and everyday life. [8][58]
"If you pick one business, and integrate [it] with crypto, I fully believe cryptocurrencies will give a much stronger financial funding power."
Binance
In 2017, CZ left OKCoin to start a cryptocurrency exchange called Binance. Its name was a combination of two words: "binary," as in the ones and zeros of computer code, and "finance." He launched the exchange on July 14, 2017, following a $15 million funding raised during an initial coin offering.[10][11] By 2018, Binance had already become the largest cryptocurrency exchange in the world, with a market cap exceeding $1.3 billion.[28]
In August 2018, Binance made their first public acquisition, buying Trust Wallet, a secure Ethereum wallet app, to enhance its services and improve user safety. The acquisition added an on-chain mobile wallet to Binance's offerings while giving the Trust Wallet team the freedom to continue developing their product. Binance aimed to offer better security, services, and support to users with this acquisition, and also expected to pave the way for future integrations with other services. [39][40]
"The value of their brand, along with the exposure Binance can deliver will offer much more beyond the monetary value of the deal"

In January 2019, Binance partnered with Simplex to offer crypto purchases with a debit or credit card. In September, the company began offering perpetual futures contracts allowing for 125x leveraging on the contracts. Additionally, Binance.us was launched in nearly all of the United States.[28]
In March 2020, Binance acquired the leading cryptocurrency data tracking platform CoinMarketCap for a sum of $400 million. CZ aimed to further develop CoinMarketCap and increase Binance's exposure to CoinMarketCap's large following. [41][42]
"CoinMarketCap has more users than any other product in the crypto space,"
"Even though their money generation mechanism is not as strong as Binance, they do have the users," "It's a very valuable platform."
In September 2020, Binance launched their Binance Smart Chain (BSC), a blockchain network developed by Binance that allows for the creation and management of decentralized applications (DApps) through smart contracts. It was created to overcome the programmability limitations of the initial Binance Chain and offers high transaction capacity through its integration with the Ethereum Virtual Machine. [43][44]
"Right now it is one of our larger businesses that support our growth. But over the long term, we want to push decentralization."
On February 15th 2022, Binance Chain and Binance Smart Chain merged into BNB Chain. BNB Chain comprises BNB Beacon Chain and BNB Smart Chain. BNB, which stands for "Build and Build" is a gas token that powers transactions on the chain. The change brings advancements to benefit users, projects, and developers, including scaling to multi-chain, boosting throughput, introducing on-chain governance, and expanding the validator set. The BNB Chain will support large-scale applications, such as GameFi, SocialFi, and the Metaverse. [59]
BNB Chain remains a community-driven, open-sourced and decentralized ecosystem. Through the concept of MetaFi ("Meta" for metadata, and "Fi" for DeFi), the BNB Chain community will aim to build the infrastructure that powers the world's parallel virtual economy.
In June 2021, Binance launched Binance NFT, a top non-fungible token (NFT) marketplace with premier exhibitions, global auctions, and low fees. It offers two categories: "Premium Event" for sought-after collaborations and "Trading Market" for low-cost NFT creation. Changpeng Zhao's main goal was to open up the NFT space to the massive Binance community. [45]
"Binance serves millions of users around the world, many of whom will now be able to access the booming NFT space. In line with our commitment to the freedom of money globally and building an inclusive ecosystem, the Binance NFT marketplace will also support small value creators by providing the highest liquidity and cheapest fees for users,"
Awards & Recognition
In 2018, Zhao was the nominee for Golden Token Awards and ended up being the 2018 CEO of the Year. His crypto exchange Binance also won the Best in Trading/DEX award.[17]
In 2020, CZ was recognized in the Bloomberg 50 as one of the most influential people of the year. He commented:
"I am humbled and honored to be part of this group of remarkable people who are shaping our world for the better. Alongside these committed and passionate leaders bringing change across diverse spheres, we will continue to work towards increasing financial inclusion globally with crypto as the fundamental means and putting people and our users first."[26]
On December 2022, CoinDesk announced Changpeng Zhao as CoinDesk's Most Influential 2022. They highlighted Binance's support, following the downfall of rival cryptocurrency exchange FTX, committing $1 billion to a recovery fund, making CZ seen as the new "savior" of the crypto world, seen in a Bloomberg article headlined, ""Binance's Billionaire CEO Casts Himself as Crypto's New Savior". [38]
Investments
According to Bloomberg, Binance has so far invested $325 million in 67 projects this year. The spending for 2022 could exceed $1 billion. He made a $200 million investment in Forbes and a $500 million in equity funding as part of a $7 billion financing pledge to support Elon Musk's acquisition of Twitter.[29]
As the major head of Binance Lab, In June 2022, Binance Labs, the venture capital and incubation arm of Binance, Closed a $500M Investment Fund to Boost Blockchain, Web3, and Value-Building Technologies. In contrast, the corporation spent $140 million on 73 different projects in 2021.[25]

Philanthropy
CZ donating to fight COVID-19
On April 3rd 2020, Changpeng Zhao, committed at least $2.4 million to purchase COVID-19 medical supplies. Binance Charity Foundation (BCF), the company's philanthropic arm, plans to donate up to $2 million more to provide essential medical supplies such as masks and ventilators directly to hospitals in need. BCF has already donated $1 million and raised around $200,000 in cryptocurrency from the public. Zhao estimates Binance's total contributions will add up to approximately $5 million, with a focus on delivering PPE to hospitals in severely impacted countries such as Italy, the United States, and Germany. [46][47]
"The pandemic has changed the world as we know it; it will never be the same again. And in this new world, we believe crypto will play an ever increasing role."

"It has always been our ethos to help others. It's human nature to feel good when helping others. It gives us a strong sense of satisfaction, a purpose of being. "
CZ to donate most of his wealth
In November 2021 Changpeng Zhao revealed his plan to donate up to 99% of his wealth in an interview with The Associated Press. Like other business magnates such as John D. Rockefeller, Zhao intends to give away most of his wealth. Although his net worth is around $2 billion, it could reach up to $200 billion if Binance exits near its current valuation of $300 billion. However, Zhao stated that he is financially free and doesn't need a lot of money. He holds only bitcoin and Binance coin (BNB), and the majority of his net worth is in BNB. [48]
"I do intend to give away most of my wealth, like many wealthy entrepreneurs or founders did from Rockefeller until today. I do intend to give away 90, 95, or 99% of my wealth,"
Binance partners with Jokkolabs
In July 2022, Changpeng Zhao visited Ivory Coast and Senegal to connect with people and policymakers. CZ emphasized the significance of blockchain for the financial economy and expressed the company's commitment to collaborating with African policymakers. CZ announced Binance's partnership with Jokkolabs, through which Binance will launch blockchain awareness and education programs in communities across Francophone Africa. The partnership aimed to reinforce the region as a hub of blockchain innovation and entrepreneurship, with monetary donation used to fund community education workshops that will increase blockchain literacy and skills. [54][55]
"Together, we will reinforce the region as a hub of blockchain innovation and entrepreneurship"
CZ's visit followed Binance's previous partnerships with Senegalese TikTok creator Khaby Lame and AFCON, the biggest international football championship in Africa, indicating Binance's dedication to driving blockchain adoption in the region. [54]
"Africa is primed for crypto adoption as blockchain provides financial accessibility not currently available to lots of Africans"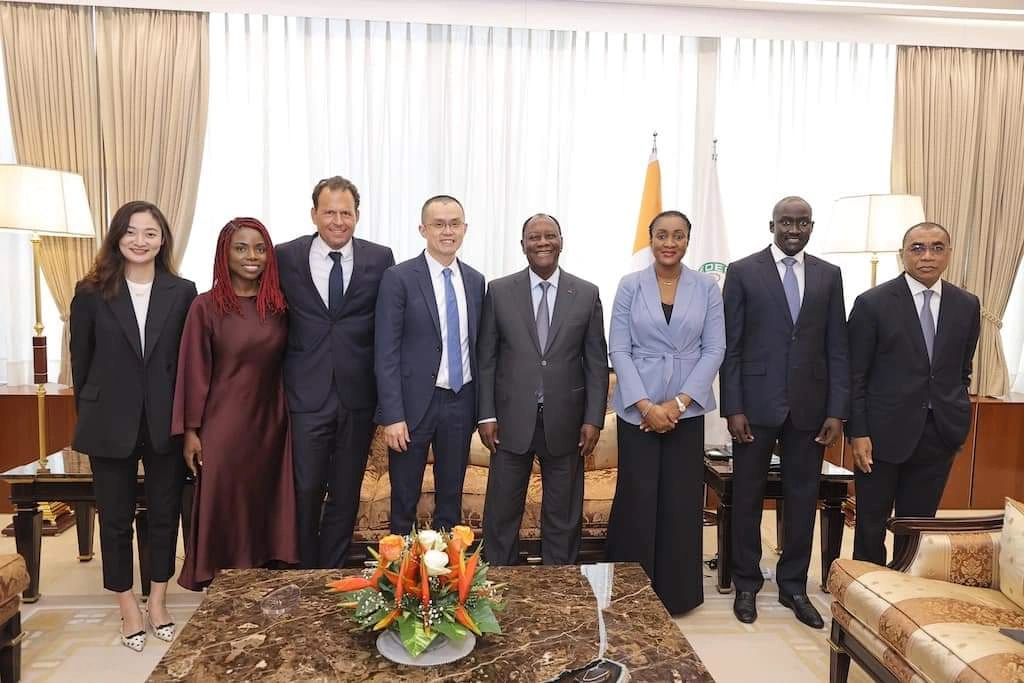 Controversies
Money laundering accusations against Binance
On January 21st 2022, Binance was accused of not implementing adequate measures to prevent money laundering. According to Reuters, a news organization, Binance operates differently from other firms and has not been clear about its main business location. The news organization also reported that CEO Changpeng Zhao disregarded advice from his compliance team to carry out background checks to avoid facilitating money laundering. Binance have denied these allegations and stated that it has a "robust compliance program" that been approved worldwide. [30][31]
Lawsuit filing against Bloomberg
On July 26th 2022, Changpeng Zhao initiated a lawsuit against Modern Media, the Hong Kong publisher of Bloomberg Businessweek, for alleged defamation. The lawsuit was a result of a translated version of a Bloomberg Businessweek article, which carried a headline that portrayed Zhao as running a "Ponzi scheme." In response, Zhao demanded a retraction from Modern Media, as well as removal of the edition from circulation and a restraining order to prevent further dissemination of the portrayal. [32][33]
"Bloomberg: hey, we will do a nice profile piece on you, invite you for photoshoots, etc. Then switches the story last minute. Ignore all positive comments they got from 3rd parties. Picked only old negatives. And still puts you on the cover. WTF!? Unprofessional." - CZ
In addition, Zhao filed a motion for discovery against Bloomberg LP and Bloomberg Inc. in the Southern District of New York, alleging "defamatory allegations' 'in the original Bloomberg Businessweek profile piece. Despite Modern Media's efforts to comply with some of Zhao's demands, various online platforms were still selling the print edition, leading Zhao to pursue legal action. A spokesperson for Bloomberg News has stated that the lawsuit refers to a headline that was not present in the original English language version of the story. [34]
Quarrel between CZ and Co-Founder of WazirX
On August 6th 2022, Changpeng Zhao was challenged by Nischal Shetty, co-founder of WazirX, over claims about the ownership of WazirX, which is being investigated for money laundering by India's Directorate of Enforcement. Shetty alleged that Binance purchased WazirX, including its technology, product, domain, brand, and more which Zhao denied. [35][36]
"The WazirX founding team maintained control of the operations of the platform. We (Binance) were never give data or control of users, KYC, etc. We would love to work with ED to fix these issues in WazirX."
Shetty explained that Binance asked the Indian entity of Zettai, Zanmai Labs, to start the Indian Rupee crypto market in India under Zanmai Labs and gave them a license. According to Shetty, Zanmai Labs controls only the INR trading crypto market, while Binance controls crypto-to-crypto trading. [37]
Binance and FTX
In November 2022, a series of events involving Binance and FTX took place in the span of 3 days. First, Binance announced it was selling its remaining $580 million worth of FTT tokens, citing "recent revelations." Binance's CEO, Changpeng Zhao, said the move was part of a risk management strategy and not directed against a competitor. [49][50]
"As part of Binance's exit from FTX equity last year, Binance received roughly $2.1 billion USD equivalent in cash (BUSD and FTT). Due to recent revelations that have came to light, we have decided to liquidate any remaining FTT on our books."
Next, Binance agreed to acquire FTX, rival exchange, for an undisclosed sum, after FTX suffered a liquidity crisis. [51][52]
"This afternoon, FTX asked for our help. There is a significant liquidity crunch. To protect users, we signed a non-binding LOI, intending to fully acquire http://FTX.com and help cover the liquidity crunch. We will be conducting a full DD in the coming days."
However, a day after the non-binding deal was announced, Binance reversed course and abandoned its plans to purchase FTX's non-US businesses, leaving FTX facing a liquidity crisis. FTT tokens lost 80% of their value between Monday and Tuesday, and FTX reportedly faces an $8 billion shortfall due to withdrawal requests. The events highlighted concerns about the solvency of companies linked to Sam Bankman Fried, the billionaire behind FTX. [53]

See something wrong?
Report to us.
Changpeng Zhao
Did you find this article interesting?