Nouns DAO
Nouns DAO is a decentralized autonomous organization empowering Nouns NFT owners to shape and govern the project by voting on proposals funded by the Treasury. Nouns DAO utilizes a fork of Compound Governance and is the main governing body of the Nouns ecosystem.
Overview
On Jan 1, 2022, the @nounsdao Twitter handle announced the formation of the Nouns Foundation, a fully decentralized and autonomous business on Web 3.0 based on the Nouns NFT project.
The Nouns DAO treasury receives 100% of ETH proceeds from daily Noun auctions. Each Noun is an irrevocable member of Nouns DAO and entitled to one vote in all governance matters. Noun votes are non-transferable (if you sell your Noun the vote goes with it) but delegatable, which means you can assign your vote to someone else as long as you own your Noun.
Nouns DAO oversees all the operations at the Nouns Foundation. It has a treasury from which the Nouns DAO finances roadmap projects like:
Xanadu & Nouns: a mega episode with real-time Nouns World Toolkit
Nounify New York Fashion Week
Integrate 8/8 Anniversary Art
NounsDAO Brazil
Nouns Esports and Dota Experimentation for July – October 2022
Nouns Brand (Clothing Brand)
NounsDAO investment in Verse
Free Glasses For Kids
Marketplace Pod Proposal
Send a 3D Noun sculpture to the International Space Station
Support Ecominga, Rainforest Trust, etc.
In a nutshell, The Nouns DAO is the forum of Noun owners where a member (holding 2+ Nouns) can present a proposal for a vote. The ultimate objective is to promote the Nouns project, keep the publicity active, and attract high-value members/investors. Although there's no cap on the number of Nouns a single entity or person can own, a minimum of two Nouns are required to submit proposals. And the founding members receive rewards in the form of Nouns (10% of the supply, or every tenth Noun, for the first five years).
Nouns DAO also supervises independent projects on its platform. Currently, the Nouns Projects portal hosts more than 150 creative projects.  These projects increase the real-life value and utility of the Nouns NFT collection. For example, some merch projects earn handsomely by selling Noun printed products.[2]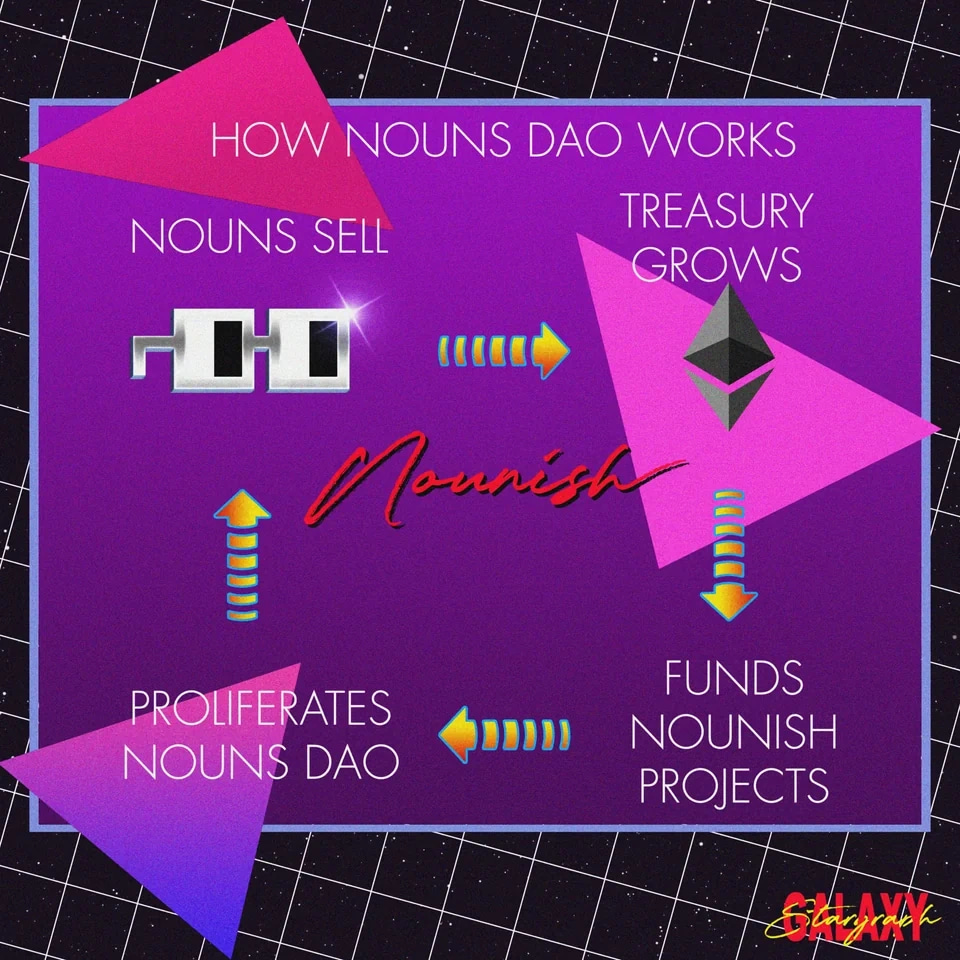 This treasury exists for Nouns DAO participants to allocate resources for the long-term growth and prosperity of the Nouns project.
Prop House
Public infrastructure by Nouns DAO.
See something wrong?
Report to us.
Nouns DAO
Did you find this article interesting?
REFERENCES
[2]
The NFT brief - What is the Nouns DAO?
Mar 23, 2023