Chronologic
Chronologic is a payment and transaction scheduling protocol built on the Ethereum network. It enables DeFi Payments & Decentralized Scheduling on Ethereum by partnering with the Ethereum Alarm Clock.[1]
Overview
Chronologic (ticker symbol: "DAY") is the "vision of time merging with the blockchain," according to the team. The Chronologic team is introducing the concept of Proof-of-Time that is pegged to time through the use of a native token (DAY token). These tokens are naturally deflationary, as a decreasing amount of them are "minted" (re: created) every day. There are a few definitions applicable to this project that the team lays out in their whitepaper: [1]
DAY Token: These tokens are part of what mints additional DAY tokens based on an algorithm ("MintingAlgorithm"). These tokens will be used as a store of value and a payment method for other parties to launch their own Proof-of-Time projects. The DAY token utilizes "TimeMints," which are what actually produce more DAY tokens.
TimeMints: 3,333 different addresses that mint more DAY tokens at a specified rate determined by the MintingAlgorithm. They are denoted as TimeMint0001, TimeMint0002… TimeMint3333.
MintingAlgorithm: This algorithm halves each TimeMint's "Chronopower" (rate of minting new DAY tokens). The halving of this minting power occurs every 88 days. This 88 day period is called a "ChronoEra."
Chronopower: The rate at which a TimeMint mints new DAY tokens. Each TimeMint has a different amount of Chronopower ranging from 0.5% to 1% additional DAY tokens, per day.
For example, if there are 100,000 DAY tokens and a TimeMint has a Chronopower of 1%, this TimeMint would mint 1,000 new DAY tokens until the MintingAlgorithm halved the chronopower of this TimeMint address.
The Chronologic team also plans to launch a Proof-of-Time (PoT) platform called Chronos, where they expect other PoT projects will be launched. The DAY token will be used for transactions as other projects build on the Chronos platform. The team is taking the value of time and tokenizing it. Just like precious metals, they believe that by tokenizing time, it can also be a store of value.
Initial Coin Offering (ICO)
Chronologic held an Initial Coin Offering (ICO) from 9 a.m. EDT on August 28, 2017, which lasted for approximately one week.  As of February 11, 2018, there are 907,165 DAY tokens in existence with a circulating supply of 620,460 DAY.  The DAY token was priced at 24 DAY for 1 ETH and it raised $ 7,502,120. [5][2][4]
Team
The Chronologic team is consists of many experienced people from various sectors..
Eric Weiss : He is the Project Architect and he brings the Digital Strategies team to ChronoLogic. He is the inventor of the Blockchain Proof-of-Time concept and is a Crypto Private Equity Investor and Polymath advisor.
Piotr Kosiński : He is an experienced software engineer and architect who is leading the Ethereum Alarm Clock and Chronos projects. He does research on cryptoeconomics and the decentralized aspect of the protocol.
Logan Saether : He is a smart contract engineer and has experience in blockchain systems and applications.
Joseph Bagaric : He is a software engineer, a compute science researcher, and an inventor and is interested in building decentralized systems. He works as a DApp developer.
Jovar Gaylan : He is a mathematician, researcher, and computer scientist behind the future Proof-of-Time and Chronos Platforms. Precisely, he founded several software startups, including VideoRemix, a B2B video personalization platform.
Daniel Kmak .He serves as a DAPP Developer. He has various technical skills and is placed in the top 3% of StackOverflow contributors with a reputation of 13,000; JavaScript and SPA expert with 2 video courses authored for Packt Publishing; HackerNoon author, HackHands expert; Ember teacher.
Thiago Oliveira : He is the Community Management & Brazilian Partner. He previously co-founded one of the largest cryptonews websites in Brazil, BTCSoul.com, and is a crypto enthusiast; leading communications.
Lee Pennington : He is a Crypto-Marketing Advisor. He is a renowned SaaS entrepreneur and private equity investor . He serves as a crypto-marketer, spreading the ChronoLogic technology to the world in telegram and on live crypto-webinars..
Tosh Sharma : He is the Founding Tech Lead and Advisor, and he was named one of Forbes India's 30 Under 30 in 2016. He founded AllChains, a Blockchain-as-a-Service platform, and Toshblocks, a Blockchain Consulting Company. He also works as a blockchain instructor and speaker.
Deven Soni : He is an advisor. He previously worked at Goldman Sachs and as an investment banker and principal investor at Lazard & Highland Capital, where he was in charge of deploying over $300 million in capital. [6]
See something wrong?
Report to us.
Chronologic
Did you find this article interesting?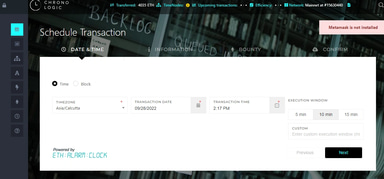 REFERENCES
[3]
Chronologic app
Sep 28, 2022
[4]
Chronologic ICO details
Sep 28, 2022
[5]
Chronologic ICO
Sep 28, 2022
[6]
Chronologic Network website
Sep 28, 2022