CyberKongz
CyberKongz (Launched March 2021) are unique, rare, and randomly generated gorilla NFT avatars, purposefully issued for the Metaverse. CyberKongz inform an NFT-ecosystem designed to be an alternate reality, where evolution takes a different route as gamified collectibles with utility. [1]
Overview
CyberKongz was birthed as a collection of 1000 unique and randomly generated non-fungible tokens (NFT) created in early March 2021. Although there was no pre-release advertising campaign, a lot of attention was quickly brought to it by Non-Fungible Tokens (NFTs) enthusiasts who discovered the minting process on OpenSea.io and shared their interest on their platform's social media.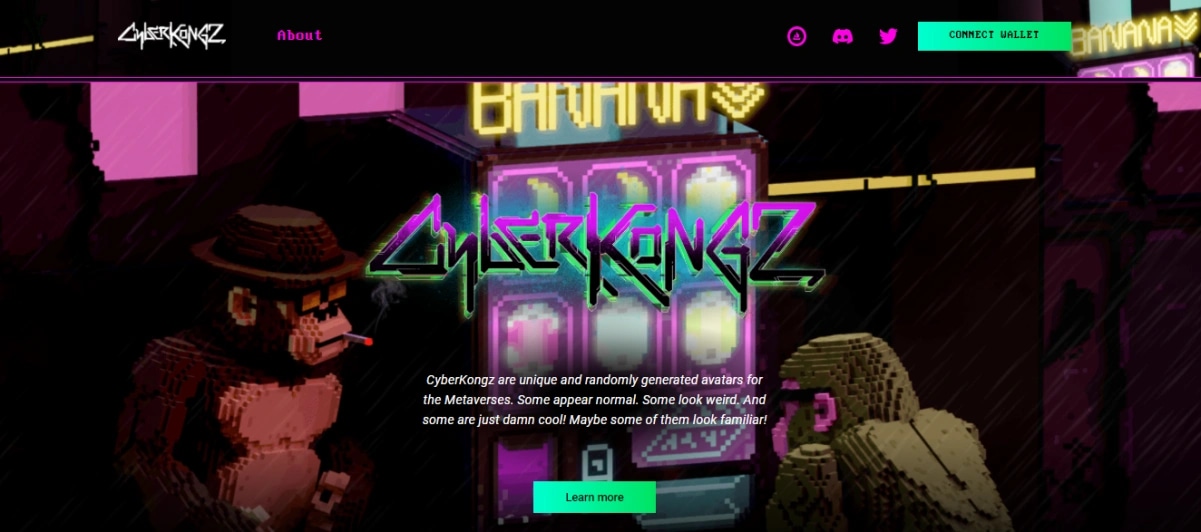 The 34x34 pixel CyberKongz images achieved great popularity due to their suitability as profile pictures on Discord and social media, at a time when nobody was talking about profile picture projects.
Over time, the shared idea of furthering the development of CyberKongz as a community-based project emerged and was hosted by one of the finest programmers and experts in the NFT and De-Fi space, who offered their skills and time to develop the community`s ideas. Within a short period, the Banana token was created, giving genesis CyberKongz the ability to passively generate 10 $Banana per day for the next ten years.
Burning an amount of $Banana allows holders, give their CyberKongz characteristics like a unique name and biography, as well as breed and incubate one out of 4,000 randomly generated Baby CyberKongz with different traits and more rarities. [2]
Features
CyberKongz' NFTs have introduced these unique features in its ecosystem,
Playable Avatars in The Sandbox Universe
With the full incorporation of this feature, every user can now get a CyberKong VX and explore the metaverse of The Sandbox together with full Commercial Rights on all CyberKongz assets
Users can now own all commercial rights to the images of all their CyberKongz as well as the 3D model of your CyerKongz VX.
Unique CyberKongz
Another distinctive feature of the CyberKongz NFTs includes the uniqueness, rareability, and types of these Kongzs. The different types of CyberKongz include-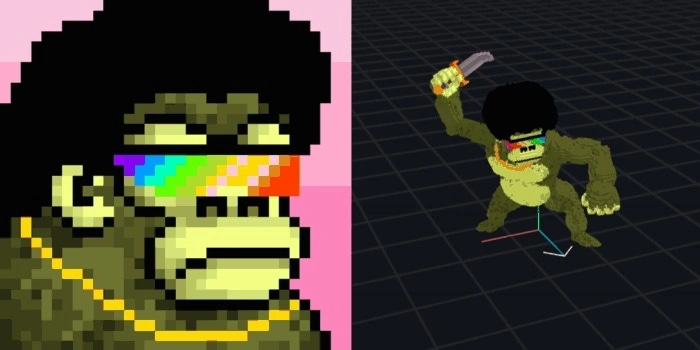 Legendary: These are CyberKongzs that are part of the genesis CyberKongz with a limited mint of 10 ever. They are animated themes with extreme value due to the amount that will ever be in existence (i.e 10).
Genesis: Genesis CyberKongzs are capped at a total of 1000 VX and allows holders to earn 10 $BANANA tokens daily.
Baby: These are examples of the CyberKongz' NFTs, having their supply capped at 4000, aren't designed to incentivize holders.
Incubators: These are unique newly born baby Kong prior to its 'being revealed'. These CyberKongz can be opened at any time.[4]
How CyberKongz Work
The entire CyberKongz' ecosystem is structure to incentivize the NFT token holders. Holders will be able to migrate their CyberKongz through using the platform's updated website interface by simply connecting their MetaMask wallet. To initiate the next phase, the Cyberkongz ecosystem gave an airdrop of 300 $BANANA per Kong, which can be claimed right after the migration. This is enough $BANANA to start a feeding frenzy:
CyberKongz love to eat $BANANA
The CyberKongz NFTs eats banana figuratively in the sense of utilizing some amount of BANANA tokens for some functions. For example, changing an NFTs' name will cost 300 $BANANA. Names will be unique to each Kong and with enough $BANANA, names can be changed as often as the owner prefers.
The cost for naming will be doubled to 600 $BANANA once all Baby CyberKongz have been minted.
Adding a biography (such as name, Hashtag, etc) will cost every user 100 $BANANA. Tell others what your Kong is up to by adding a fun and creative backstory. This can also be changed as often as the owner prefers.
Breeding will require a minimum of two Genesis CyberKongz (#1–1000) and will cost 600 $BANANA. By initiating the breeding protocol, the owner will receive an Incubator! An Incubator can be traded or opened at will to reveal 1 of 4000 algorithmically and randomly generated Baby CyberKongz. Traits of the Genesis CyberKongz are not inherited, which levels the playing field and will give every owner the same chance of receiving rarer babies.[3]
Minting on CyberKongz
The Cyberkongz ecosystem has a total of three different ways to join the family of 15,000 CyberKongz VX:
Owning Genesis
Every Genesis CyberKong No.1 to No. 1000 owner will be able to mint a matching voxel-based CyberKong VX #1 - #1000 at no extra cost besides the network fee.
The Mint
10,000 random CyberKongz VX in the range #1001 - #15000 are offered on the open market accessible to everyone to be minted for a set price of 0.07 ETH.
Owning and Breeding Baby CyberKongz
Baby CyberKongz are cute versions of the Genesis CyberKongz, but with over 40 new amazing traits mixed with them. Babies neither have the ability to yield $BANANA, nor the ability to breed, but they love eating $BANANA to get their name and bio changed. Thus users can Trait rarity for Baby CyberKongz is modeled after genesis rarity, but subject to random distribution and can only be fully calculated once all 4000 Baby CyberKongz have been minted.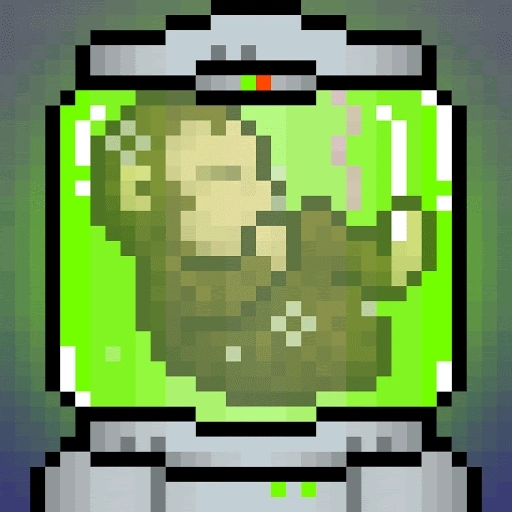 Following this path allows the CyberKongz ecosystem to essentially increase the total supply without devaluing its initial supply of 1000, and in the process, lets the ecosystem grow the community and share the mystery about which babies are being born next.
Every Baby CyberKongz owner between No 1001 and 5000, will be able to mint a random CyberKong VX in the range #1001 - #15000 at no extra cost besides the network fee.
Users need two migrated CyberKongz and a minimum of 600 $BANANA to start breeding. Users can choose a Kong to start breeding under the tab "My Kongz" on the platform's site. The simple steps to begin breeding Kongzs include:
Clicking on a single Kong, after which users will be able to click on "BREED". Then a pop-up lets the user choose another Kong for breeding.
After choosing the second Kong, click on "CONFIRM" and a MetaMask transaction will pop up that needs to be confirmed.
Again, users are to make sure to not cheap out on gas.
With enough $BANANA, users can breed the same Kongz multiple times, without a cool-down.
Once the transaction is confirmed, an Incubator will show up under the tab "My Kongz". When clicked on, users can now have the option to "INCUBATE". Incubators can be left unopened indefinitely and traded like any other Kong. When clicking on "INCUBATE" a MetaMask transaction will pop up that needs to be confirmed. And again, users need not cheap out on gas and not spam the "INCUBATE" button.
After the transaction is confirmed, a new Baby CyberKong will show up under "My Kongz". Users also need to be aware that Incubators and Baby CyberKongz do not have the ability to breed.
Migrating Kongz
Pre-migrated CyberKongz will show up under the tab Migration. users have to connect their Metamask wallet in the top right corner and click on "APPROVE" afterward, a transaction will pop up that has to be confirmed.
Each Kong has to be migrated individually by clicking on "MIGRATE". A transaction will pop up in Metamask that needs to be confirmed.
Make sure to not cheap out on the gas, or the migration could get stuck and take a long time. Do not spam the "MIGRATE" button! Wait for your transaction to confirm or speed it up. Migrated CyberKongz will then show up under the tab My Kongz.
Marketing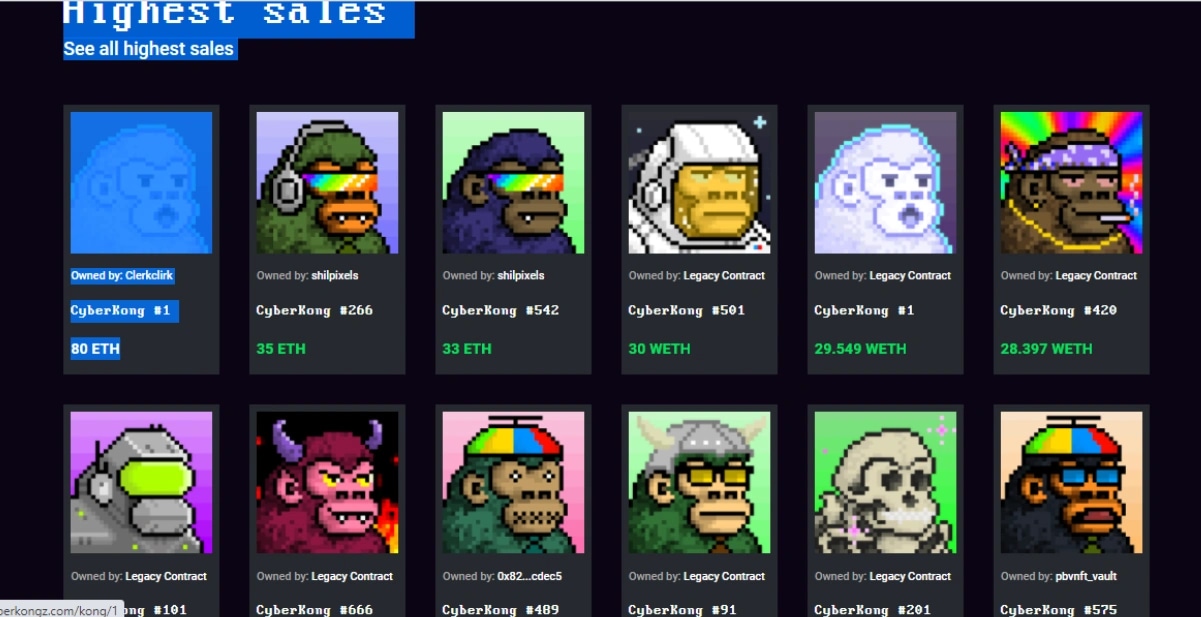 The Cyberkongz NFTs are traded on the OpenSea market. The NFTs have accumulated some highest bids or trades. Some of these range from 80 ETH to 18 ETH on its highest sales.
Claiming $BANANAs
$BANANA can be claimed under the tab "My Kongz". Every Kong migration lets users claim a 300 $BANANA airdrop. If a user owns more than one Kong, such user is required to migrate all first, so s/he can claim all $BANANA at once and save on gas fees.
Click on "CLAIM" and a transaction will pop up in Metamask that needs to be confirmed. Again, users are to make sure not cheap out on gas and do not spam the "CLAIM" button! Migrated CyberKongz each yield 10 $BANANA per day that can be claimed at any time. Incubators and Baby CyberKongz do not yield $BANANA! Unclaimed $BANANA is tied to the initial ETH address and is not transferred with Kongz. When a Kong is transferred to a new address, the new address will now yield its $BANANA.
Tokongnomics
ToKongnomics is a detailed description of the Kongz' NFT Total Supply, distribution, sales, and the entirety of utility of the CyberKongz (VX) ecosystem working together to benefit its owner. The CyberKongz (VX) is built on the Ethereum (ETH) Blockchain using the Ethereum ERC-20 Contract. $BANANA token also is minted on the Ethereum blockchain. The ticker symbol for the native NFT of the Cyberkongz NFTs is symbolized as VX. CyberKongz (VX) has a total supply of 15,000 VX tokens.
A total of 10,000 CyberKongz VX will be available on the free market, mintable by anyone at a fixed price. No bonding curve whatsoever.
However, owning a 2D CyberKong will bring more additional advantages in the upcoming development levels- CyberKongz
Each 2D CyberKong lets owners mint a playable voxel-based CyberKongz VX to make the right impression in the Metaverse. CyberKongz VX minted by a Genesis CyberKong will have the exact same traits as their 2D counterparts, making them the only ones to have a matching 3D VX avatar with the accompanying 2D profile picture.
Each Genesis CyberKong from 1 to 1000 was given the ability to passively generate 10 $BANANA per day. CyberKongz's $BANANA token is an ERC-20 token that can be used for utilities in the CyberKongz ecosystem for various activities such as breeding babies, naming, or simply be used as payment on OpenSea.
Currently, about 1000 out of 4000 Baby CyberKongz have been born, while it is estimated that all 4000 babies are prospectively generated (or born) within a year.[4]
Futuristic Prospects
CyberKongzs are gamified collectibles with utility. They are intended to be avatars for both the two-dimensional space as well as playable avatars on platforms such as The Sandbox. The Sandbox game, opens up the possibility for the community to create community games, adventures, and experiences with uniquely owned CyberKongz VX avatars giving room for unprecedented happenings in the NFTS verse.[2]
Council of Kongz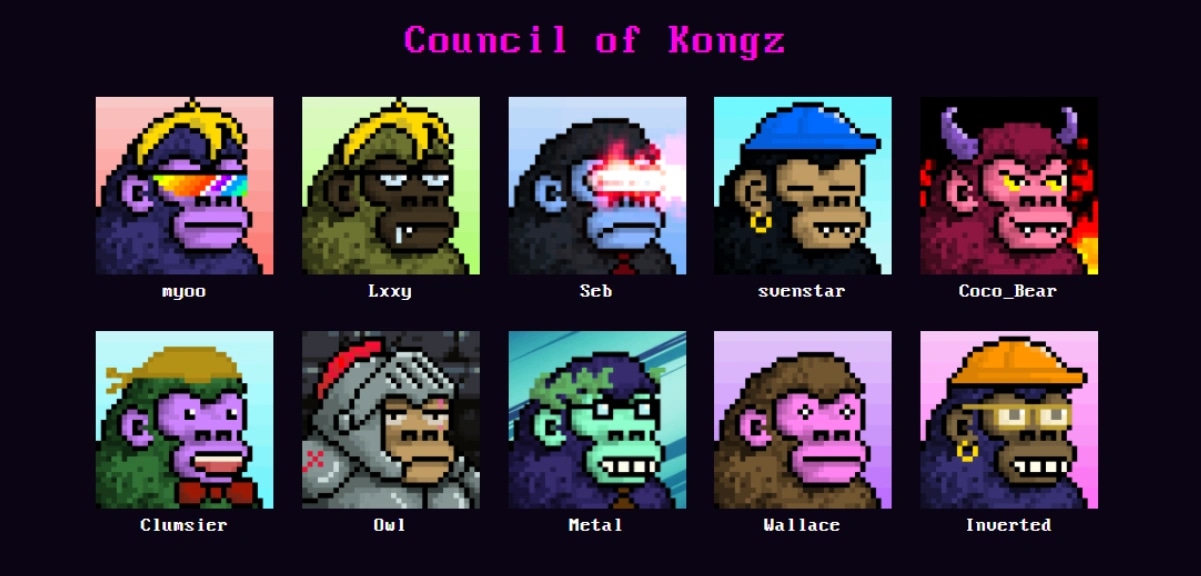 The Council of Kongz is the active anon team member of the CyberKongz NFT platform. The avatars are quite descriptive of each members, all with unique rarities and appearances. The entirety of this council constitutes of ten anon members
| S/N1 | Name |
| --- | --- |
| 1. | myoo |
| 2. | Lxxy |
| 3. | Seb |
| 4. | svenstar |
| 5. | Coco_Bear |
| 6. | Clumsier |
| 7. | Owl |
| 8. | Metal |
| 9. | Wallace |
| 10. | Inverted |
Partnerships
CyberKongzs announced its partnership Meta key (NFT) as its partner for the upcoming era of CyberKongz VX. The Metakey is a utility-focused project granting holders unique benefits throughout the Metaverse, and ultimately driving interoperability with the idea that a single Metakey (NFT) provides you with everything you need for a lifetime in the Metaverse.
Furthermore, there are also reports of a small group of particularly athletic and handsome CyberKongz within the onrushing horde of VX Kongz.
Roadmaps
Given below are level-based sectioning of projected milestones for the Cyberkongz NFT community:
Level One (CyberKongz VX Launch )
The time for users to get their own CyberKong VX as a custom playable Metaverse Avatar has arrived. CyberKongz VX is launched in partnership with The Sandbox and the integration as playable avatars into The Sandbox game is now in development.
Level Two (The Banana Shop )
A mysterious merchant begins offering equipment in Banana Shops all over the Kongz Island. Players will also be able to buy custom CyberKongz VX equipment and wearables to give their avatar additional playability and style during adventures in community-built Metaverse games.
Atop that, the launch of the BANANA SHOP will bring added utility and perks for both the Banana Token as well as the 2D CyberKongz.
Level Three (Kongz Island )
A massive, multi-estate concrete jungle is built in The Sandbox, in which both CyberKongz and Sandbox aim to create gaming and social experiences involving all CyberKongz NFTs as well as the Banana Token.
Level Four (Kongz Utility Expansion)
Owning one or more CyberKongz grants any user access to CyberKongz Guilds, bridging the gap between Axie Infinity, Guild of Guardians, and Embersword. [1]
See something wrong?
Report to us.
CyberKongz
Did you find this article interesting?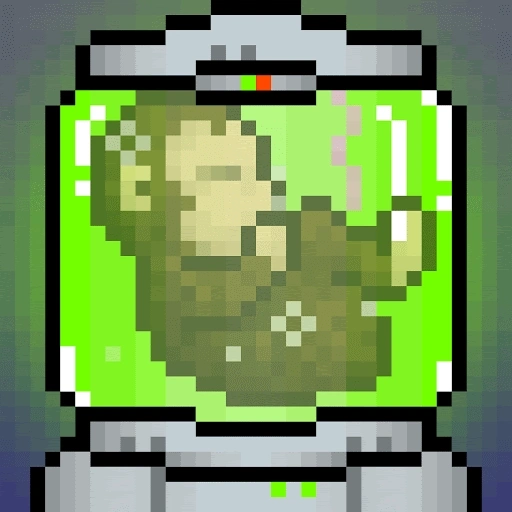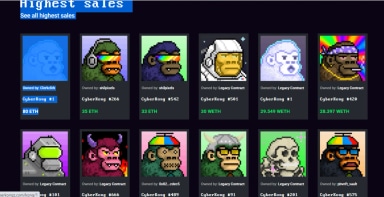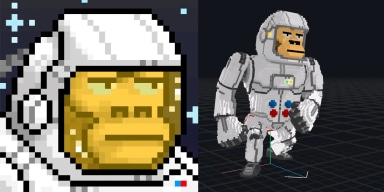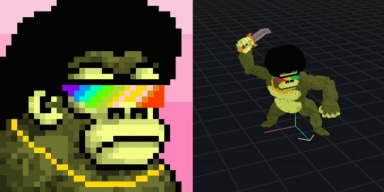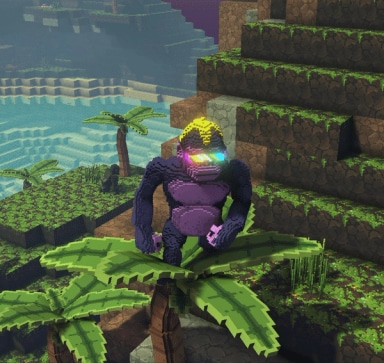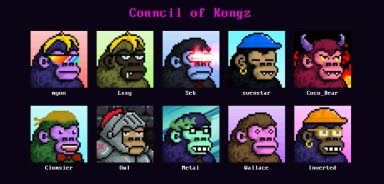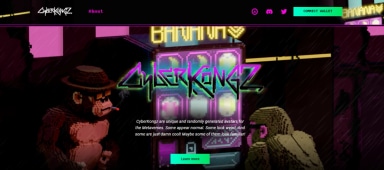 REFERENCES
[1]
Cyberkongz website
Aug 9, 2022
[2]
All about CyberKongz
Aug 9, 2022
[3]
Cyberkongz blog post
Aug 9, 2022
[4]
Advance Tonkongnomics
Aug 9, 2022