Idle
Idle is a cryptocurrency and a decentralized protocol dedicated to bringing automatic asset allocation and aggregation to the interest-bearing tokens economy. This protocol bundles stablecoins into tokenized baskets that are programmed to automatically rebalance based on different management logics.[1][2]
Overview
The Idle platform's first beta version was launched in August 2019. Since its inception, Idle used two different allocation strategies:
Best-Yield: this strategy combines multiple money markets to automatically provide the highest interest rates, beating the best traditional offerings across interest-bearing tokens and DeFi protocols.
Risk-Adjusted: this strategy automatically changes the asset allocation in order to find the optimal mix between risk scores and yield. [3]
In February 2020, the team announced the official launch of the Idle Finance v2 platform and new contract architecture. The developers included the Dynamic Funds Allocation (DFA) mechanism, which allocates Idle funds across different lending protocols in order to benefit from an aggregated interest rate that represents the highest available among all the lending markets.[4][5]
In May 2020, the developers launched the Idle 3.0 version. They renewed UI/UX, upgraded the rebalance mechanism, and added DeFi protocols and tokens to the Idle ecosystem. The rebalance calculation involves assessing the total assets within a pool, incorporating underlying protocol rate functions and levels of supply and demand, skimming protocols with a bad score/rate mix, and determining an allocation that achieves the highest risk-return score possible after the rebalance happens. It was developed in collaboration with DeFiScore, a framework for quantifying risk in permissionless lending pools.[6]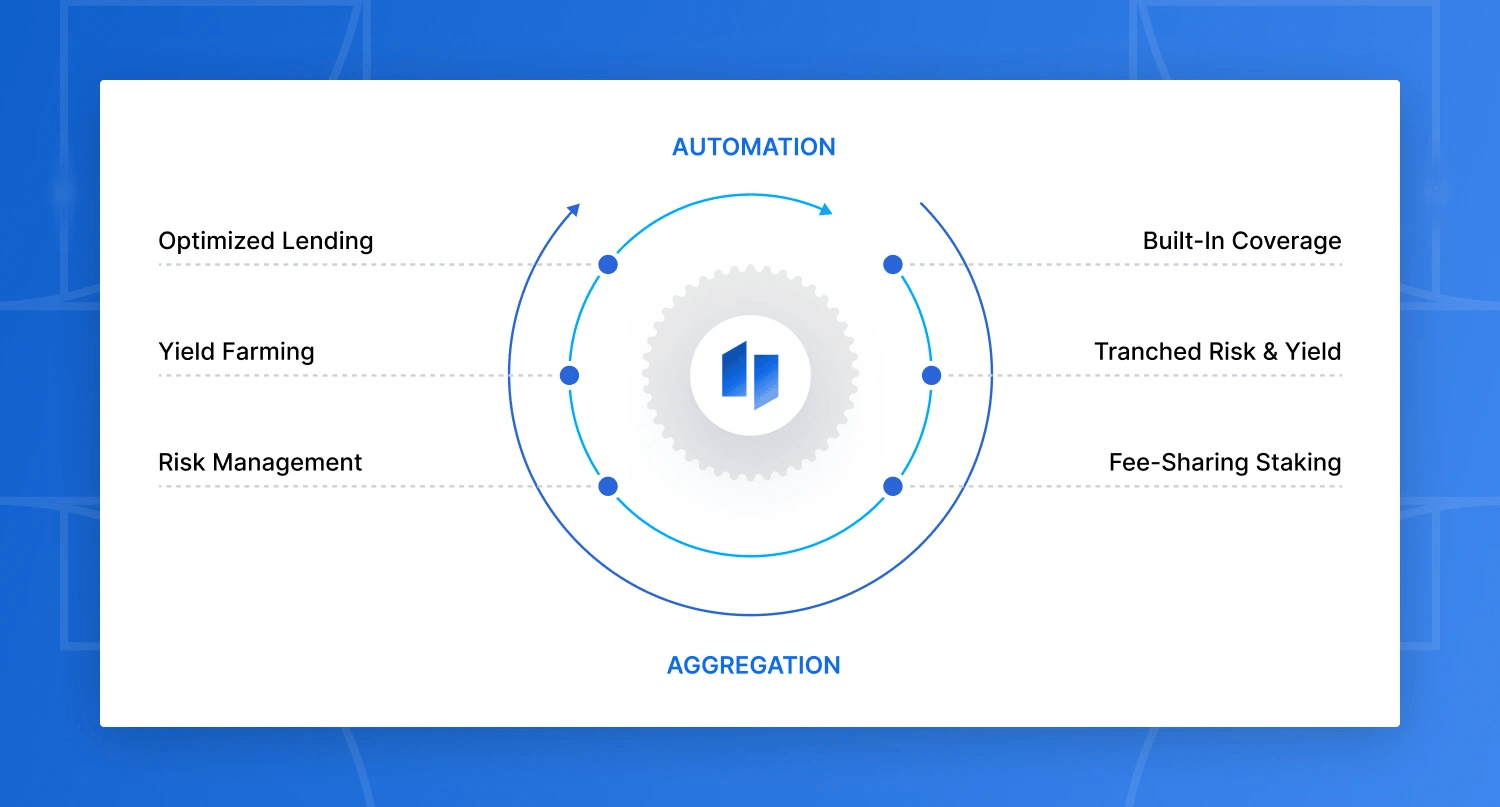 In November 2020, Idle raised $1.2 million in funding led by gumi Cryptos Capital with participation from industry leaders like Richard Ma from Quantstamp, TheLAO, Dialectic, BlockRock Capital, Greenfield One, LongHash Ventures, and other DeFi-angels like Jack Herrick, Josh Hannah, Qiao Wang, and Imran Khan. Idle will use the capital to scale its yield optimization protocol. 
[7]
As of December 2020, Idle connects with Compound, Aave, dYdX, Fulcrum, and DSR, and supports Dai, USDC, and USDT.
IDLE Token
IDLE is an ERC-20 token that allows the owner to propose and vote any proposal made by token holders, or delegate voting power to another address. Anybody can participate in Idle governance by owning IDLE or receiving the delegation. [8]
IDLE Allocation
13,000,000 IDLE will be distributed after the Token Generation Event and will become available over the course of the next 3 years. The allocation is as follows:
Public Rewards (60% of total token supply) with 2 years distribution: LPs Fund (41%) , Early LPs Fund (4%), Ecosystem Fund (15%).
Team & Investors (40% of total token supply) with 2–3 years distribution: Current & Future Team (22.7%) , Investors (17.3%). [9]
LP's Fund
Liquidity providers that will join one of the pools in Idle (Dai, USDC, USDT, TUSD, sUSD, WBTC) will receive IDLE tokens that are not subject to vesting or lock-up. This allocation will be distributed through 2 main sub-programs, already hardcoded since the launch:
Liquidity Bootstrap Program (390,000 IDLE): it will be live after the launch and will last only 30 days. It will roughly distribute 2 IDLE per block. It was designed to incentivize liquidity provision in the early stage of the Governance launch and foster additional Idle ecosystem growth.
Liquidity Mining (2,340,000 IDLE): this program will start right after the Liquidity Bootstrap Program. LPs will receive these tokens in proportion to their provided liquidity over the course of the next 24 months. 0.5 IDLE per block will be linearly distributed during the aforementioned period. [10]
Long-Term LPs Program
LPs would earn extra rewards in proportion to how long they have been in that pool. This can be valid for each Idle Pool Token. 2,600,000 IDLE will be stored in a dedicated smart contract, owned by the Governance, for the Long-Term LPs Program. [11]
Early LPs Fund
520,000 IDLE were allocated to those valuable members as a recognition of Idle early users' support, since Idle inception. [12]
Ecosystem Fund
The Ecosystem Fund is a community-managed treasury to fund initiatives that can improve the protocol or its ecosystem. Those funds can foster a variety of experiments, including ecosystem grants, tailored staking systems, integrators programs, insurance mining, community-driven features, and public goods funding. Stakeholders can vote to launch other incentivization programs, such as new bootstrap plans to reward users that join Idle later or to pay developers that implement community proposals. Part of the money can be used as an insurance fund to cover hacks and losses. Even audit and legal activities can be eligible for grants. [13]
Team
Matteo Pandolfi - CEO and Founder
Davide Menegaldo - Contributor
Salomé Bernhart - Advisor
Emiliano Palermo - Contributor
Richard Thomas-Pryce - Advisor
Francesco Bianchi - Contributor
Evan Mair - Advisor
Thomas Rush - Advisor
Thomas Rush - Advisor
Felix Machart - Advisor
William Bergamo - Founder and CTO [14]
Investors
ConsenSys
gumi Cryptos
GreenField One
Dialectic
The LAO
BR Capital
LongHash Ventures [15]
See something wrong?
Report to us.
Idle
Did you find this article interesting?