Pascal Leblanc
Pascal Leblanc is the Founder of Mantle Network, an Ethereum scaling solution that prioritizes compatibility with existing Ethereum contracts and tools. He is also the co-founder of YAAMP (Yet Another Anonymous Mining Pool) with over 10 years of experience in the cryptocurrency and blockchain space.

Education
Pascal Leblanc enrolled in Cégep de Ste-Foy, where he pursued a Diploma of College Studies (DEC) in Computer Science, graduating in 2014. [1]
He then joined Université du Québec à Trois-Rivières from 2014 to 2017, dedicating himself to earn a Bachelor's degree in Computer Science. During his time at the university, Pascal assumed leadership roles, including a two-year term as vice-president of the frat, as well as serving as the President and founder of the BeerPong league. [1]
Career
Pascal Leblanc began his career in May 2011, beginning as a Software Programmer at Les Bois Ynovak. During this time, he focused on developing internal software tailored for inventory management, estimates, and invoices. [2]
In August 2013, he co-founded YAAMP (Yet Another Anonymous Mining Pool), an initiative that introduced the first auto-switching cryptocurrency mining pool with Bitcoin payouts. [2]
From Oct 2016 to Feb 2019, Pascal was a Blockchain Strategist at Ernst and Young, a professional services company. [2]
Pascal co-founded SafeCex in Feb 2015, a notable altcoin exchange that gained recognition for its user-driven campaigns determining cryptocurrency listings. The success of SafeCex culminated in its acquisition by Kraken, a significant player in the cryptocurrency exchange space. [2]
From October 2017 to June 2018, he worked as a Blockchain Architect at RentalMiles, where he played a role in conceptualizing and implementing innovative approaches to long-term real estate rental and loyalty programs. [2]
From Feb 2018 to Oct 2020, Pascal was a Blockchain Strategic Advisor at Globalive Technology, a software and venture company. [2]
Later on, Pascal delved into the gaming industry. As the Head of non-fungible tokens (NFTs) at Gamelancer from May 2021 to Mar 2022, he explored the applications of blockchain technology in the realm of NFTs and their impact on the gaming landscape. [2]
Currently, Pascal Leblanc is the Founder of Mantle Technology, a role he has held since Jun 2017. He leads the work to fix problems in the cybersecurity field, focusing on disruptive technologies such as Ransomware Protection, Data Sovereignty, and Digital Identity. [2]
See something wrong?
Report to us.
Pascal Leblanc
Did you find this article interesting?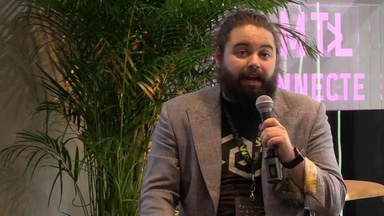 REFERENCES
[1]
Linkedin Profile
Aug 10, 2023
[2]
Linkedin Experience
Aug 10, 2023