Solanart
Solanart is a fully-fledged Non-Fungible Token (NFT) marketplace deployed on Solana Blockchain. The platform enables users to buy and sell digital assets seamlessly at an affordable rate in Sol, Solana's own token[1][13].
Solanart aims to help promote artists and creators by providing them with a trustless marketplace to share their art. Users can get quick and easy access to Digital collectible using Solanart. It features some collections like Degenerate Ape Academy, Galactic Gecko Space Garage, SolPunks, Aurory, Nyan Heroes (NFT Game), Sollamas, Kaiju Cards, and many more[2][3].
As of January 2022, 600,000 NFT have been sold on the Solanart marketplace since its creation[4].
Overview
---
launched in June 2021, Solanart is an open platform that operates on Solana, it is a platform where creators can freely list their collections, allowing anyone to acquire or sell Solana-based NFTs[5][3].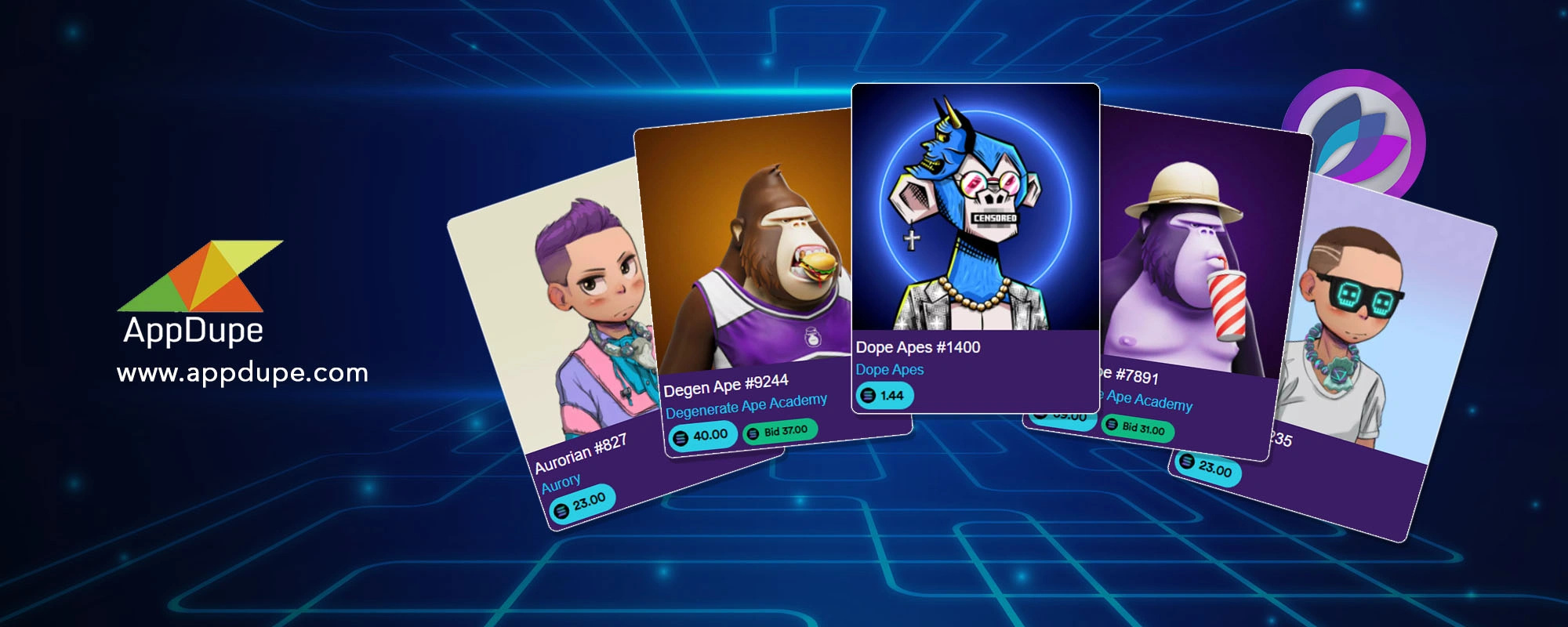 The NFTs in Solanart are tagged with SOL prices, and users are only allowed to use SOL in purchasing NFTs as the platform accepts no other currencies at the moment
[14]
[15]
.
The platform charges a 3% market commission on the selling price of each transaction. A creator's fee, which varies depending on the collection, is also charged on the sale price and is collected in full by the artist[6].
Solanart provides the necessary information for each NFT collection, including name, short description, owners, the price of the most affordable NFT in Floor Price, social networks of the collection, and its website. It also shows the last price that was paid for each NFT, making it a reliable and easy to use NFT platform[7][1].
How it Works
---
Artist or individuals who wish to list their NFTs on the platform are accepted. Solanart allows users to put their NFTs for sale on its marketplace, it is first stored on a 'Temporary Account' owned by the marketplace and then added to a database which stores the data of the sale.
When other user buys the NFT, the program transfers the SOL amount from the buyer to the seller, and then unlocks the NFT which is sent to the buyer. Solanart uses both on-chain and off-chain data.
The off-chain data is stored on a database and used to display all the NFT for sale on the main page, while the on-chain data is used when displaying NFT one by one, or from the 'My NFTs for sale' section in the 'Wallet' tab. The choice of using the database for the main page was made to allow easy sorting of all NFTs per attributes, price, oldest or newest sales etc. On-chain data provides a secure and decentralized experience[8].
Solanart Features
---
1. Decentralized Platform:
Solanart offers its users a Decentralized experienced when welcomed to its platform. Users do not require so much scrutiny for their NFTs to be approved, unlike other centralized platforms where creators have to be invited first. However, users of the platform work with the marketplace to make sure that only authentic utilities are being listed for sale.
2. Explore
This is a feature where users find different collections, sorted by popularity, similar to that of Binance NFT Marketplace and OpenSea. In explore users can find the name and a short description of each project and collection.
Buying and Selling of NFTs:
Users can also buy and sell NFTs listed on solanart. To buy, a user will need to have a wallet that supports the solana network to be able to purchase any NFT of their choice, listed on the platform[9].
Launchpad:
Solanart Launchpad helps Crypto projects to launch their project n the platform, it is a structure that permit bidding for unlisted NFTs and also the trading of.SOL domains in the platform.It allows users to gather NFTs by minting them. Before releasing digital materials, creators do not need to go through a variety of technical procedure[3].
Global Offers
---
Global Offer allows users to place a bid for any NFT within a collection. This feature provides liquidity for people selling, without affecting the floor price for the collection.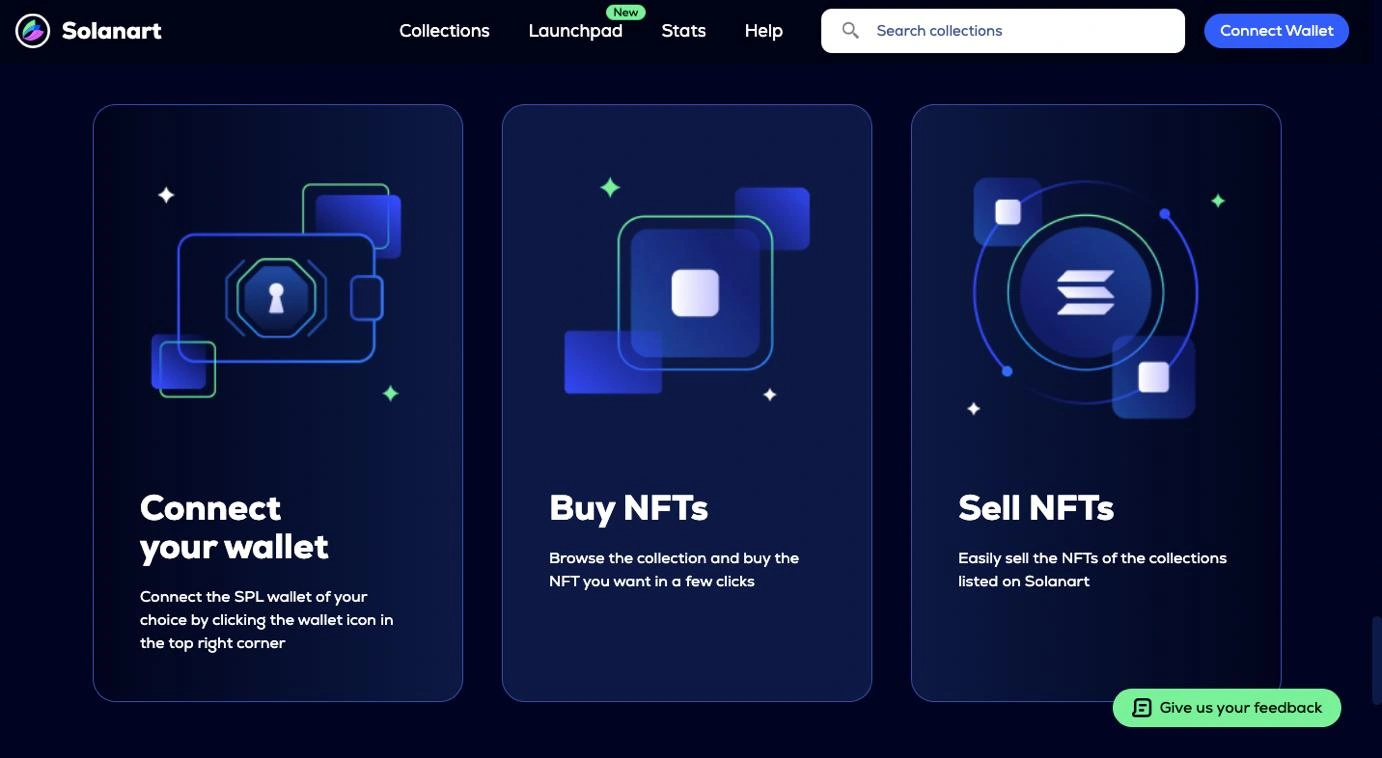 A user can place a global offer, If the Collection has the Global Offer feature, they can find the Global Offer tab on the main collection page next to the Items and Activity tabs, by selecting "My NFTs" and then Global Offer. Also users can as well cancel a Global Offer by clicking the Cancel button next to their offer on the Global Offers tab, or through the Global Offer section on the Dashboard
[8]
.
How To Mint/List an NFT Collection on Solanart?
---
The platform's 'Launchpad' makes it easy for users to generate and sell NFTs, removing the need to go through several technical steps merely to get started with digital assets.
Users must complete out this form in order to join the Solanart Launchpad. Here's a rundown of some of the questions the Launchpad will pose to NFT creators:
Project Name
Creator Name
Stage of the Project
A link to the project's website
Email address of the creator
Twitter and Discord handle
Sample of an NFT[10]
Solanart Commissions
Solanart charges three types of fees: the 'market commission,' 'creator's fee,' and 'ad fee,'. And the best thing about these fees is that they are not excessive.
A 3% marketplace fee is taken on the selling price of every transaction. A creator's fee, which is chosen by the creators and therefore varies depending on the collection, is also taken on the selling price and fully perceived by the creators. The platform also charges a 0.02% ad fee to avoid the overflow of advertisements on the platform.
Users should ensure that they have enough SOL tokens on their wallets to cover the transaction and listing fees before listing their NFTs for sale to make the whole transaction as smooth as possible[8].
Top NFT Collections on Solanart
---
There are currently over 28 NFT collections listed on Solanart Marketplace, they are as follows:
| Collection | Floor Price | Items | Volume Traded |
| --- | --- | --- | --- |
| Degenerate Ape Academy | 79.8 SOL | 498\10,000 | 1.13m SOL |
| Aurory | 36.90 SOL | 536\10,000 | 607.52K SOL |
| SolPunks | 7.50 SOL | 2439\10,000 | 430.36 SOL |
| Degenerate Ape Kindergarten | 89.00 SOL | 33\2,314 | 9.49K SOL |
| Degenerate Trash Pandas | 7.79 SOL | 392\20,000 | 36.43K SOL |
| Grim Syndicate | 10.99 SOL | 74\10,000 | 21.39K SOL |
| Cyber Pharmacy | 3.40 SOL | 247\9,999 | 14.28K SOL |
| Famous Fox Federation | 33.0 SOL | 18\7,777 | 20.28K SOL |
| Nyan Heroes | 9.25 SOL | 125\11,111 | 44.82K SOL |
| SolChick | 5.00 SOL | 387\10,000 | 46.07K SOL |
| Verse Estate | 4.50 SOL | 52\3,139 | 231.97 SOL |
| Galactic Gecko Space Garage | 11.95 SOL | 399\ 10,000 | 289.12K SOL |
| Cyber Technicians | 4.10 SOL | 90\5,000 | 1.22K SOL |
| Bold Badgers | 1.99 SOL | 1483\10,000 | 215.68K SOL |
| Sollamas | 1.40 SOL | 1258\8,888 | 95.75K SOL |
| SolBears | 1.10 SOL | 1502\10,000 | 79.89k SOL |
| Famous Fox Dens | 6.59 SOL | 3\3000 | 66.14 SOL[11] |
Notable Sales
---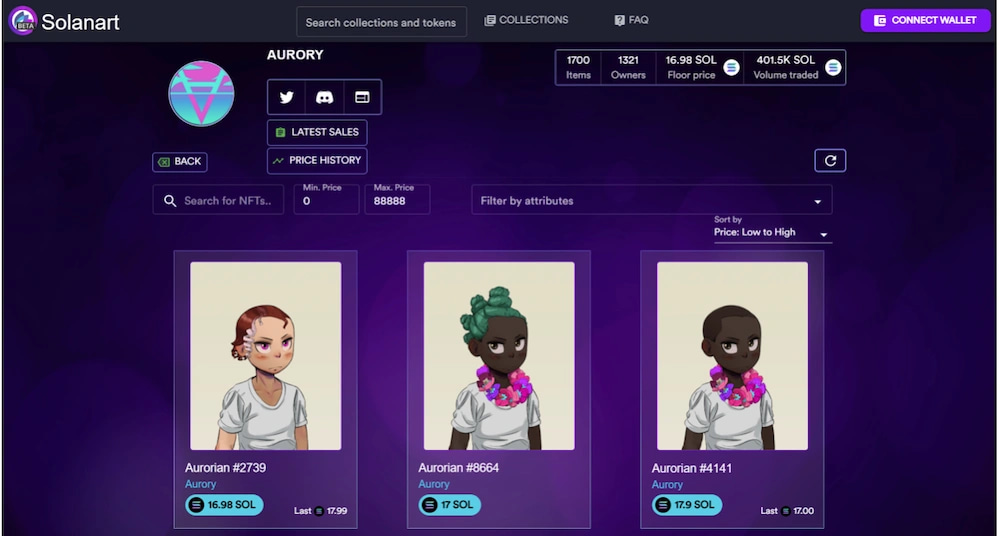 Moonrock Capital, an NFT-focused fund, received much public attention for 2 landmark, all-time high purchases of Solana NFTs, acquiring a SolPunk for 1,388 SOL, and a Degen Ape for 5,980 SOL which was equivalent to USD1.35million combined at the time of purchase.
The two collections are prominently listed on the front page of the Solanart site as top collections[12].
See something wrong?
Report to us.
Solanart
Did you find this article interesting?